Best Beer Growlers to Buy Right Now
Need a safer, more temperature-wise container for your IPA than a lousy old glass? None of the following best beer growlers to buy right now will disappoint.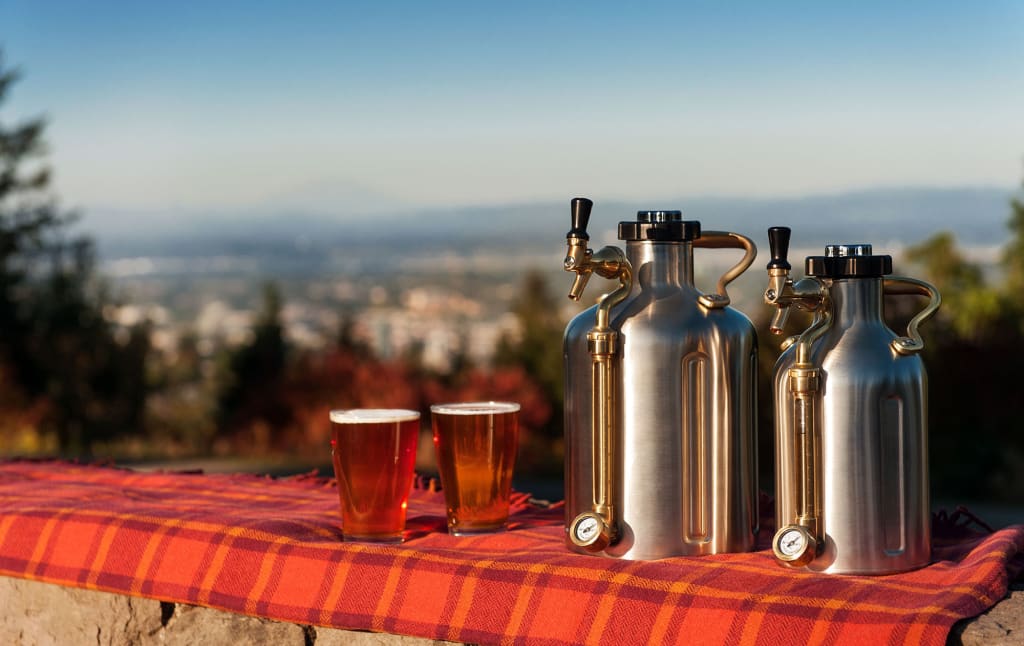 Beer growlers not only look really cool, they also make you look cool. This is by no means in the sense of being a so-called 'rad dude,' but rather that you and your beer remain chilled at all times. No matter what type of brew your lugging back, these vacuum insulated stainless steel containers will keep your craft brews refreshingly cool and aired to the most tasteful percentage.
Whether you're drinking the best fall beers or the tastiest beer cocktails, the following beer growlers won't let you down in a variety of ways, such as durability and taste. They're not the best beer growlers to buy right now for nothing, so why wait?
With the appearance of some steam-punk, futuristic time machine, or a miniature fermenter, the uKeg pressurized growler is one of the best beer growlers to buy right now, not only because of its awesome looks, but its sweet and sophisticated components.
This brand new product has a multitude of cool features, such as a working pressure gauge, a sophisticated lid, which regulates its CO2, and it has a working tap that's built into the growler itself. It'll turn you into one of the best new breweries in America.
Ahh, a college student's simultaneous dream and nightmare: the Keg. It was more of a daydream, if anything, but this 64 ounce mini keg growler by Kegwords brings out the style and quality of modernized beer containers that has been seriously lacking over the years.
Kegwords' product seems to be one of the best beer growlers to buy right now, because it adds a level of personal taste to its design, rather than sticking to the all-too common bland coloring or steel coating that most growlers use. Shaped like a keg, this mini growler still gives drinkers the feeling of performing a keg stand, all while simply holding a keg in one's hand.
Probably one of the most popular and well-known on this list of the best beer growlers to buy right now, MiiR's double wall vacuum sealed and insulated growler will give your beer a taste unlike ever before. Unlike other growlers, MiiR's has a double coated wall, making it extra durable and safe within the interior.
In addition to your beer keeping cool, and your satisfaction leveled, MiiR also vows to donate to clean water projects for every purchase made. So, even if you don't want a growler, it might be beneficial to get one just to help out around the world, and still get an amazing beer container that keeps your drinks at the best level of drinkability and taste.
Like the MiiR, this product also utilizes a double wall insulation that keeps your beverage extra cool, or warm depending upon what you're drinking. This growler, the 45 Degree Latitude stainless steel addition, uses sophisticated technology in its container vacuum, which also keeps your drinks BPA free and holistically tasty.
While it may be one of the best growlers to buy right now, be warned that the lid is easily breakable if dropped, so be extra careful about that. However, most important of all takeaways, is that this growler remains sweat and leak free, so condensation and messy cracks will be far from your concern.
This insulated water bottle by Hydro Flask is also double walled and BPA free, all made easy because of its 100 percent recycled material.
It has a sophisticated vacuum insulation that keeps your drinks fresh no matter what, making this fresh insulated beer growler one of the very best beer growlers to buy right now. Add to that its durability and sleek design, Hydro Flask is easily a must have.
Swig Savvy's sweet growler comes with its own holding pouch, allowing for swift swigs to be taken with ease from around your neck or shoulder. It's double walled and insulated to optimize your beer's flavoring.
Despite the straw being sold separately, as well as the fact that the growler itself simply does not fit all cup holders, Swig Savvy's beer growler is still one of the best beer growlers to buy right now.
Made with mud from Portland, this ceramic growler by Portland Growler Co. is all-American and looks rather interesting. While its simple, yet bulky design may turn off a lot of people simply by just looking at it, one must observe the necessary features behind this artistry.
Portland Growler Co.'s new product also uses the natural inclusion of insulation, since clay and mud naturally stays colder and/or hotter, depending on the type of drink you're having.
Asobu makes some of the most popular beer growler's on the market, but this one takes the cake. While it may not be the biggest one they have, the 'coolest,' as they seem to consider it, beer growler is one of the best beer growlers to buy right now.
Fitting up to 64 ounces of your favorite brew within its copper plated body, Asobu's Coolest is your next favorite swing top growler, because its not only got a sophisticated design, the lid is even super concise in keeping carbonation inside, leaving your beer as if it were just opened.
Taking it back to the classics with this oldie and gem, Stanley's growler looks like something from the 80s. It's thermos-like exterior gives it this sweet appearance, but it also leaves your beer extremely well tended within its powder coated exterior.
The only drawback with this addition to the best beer growlers to buy right now, is that Stanley's 'classic' has a plastic handle that can easily break off if improperly held for too long. Despite that, this growler adds a bit of retro flare to your beer consumption.
With a screw top and hand painted design, the Wander and Rumble growlers are awesome picks on this list of the best beer growlers to buy right now, because they're the most eccentric out of all of them. They're given their paint jobs in Virginia, and come in various colors, all of which will make your growler pop with extraordinary pizzaz.
Made from stainless steel and guaranteed to last a lifetime, these American made growlers prove to be at the top of their class in durability and style.
The DrinkTanks growler has probably one of the least appealing appearances, but that doesn't mean its a sight for sore eyes when it comes to outlasting temperatures and other hard pressed conditions. Plus, like the Asobu, this product also utilizes a sophisticated swing top lid that maintains the safety of your beverage at all costs.
Like the few others on this list with the same features, DrinkTanks' also has a vacuum sealed container that can keep your drink as refreshing as that first sip.