Beer Styles That Pack a Punch
If mass-produced ales and lagers of the typical 5% ABV are getting old, perhaps these strong, challenging, and complex styles will be the change of pace you need.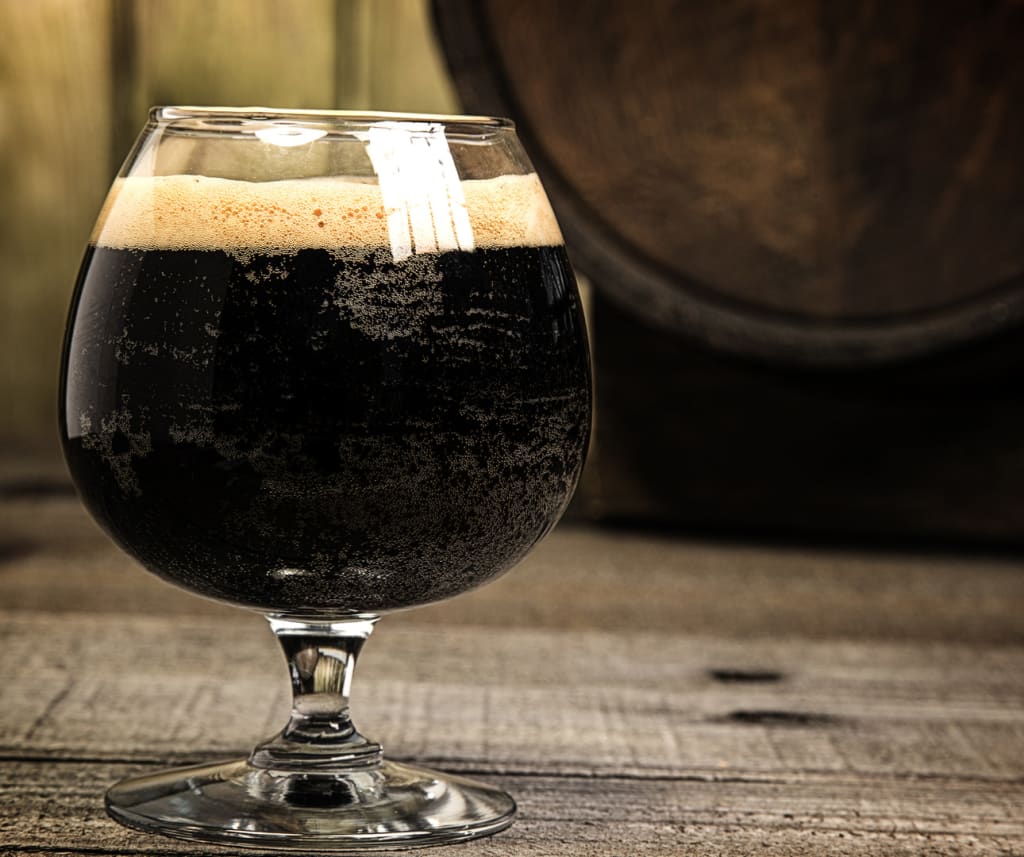 American Barleywine typically ranges from 8–15% ABV; this style is characterized by fruity sweetness and deep complexity. They range in color from amber to very dark brown and are quite thick-bodied, in some cases almost syrupy. The alcohol is easily discerned with these beers. Bigfoot Barleywine-Style Ale (9.60%) by Sierra Nevada Brewing Company is a widely known and excellent example of the style.
American Double/Imperial IPA. This style is often simply referred to as DIPA. Think of an IPA, only with more of everything, including hops, malt, complexity, and alcohol, with the style ranging anywhere from 7–14% ABV. The hop presence is measured in IBUs, or International Bitterness Units, and can often exceed 100 with this style. Pliny the Elder (8%) from Russian River Brewing Company is considered by many to be the measure by which all others of the style should be judged.
American Double/Imperial Stout. This style draws some influence from Russian Imperial Stout, which will be discussed later. Again, it's like a stout, only bigger. This style is often whiskey or bourbon barrel-aged and often contains a strong presence of coffee or chocolate. Very full-bodied, these beers can be anywhere from 7–12% ABV. Founders Kentucky Breakfast Stout (11.8%) by Founders Brewing Company is an exceptional beer in this style.
Belgian Strong Dark Ale. With alcohol levels between 7–15% ABV, this style lives up to its name. With this style, alcohol can be well-disguised or very pronounced, depending on the brewer. Most of these beers are fruity and spicy, with dark malt flavors also being present. Chimay Grande Reserve, also more widely referred to as Chimay Blue, is 9.0% ABV and is a widely known and respected beer in this style.
Belgian Strong Pale Ale. Characterized by a huge, white head, this style ranges between 7–12% ABV. As with the strong dark ales, the alcohol can either be craftily hidden or on bold display. Also typical of this style is the presence of fruit and noticeable hops, although not to the level of a DIPA. Duvel (8.5%) by Brouwerij Duvel Moortgat of Belgium is widely accepted as the gold standard for the style. It has been imitated, but never duplicated.
Tripel. Another Belgian style, it gets its name from the fact that up to three times the usual amount of malt is used during the brewing process. This style runs anywhere from 8–12% ABV and coloring is bright yellow to gold. The style is fairly light-bodied, while smell and taste can be spicy, yeasty, or fruity. The finish is usually sweet. La Fin Du Monde (9%) by Unibroue is one of the premier examples of this style.
Quadrupel (Quad) is one of the strongest beer styles in the world, with alcohol content varying between 9–13% ABV. Boldly flavored, these robust beers run from deep red to brown in color. They are sweet, with low bitterness, and the alcohol is usually very present. Westvleteren 12 (10.2%) from Brouwerij Westvleteren is without question the most famous and sought out beer in this style.
Russian Imperial Stout. Initially brewed for Russian Czars, these beers are without question at the top of the stout world. Ranging in alcohol from 8–12% ABV, the style features roasted chocolate of burnt malt flavors. Hop presence varies wildly, from absent to pronounced. These beers are often dry and the alcohol is usually obvious. Old Rasputin Russian Imperial Stout (9.0%) from North Coast Brewing Company represents the style with excellence.
Baltic Porter. The actual difference between stouts and porters is often questioned and debated. Like stouts, these beers are very dark in color and run anywhere from 7–10% ABV. Roasted or smoky malt taste and bitterness are characteristic of this style. Unfortunately, Okocim Porter, an excellent example, has been retired. In its place, Smuttynose Baltic Porter (9.24%) from Smuttynose Brewing Company is an excellent replacement.
Eisbock the only German style on the list; its name is derived from a freezing process that removes some water from the beer, thus increasing its body, flavor, and alcohol levels. Varying from 9–15% ABV, this style is also characterized by a very heavy body, malty flavor, and pronounced alcohol taste. Not a particularly common style, Schneider Aventinus Weizen-Eisbock (12%) from Weisses Brauhaus G. Schneider and Sohn is both an excellent and widely known example.
Reader insights
Be the first to share your insights about this piece.
Add your insights