10 Apple Cider Cocktails That Will Warm You Up This Fall
If you're looking for a tasty adult beverage this autumn, apple cider cocktails may be the very thing you need to spice up your season.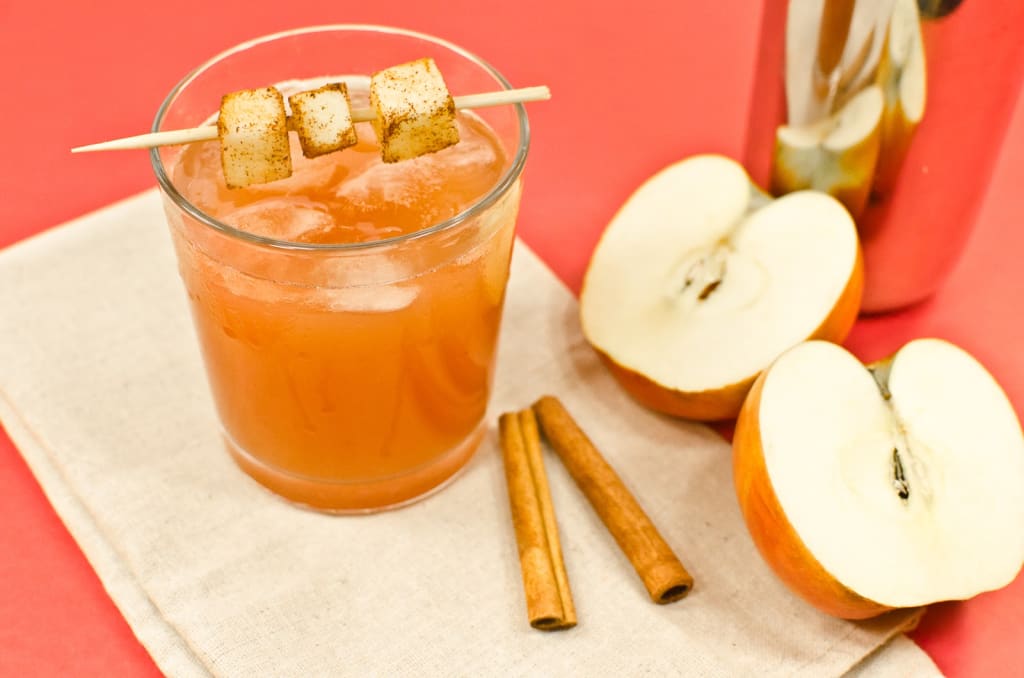 Tis the season for warm sweaters, pumpkin pie-eating, expressing thankfulness, and celebrating with family and friends. While hot apple cider and pumpkin spice lattes tend to be the most popular fall drinks, there are also incredible cocktail recipes with autumn-friendly tang.
That said, if you're wishing to merge your favorite non-alcoholic beverages with ones that are, consider an apple cider cocktail. Apple cider cocktails offer flavors of crisp apples, sugar and spice, and warm flavors.
Some fall cocktails are served cold while others are served warm. Nevertheless, each is equipped with spicy, fall flavors from pungent ginger to sweet and comforting maple syrup to warm you from the inside out.
Stone Fence
Apple cider cocktails don't have to be complex to taste great. Stone Fence is a phenomenal apple cider cocktail that is deemed an American classic. Early colonists, even before cocktails were formally introduced, would mix together rum and apple cider for simple yet delicious adult drink.
This particular recipe consists of Angostura bitters, rum and hard apple cider. The darkness and richness of this beverage pairs lovely with a dash of Angostura bitters for added spice. Just for kicks, rim the glass with cinnamon.
You can also swap rum for whiskey if you prefer for a warming whiskey cocktail. Some may also like rye, bourbon, or brandy instead. However, first try it with rum to see how it suits your taste buds.
Learn to make the Stone Fence cocktail.
Sparkling Cider Punch
For those who want an apple cider cocktail that's less harsh and more party-ready, consider whipping up Sparkling Cider Punch. This recipe offers sweet, cinnamon-y, apple flavors that are sure to leave a positive taste in your mouth.
To make this beverage, you'll be combining Calvados (French apple brandy) with sparkling apple cider, cinnamon sticks and a dollop of honey syrup to pull in those fall flavors effortlessly. Serve this drink in a punch bowl with a ladle at your next fall party.
Making a non-alcoholic version of this beverage is very easy for the little ones or for those who can't have alcohol. Simply recreate the beverage without Calvados, and add extra sparkling apple cider – or instead use plain apple cider instead of its sparkling counterpart.
Try the Sparkling Cider Punch recipe.
Apple Cider Moscow Mule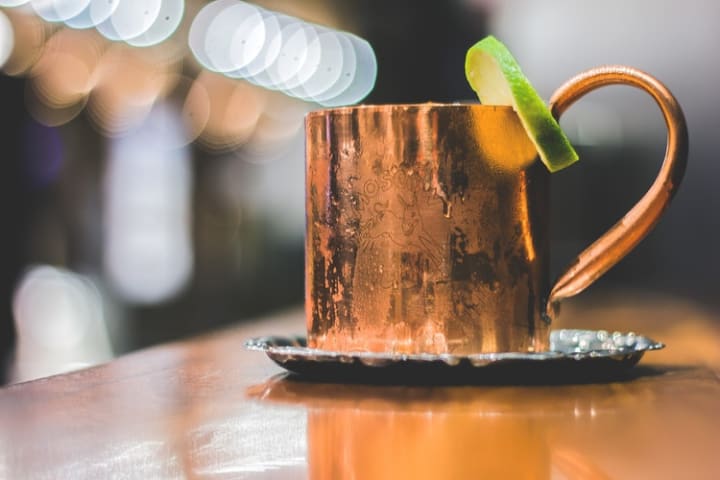 This Apple Cider Moscow Mule cocktail is one of the best Moscow mules for fall to exist as it features traditional mule flavors of citrus along with ginger beer and vodka amongst other flavors to give it its full fall flair.
Apart from notes of freshly-squeezed lime, this Apple Cider Moscow Mule offers hard apple cider and a dash of cinnamon to add some spice to counteract the sour citrus. The spiciness of this drink will surely warm you up this season without being too overpowering.
When serving this beverage, pour over crushed ice in a copper Moscow mule cup, and garnish your drink with a cinnamon stick, lime wedge, and fresh apple slices. All and all, this drink is delicious yet only takes five minutes to put together.
Learn to make the Apple Cider Moscow Mule.
Red Apple Cider Sangria
Prep time for this Red Apple Cider Sangria is 30 minutes, and it contains more ingredients than some cocktails out there, but it pulls together numerous flavors exceptionally well. Expect this sangria to deliver the perfect blend of sweetness and spice alongside a pleasant tone of citrus.
For the drink itself, it contains grand marnier liqueur, chilled pinot noir, and cold apple cider. In return of combining these three drinks, your taste buds will be overjoyed with fruity flavors of orange, grape, and apple.
To finish, sweeten up your apple cider sangria with a drizzle of maple syrup, and line the edge of the cup with cinnamon sugar. Pop some fresh apple slices and a cinnamon stick in your beverage, and sip away in delight!
Try the Red Apple Cider Sangria recipe.
Pumpkin and Apple Cider Cocktail
Some apple cider cocktails call for a pumpkin-y twist. If you love pumpkin spice anything (especially pumpkin spice cocktails) try this Pumpkin and Apple Cider Cocktail. It's unlike anything else you've ever tasted before, and fall is the perfect time to enjoy it. Plus, it's a great drink if you can't decide between pumpkin spice or apple cider.
This cocktail is equipped with spicy ginger ale, vanilla vodka, fresh apple cider, and pumpkin puree for that lovely pumpkin spice kick. This cocktail is served with crushed ice, however, ensures pumpkin and apple flavors are the stars of the show.
Overall, this Pumpkin and Apple Cider Cocktail may be more refreshing than warming. Regardless, it still has the spices to cozy you up. This cocktail ultimately has great fragrance and warm undertones of autumn-y goodness.
Get the full Pumpkin and Apple Cider Cocktail recipe.
Hot Cinnamon Apple Brandy Cider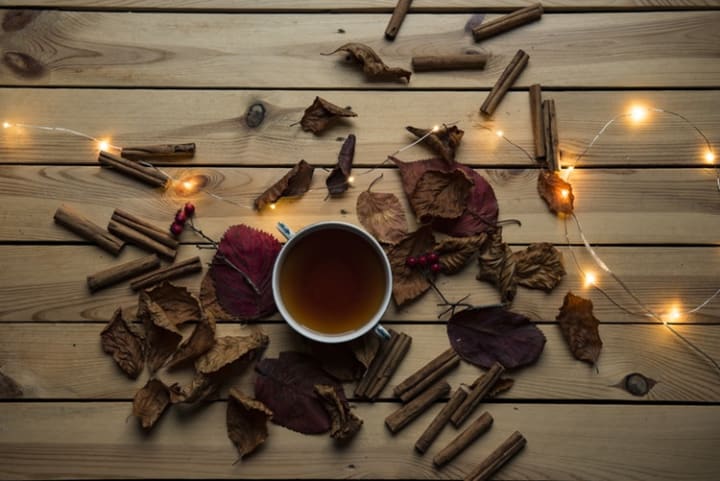 Bring the heat to the table, literally, with this Hot Cinnamon Apple Cider Brandy. It has all of the fall flavors you're looking for from delicate sweetness to strong spice and a slight bit of heat. You can also expect a pinch of citrus tang with this drink.
To make this beverage, simmer together fresh apple cider, apple brandy, honey, brown sugar, cloves, ginger, nutmeg, cinnamon, salt and pepper. Add orange zest, and serve each drink warm with a cinnamon stick as a garnish.
This Hot Cinnamon Apple Cider Brandy cocktail is fresh as it is warm, ensuring it will be a great adult beverage to sip on during the dark, cold nights autumn has to offer. Pair this drink with a cinnamon scone, and you've got yourself the perfect way to wrap up your night.
Try the Hot Cinnamon Apple Cider Brandy cocktail recipe.
Apple Cider Mimosa
Not every fall-inspired cocktail has to be served warm. This cider cocktail, while cold, is wonderful to pair with breakfast or brunch on a slightly breezy, fall day. It still offers delightful champagne notes to give you that morning mimosa quench yet also features other irresistible fall flavors.
Apart from champagne, you'll also be adding fresh apple cider. You may also wish to add a bit of orange juice like traditional mimosas call for or even a bit of cranberry juice. Ultimately, the choice is yours, but this particular recipe keeps it simple with champagne and apple cider.
Wet the rim of your beverage glass, and dip it in a delicious cinnamon sugar mixture. While this mimosa is already pretty with its champagne flute with a cinnamon sugar rim, you might also want to add fresh apple slices and/or cranberries for added freshness and flavor.
Learn to make the Apple Cider Mimosa today.
Slow Cooker Mulled Wine
Mulled wine is the perfect alcoholic drink for the colder months as not only is it a warm beverage, but it also consists of many warm, fall and winter flavors and spices. This Slow Cooker Mulled Wine recipe is equally tasty and aesthetically appealing as it is to make.
This drink features fresh apple cider, red wine, cranberry juice, fresh cranberries and sugar for the perfect fruitiness. For a citrus twist, orange peels and juice are also added alongside spicy cloves, star anise and cinnamon sticks.
Serve this beverage warm with a garnish of orange peel. If you can get your hands or candied orange peel, or have the time to make your own, all the better.
Try the Slow Cooker Mulled Wine recipe.
Habanero Ginger Apple Cider Cocktail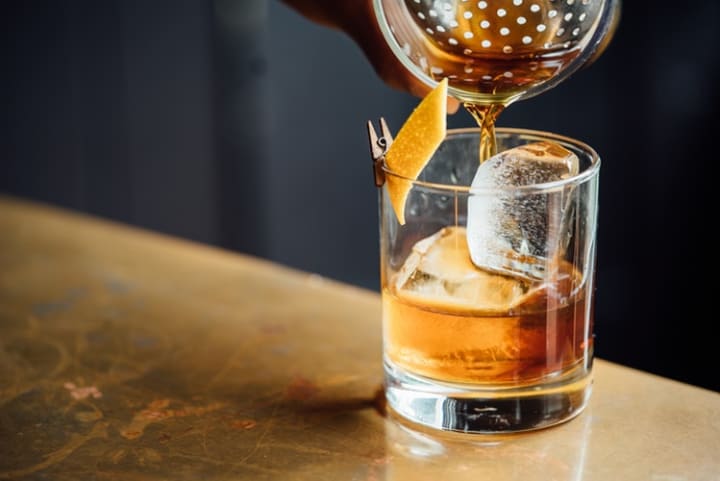 Fall is all about spice, and not just pumpkin spice kind of spice, but also in the form of heat. This Habanero Ginger Apple Cider Cocktail has it all: autumn spices, a spicy kick of heat, and sweetness. If you think you can handle the flavors and taste-bud-tingling warmth, give this drink a go!
This apple cider cocktail contains water, sugar, rum, apple cider, crushed ice, and spicy habanero peppers. Habaneros are considered one of the hottest peppers in the world. They offer fruity undertones. However, if you find the heat too much to handle, opt for cayenne or jalapeno peppers instead.
Finish off your Habanero Ginger Apple Cider Cocktail with a fresh apple or candied ginger slice and cinnamon around the rim of your drink. Sip slowly, or the spice of this drink may be a touch too overwhelming! Regardless, the spiciness alone will warm you up in no time.
Try the Habanero Ginger Apple Cider Cocktail recipe.
Hot Buttered Rum
If you're hoping for a more dessert-y cocktail, this Hot Buttered Rum has the creamy, sugary goodness you may be looking for. Because it is served hot, consider making this bad boy on chilly autumn nights as winter begins to inch closer.
While this cocktail recipe takes approximately two hours to make from start to finish, the wait time is completely worth it. Hot Buttered Rum contains fresh apple cider, rum, brown sugar, cinnamon, vanilla ice cream, and you name it, butter. Can't get much better than that!
For best results, after you top your hot rum with vanilla ice cream, sprinkle on some ground cinnamon, and/or add a cinnamon stick for aesthetic purposes. Even better, swap out your vanilla ice cream for cinnamon ice cream!
Learn to make Hot Buttered Rum.
Some may assume cocktails are merely a summer beverage as they can help one get through a long, blistering day. However, apple cider cocktails, whether served cold or hot, offer autumn flavors such as cinnamon, pumpkin spice, cranberries and allspice.
That said, raise your glass this fall with a spicy-sweet, apple cider adult beverage. Let your love of fresh cocktails live on, even in the cooler months.
Reader insights
Be the first to share your insights about this piece.
Add your insights