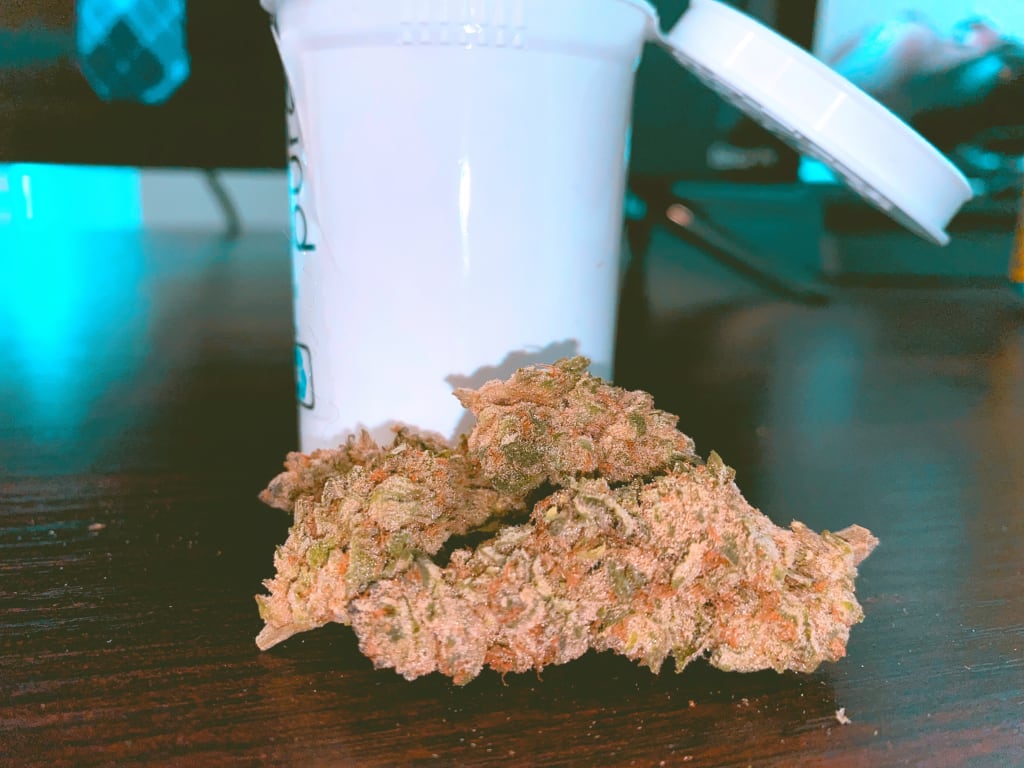 Jiffy Cake is an Indica hybrid cross between the strains Wedding Cake and Peanut Butter Breath. I usually stray away from the Cake strains. They tend to produce a more cerebral than relaxing high that bothers my anxiety. However, I had heard good things about Peanut Butter Breath, so I picked it up.
The specific grow I bought is from Gnome Grown farms, a local Oregon company specializing in living soil.
"The secret to our Legendary Cultivation is our respect for the growing process as a perpetual cycle. We believe that the many symbiotic relationships within a healthy ecosystem create our renewed, naturally rich growing conditions."

Gnome Grown
First, we'll look at Jiffy Cake broadly; based on the most important factors. Following that, and I will go into more detail for the curious at heart.
Jiffy Cake at a Glance
THC: 22.89
Appearance: 9
Smell: 9
Burn and Taste: 7
Effects: 10
----------------------
Total: 8.75
Appearance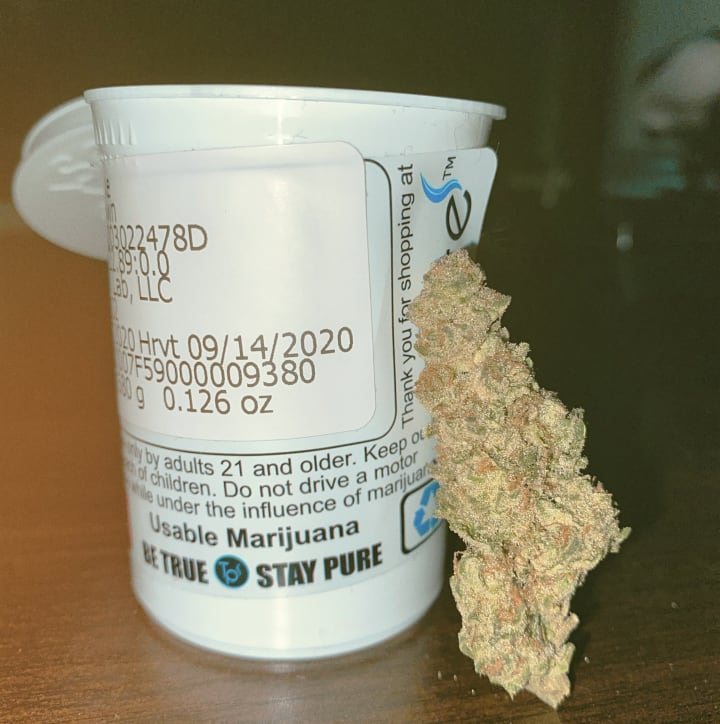 Jiffy Cake sports Christmas tree-like buds that stretch upwards. The flower is formed in long slender nugs with a dense spongy structure.
The biggest killer on the planet is stress, and I still think the best medicine is and always has been cannabis.

Willie Nelson
The flower was super frosty, high in trichomes with hints of purple near the top, light green throughout, and dark green undertones. The colors are accompanied by orange piston hairs wrapping around the bud as it moves upward. Jiffy cake is beautiful, but the real beauty behind this strain is the smell.
Smell
The smell is what captured my attention. I caught a whiff of it earlier in the week, and my mouth started watering. I stood diligently six feet away and inhaled as hard as I could through my mask. It was then I mentally scheduled to try the strain that weekend. I planned for Jiffy Cake because of how the smell hit me. I couldn't pass it up.
It was savory, like pot roast or stew. This was different for a cake strain; it was very gassy with heavy diesel notes. But it also held strong grape elements. While still maintaining a foresty and piney aroma mixed beneath.
New challenge: can you smell Jiffy Cake and avoid trying it?
Burn and Taste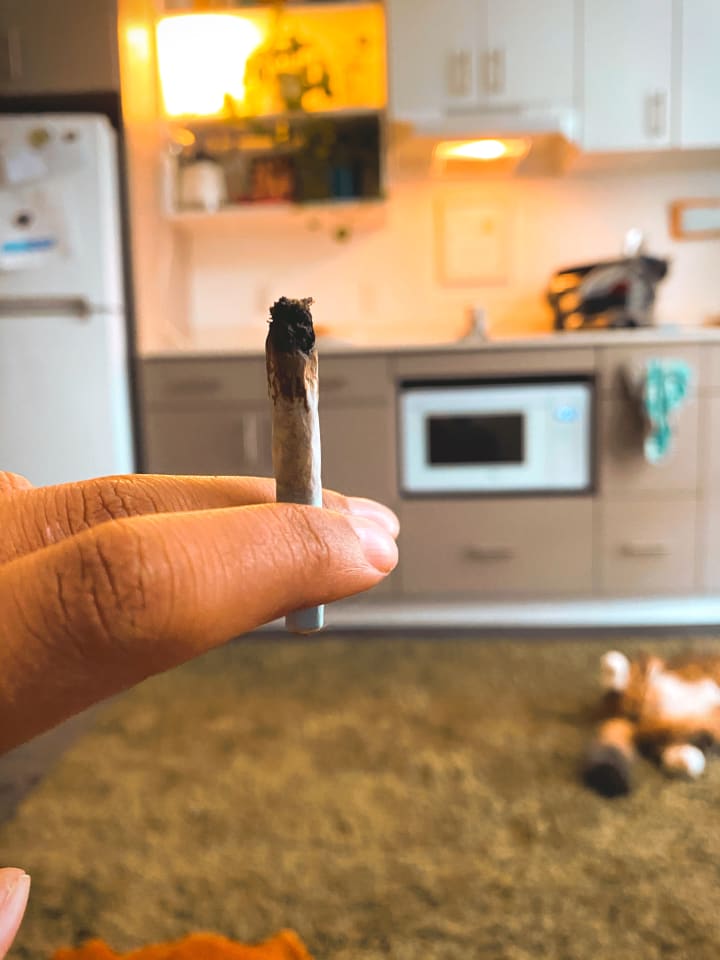 The way Jiffy Cake burns is fantastic. The flower grounds up well and rolls up nicely. The process is smooth and even. You don't have one side burning way faster than the other. It's an easy smoke that's light on the lungs. The flavor isn't overbearing or very noticeable at all. I detected a bit of an earthy smokey flavor. (The lack of taste may be important to you). Overall the burn and taste were perfect for my needs.
Effects
Early on into smoking, the euphoria hits first. It's uplifting; a sense of well-being washes over the body. A Relaxing heaviness falls over the limbs and softens the gaze. I noticed a slight buzzing behind the eyes- tingling in the body, and cerebral clarity.
I've never heard of anybody smoking a joint and going on a rampage. It makes you lie around on the floor and look at the ceiling. What's wrong with that?

Billy Bob Thornton
Jiffy Cake was pretty potent. About halfway through the joint, I was pretty high and would of put it down if mama raised a quitter.
I would say Jiffy Cake is useful for thinking but not for doing anything actively creative. I was pretty couched locked, but my brain was firing away and generating new ideas and building excitement, thinking about writing this review.
Parting Words
I was skeptical of Jiffy Cake before trying it, but now it's another one of my favorite strains. It's potent, hosts a dank smell, and is a beautiful strain.
If you're struggling in the creativity department or just need a solid break, I would try this strain out. As always, be safe and dose according to your tolerance.
Happy Smoking!
If you like what you read and want to read more, I recommend starting here: