Do you know the difference between medical and recreational marijuana in Canada?
I'll give you a hint, it's not what you think.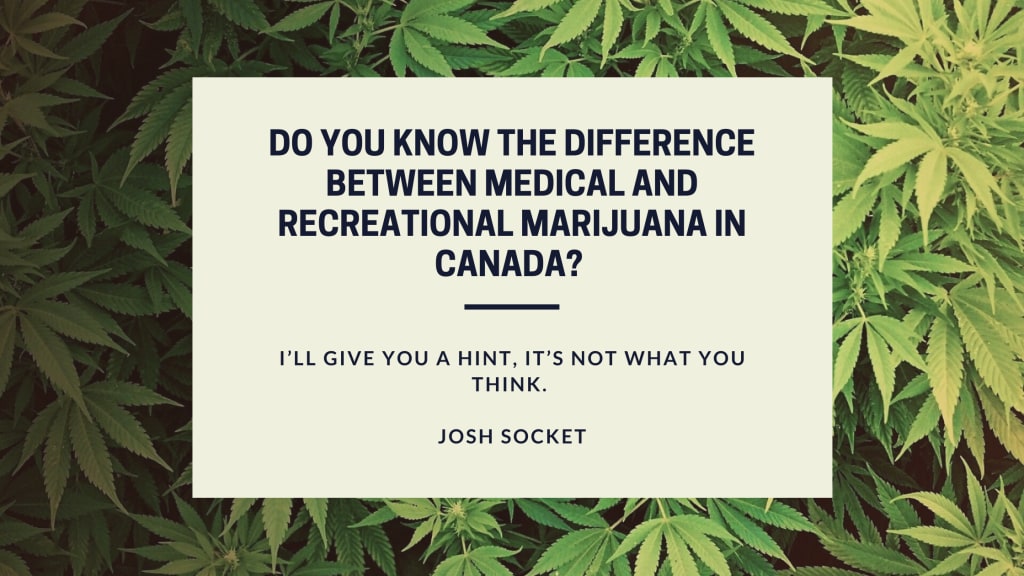 So here it goes,
I have a crazy story to tell you. I know I disappeared for a while. I was working at a distribution centre for a major Canadian licensed producer. I got to work assembling orders for medical patients. It was a great experience; I made some connections and I'm hoping it will eventually get me in permanently with a licensed producer in a marketing role. Maybe somewhere down the line. Who knows, right?
Anyway, I've now worked in medical and recreation cannabis. I've worked for a dispensary and I've worked for a licensed producer. It's made me realize something. People don't know the difference between the two. Even people who work in the industry might not always be able to give you a good explanation for the difference between medical and recreational cannabis. There are separate laws for them and separate ways to gain access. Even though it may be the same product both markets, depending on the licensed producer.
The difference between medical and recreational cannabis has nothing to do with the product. Often, medical and recreational weed are variations of the same product. Some LP's change the product's name between the two markets and others don't. Aurora cannabis has Medreleaf, Cannimed and Aurora on their medical line, while they have San Rafael, Aurora Drift and Daily Special on their recreational line. Try their Whistler products, if you ever get a chance. Redecan, Pure Sunfarms, The Green Organic Dutchman and many others don't change the names of their strains. Although there are some strains exclusive to medical or recreational. Often products changed based on province as well in the recreational market, which makes it harder to have the exact same products in both markets. The laws on cannabis vary per province.
It's common in marketing to sell one product with varying communications. Most products are variations of other products. It's kind of a major marketing secret. Toothpaste, soap, paint, pop, cleaning supplies, clothing, cars, furniture, electronics. Any product you can dream up is a variation of something else. Google the Lincoln Town Car, the Ford Crown Victoria and the Mercury Grand Marquis. It's the same car with three different badges. Every kind of company you can think of does this. They take a product and communicate it for multiple audiences. Different people need different things from the same product. If you think about it, buying lined paper versus grid paper follows the same logic. Often the difference between three products from one company is the branding. It's no different in cannabis.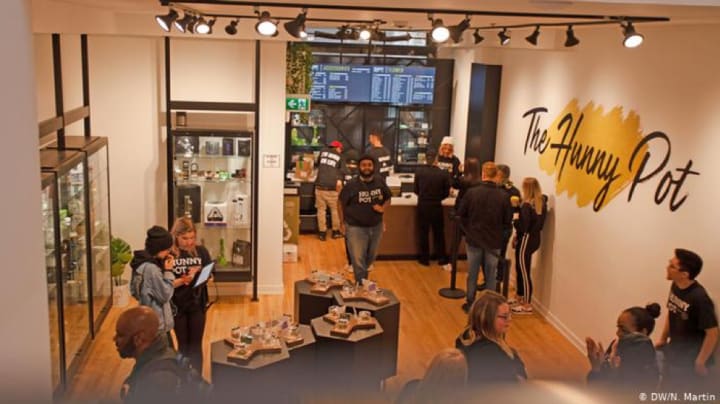 The difference is in the distribution
I'm not going to weigh in on branding medical and recreational products differently or maintaining the strain's brand. The difference between medical and recreational cannabis is how its purchased and who profits when its purchased. The recreational and medical markets have been great at creating accessible and accommodating products for cannabis users. The insight is 'not everyone wants to smoke pot' and edibles, drinks, soft-chews, oils, and other safe and accessible options are available for people in a number of potencies and strains.
There are over dozens of licensed producers of cannabis in Canada operating in the medical and/or recreational space creating new and exciting offerings. Here's how you can buy their products.
Recreational cannabis:
If you are over the age of 19 (or 18 in some Alberta, or 21 in Quebec), you can purchase up to an ounce of cannabis legally in two ways:
• Your province's online Cannabis store.
• A local dispensary with the proper authorizations in your province.
In both cases, the provincial cannabis retailer purchases the cannabis from Canadian Licenced Producers and resells it. Either for a wholesale price (to dispensaries) or for retail to you and me.
When you buy cannabis from a dispensary, you're buying product that's been:
1. Grown by one company and sold to the provincial government.
2. Held by the provincial government and then sold to a dispensary.
3. Finally sold to the consumer.
Because the provincial government has inserted themselves into the industry, three companies touch and have to make a profit on legal cannabis if it is bought at a dispensary. I can justify purchasing product from the provincial retailers, I can also justify purchasing products from dispensaries. I do both. I have a hard to with the idea of the government being involved in dispensary sales so heavily.
When three companies have to make a profit on a product, it keeps the price of the product high. Especially in a growth stage where it's not being bought so readily. Which is why the prices in 2018 and 2019 for cannabis were so high. But the market's adjusted and sales have picked up. Still, prices could be even lower. More so, a lesser provincial involvement would allow Licensed Producers and Dispensaries to prosper. There are LP's and Dispensaries operating at a loss when their sales are acceptable. They still have a third party benefiting from their work.
Last year we learned that The Ontario Cannabis Storecouldn't account for product LP's had sent them. They lost another company's product. I hope it was already paid for. Product they lost was an opportunity for a licensed producer to make a difference with a consumer. We also learned Ontario dispensaries vastly outsold the Ontario cannabis store. In Ontario, the government retailer only held between 25% and 35% market share for the province. Market share is the break-up of where a product gets sold. If 25%-35% of the recreational cannabis for the entire province was sold via the government retailer, it means that the rest of the cannabis was sold at dispensaries or through illegal sources.
This tells me people do not want to buy their cannabis from the government. The people who were buying the most cannabis from the OCS were the bulk buyer. The want to buy the most cannabis for the least amount per gram. Which is easier when you're buying from the government then from dispensaries.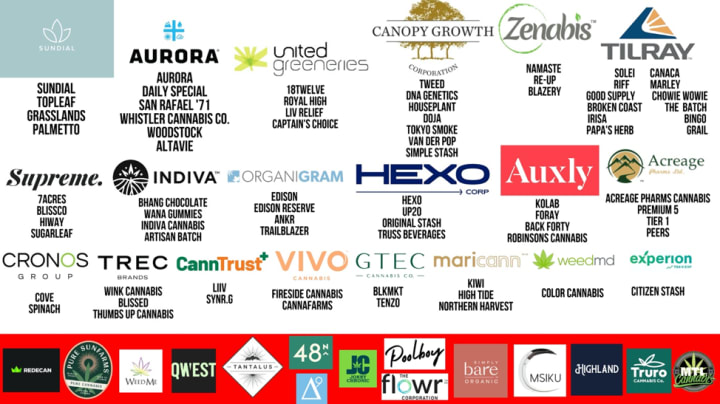 This isn't the entire market for Canadian cannabis, but it is representative of the majority of Licensed Producers and their brands. I counted 35 companies on this graphic, all growing and selling cannabis in Canada. These companies have products in either the medical, recreation space, or both.
Medical Cannabis
Access is the same as distribution. How a company sells their product is the same as how a person buys the product. It's just the other side of the coin. Either way, it's different for a person to purchase medical cannabis than recreational cannabis. Medical marijuana can only be purchased from licensed producers or organizations who partner with licensed producers. For Example, Shoppers Drug Mart has a medical portal which partners with 20 plus Licensed Producer.
To be eligible for medical cannabis, you have to get a prescription from a doctor. This can be your family doctor or a Physician/Nurse Practitioner from a cannabis clinic. Cannabis clinics partner with licensed producers to qualify medical cannabis patients.
To purchase medical cannabis, you require:
• Government Identification.
• Proof of an issue that can be treated with cannabis.
After you get your prescription, you can purchase cannabis directly via an LP's online portal or with the aid of someone from the cannabis clinic. You get access to a variety of cannabis products in these formats:
• Flower
• Edibles & Beverages
• Vape
• Oil
Much like in the recreational market, products range in terms of potency and genetics. It's pretty much the same in those regards.
When you receive a medical cannabis prescription, it's not an unlimited access to purchase cannabis. Your prescription provides you with a THC limit, potential product limits, and an expiry date. You have to check in with the clinic every three months. With recreational cannabis, you can only purchase up to the equivalence of an ounce at once time. With medical cannabis, the limits can be much higher. When working in distribution, I saw much larger orders. Veterans actually get great deals from licensed producers.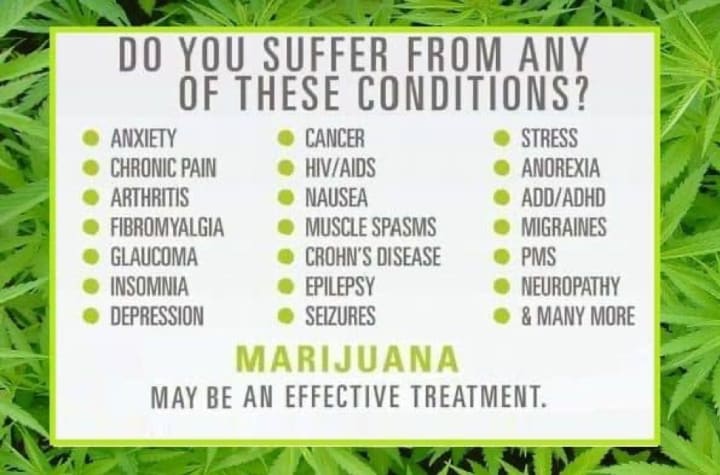 My thoughts:
If you can produce and distribute your cannabis directly to patients, why do you need retailers at all? Although it might cost more money to build operations around the distribution or fulfillment, it would be rewarding in the long run. You can dictate your own prices, take a profit per unit, and not worry about sharing as much. Why let anyone profit for losing your products?
I'm not going to tell people to buy medical or recreational. I'm going to tell you to buy from dispensaries versus your gorvernment retailer.That's up to you. I will tell you to continue buying legal weed. Legal cannabis sales doubled from 2019 to 2020. In the third quarter of 2020, legal bud outsold the illegal market for the first time. The cannabis industry is going to continue to grow, but it needs to be helped not hindered.
Eventually people should be able to buy cannabis directly from licenced producers if they so choose. Cannabis legalization is about access and choice. The right to purchase cannabis in your so chosen method should be included. I can appreciate being able to buy direct from the government as a safe source for some, but I have a hard time getting behind provincial government bodies being the middle-people for cannabis.
I want to hear from you
If I made you feel desired, inspired or maybe even you perspired while reading. Thank you!
I want to hear from you. Please send me feedback at: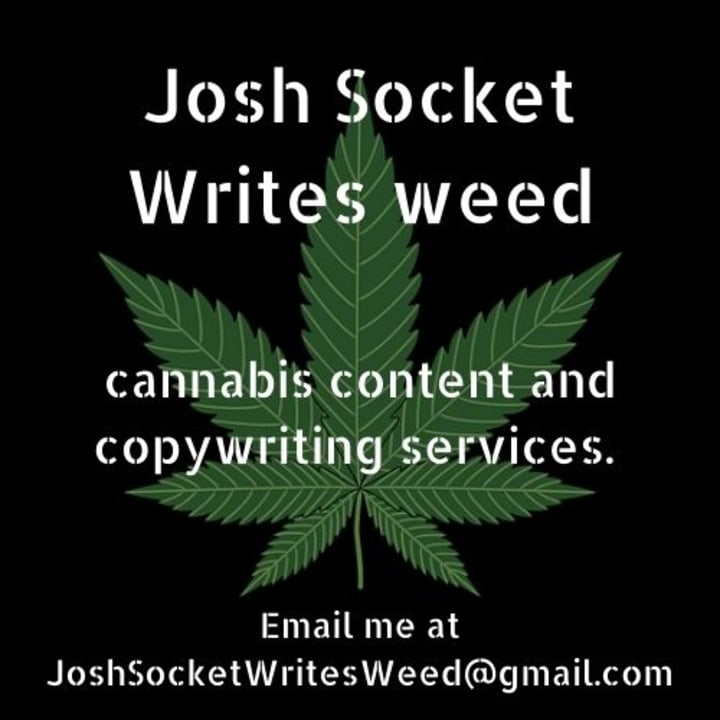 About the Creator
I'm a copywriter. My first thought was to create a library of cannabis information but I've decided to expand my writing.
I used to write for an agency that specialized in merchandising for influencers. Check it out.
Reader insights
Be the first to share your insights about this piece.
Add your insights