Delicious Liquids for Your Bong to Be Filled With
Delicious liquids for your bong: nasty as heck water from your last smoke session not included.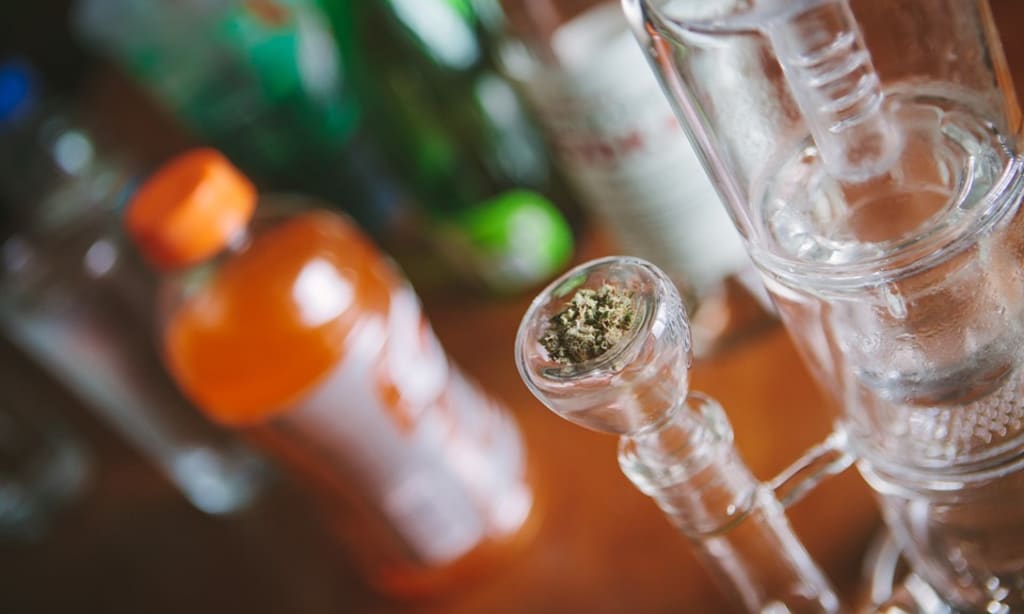 Back when I was living in a squat space with a couple dozen other people, we used to have certain bets we'd make with our friends. One of the bets would include how quick people would throw up after drinking used bong water.
Most of us knew how often we should clean the communal bongs, but just didn't do it. We just let people drink from it, or we'd spill it out the 2nd story window onto the street and people below.
Looking back, there are many delicious liquids for your bong to be filled with that we could have used to boost our smoke session experiences. Moldy-smelling bong water was not one of them. We were dumb, oh well.
The fact is, using liquids other than water can add a punch of flavor to your inhale. So, it's a good idea to consider experimenting with the liquids you use in your bong water.
Want to have a better smoke session? Want to add a new level of flavor? Check out these options below.
Hot Tea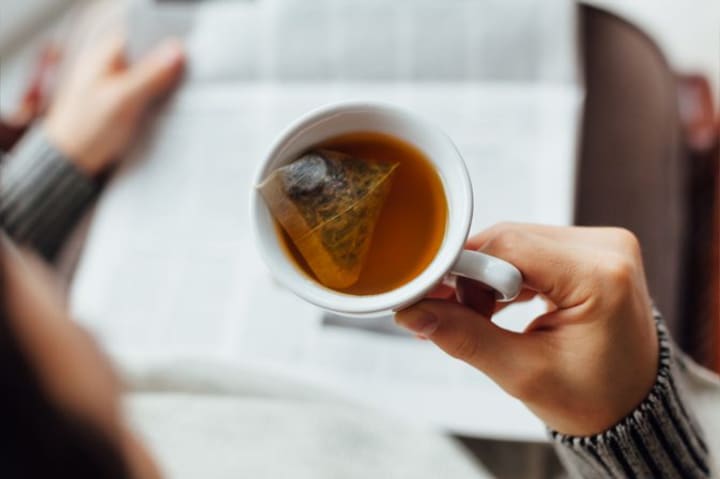 Hot tea is one of the more unusual twists on an "organic experience," and yes, we totally just made an Herbal Essences reference, there. More specifically, any citrus-based tea tends to rank highly among delicious liquids for your bong inhalation experience.
The lemony flavor of citrus-flavored tea tends to add a sweetness to your ganja you never saw coming. Trust me when I say that my own crew never would have believed it either.
A lot of people will add sliced up orange peels or lemon peels to their bong water—and that's a great way to get the same hit of citrus. But, since this is a list of delicious liquids for your bong, we can't include peels on here.
However, a drop or two of lemon essential oil will do the same thing. And, yes, it's an edible flavor that's also considered to be one of the best anti-bacterial essential oils out there. Yum!
Rum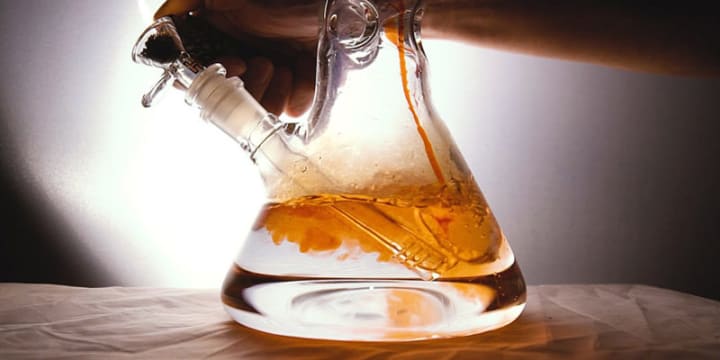 I've hit a bong with rum, and I'll be honest about this—it's not one of the most delicious liquids for your bong on this list, but it does involve a pretty decent flavor compared to straight water.
The only problems? The pull can be a very harsh on sensitive lungs, and having too high an alcohol content can make fire happen. If you do go this route, dilute the rum and expect a rough hit.
THC is also alcohol soluble, so you might not get the punch you're hoping from your bud if you do this. If you're looking to get drunk and high, I'd much more likely suggest that you try alcohol infusions with weed. Cannabooze is easy to make, and it doesn't burn your lungs.
That being said, hard liquor is one of the best bong cleaning products when you're in a bind. So... maybe it's not about smoking it, rather than using it to clean your goods.
This was the easiest way to make someone puke—have Gatorade-infused bong water sitting in a bong for a couple of days, and make people drink it in exchange for squatter's rights. It is horrible to drink if it's been smoked through.
However, in terms of a smoking experience, it's absolutely one of the most delicious liquids for your bong. I happen to enjoy the red Gatorade flavors, because they add a nice "cherry pop" taste to your bud. Some prefer the blue Gatorade, but I still find red flavors to offer a smoother hit.
Just going to warn you, you'll want to clean your bong after this.
Cheap Cranberry Juice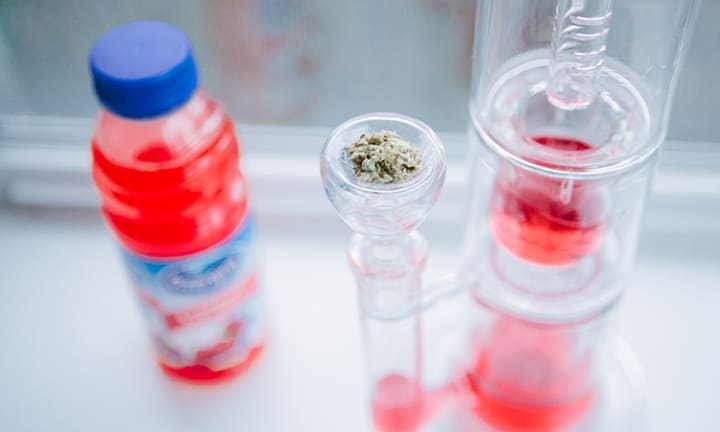 Cranberry juice, particularly the stuff that tastes too foul to actually use in a Cape Codder, makes for some seriously good stuff for your bong. In fact, some might argue that it's one of the most delicious liquids for your bong on this list.
Cheap cranberry juice has that nice, tart yet slightly earthy flavor that works well with cheap herb. At times, it can actually make bad bud taste expensive. The high acidity also makes this a great way to keep your bong clean for a little while longer.
No, you should never drink the Kool-Aid at the bottom of the bong, but we are going to tell you that unsweetened Kool-Aid is one of the most delicious liquids for your bong that money can buy. It's tart, and if you do want to add sugar, you can without having to worry about too much issue.
Expect a berry-ish flavor from Kool-Aid in your bong.
Iced Tea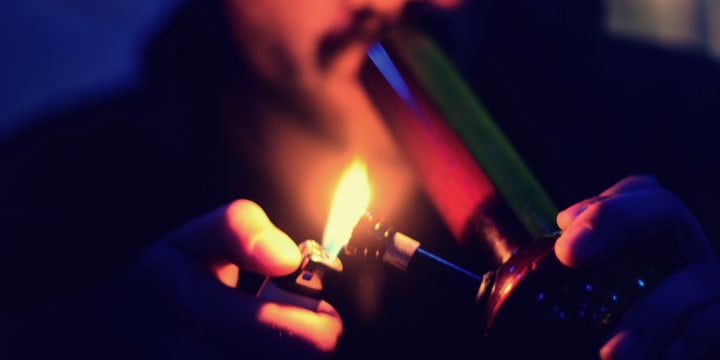 Not looking for the warmth of hot water, but do want to try the flavor of tea with your bong hit? Add a little ice water to that tea, and you'll have one of the most delicious liquids for your bong imaginable.
Like with hot tea, citrus and berry flavors tend to work best—but only if they are freshly brewed. So, don't try to pour Snapple in your bong with hopes of getting a nice flavor in there.
I'm going to mention that mango has long been assumed to boost a cannabis high, and then point out that mango is delicious. Need I explain why this a couple of drops of mango flavoring added to regular water is one of the most delicious liquids for your bong?
Sure, you could go with a carbonated beverage, but that can actually be a very harsh pull. Unless you want to be coughing for a while, you'll stick to flat stuff like Mio.
Wine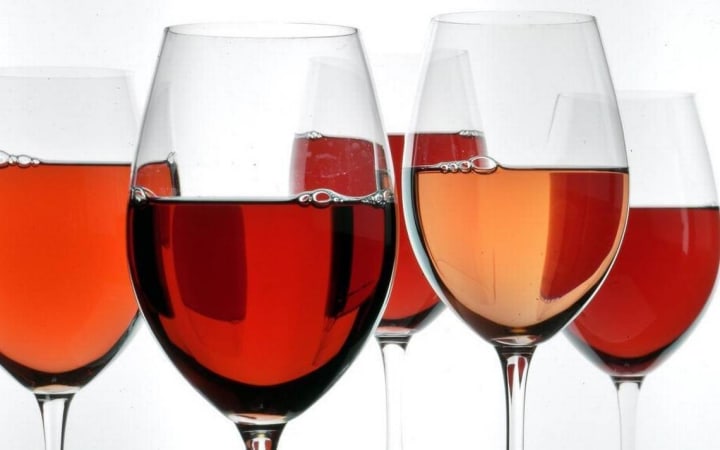 Considering that rum isn't that bad a bong flavoring agent, it's not surprising that wine is considered to be one of the most delicious liquids for your bong water replacement. Wine gives your weed a very earthy but tart flavor.
However, much like with what happens with rum, the alcohol content in wine will lower your THC hit. Similarly, you also may have a harsher pull than you'd hope for. That being said, using red wine will make the bong hits a rosy color... so be careful if you have white furniture.
My advice? Use alcohol-free wine, like the Fre line, if you're going to use this bong water alternative.
If you really enjoy the idea of marijuana-infused apple pie, why not bring some of that appley goodness to your bong? Apple juice is one of the most delicious liquids for your bong, if you're a fan of apples.
When you take a hit from a bong loaded with apple juice, your herbal supplement tastes like apples—and that's pretty epic, if you think about it. Whether or not it'll keep the doctor away has yet to be seen, but it's looking sunny.
product review
Detroit-born Buddy Brown is a 80s hair metal fan who loves cars, games, and sports. When he's not drinking PBR while listening to Downtown Brown, he's playing Grand Theft Auto or working on his El Camino.