Copied Eyes
Written by Werner Andrews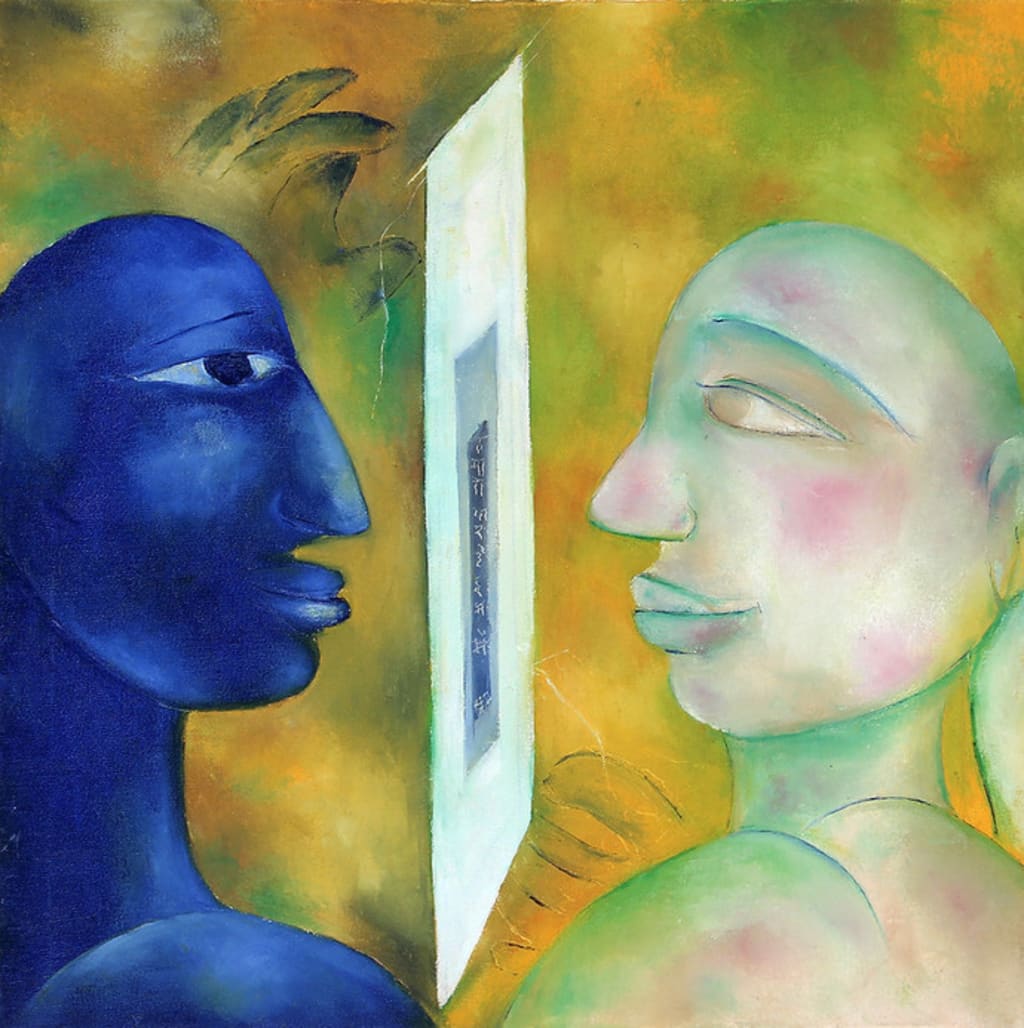 painting by Haku Shah
As I gaze into the mirror a thought that had never existed before permeates inside my awakened consciousness. If I am just space for the world as practitioners of an abstract philosophy would suggest then wouldn't the warehouse manager who treats me like a dangerously fragile thing be made of the same empty space as I am? The same true form as I am? But even if that were true what does it matter?
I formerly loaded carts filled with cardboard packages onto trucks. What would a life be worth if not for Jo Malone lavender scented candles and Evian natural spring water? I didn't last long in my prior position. I was far too nimble for it. It took me a while moving the carts and pallets into their proper distribution pods. I was doing a man's work and everyone without hesitation deemed me unfit in this regard.
Now I clean the facility restroom. Apparently this was all my painfully slender frame could manage. Of course no one would ever believe me if I said this transition was an improvement in my job satisfaction. It was not. But at least now I don't have to speak to anyone or pretend not to notice their pity ridden glances. So to make the passing silence a bit more interesting I decided that today I would take half a LSD tab.
I'm not concerned with getting caught. The men's restroom may be a frequently visited place but the guys come in one or two at a time. The rigid shift schedule allows the "prized associate" a generous fifteen minute reprieve. If a fellow employee meandered about the tight room in an attempt to avoid his prolonged labor then I would give the mirror a few anti-bacterial sprays as cover.
Perhaps it was a mistake to spray the mirror. My attention is presently focused on the boundless space that is being reflected in front of me. I am looking long and hard at my copied eyes. My face is caving in. I don't know if you've ever looked at yourself in the mirror after taking a psychedelic drug but if you already experience displeasure at the sight of your own face it will not make things any better for you.
My mind is racing now. What the fuck is this, what I'm feeling? My awareness is not my awareness. It expands and contracts in the way particles emerge and destroy, backwards and forwards. These are the contents of the boundless space that I am, they must be. I am no longer in need of logic nor reason. They are obsolete inside the space. Let time be as it may. Nothing precedes or transcends.
Stop looking.
Stop looking.
Stop looking.
Resistance brings Darkness.
So does clutter, tight extremities. These are the contents of boundless space.
humanity
Storyteller
Host of the Courier Thirteen Podcast with Werner Andrews.
"We write to taste life twice, in the moment and in retrospect."
- Anais Nin
Receive stories by Werner Andrews in

your feed