Can a beer brand be trusted in the weed market?
Ace Valley: The weed company with beer beginnings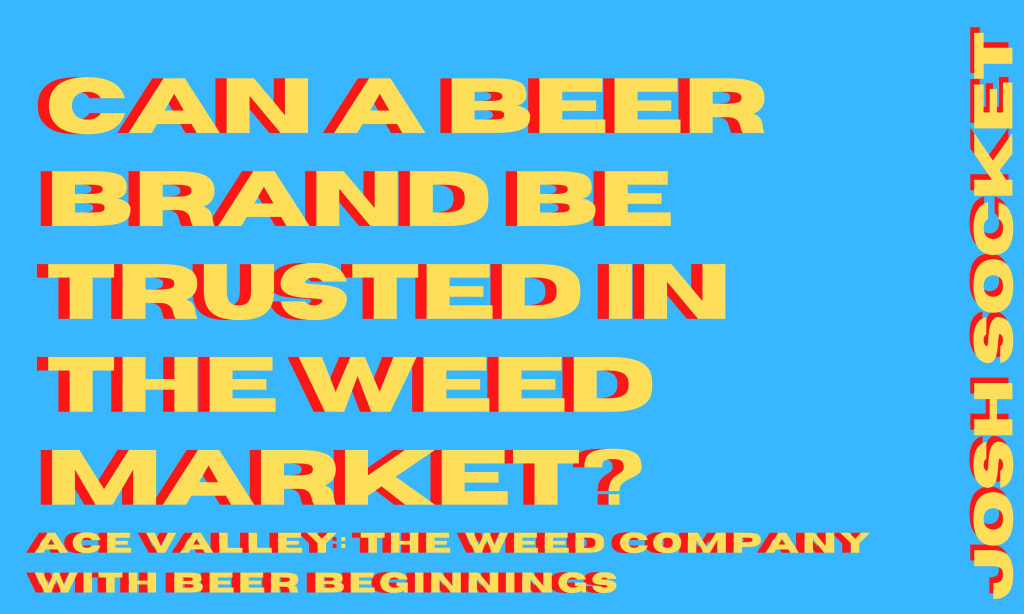 I took a seasonal contact at the LCBO in December. Just a cashier job to keep me busy for the month. My days mostly composed of the same conversations. Here's an example of one, you can imagine the rest.
Me: *Scans out $500 in alcohol* "Would you like to make a donation to sick kids?"
Customer: "Nope."
Me: "Have you got airmiles?"
Customer: "nope."
Me: "Cash, debit or credit?"
Customer: "Visa."
Over and over and over again. Sometimes a customer would donate two dollars. Once, I had a guy buy 40 bottles of wine and count out $1500 in brown bills. I counted them three times before putting them in my tray. Sometimes the customer had a gift card. I wish there was such a thing as a weed gift card. Weed gift cards aren't the topic of conversation today. Unfortunately.
So for the month of December, I worked at the LC. I learned a little bit about different liquor brands, but I was reacquainted with a brand I'd completely forgotten about.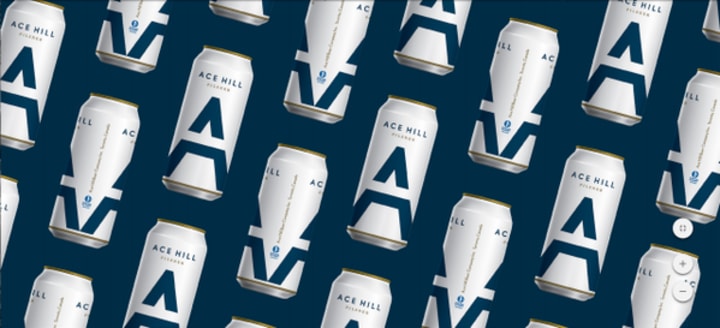 Ace Hill aka Ace Valley.
Ace Hill and Ace Valley's logos may be different, but stylistically they're the same. Their core values and positioning are the same as well as their branding. It's because they come from the same minds. People who want to provide approachable and simple products for easy enjoyment.
These guys were a group of friends who started out craft brewing at home. They eventually built Ace Hill into a big brand. While growing and expanding into new beverage markets, they noticed a trend. Cannabis, weed, pot. People like to drink beer and smoke pot at the same time. The two were complementary. Ace Hill hosted parties and people were frequently bringing weed. They knew they needed to get into the market.
Although they may have been experts in beer, they didn't have the cannabis know-how and decided to outsource their production to the experts. This was a project they worked in secret to put together while anticipating legalization. Planning and waiting to strike.
In the meantime, they were able to build a solid beer brand. One that also donates 1% of its total sales to environmental sustainability causes. While waiting to strike, they sought out experts in cannabis. Soon to be licensed producers with a history of producing quality cannabis products. They wanted to partner with the best to bring their consumers an easy to consume, simply communicated brand of herb.
Which is how we come to meet Ace Valley.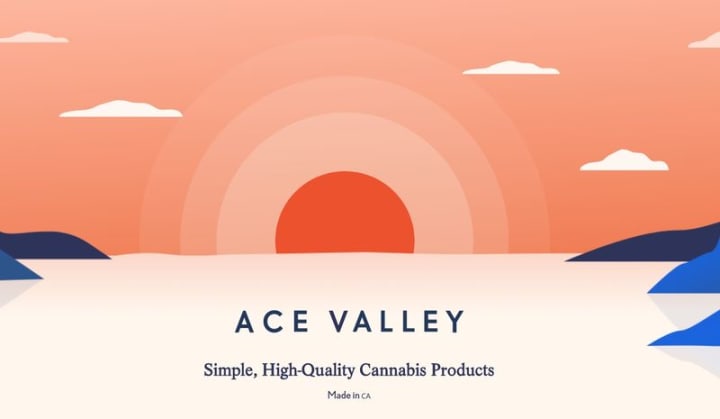 Ace Valley currently has 3 partners: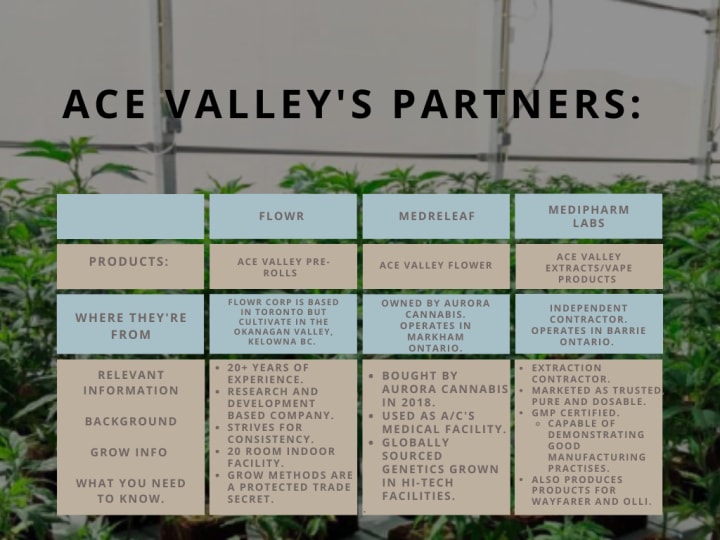 Every brand needs consistent products. If a big mac was different every time you had one, it wouldn't be a big mac. You can eat a big mac on either side of the continent and the ingredients as well as the final product will be identical. And neither (the east or west coast mac) will look like the picture!
That's much of branding in a nutshell, creating a product with a certain set of expectations and living up to those expectations by delivering the same level of quality with the same appearance every time. Brands may be about perceptions, but a brand always starts from within. They build their reputation and perceptions strategically. A brand like Ace Valley not only needs to consider how the promote their product, but who they choose to produce their product. It needs to be the high-quality, consistent, simple product they promise it will be.
Flowr corp, Medreleaf and Medipharm labs all seem to be able to produce quality and consistent products. I don't love the concept of a 'secret recipe' or 'proprietary method' for growing weed, though. I think cannabis companies should be transparent with their growing methods. It's important to understand what goes into what we smoke. Separately, if the team from Ace Hill have chosen to do select these organizations, it's not without thorough examination of their business first.
That being said, the best way to talk about Ace Valley is to talk about their products.
3 Products I'm recommending from Ace Valley:
1. Ace Valley CBD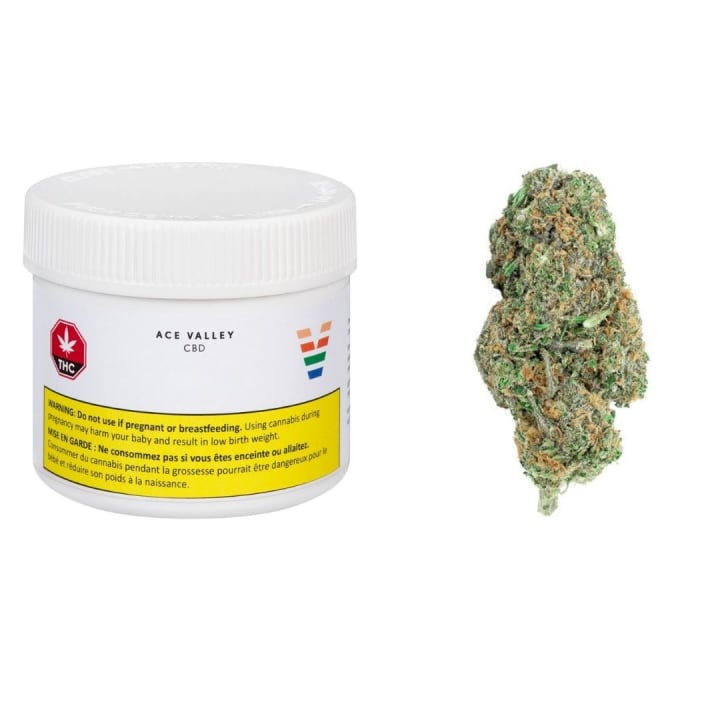 I love CBD. I don't believe in trying to sell people on THC. If they want it, they'll get it. Especially if they're new to cannabis or older. Alternatively, I would never hesitate to recommend a non-psychoactive like CBD. With its anti-anxiety, stress relief, pain relief and anti-inflammatory qualities, every year more people are realizing CBD is a safe, natural medicine.
Ace Valley's CBD is meant to be mild. It's got a range of 3.5-7% THC and 8-14% CBD. There may be some mild effects from the THC, but CBD mainly works to relax and ease pain. Often when the CBD count outnumbers the THC count, the effects of the CBD will counteract the effects of the THC.
Ace Valley CBD is rich with beta-caryophyllene, limonene, myrcene and terpinene. These terpenes contribute to the plant's earthy and fruity smell and taste. It also contributes to its purple, orange and red hairs. Look closely.
Ace Valley CBD is grown by Medreleaf. Medreleaf was bought in 2018 by Aurora cannabis and produces all of Aurora's medical products. Ace Valley CBD is grown in Markham, Ontario at a 55 thousand square foot facility. Medreleaf sources the best cultivars globally and grows them in locally in Ontario.
Ace Valley CBD's legacy name is Durga Matta II. You can buy 3.5 grams of Ace Valley CBD for $40.55.
2. Kosher Kush Pre-rolls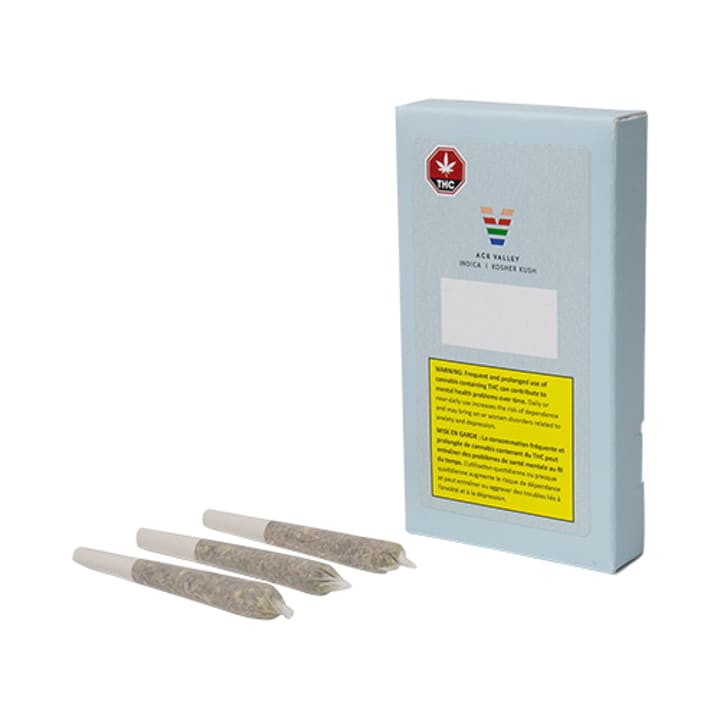 I had wanted to try an Ace Valley pre-roll for a while. I'd known their pre-rolls had come from Flowr in the Okanagan Valley in BC and I was curious. I had heard about this legacy grower who'd made the jump from the illegal market and became a publicly traded company. I wanted to see what the hype was about.
The reason I chose to try their Kosher Kush is because I'm Jewish. Emphasis on the ish. The concept of kosher weed amused me. I wondered to myself, "did some rabbis smoke this weed and give it their stamp of approval or is this just another cheeky way of saying it's all good?" Probably the latter.
I found the high to be moderately strong. Kosher Kush's THC content ranges between 18-24%. I was relaxed, then I was hungry. What stood out to me though was the taste. Somewhere between earthy and spicy. Rich, bold even. The taste and flavor are due to Kosher Kush being rich in caryophyllene, myrcene and pinene. Smoke this one with a sibling before shabbat dinner. Maybe take bubbie with you.
I don't know if a rabbi would certify this weed as kosher, but I happen to like Kosher Kush. Try it for yourself! Give it your own stamp of approval. You can get 3 X .5 pre-rolls for $22.95.
3. Ace Valley Sativa Disposable Pen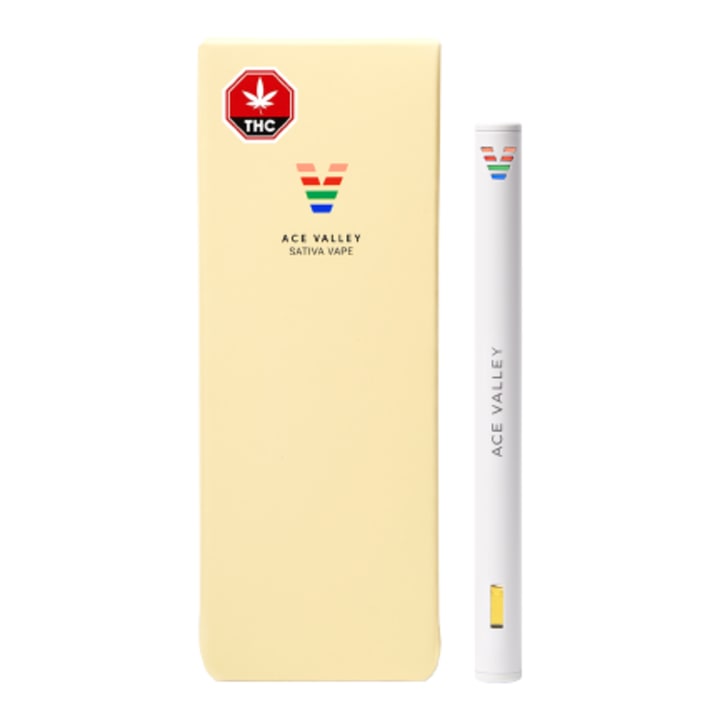 Part of having selling easy to use products is convenient formatting. I put these products in least to most convenient. It wasn't on purpose but I'm going with it. Flower needs to be ground. Then it needs to be rolled, or decarbed, or packed in a pipe or a bong. It requires work. With a pre-roll, as long as you have a lighter, you're in business. Still, there is nothing more convenient then a disposable vape. You inhale it until its done and then you throw it out. You don't have to pack it, light it or charge it. Many of them are even recyclable now.
This Sativa pen is jam-packed with alpha-humulene, alpha-terpineole, beta-caryophyllene and linalool. I've seen the pen described as sweet and pungent with notes of berry flavours. I tasted everything but the pungent. The sweet berry taste was nice. I liked the smell too. Really faint. Vape smell barely lingers. It's not the same as smoke.
With 76-86% THC, I found myself feeling pretty upbeat. The strong sative put me in a good mood. I put on a Kurt Vile album and went for a walk. B'lieve I'm going down… has that song Pretty Pimpin'. Want to do the same? Go buy a .28 gram pen for $59.95.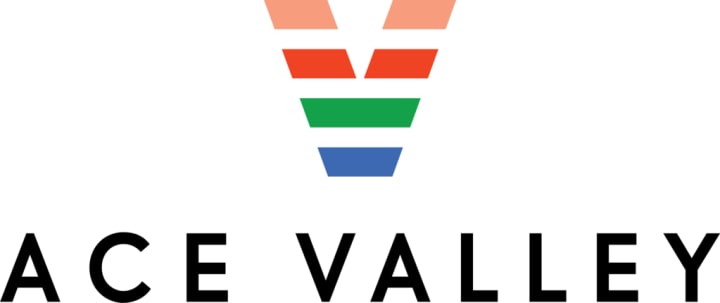 In conclusion, buy Ace Valley products… or don't. You do you:
Not all companies can by vertically integrated like 48North. It's expensive to own any process from start to finish. Although it's a great investment in the long term, it's a massive investment up front. If a company can't afford to own the entire process, playing to their strongest abilities will take them farther.
Ace Valley may not be growers, but they understand how people enjoy themselves. They also seem to have a keen eye for simple, accessible brands capable of connecting with people. The people at Ace Valley curate experiences. Their job is to find growers who can produce a quality, consistent cultivar and get that weed into our hands.
Simple, accessible brands are also enticing for new consumers. I can understand how some brand may seem intimidating to a new consumer. New jargon, crazy strain names, it can all be a little much for some. Education sometimes needs to start with an experience.
When cannabis products are marketed, marketers need to be careful about how they build their brand. It starts with the product and flows through the communications. Ace Valley seems to have picked a quality product to represent. The simply put communication has been equally smart in my opinion. Simple proves to be approachable. Keep it up Ace Valley!
I want to hear from you!
If you have a topic you want me to write about, a question you're dying to have answered, or you're looking for someone to write copy or content for your company, email me at: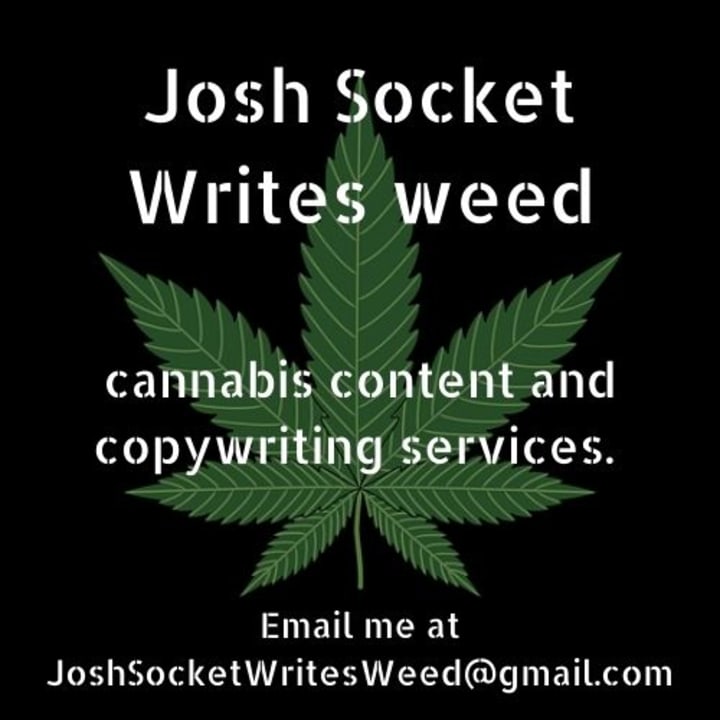 About the Creator
I'm a copywriter. My first thought was to create a library of cannabis information but I've decided to expand my writing.
I used to write for an agency that specialized in merchandising for influencers. Check it out.
Reader insights
Be the first to share your insights about this piece.
Add your insights