14 Cannabis Products You Can Buy on Amazon Right Now
Amazon truly does have it all, and that includes 14 of the best marijuana products. From stash jars to weed masking candles, these are the top cannabis products you can buy on Amazon.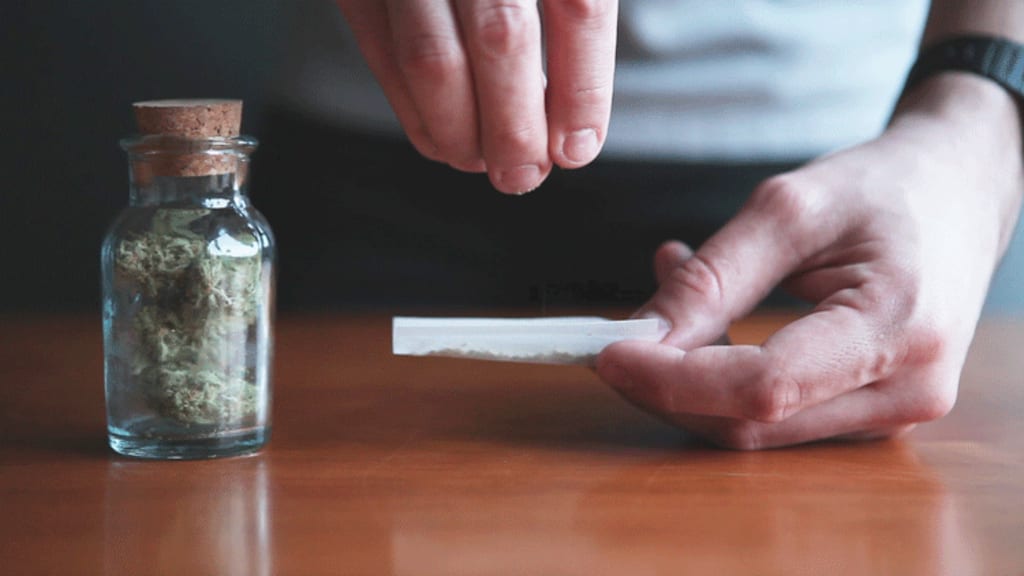 Amazon is the new destination for stoner products. And as one of the biggest shopping platforms on the internet, the amount of available cannabis products is growing and growing.
We have come up with a list of the best cannabis products you can buy on Amazon. From jumbo blunts to smell proof bags, they've got it all. Plus, Amazon is always known for their quick shipping, so you'll be able to get your fix instantly. And even better, for an affordable price.
To start off our list of the best cannabis products you can buy on Amazon, we're going to begin with this smoking steel by AC Greebs. Made of 204 stainless still, it is small, compact, and easy to clean, which makes it easy to transport.
With an airtight seal and a standard-necked 2L, the steel is discreet. A product that many cannabis lovers rave over, the smoking steel has reported users saying it works "almost too good." And, it's affordable, at only a little over $31.
Created by Juicy Jay's, the jumbo blunt rolling machine is one of the easiest ways to roll your blunts, for only $5. Rolling super tight blunts with it is 4 and 3/4 inch machine, the product twists a flawless cigar every time.
Meant for fat, long cigars, the machine allows you to make jumbo sized blunts. Accommodating blunt wraps, cigar papers, and rolling papers, the option is yours to either roll the cigar long or short. No matter your preference, the end result will be perfect, and made in minutes.
In the market for a new rolling tray? This premium metal rolling tray by OCB is one of the best cannabis products you can buy on Amazon. A limited edition version of their metal trays, the product is highly anticipated and brand new.
Created with durable metal, the design is simple, with the OCB Premium logo, and black color. A perfect size for easy traveling, the size is medium, and about 11.5 inches wide and 7.5 inches long. And, with Amazon Prime, you can get it in two days. Plus, it comes with a free pack of OCB papers with every purchase.
A perfect weed storage, the Icky Bud 2 tin is made of 100 percent teak wood. A product that will last you a lifetime, it is durable with a classic look. And most importantly, it will keep your contents from getting dry and at the ideal humidity.
This will allow you to avoid your herb from losing its effectiveness. And holding up to 3.5 grams per tin container, you can store about 7 grams today, plus 10 Robusto cigars. The tin has an airtight seal, so you won't have to worry about any smell leaking through. And even better, it is spill-proof for easy transporting.
With a brand name like Discreet Smoker, you know you can trust their smell proof bags. As one of the best cannabis products you can buy on Amazon, this product allows you to store all of your smoking accessories, in one airtight and smell proof bag.
Dog tested and certified, store any of your rolling papers, grinders, rolling trays, you name it, in this product. With a double velcro seal, the bag also looks discreet, with no view of the inside contents.
Yet another great smell proof product that can be found on Amazon, these stash jars by SimpleChoice are waterproof and scent proof. With a discreet metal design, the jars are easy to store, and have a portable travel size, in a matte black color.
With an aluminum design with precise treading and a rubber seal, you won't have to worry about any odors seeping through these jars. Plus, they're completely shatterproof, and are protected from damaging light or UV rays, due to their aluminum construction.
If you're looking for storage that isn't as bulky as jars or bags, these Doob Tube plastic tubes are one of the best cannabis products you can buy on Amazon. Coming with a package of eight tubs and one large tub, the items are all travel safe.
Airtight, odor proof, and moisture resistant, the tubes are constructed of polycarbonate plastic. Made for safe and secure storage that is undetectable, the tubes might be a little less discrete than the previous products, but they're definitely fun. Perfect for marijuana, tobacco, or other smoking herb storing, the containers are hermetically sealed.
Including a RAW loader, a loader, card, a rolling paper depot doob tube, and a bamboo packer, this RAW kit holds all of your necessities. Allowing you to fill a cone with ease, this kit eliminates the problem of loose material on your tray.
Compatible with more cone sizes, the kit allows you to simply dust the material into a cone or paper with ease. And for less than $10, how much more could you ask for?
Next, on our list of the best cannabis products you can buy on Amazon is this herb grinder by Kannastor. With a 60 mesh stainless steel screen, the multi-chamber grinder allows you to break down the product into a more slim grinder, by removing the sifting chamber.
Whichever design works best for you, you can decide, but the versatility is a selling point for many. Portable, compact, and high quality, the grinder is made of premium and heavy-duty materials.
The original Bukket is certainly one of the best cannabis products on the market, and it's available on Amazon. Top quality and easy to clean, the bukket gravity bong does not contain any harmful chemicals or objects. As the ultimate pipe, the Bucket has a simple design, which makes for easy use, and packs a punch.
With one use, you won't ever want to go back to smoking your old ways. Plus, it's even dishwasher safe, and comes with a carrying bag.
Not your typical cannabis product, but one you need to have, is this cannabis killing scented candle by Beamer. A candle created specifically for masking weed smell, it has up to a 90 hour burn time.
As one of the best cannabis products you can buy on Amazon, this candle will remove the smell with each burn, and make your room smell great as well. Created with all natural products, the cannabis killer will eliminate the need to cover the door, and open the windows every time you want to smoke. Instead, simply light up, and light your candle.
Another one of the best smell proof bags on the market, this one happens to be by the brand Skunk. Created with high absorptional odorless technology, even the zipper is smell proof.
A perfect size to fit in your backpack or even your purse, the bag will keep everything smell free, in a discrete and compact way. It even fits perfectly in the palm of your hand. With activated carbon technology, the bag is three inches high and 1.5 inches wide. Plus, if you're looking for a different size, Skunk has a bunch of other bags available on Amazon.
The Magical Butter MC2B Botanical Extractor Machine might look a bit intimidating, but it's well worth the purchase. As one of the best cannabis products you can buy on Amazon, you can create brownies, cookies, sauces, soups, candies, smoothies, vegetables, seafood, meats, beverages, lotions, you name it, with this machine.
A fully automatic and microprocessor-controlled program sequences, the machine has two simple buttons for easy use and quick production. You can even make cannabis skincare with this product. And, it comes with the Official Magical Butter Cookbook for the ultimate recipes to make.
Last, but not least, on our list of the best cannabis products you can buy on Amazon are these 24K gold rolling papers by Shine. Coming with two handcrafted sheets of 24K gold rolling papers, if you're looking to smoke with luxury, this is the best way to do so.
Both in King Size, the papers measure 53 mm by 100 mm. Providing a slow and even burn, the gold on the papers will remain on the ashes, so it is perfectly safe to smoke. "Don't be at the party. Be the party."