10 Classic Books About Cannabis Every Stoner Should Read
If you want to bolster your knowledge of what this healing plant is capable of, classic books about cannabis will show you the way.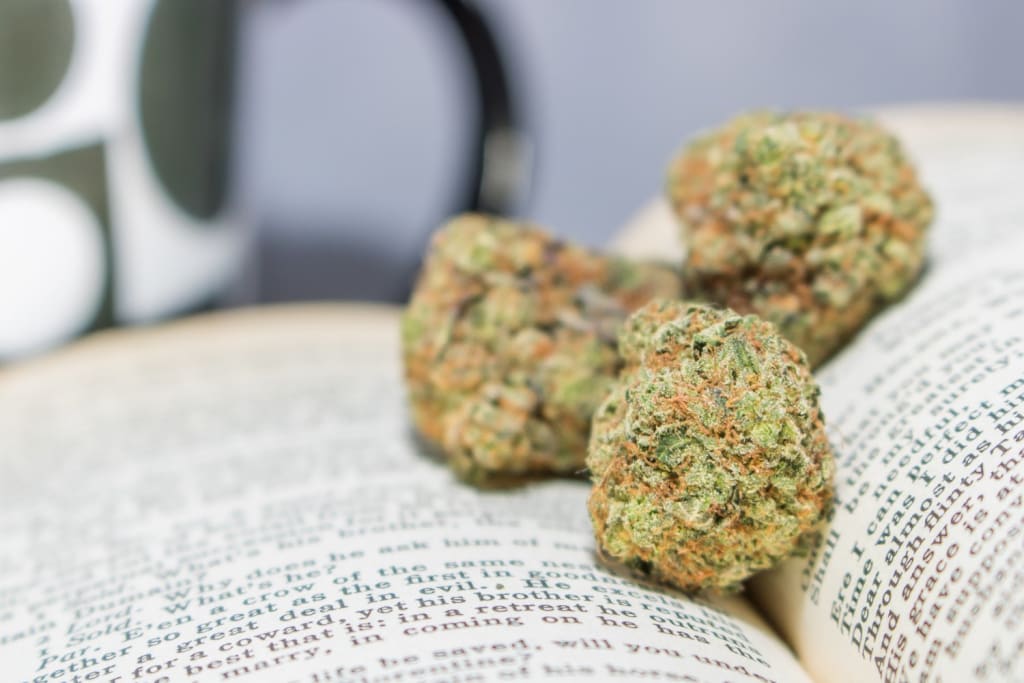 Whether you are a rookie or seasoned user of cannabis, there's no such thing as knowing too much. Maybe you got a little too high and decided its time to see exactly what it is and what you are consuming, or you are a little more advanced and need guides to grow babies of your own. Utilizing classic books about cannabis, you will not only gain newfound knowledge about the plant, but a slew of fresh ideas you may not have even thought you could do with it!
This book has been christened by many as the "bible" of all cannabis books. It is an incredibly well-rounded source of information for just about anything you could want or need in a guide to medical marijuana. Jorge Cervantes did an amazing job incorporating what cannabis is truly about into one place, and it has a wealth of knowledge pertaining to the different facets it has to offer. Do you need a step by step guide to growing and maintaining your crops? Check. Need a little history on cannabis or the effects of different strains? Check. With over 2,000 stunning visuals, this book covers everything, and shows you exactly how to do it. All you need to know is what you are looking for and you are sure to find it.
I'm sure the thought of getting into the cannabis industry, one way or another, crossed a lot of different people's minds as a one way ticket to easy money. If you like hilariously witty, beautiful storytelling, with amazingly descriptive scenes, look no further than Budding Prospects by T.C. Boyle. If you are from Northern California, you will get a kick out of this book. It chronicles the journey of a few men trying to make their way to half a million dollars. All they have to do is harvest a crop of some sativa bud. Easy, right? They soon find nothing in life comes easy, and are faced with a myriad of different obstacles that have them rethinking their life decisions. Definitely worth a read. If anything, this book will help you learn what NOT to do, keeping you laughing along the way.
Julie Holland has composed a deeply thorough work here about cannabis that covers a lot of bases. She is not a lone wolf on this project though. She has assembled an all star squad of experts on cannabis who work together to really get down to the nitty-gritty of what the societal, physiological, and even spiritual effects it has on people. The knowledge here is all encompassing, as it mentions ramifications from abuse of the plant, while also touching on the many ailments that it could potentially heal. It is laden throughout with interviews from different people, most notably being the master Tommy Chong (who is also an author in his own right, partnered up with Cheech Marin to bring us one of the best books for stoners to read), which definitely gives it a more personalized feel. This book is great for all types of audiences who just want to know the truth.
When it comes to cannabis, you would be hard pressed to find a man more passionate about it than Steve DeAngelo. For decades he has been one of the most well-known activists in complete favor of what this plant could do for the world. I expect nothing less from someone who owns the largest medical dispensary on the planet to be a purveyor of the benefits of cannabis. His book The Cannabis Manifesto: A New Paradigm will undoubtedly change the way you look at everything about it. DeAngelo explains just how badly the government's tight grip on it has distorted our minds in every facet of life. He lays out his vision of how it should be treated nationally, and provides a sort of call to arms for it to be seen in a more practical way, as it helps so many people across the country. If you are on the fence about medical marijuana and want to know more, this is the book for you.
If you need a book that is solely concentrated on how to use cannabis, types of strains, and the different effects it has on people, this book covers all of that, and is a must grab. It delves a small bit into the history of it all, then into the science of how it interacts with the cannabinoids in your brain. If you are a newbie, there is a section that guides you step by step as if you had an experienced user at your side. The variety of the plant is shown off next, as it gives you insight to a lot of different strains and what you could expect from each one. If you thought cannabis was only good for minor aches and pains, guess again. Michael Backes gets into the plethora of ailments that could be treated like PTSD, autism, Alzheimer's, and fibromyalgia. This is the perfect book for anyone who needs knowledge based on the medicinal aspects of the plant, and who is thinking about making a trip to a cannabis dispensary.
The ways of consuming cannabis have changed and evolved so much over the years. It no longer just consists of grabbing some papers and rolling up, or packing up your favorite glass piece. Things have truly went Beyond Buds as the title of this book implies, and advanced towards all of the capabilities and potency cannabis extract has to offer. It shows you how to make the most sought after extracts like hash, edibles, tinctures, and kief...but it doesn't stop there. It goes into the production of newer styles that are a part of the new wave fads like wax, shatter, and budder that will undoubtedly take you to newer heights. With all of the explanations of new devices people use and how to pictures to guide you, you will gain a healthy know-how of producing and consuming extracted cannabis, brought to you by Ed Rosenthal.
As a stoner, the munchies is something you just cannot avoid. Why not incorporate the love for cannabis with absolutely delicious food you can make yourself? Smoking alone is not the only way to get some THC into your body, and many people would much rather ingest it through its edible form, which is what makes the best weed cookbooks so popular. The High Times magazine has put together its very first cookbook to cater to those food connoisseurs who double as cannabis aficionados. With over 50 different recipes guaranteed to make your mouth water, you will be hard pressed to find something in here that doesn't tickle your taste buds. This isn't your normal cookbook either. It's filled with knowledge on what to do if you get too high on your creation, and the effects of the combination of the food you made with different strains. You don't have to make the same old space brownies anymore. Now you can get creative on a higher level.
I think it's safe to say most stoners want to relax, for the most part. A lot of people leave from work, school, or anything stressful to come home and decompress from the day using cannabis in one form or another. This is another book of recipes that show you how to create cannabis infused ointments, lotion, bath salts, oils, and much more that promote healing for the mind, body, and spirit. You don't always have to be high to manage pain using the healing powers of this plant. Different recipes laid out here give you the option to produce something that generates an exhilarating and euphoric experience, or more along the lines of tending to pain in different regions of your body by direct application. These all natural alternatives can and will leave you feeling like you are in your own homemade spa.
If you claim yourself to be a stoner, you should know who Jack Herer is, or at least have come across one of the most famous strains named after him. Also, if you're a stoner, then you may have heard about all of the uses there are to be had with hemp. If not, then I'd highly suggest this book, The Emperor Wears No Clothes, that will surely bring you up to speed and warp any misconceptions you had about it. Not only does he outline the myriad of benefits of cannabis and hemp as a renewable resource that could sustain the planet for years to come, but goes on about how systematically they have been conspired against to stop just that. This isn't just for cannabis users. This is for anyone who has that voice in their head saying something isn't right, how something so beneficial could be so vilified. Revered to by many as the Hemp holy grail, this book is sure to reveal the truth to you.
Most people who are cannabis users are, at the same time, advocates for its legalization as a whole. While having that veil of criminality lifted once and for all for a lot of American's favorite pastime (and also for their source of medicine for whatever ails them) seems to be for the greater good, do we really know exactly what would happen once the laws get passed? There are so many factors in play that must garner attention, and at least some of the classic books about cannabis should cover them. For instance, who has the go ahead to actually sell once its legal? What are the taxes going to look like once the government has their way? Once it is legal, are people who are incarcerated for minor possession of cannabis going to be absolved? These are just a few things that come to mind, and the combined efforts of these authors' laser-like focus in this book about cannabis legalization (and possible outcomes, good or bad) will certainly put you in the loop.
Reader insights
Be the first to share your insights about this piece.
Add your insights