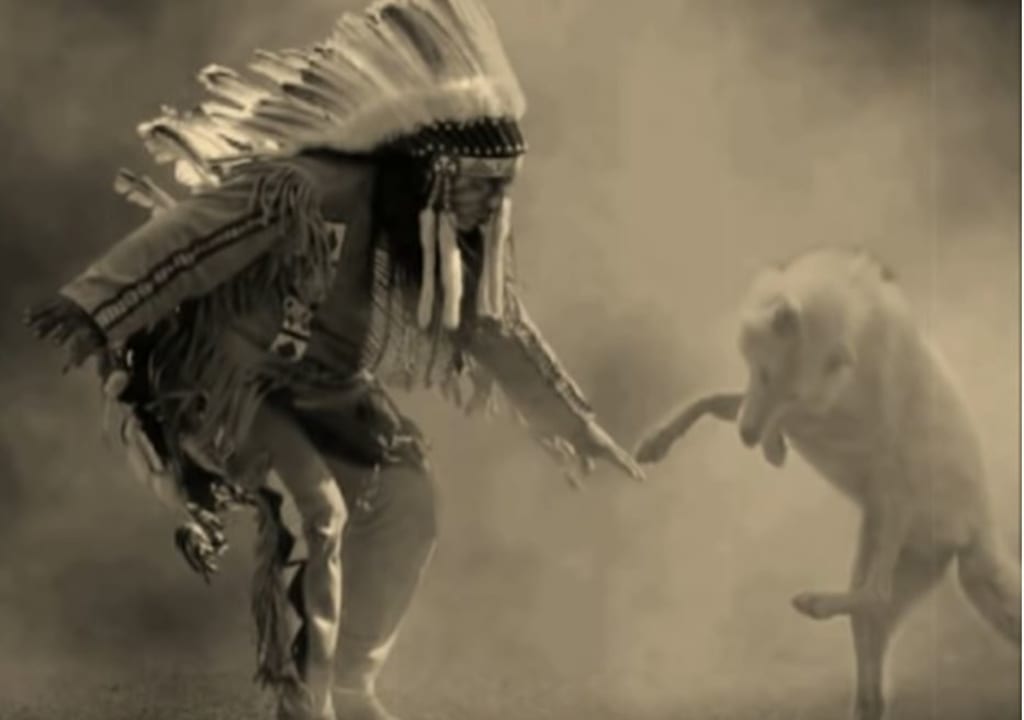 Attribution: Ly-O-Lay Ale Loya (Circle Dance)
"Everywhere I turn
Wolves are there
Some curious
Some only stare"
"Seeing their shiny coats
And graceful lopes
Reflecting strength within
Always gives me hopes"
"Hopes of future times
When darkness reigns no more
In the glare of blue middle of the night
The dark recedes behind the moon"
"Walking slowly forward
Each step musters strength from within
But to stop now would be folly
This far already along the glen"
"Beautiful glade in sunlight
Greens and blues and colors more
Fading into dark blue hues
Moonlight casting path shadows"
"They follow me now and even then
When travels take me on
Wolves many or few
Guarding my path in midnight"
"Some would dance with me
In the zero hours
Turning circles both are we
To the distant drum"
"The walking drum pounds slowly
Driving me on tonight
Seeking glory and a home
Strength from the hills and howls"
"Music of the forest deep
Most are quiet into sleep
But my wolves are here
Making sounds to please the ear"
"They hunt with me at night
Fiery eyes alight
Muscle and sinew relaxed and ready
Easing up on what may come"
"Down this trodden path before
Many have been here
Of that I see
Footprints and worn trails"
"Following now through earth and rain
Moving forward once again
Night music playing free
Keep my wolves company"
"Strength in numbers nay alone
Lone wolf walking
Over rocks and roots
Sure-footed as can be"
"No need to see but feel
The hearts of wolves
Guiding me to where
There can be solace"
"Down the mountain
Past deep rich glens
Where water flows
Without an end"
"That peace endures
Heart pounding still
Legs moving faster
Going down that hill"
"Go down to go up
Reaching mountain's base
Fortified for the climb
Wolves at hand"
"This further trek
I need to do
Heavy heart in tow
Calling out to misery past"
"Mystery surrounds this dark blue now
Understanding more each step
If only to wander on
Not lost but searching"
"For that place of home
Fires burning bright
Shadows dancing
In pure moonlight"
"Wolves show me the way
Leading on I dare not stay
Moving slowly up
Up that mountain side"
"Trudging steps at times
They come back and wait
Silently singing me on
Sharing hearts with men"
"Sure that I am strong
Wolves leading on
Traveling but for a moment
It seems in this pale middle night"
"The witching hour some would say
But deep within I know
It's part of the adventure
Knowing more than them"
"Wolves ranging far and wide
They carry no burdens
Like the ones my heart and head
Take with me now"
"Listening to their soft steps and growls
Deciding to cast off
From underneath this melancholy
Leaving her behind not so"
"But remembering sweet touches
And that voice ringing true
Mixing with wolf songs
Upon the morning dew"
"Wolves carry me onward now
Singing softly in darkest blue
That my steps would be firm
Upon this forest ground"
"Refreshing pause at last
Upon the mountains ear
Sitting silently in wonder
Belief in hope not far"
"Hunting wolves now feast
Upon earth's bounty
Bringing me more energy
To continue with this quest"
"Bunnies dancing in the moonlight
Putting on a show
Offering willing sacrifice
For hopes and dreams not seen"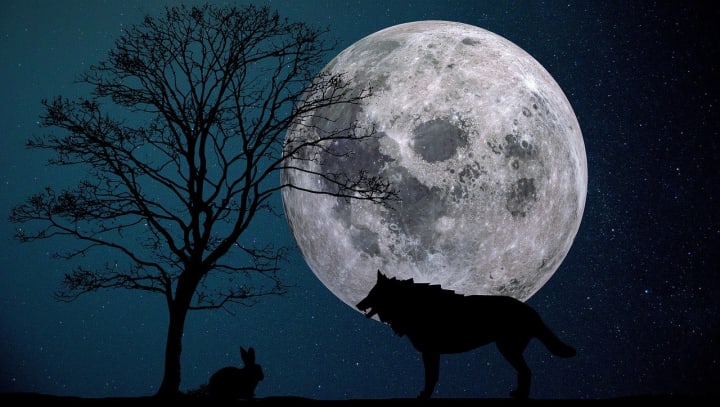 "Tobacco down to honor
Earth and her bounty
Smoke rising through dark blue air
Prayers lifting spirits upward"
"To search that forward place
With still heart and mind
Knowing as wolves know
When that is what I'll find"
"Rested weariness at bay
For the moment and today
Carrying no burdens on
Back up the mountain"
"Wolves sensing better hearts
Full respite for them too
Leading now with purpose
To reach Glory's due"
"Pressing on through lighter skies
Feeling warmer healing
Eyes and feet focused forward
Footslogging turned to Grace"
"Cooler clearer mountain air
God's gift deep breathing in
Wolves syncing up for now
Wandering together peace"
"Known paths and aches forgotten
Memories for enjoying
What once was golden fare
Lightly stepping forward once more"
"Following well-worn trails and feet
Knowing many passed here before
Wolves sensing the ways
To get from here to there"
"Strength and peace from these paths
Learning what others know
Beauty of the journey
To the end of sadness"
"Lone wolf highlighted
Against the moon
Ready at the peak
Looking back to see"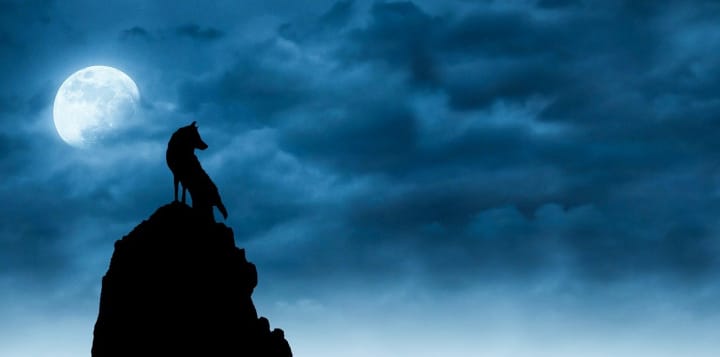 "Me soldiering on
Near weightless
Knowing the journey
Ahead will be my guide"
"Create new memories
Tied to stories of old
On the path of the chosen
Wolves here to sing me upward"
nature poetry
About the author
Dale started writing and proofreading at a very young age, after school in his parents newspaper. Corporate career, numerous awards and recognition followed. Dale writes now to inform, uplift and entertain.
Reader insights
Be the first to share your insights about this piece.
Add your insights