'The Princess Saves Herself in This One' by Amanda Lovelace
Thoughts on the collection by Aarushi Shetty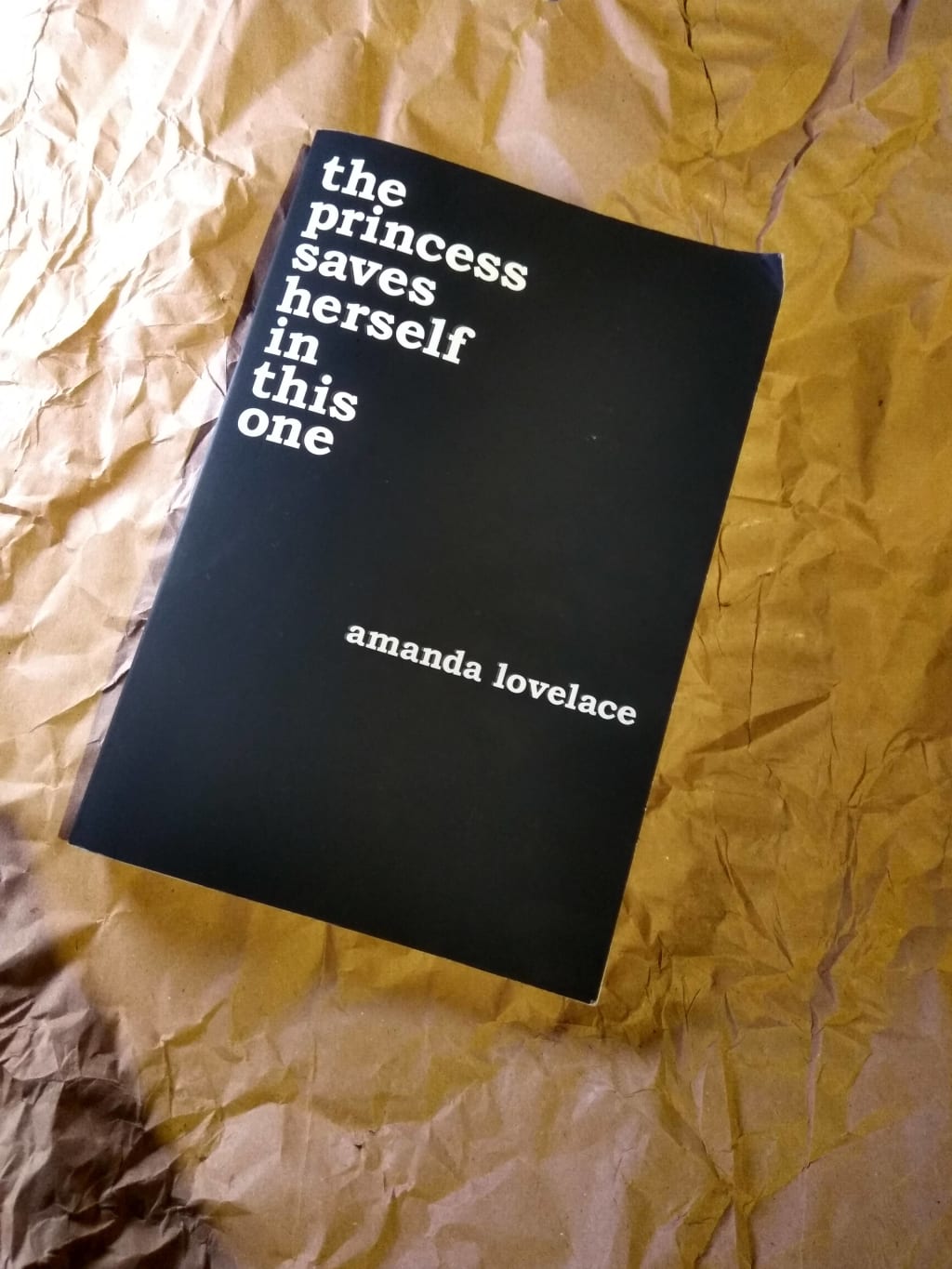 I am usually attracted to the cover, the synopsis, or even the author's name, when I choose a book to read. Then there are other times, when I choose a book by reading the first three sentences on the first page. However, Amanda Lovelace's poetry collection's title was the one that did it this time. the princess saves herself in this one.
I have always been attracted to gender studies, and so this title was intriguing to me. Then again, I was writing my dissertation for MA Professional Creative Writing, wherein I planned to prepare a poetry portfolio. This book seemed relevant for my research, especially because I decided to have 'the feminine' as my research area.
My fingers itched to hold the book in my hand, so, I picked it up. The matte finish cover was smooth like velvet. The pages smelled sweet and crisp. I flipped the book and found 'the story of a princess turned damsel turned queen,' written on it and I was hooked. I am impressed by the fact that merely a title and its subtitle persuaded me to buy this collection. In all honestly, before I read this collection, I didn't even know who Amanda Lovelace was. The simplicity of the cover foregrounds the power of words, which I always try to draw from poetry.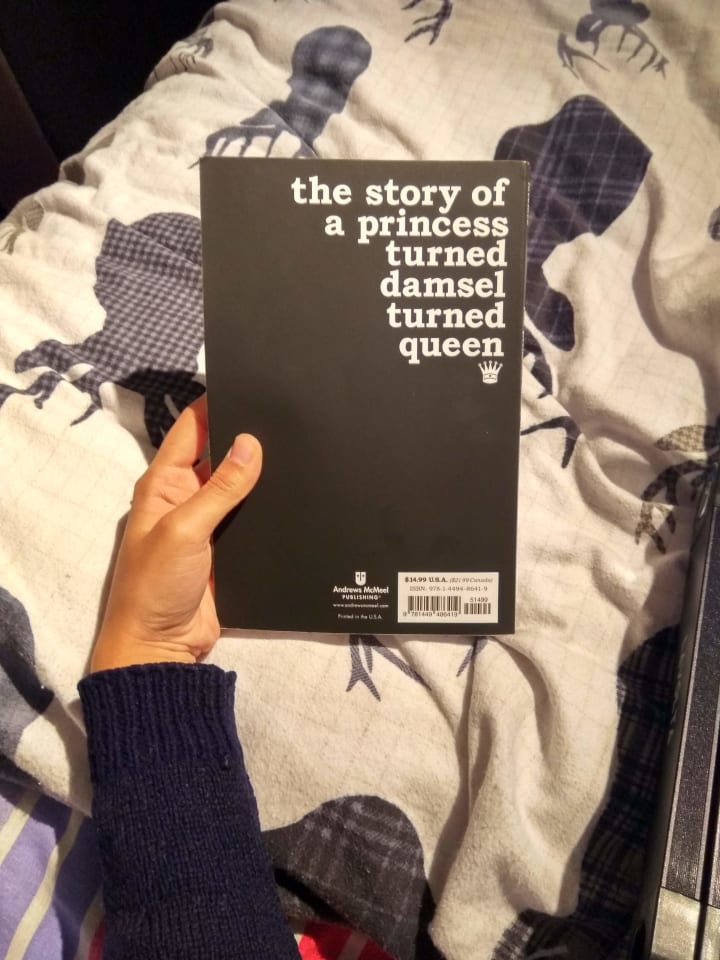 Moving on to the content and why you would be interested in the collection. Anyone who is keen to learn experimental forms of poetry will find varied examples here. Whilst Experimental poetry is dismissed as free form, one must realise the intricate art of writing an experimental piece. Lovelace has done a tremendous job with all her poems.
I found many examples of concrete poetry. In concrete poetry, the words are arranged to form a shape. It looks appeasing; however, it is a very tricky to format. The words must make sense in the whole poem, it should be short and snappy, well edited. Lovelace has created a heart and other symbols with her words. The poem itself within the concrete form brings out the emotion that Lovelace has poured into it, whether it be sadness, happiness, love or grief, it can all be felt.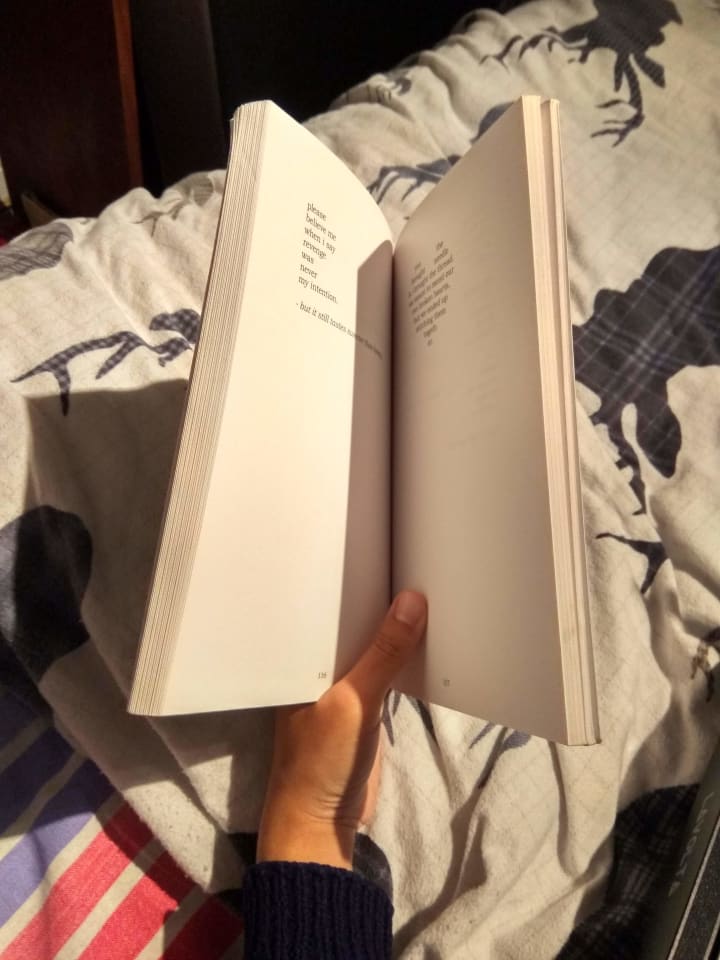 Most of the poems in this book are just a page long, sometimes even smaller. The white spaces on the page also conveyed a meaning to me. The emptiness that Lovelace describes in some of her poems is magnified by the empty spaces on the page.
One thing that I particularly liked are the crossed-out words in Amanda's poems. It is quite interesting because they seem foregrounded. The obvious effect is that the reader is drawn to find out what is crossed out. Why is it crossed out? We start getting engaged in the inner monologue of the character created. It could also be a glimpse into the poet's mind. I just loved this simple poetic form of showing rather than telling us about the inner turmoil of the character.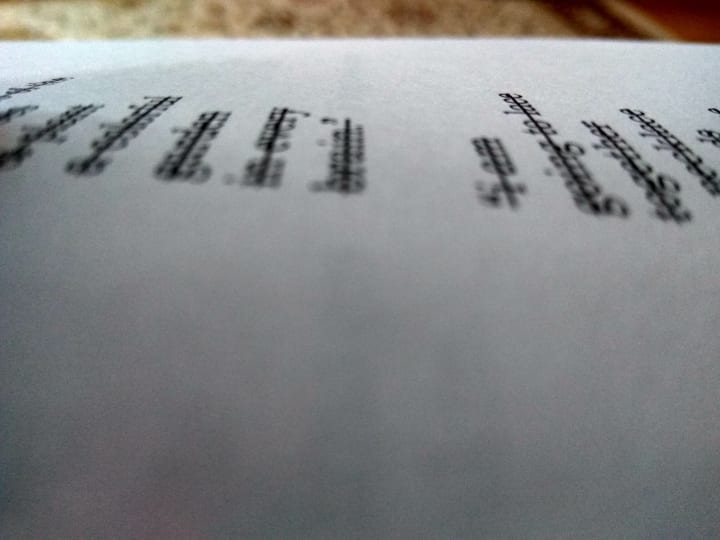 There are some examples of list poems as well. For instance, 'the princess counts,' found on page number 33. There is a list of fifteen things that she is counting, from her scars to the books that she owns, things she likes and things she doesn't. When I read this piece, I thought that the list shows her growing years. At the end of the list there is a repeated line which sets a loop to the poem, '& she starts all over again.' The repeated line gave me a sense of being trapped in one place. It's just wonderful that Lovelace used one sentence to show that the princess is trapped. It was never explicitly said. I read that poem a few times just to relish the word choices in the poem.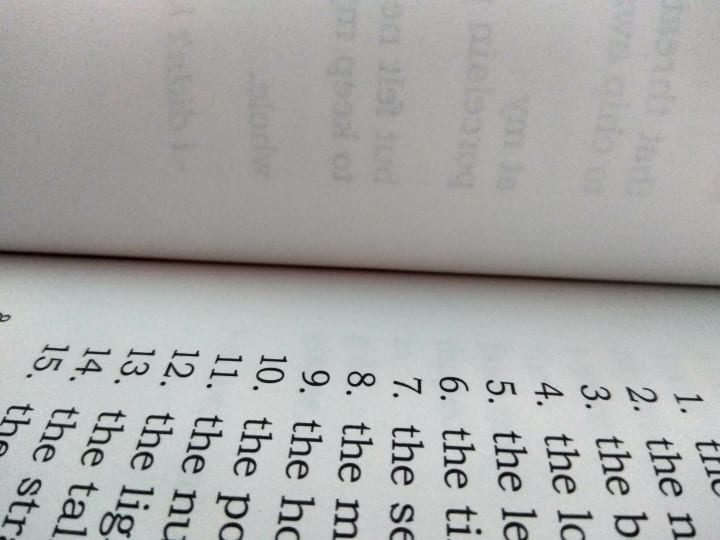 Amanda's poems inspired me to write some of my own experimental pieces. If you are a poet looking for inspiration, this could be a good starting point. After ding some theoretical research, these poems can act like a template to scribble some drafts. I have mostly given list poems a go so far and used some word formatting in my drafts.
If you simply like reading poems you might enjoy the story-telling aspect of this collection. These poems are not just experimental pieces. They are educational. This collection can empower women. It reminds us that caring for ourselves is important. It teaches us that grief can be endured. And most of all, it tells us that life is full of ups and downs, that we will survive.
Every fairy tale has one hero and we can have our own shining armour.
book reviews
About the author
Graduate with an MA in Professional Creative Writing.
Non-fiction Sub-editor at Here Comes Everyone magazine
Reader insights
Be the first to share your insights about this piece.
Add your insights