The Buddha in the Snow
a poem
The Buddha in the Snow - A Poem, by me 😉
The Buddha sat very still
oblivious to the white covering
blanketing its lofty sill.
Contemplating, meditating, resting
enjoying the gentle peace, as a barn owl nestled in the tree
no thoughts or chatter just boundless questing.
All the answers are right, honest and pure
just as the snowflake takes its journey
knowing that going with the flow is always the cure.
The Buddha sat very still
oblivious to the white covering
blanketing its lofty sill.
I woke up this morning and looked at this picture and the first few words flowed out… so I continued looking at it and completed it. I hope you enjoyed it. I also then got inspired to create a video reading the poem and putting it to music… in my opinion this just added that "extra-touch".
What was extra cool is that my poem inspired someone else to get into his project again… even more cool is that he is a member of an exclusive authors group called the Muskoka Authors Association :)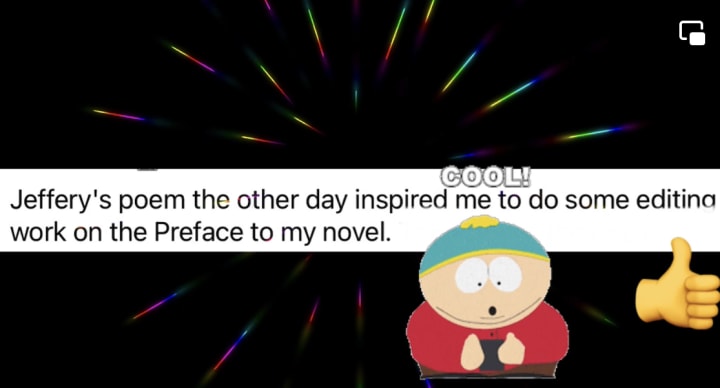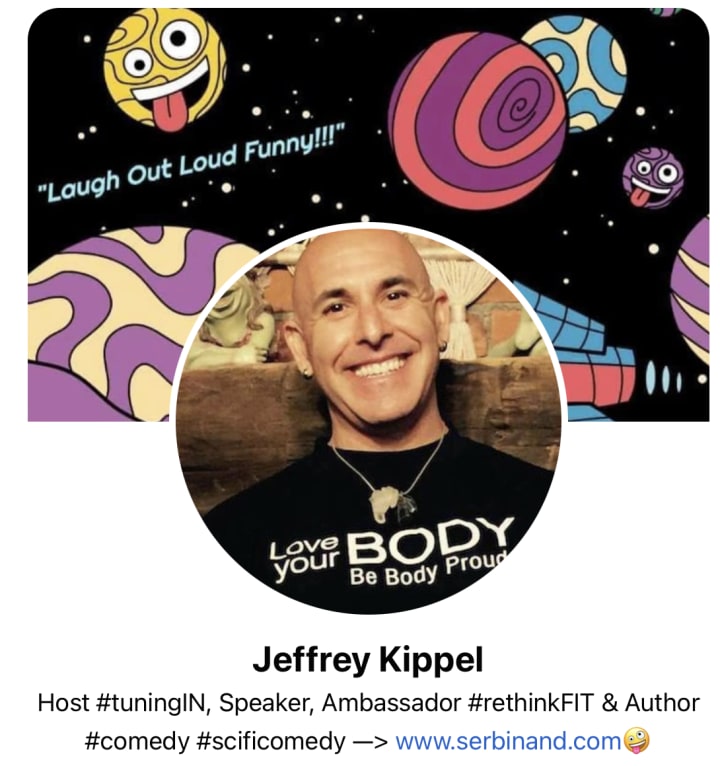 My name is Jeffrey Kippel and I wrote a wacky, laugh-out-loud sci-fi comedy adventure for all ages! It is full of "twists and turn" making it a fun "ride" that takes you away into a world of imagination, escape & fun! It reached the top 300 in Humour/Satire on Audible & Top 100 in various Humour categories on Amazon.
I am also the Co-Host of Tuning IN with Jeff… and sometimes Mindy. It is a talk and interview show featuring Authors, Writers, Poets, Storytellers, Narrators, Screenwriters , Innovators, and Experts. It is a platform to share a book, message, philosophy, lived experience, creation and innovation with the intention of inspiring, educating, entertaining and empowering others. It's also an opportunity to pause, tune in, and laugh, share some stories and get to know each other. The goal is also to help people express their creativity, innovation and knowledge to help others love better how they think, feel, act, look and dream‼️
My background is in the fitness, wellness and empowerment industries. Back in the late 90's together with my wife Mindy Blackstien, we helped pioneer and launch the natural bodybuilding and fitness movements in Canada and expanded that around the world. This sparked the popularity of the "Fitness Model" industry and was showcased at FAME: Fitness And Model Expo in Toronto, the largest fitness consumer show of its kind. Soon the FAME World Tour became a destination event for the fitness and wellness industry, attracting enthusiasts globally. We created World Natural Sports Organization, founded the FAME Agency, produced the FAME World Tour, co-produced a #1 hit TV show for Canada's Sports Network (TSN) called the "TSN Fitness Series" and "Musclemania Canada" and published an international lifestyle magazine series called: FAME. The FAME World Tour was one of the largest and fastest growing event tours of its kind which gave us the privilege to speak on stages and to TV cameras around the world inspiring millions to take action and transform.
Going back even earlier In 1990, while studying creative writing at York University I published Canada's first environmental magazine, Recover: Reduce, Reuse & Recycle. They highlight was having environmentalist & writer Farley Mowet provide the first editorial and Calvin & Hobbs submitting a cartoon in the launch issue!
Today I also speak to audiences from kids to adults about creativity, mindfulness, science fiction and laughter, after all, it's one of the best "medicines"! I am also an Ambassador & Strategic Connector for the RethinkFIT initiative, because being FIT goes beyond just strength and appearance, it's about mental, emotional, social, spiritual and functional health too! It's mission is empowering people with information, inspiration and insights so they can be happy, healthy and whole #unleashyoursuperhero
My book - The Ridiculous Adventures of Serbinand helps to spread the message too as it is also about escapism, self discovery and growth, with a bunch of laugh out loud moments in between.
You can get it on Amazon, download it from Kindle and listen on Audible!
social commentary
About the author
Helping raise social consciousness with laughter, wellness & empowerment; with my comedy book, as a talk show host & as an ambassador for rethinkFIT.
www.jeffreykippel.com
Reader insights
Be the first to share your insights about this piece.
Add your insights