Smithsonian
(2019)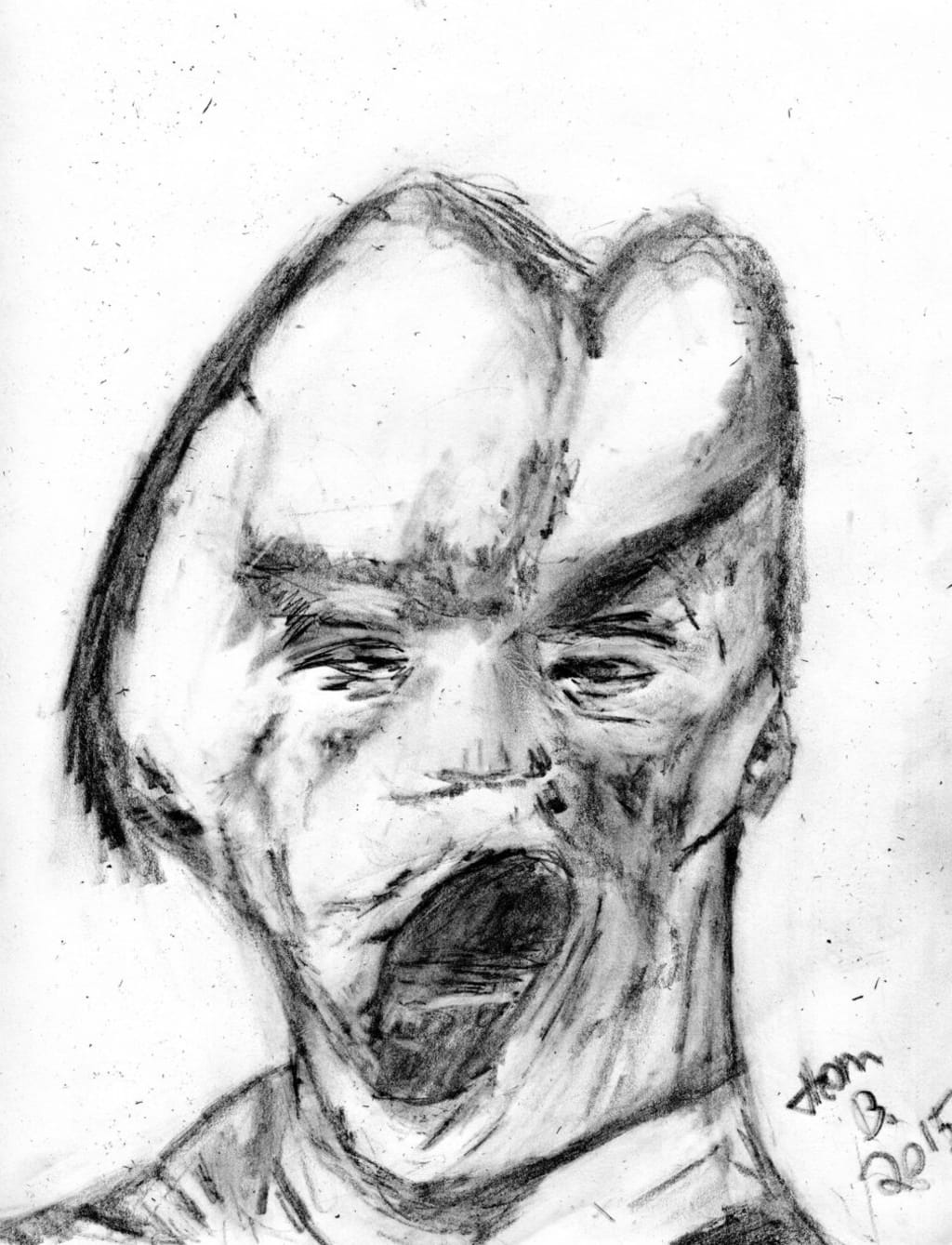 At the Smithsonian, for some reason, the Joseph Carey Merrick display, which is a huge, fuzzy, coconut globe at the end of a pole, is draped in a cloak, and a HUGE yachting cap.--NONE of which is... "Original Elephant Man Wear."
But some Middle Class suburban family, straight from a Johnson Smith Catalog, from an uncommon era, come strolling by.--and, in fact, has a kid that the dad calls Robert. Robert pulls off the flannel face mask Joseph wore.
It is a white and threadbare thing.
Because (and I observe, Joseph did NOT have two slits in this face mask, two holes but one rectangular. Because one eye was occluded, as it were, by an overgrowth of tumescent, cauliflower flesh, what hung from the loaf-like appendage to his forehead) I observe thusly:
"Because this is the real mask altered in some fashion. What a quaint, hackneyed gimmick!"
But Robert, who is admonished not to do it, pulls the flannel face mask (which seems more like silk) off the Joseph globe head, and Dad turns around and his face red like atomic fireball, and he say, "No, Robert!"
"Robert, don't do that!"
And Robert pulls off the filmy, threadbare thing as I exclaim, veins standing out on my forehead, , no, no, that's Joseph's original mask.
--And I TRY to put it back on the Elephant Man display, but the head is too big. On either side. By a mile.
And I look over and notice one of Joseph's model cathedrals in a glass case. And, if I look down there long enough, I can see myself at night stopped in a quiet Indiana burg, helping Mom up the steps of an old Victorian grown dark and aloof in the midnight deliverance of sleep.
(...like "normal" people. Joseph lay down in the final scene of the play, no pillows to prop up his back. Adios, vamoose, gone, out of there good bye. You dig?)
Stroking the big brown coconut ball--
"Joseph!" I weep.