Set me free why don't you mate
Conversation with a captive corvid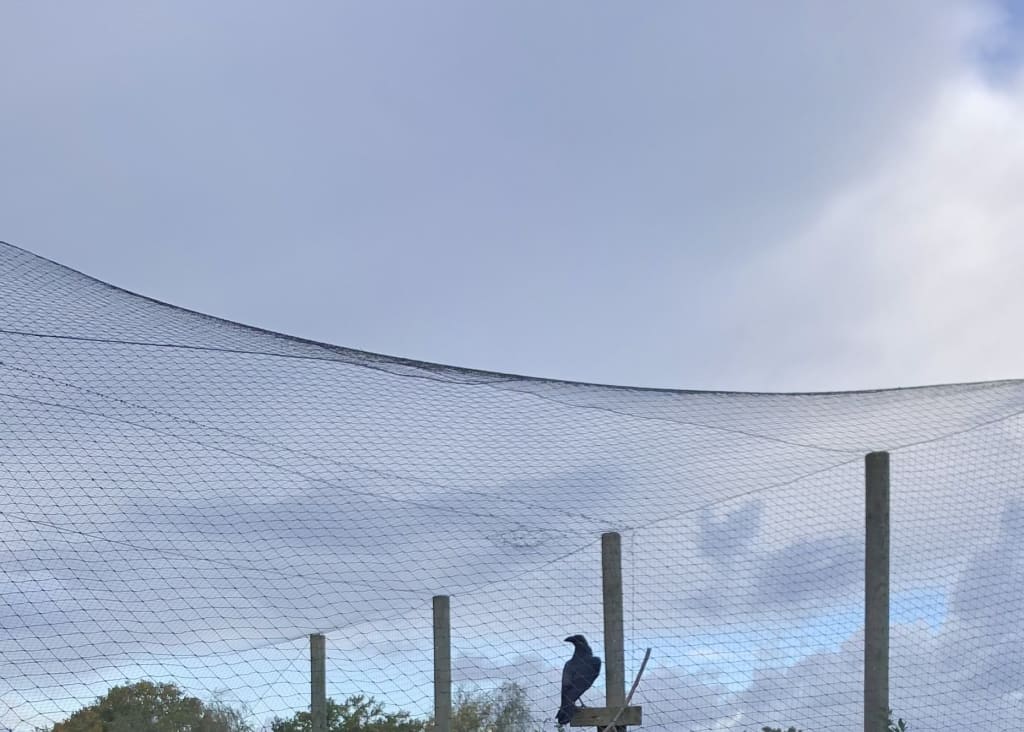 Raven, British Wildlife Centre, Lingfield, Surrey. Photo: RGT
Caw, caw, caw, set me free. Please do!
What? Who's that talking? Is it you?
Yes, me. Hear my plea, why don't you set me free?
I'm a Raven. Dark corvid. What are you?
Me? I am human. How do you do!
Human? Where's your humanity? Coo! Coo!
You stand there gawking at me in a cage?
Where's your anger? Where's your rage?
Anger? Rage? What can you mean?
You're a Raven, a crow, you're there to be seen.
Captured and captive and there to be viewed.
An item of interest, a figure of fun,
You flap and you squawk in your cage and your run.
This is a zoo mate, don't give me no grief,
My visit is transitory, voyeuristic and brief.
I don't give a fig for you plight and you pleas,
I'm only one punter not Attenborough. Perlease!
You bastard! You arsehole. Hey! Don't turn your back.
I'm lucid, intelligent, a sage not a quack...
Well that may be so but I am no eco warrior.
Don't try to guilt trip me or you'll be the sorrier.
Bugger off then, why don't you? See if I care.
Alrighty, I will then, I'll just leave you there.
You do that, you moron, go get a nice coffee.
I don't care what you think, I don't give a toffee
See ya then!
 O ~ 0 ~ o ~
Inspired by a visit to the British Wildlife Centre in Lingfield Surrey in October 2023. The Raven pictured was doing a lot of cawing and I imagined having a conversation with it.
About the Creator
Author based in Kent, England. A writer of fictional short stories in a wide range of genres, he has been a non-fiction writer since the 1980s. Non-fiction subjects include art, history, technology, business, law, and the human condition.
Reader insights
Be the first to share your insights about this piece.
Add your insights