our other lives
a prose poem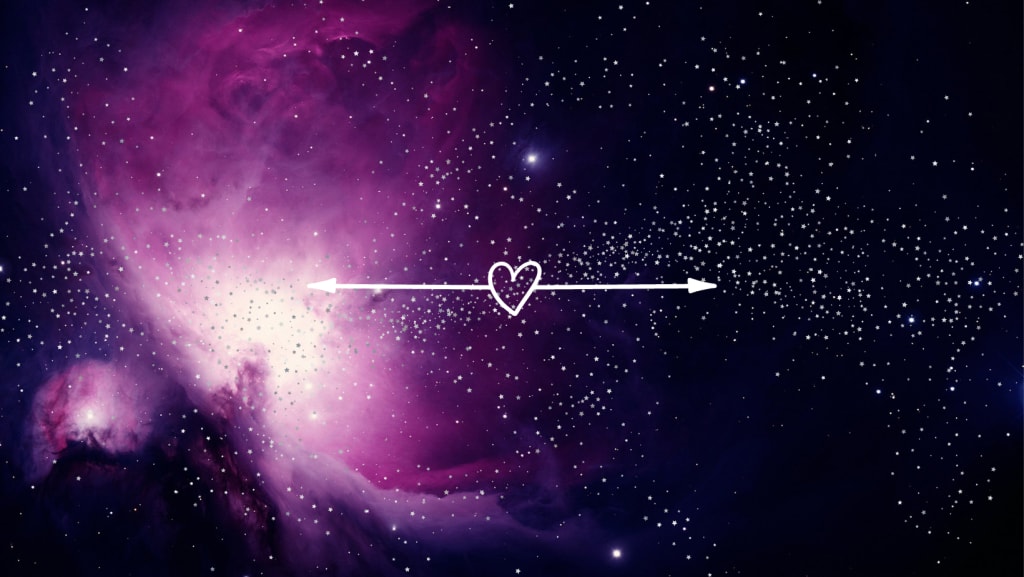 created on canva.com by katherine j zumpano
1
I never cared for the color of my own eyes before I saw his. coffee-with-cream brown. they drip honey in the sun. I swear they hold secret constellations I have yet to unlock. is this why they call it the honeymoon stage? I remember the first time I met his mother, how she asked for my sun sign and stared into me, read my intentions. she declared us soulmates; I laughed, but wanted it to be true.
first loves are often that: the first. I doubt it will last – until it does. three years. many times, I dreamt of leaving. I haven't yet. maybe his mother was right. or maybe I'm afraid of being alone, of losing this comfort. I search his eyes for a galaxy to feel at home in. I am lost. drowning. going through the motions.
we used to drive. talk. laugh. once, I asked if he believes in parallel universes. other lives. if he thinks we exist in those worlds. if we're together. he said he doesn't know. I guess I don't know, either. do I love him? did I ever? I wonder who fell out of love first. I wonder why I would miss him if he left. if I left. when I leave.
2
it's foolish, how quickly we fall into this. merlot-drunk and horny. I learn quickly that liquor is the other woman. that I cannot compete. I taste whiskey on your kiss, in your words uttered late-night on the phone. I hate you then. slurring. stumbling. so in love with something that isn't me. you spend hazy nights in beer gardens, smoking cigarettes, sipping scotch; I spend lonely nights waiting for you, losing track of the truth, of myself. I desperately want you. I want you to want me.
I wonder: if I change myself, can I keep him?
I become who I think you want me to be. like the girls you glance at when you think I don't see. the pictures saved in the folder you think I don't know about. I dye my hair darker. stop eating. cry when I pierce my tongue. nicotine nights, blacked-out at the bar. I am a sloppy drunk. gravel-torn knees, beer in my throat, down my chin. I wake up in the middle of the night and forget how to breathe. I reach again into the fire, surprised each time my arms blister and burn.
I wonder: why doesn't he notice?
it's like trying to fit pieces of different puzzles together. incompatible edges just bruise and break. I hate your coffee grounds on my counter. hate how poetic it is that the mess you've made of my life extends even to my kitchen. hate your muddy eyes when you finally stumble home. my hair fades back to blonde; the stench of cigarettes fades from my sheets. I stop worrying and begin healing. without you. I longed for lifetimes with you. we lasted eleven months. I hope, if other worlds exist and we exist within them, that you don't hurt me. that I trust you. that I don't know you.
I wonder: why did I stay so long?
3
caffeinated love language, I hold love in my palms in the form of medium-roast- with-a-splash-of-cream. just the way he likes it. I have nothing to offer him but the promise of love and literature and breakfast in bed; bacon crispy and eggs over-hard, no runny yolk. just the way he likes it. dressed in his t-shirt, sleepy eyes and messy hair, a poem on my tongue. just the way he likes me.
what I love about him: everything. his mind, his soul embedded within my own, evergreen roots buried deep in my soil. the comfort of his hand holding mine. absentminded touch. his coffee cup leaves an arabica ring on the counter like a promise, a proposal of mornings to come. I want all his mornings. his late nights. his fights and triumphs and tears. I want a life that is incomplete without him.
six years feels like two years feels like a lifetime. I believe we were lovers in another life. we transcend space and time. nothing else could explain this familiarity. I remember when I looked into his eyes for the first time, saw hidden stars against golden flames, knew him with my whole being. cosmically aligned, we fit as if our love was written in the stars, destined to happen. I asked him once if he thought we were together in other worlds. he said, I know we are.
this poem was originally published in Journal of Erato, 2021.
About the Creator
writer 🖌️ reader 📖 pnw 🌲
wwu alum 🎓
pisces sun ♓️ taurus moon ♉️
pieces in southchild lit, jeopardy mag & more
social media: @kjzwrites
Reader insights
Be the first to share your insights about this piece.
Add your insights