MIND THE MUSHROOMS
A CAUTIONARY DREAM OF CUISINE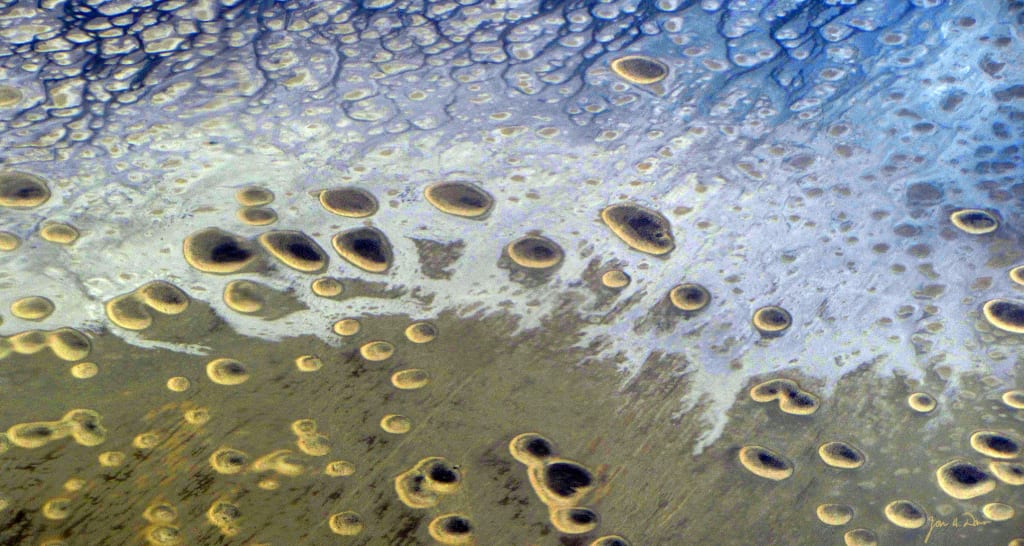 HIGH ABOVE HOLY LAND © JON H. DAVIS - NORTHERN LIGHTS STUDIO
THE DAY BEGAN AS USUAL
WITH COFFEE AND SOME TOAST
WHEN I CATCH A GLIMPSE OF SOMETHING MOVING
ALONG THE FOGGY MORNING COAST
.
WHAT'S THAT I WONDER, I SQUINT MY EYES TO SEE
A DARK FORM LURKING, AS IT HID BEHIND A TREE
WHATEVER COULD THAT BE I PONDERED
IS THERE SOMEONE WATCHING ME?
.
I SPREAD SOME JAM UPON MY TOAST
AND THOUGHT IT COULDN'T BE A GHOST
BUT OF ALL THE THINGS I EVER LOST
I MISSED MY MIND THE MOST
.
A BASKET ON THE COUNTER FILLED
WITH MUSHROOMS FROM THE FOREST
SOME WENT IN THE SOUP LAST NIGHT
ITS FLAVOR SAVORY, SO DELICIOUS
.
I PAIRED IT WITH A FINE RED WINE
AND WOULD HAVE LOVED TO SHARE IT
BUT I DINED AT HOME ALONE, ALL BY MYSELF
THEN TOOK A BOOK FROM OFF THE SHELF
.
SETTLING INTO MY COMFY CHAIR
I FELT SOME MOVEMENT IN THE AIR
THE CANDLE NEAR AND GLOWING BRIGHT
THEN BEGAN TO FLICKER
.
I HEARD A SOUND AND LOOKED AROUND
SEEING NOTHING IN PARTICULAR
ON THE TABLE NEXT TO THE BOOK
SAT A BOTTLE OF OLD VINTAGE LIQUOR
.
REACHING FOR THE TEMPTING BOTTLE
AS THE CLOCK STRUCK TEN
AND THAT IS WHEN
I WAS STARTLED, SO UNBELIEVABLY
.
I HADN'T EVEN HAD A DRINK
SINCE MY GLASS OF WINE
BUT WHAT I SAW
DROPPED MY JAW
.
AND THOUGHT, I'VE LOST MY MIND
THE BOOK I TOOK
FROM OFF THE SHELF
FLOATED UP, INTO THE AIR
.
IT HOVERED RIGHT IN FRONT OF ME
FLOATING GENTLY, WAITING THERE
THEN I HEARD A WHISPERING OF SORTS
WAS THE WIND TELLING SECRETS?
.
RIGHT INSIDE MY HEAD I HEARD IT
NOT WITH EARS AT ALL, BUT
WITHIN MY BRAIN IT WAS,
MY MIND HAD SURELY GONE AWRY
.
IT WAS SO EERILY UNCANNY
WHEN THE BOOK BEGAN TO OPEN
SPREADING LEAVES LIKE WINGS
IT DID, AND THEN BEGAN TO FLY
.
AND THE SOUND IT MADE LIKE WAVES
UPON THE ANCIENT SHORES OF TIME
ECHOING OFF THE MOUNTAINS DEEP
SO DEEP AND SO SUBLIME
.
SLOWLY FLAPPING ITS PAPER WINGS
AND CIRCLING, CIRCLING ROUND
AGAIN RETURNING IN FRONT OF ME
STILL ABOVE THE GROUND
.
WITH THE OPEN BOOK SPREADING WIDE
ELEMENTAL SYMBOLS ROSE, OFF ITS PAGES BRIGHT
AND ANCIENT SECRET FORMULAS FLOATED
LIKE A SILKY MIST, IN THE CANDLELIGHT
.
GOSSAMER,THEY PASSED THROUGH ME
WITH A SENSE OF TIMELESS WISDOM
AND THE VASTNESS OF INFINITY,
A GIFT OF TRUE DIMENSIONS
.
NEXT, THE BOOK THREW ME ROCKS AND MINERALS
WITH GEODES, GEMS, AND BRILLIANT CRYSTALS,
A SPECTRUM OF VIBRANT COLOR, IN ELECTRIC AIR
APPEARED AND DISAPPEARED BY CHANCE
.
HYPNOTIZED AND ENTRANCED
BY THE BOOK'S SURREAL DANCE
AGAIN ITS PAGES TURNED
AND WHAT APPEARED WAS REALLY WEIRD
.
SUDDENLY, SO TERRIFIED I WAS
AS CREATURES FLEW OUT FROM WITHIN
WITH SLIME AND SCALEY LIZARD SKIN
SHARP FANGS AND RAZOR CLAWS
.
GAVE ME PAUSE, WHEN THEY FLEW BY
AND DISAPPEARED WITH NOT A SCRATCH
OR BLEMISH OR SHED TEAR
AND MY FEAR WAS GONE
.
ANOTHER PAGE OF THE BOOK REVEALED
WONDERS OF THE COSMIC FIELD
CONSTELLATIONS CAME ALIVE AND
FLEW THROUGH THE ROOF INTO THE SKY
.
PLANETS, MOONS, AND SHOOTING STARS
ORBITED AROUND ME, LIKE AN ORRERY, THEN
I SAW A COMET, GOT SO DIZZY HOPING NOT TO VOMIT
AND REMINDING ME, EASY ON THE MUSHROOMS
.
-JHD
.
There are some who have no idea of a true reality, brainwashed into conformity, confining the infinite mind. Thankfully, there are many who have awakened.
About the Creator
ABOUT THE AUTHOR:
Jon H. Davis, is a digital alchemist, and explorer, who documents the natural world and cultures with words, photos, and videos. View more of his work with partner Iris Brooks at their NLS website, www.NLScreativemedia.com
Reader insights
Be the first to share your insights about this piece.
Add your insights