ADIRONDACKS
TIMELESS TEXTURES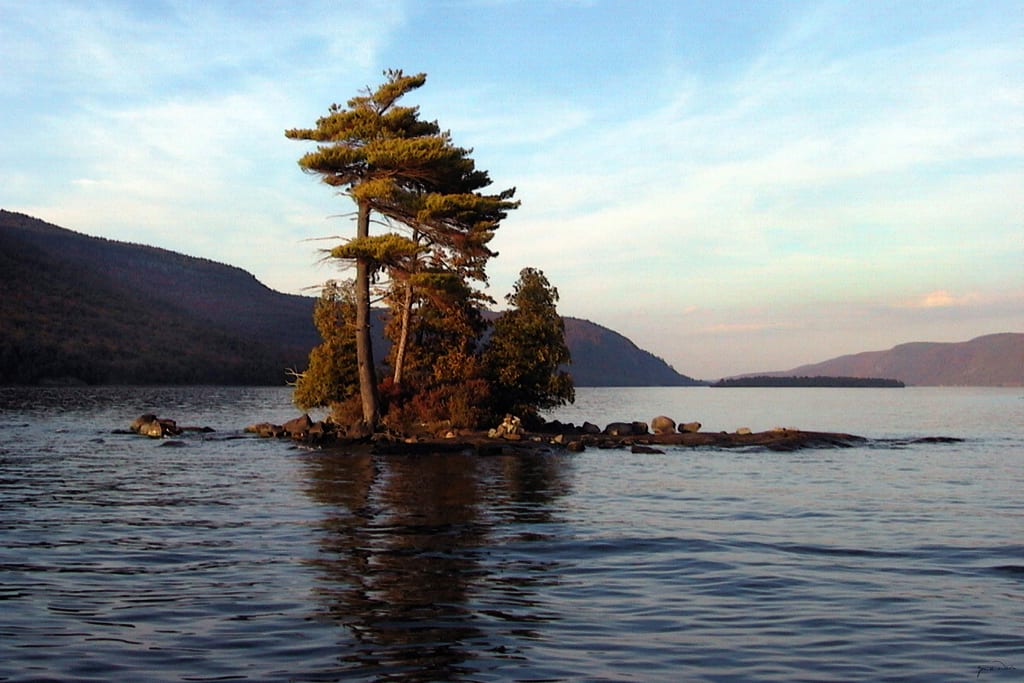 ISLET ON THE LAKE OF DREAMS © JON H. DAVIS - NORTHERN LIGHTS STUDIO
DREAMS OF FLIGHT IN ASTRAL PLANES
IMPART INTENSELY PHYSICAL SENSATIONS
SOARING HIGH ALOFT TO MY DESTINATIONS
FEELING AEROBATICS MOST EXHILARATING
.
GLACIER CARVED ICE AGE STONE
POLISHED SMOOTH SO LONG AGO
FROM THE DEPTHS TO LOFTY PEAKS
GRANITE SENTINELS CAPPED WITH SNOW
.
LICHENS CLING ON ROCKY CLIFFS AND
EVERGREEN BOUGHS TO GNARLED TREES
THEIR TWISTED VINES CLOAKED IN MOSS
STONES REST STILL ON FOREST FLOOR
.
CRYSTAL WATERS BORN OF SPRINGS
EVER FLOWING BEYOND LIGHT'S REACH
CONCEALS LIFE DOWN IN THE DEEP
WHERE SECRETS LIE IN WAITING
.
BENEATH BRIGHT FULL WINTER MOON
THE SONGS OF LOONS CARRY FAR
ACROSS STILL WATERS OF THE LAKE
THEY DIVE BENEATH STEALTHILY
.
MOONLIT EYES GLOW IN DARKEST NIGHT
OWLS SEARCH FROM THEIR LOFTY PERCHES
ON SILENT WINGS SWOOPING DOWN
GLIDING WITH TALONS SPREADING
.
DREAMS OF FLYING BACK IN TIME
FROM THIS PLACE I KNOW SO WELL
TAKE ME TO A DISTANT AGE EMERGING
FROM AN ANCIENT FROZEN SPELL
.
SOARING LIKE A FALCON DOES
ABOVE THE SHORELINE OF THE BAY
BEFORE THE TIME OF TREES AWAKENS
VIRGIN LAND AWAITING FUTURE HABITATION
.
IN THIS DISTANT TIME OF OLD
ITS MAGNETISM SO CAPTIVATING
EXPLORING THIS NATURAL WORLD ANEW
UNTOUCHED BY HUMAN HANDS
.
BOULDER RESTS UPON A POINT
BROUGHT BY GLACIERS FROM FAR AWAY
THROUGH DEEP CRYSTAL WATERS PEERING
INTO SACRED LAKE BELOW
.
TEN THOUSAND LONG YEARS AGO
ANCIENT MOUNTAINS SLOWLY BURIED
DEEP BENEATH HARDENED ICE AND SNOW
WORN DOWN WEATHERED THROUGH CENTURIES
.
AGAIN EARTH TURNS TO FACE THE SUN
AS THE GLACIER MELTS, SIGNS OF LIFE EMERGE
WITH HINTS OF MOSS AND LICHENS GREEN
ANOTHER CYCLE IS BEGINNING
.
-JHD
This is a compilation of recurring dreams where I am flying through familiar places. These are my observations from a bird's-eye view.
BY JON H. DAVIS
DECEMBER 2022
NORTHERN LIGHTS STUDIO www.NLScreativemedia.com
About the Creator
ABOUT THE AUTHOR:
Jon H. Davis, is a digital alchemist, and explorer, who documents the natural world and cultures with words, photos, and videos. View more of his work with partner Iris Brooks at their NLS website, www.NLScreativemedia.com
Reader insights
Be the first to share your insights about this piece.
Add your insights