DREAMSCAPES
INNER VISIONS OF THE MIND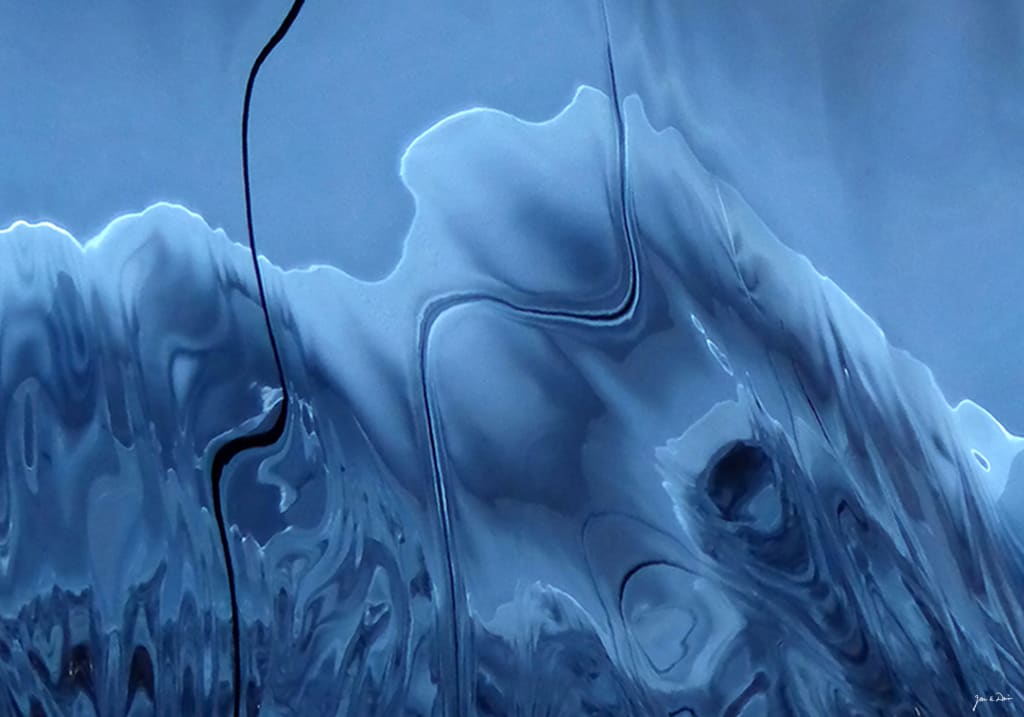 DREAMSCAPE © JON H. DAVIS - NORTHERN LIGHTS STUDIO
DEEP IN DARKEST NIGHT
ASTRAL BODY FREE TO ROAM
JOURNEYS FAR UNBOUND
.
CHANGING FORMS EVOLVE
IN THE VIVID SPACE OF DREAMS
MYSTERIOUSLY
.
REGAL CRANE SOARS HIGH
THROUGH CLOUDS ABOVE LOFTY PEAKS
GLIDING SILENTLY
.
STRANGE ENCOUNTERS LOOM
CREATURES APPEAR THEN VANISH
BEAUTIFUL AND WEIRD
.
SWIFTER, EVER SWIFTER
UP INTO THE VORTEX DRAWN
SEEKING DISTANT LIGHT
.
EXPANDING FURTHER
INTO SPACE, SENSES HEIGHTEN
IN DARK STARRY NIGHT
.
ISLANDS IN THE SKY
FAR FLUNG SPIRAL GALAXIES
PLANETS FULL OF LIFE
.
STRANGE WORLD APPEARING
CAPTURED BY ITS GRAVITY
STRIKING VISTAS BRIGHT
.
SLOWING DOWN MY FLIGHT
I VOYAGE ONWARD INTO
WILD SPHERE OF BLUE
.
TIDES UPON VAST SEAS
WITH HORIZONS NEW, FINDING
TREASURES RARE AND OLD
.
THERE UPON THE SAND
PARTICLES SET IN MOTION
CARRIED BY THE WIND
.
PAINTED DESERT SANDS
ALIVE WITH PASTEL COLORS
BLUE ACROSS THE DUNES
.
GLIDING THROUGH THE BOUGHS
WHISPERING PINES REVEALING
DEEP AND ANCIENT LORE
.
CROSS THE BRIDGE OF TIME
SEEKING KNOWLEDGE ON MY QUEST
ASTRAL BODY DRIFTS
.
ANCIENT SAGES KNEW
THE NATURE OF THE COSMOS
CYCLES ENDLESSLY
.
IN THE QUANTUM REALM
STRANGE THINGS BEND THE MIND TO GRASP
EXPLANATIONS CLEAR
.
DREAMS REVEAL SECRETS
WONDERS TO BEHOLD
CURIOUSLY AWAIT
.
GUIDING LIGHT BECKONS
SEEKERS FAR BEYOND THE MOON
AWAKENING DAWNS
.
-JHD
I wrote this poem in the traditional format of Japanese haiku, from memories of my dreams in the astral plane.
BY JON H. DAVIS
DECEMBER 2022
NORTHERN LIGHTS STUDIO www.NLScreativemedia.com
About the Creator
ABOUT THE AUTHOR:
Jon H. Davis, is a digital alchemist, and explorer, who documents the natural world and cultures with words, photos, and videos. View more of his work with partner Iris Brooks at their NLS website, www.NLScreativemedia.com
Reader insights
Be the first to share your insights about this piece.
Add your insights