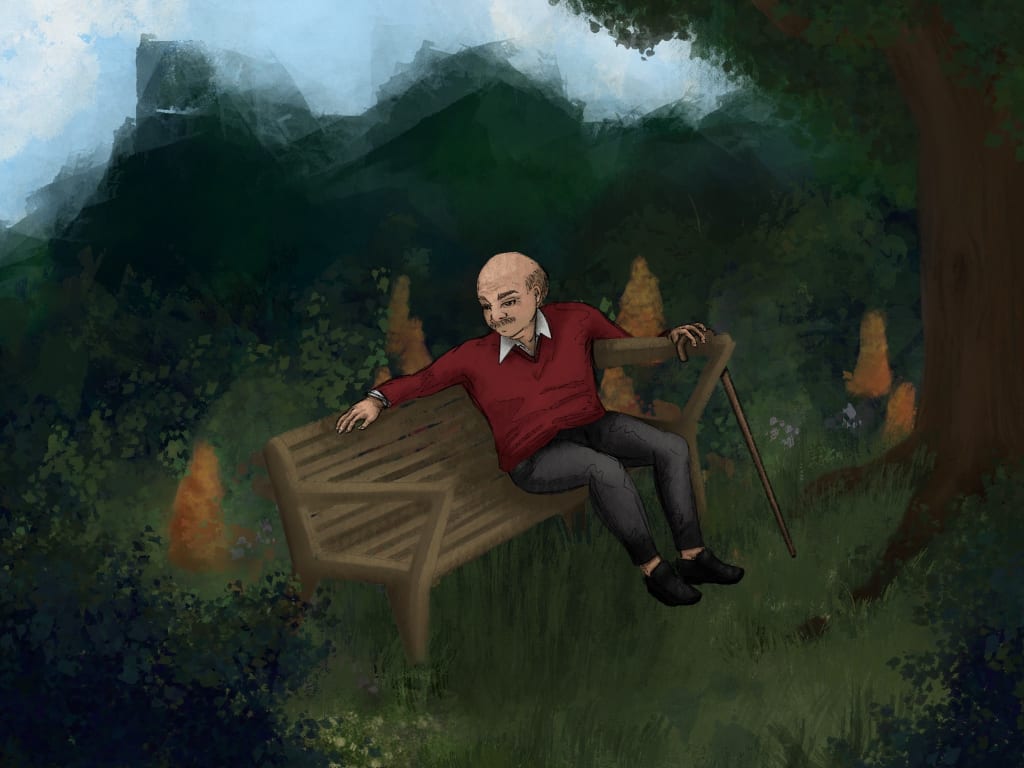 Artwork by Mikhala Graham, 2021
Ribbons of light weave through the canopy above,
Warming my cheeks, painting them soft petal pink.
It would be lovely to sit outside with Mary
In our favourite spot,
And relax amongst the blooming flowers.
On our favourite bench, I wait for her;
It really is such a beautiful day.
It makes me think about the time we went to the fair.
The weather was mild, and the kids were only young back then;
They squealed with glee as we arrived.
We spent the day fuelled by laughter and lollies,
Charging from one ride to the next.
Mary loved the Ferris wheel the most.
I loved watching her, with her face up to the sky,
eyes closed and beaming brighter than the sun could ever hope to.
It was such a beautiful day.
The blooms around me sway and waft a sweet perfume,
Like the one that I gifted Mary with on our sixty-fifth anniversary.
I'll never forget her smile as we sat on this very seat
And I told her that while I hope she liked the gift,
The perfume would never be as sweet as she.
Now that really was a beautiful day.
I reach down and pluck a yellow daffodil;
Mary's favourite.
I'd planted them, and many more,
for her after her she lost her sight.
So she could sit in her favourite spot
Bathed in filtered, glistening light,
With the calming sweet scents of the flowers surrounding her,
The soft breeze whispering through the trees,
And the delicate tune of windchimes to keep her company.
That day her eyes smiled brighter than her lips ever did,
I will never forget those eyes,
Glistening on that beautiful day.
So many years of memories,
day after day together…
So many to remember,
Yet, somehow…very few left to recall.
I reach my arm around Mary to pull her closer,
But all I feel is the rough, weathered pine of the bench.
Alone I sit, and in her place, a bronze plate reads:
"In loving memory of Mary,
May she always rest easy,
And be remembered in this beautiful place."
love poems
I like to dabble.
Sometimes I write about fact and sometimes I write pure fiction.
Other times I just want to get something off my chest.
Receive stories by Mikhala Graham in

your feed