Last Thought
Is there someone special in your life? Never let them know, be patient with them.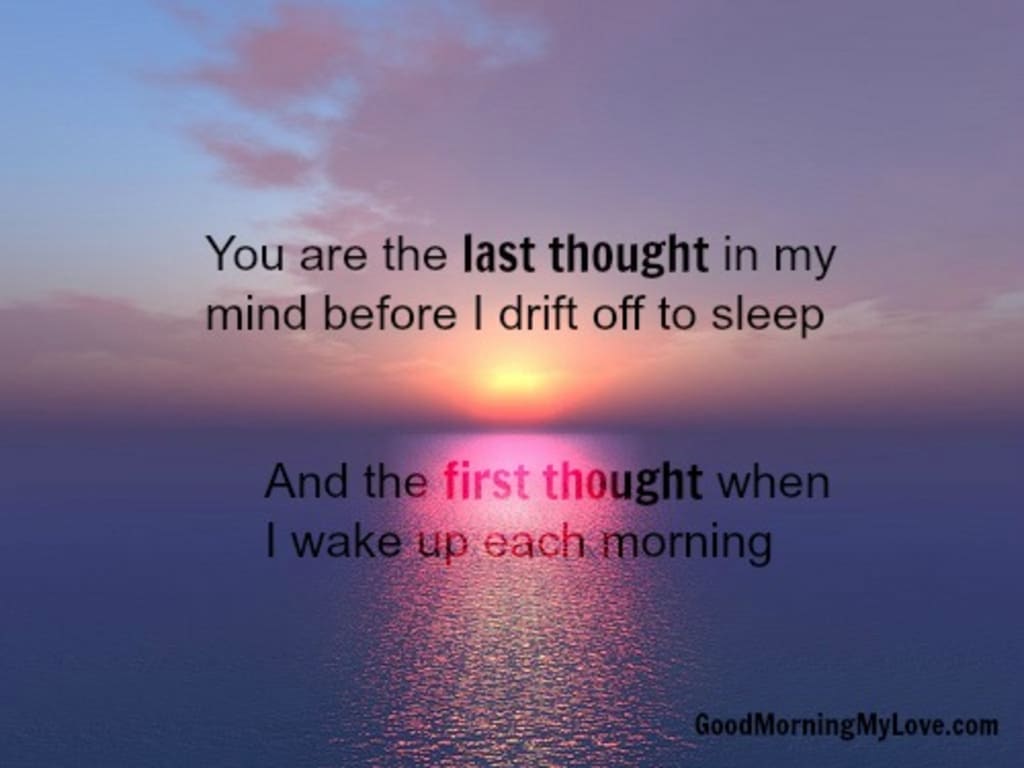 I want to be your last thought before you fall asleep
The dreams that bounce around, I want them about me
I want to be the one you want
The one you see future with
Your everything in all that goes on
I want to be the one you run to when your days feel long
The one you can tell it all
I want you to think of me as much as I think of you
You've come and gone, isn't that a sign
I'm not sure but I'm willing to give this a try
Your smile is amazing
You make me laugh each time
I feel more alive in your presence, I just want you to be mine
There is so much more to you I see
No matter how hard you try to keep
You've opened up bit by bit
Somday I'll know more than this
Time passes slowly
Days feel like years
Yet you keep bouncing around in my mind all the time
Why are you here just wasting time?
This is all that keeps running through my mind
You say have patience, just don't rush
Yet I feel like no matter how much time passes, it will never be enough
I want to find love and I feel that is with you
I'm driving myself crazy thinking of all the scenarios
Love will find you when you least expect it! Don't let it pass you by but don't allow it to be rush either. No matter your past, look to the future. You are capable of love, be patient with one another no matter how long the wait.
No matter how long the wait the right one is worth it. Patience is a virtue, you'll know if you're meant to be in time. Don't let go of that special bond that eventually will turn into love. We all want to be loved but it takes time to find that special one who will love you back as much as you love them. Don't rush, don't be in a hurry. God has the plan figured out, just follow his path and the one meant for you will fall into your lap.
About the Creator
An inspirational poet. Writing poems to show others that it is okay to show feelings another way. I've tried a couple articles but I've found I'm better at the poetry. Just want to inspire and encourage others through tough times.
Reader insights
Be the first to share your insights about this piece.
Add your insights