Farm Life
A bit of philosophy about Earth's beginnings.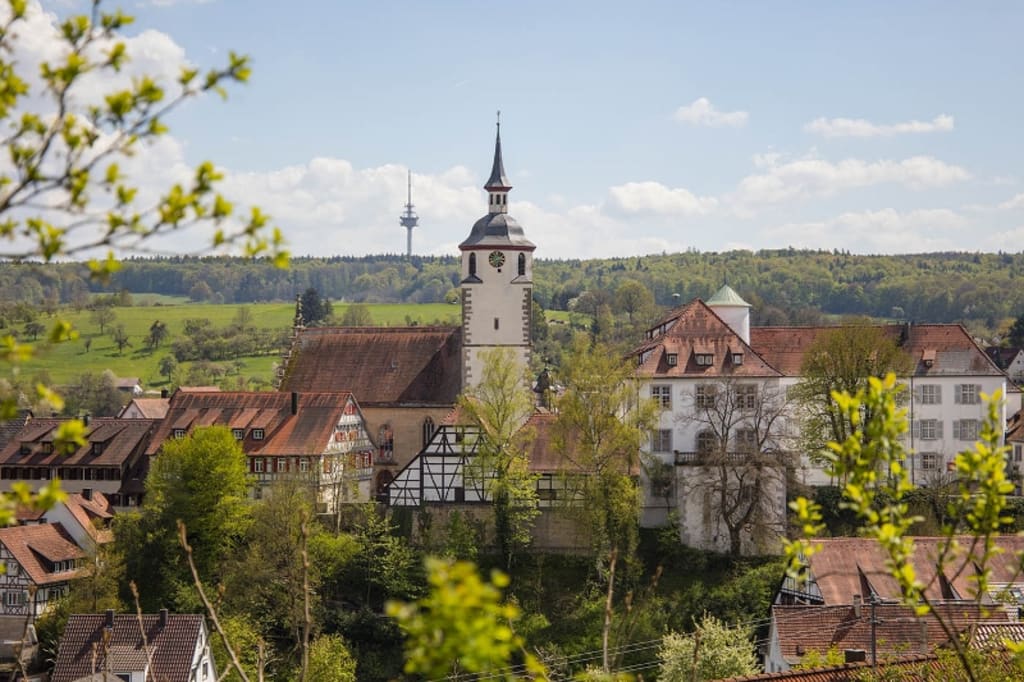 Stadt Waldenbuch
Dear sir; you with the tentacles and wandering eyes,
Standing there in my field with the smoldering lights,
I'm watching from my porch and smoking a pipe,
How are you this evening, my friend?
...
Have a seat, I don't mind, there's plenty to spare,
I imagine you're tired from the long journey here.
Kick up your hooved feet and throw back a beer,
I won't call the cops on you.
...
Have you been here before, way out in the Milky Way?
Of course; you don't know what I'm trying to say.
Well I'll gesture, sweet creatures, and maybe we'll play,
A game of misunderstanding and cheer.
...
See up in the sky is a night full of stars,
Some dead and long gone and some just starting to start,
They burn; look at the white and the bright of the dawn,
As our star creeps up this morning.
...
I guess you're here for a visit, I'll walk you around,
Mind your step when you step on the uneven ground.
Ignore the puppy; he's a sweetheart, a barely-grown hound,
No the chickens won't hurt you, don't fear.
...
It's simple outside, with the birds and the trees,
The slow syrupy buzz of a nest full of bees,
I like the pond over there, just crouch on your knees,
Trail your tentacles through slow-moving sand.
...
I guess we seem simple to creatures like you,
Moving around here under a sky big and blue,
Not wanting for more besides what we know to be true,
And creating hell for ourselves anyway.
...
But look at the grass, how it litters the land,
It's interesting that we owe our lives to these strands,
The simple topsoil of seeds and bright plants,
And the mere, helpful fact that it rains.
...
I want to explain before our politicians can,
That life on Earth isn't hard to understand.
We've got inventions, and we've got our plans,
But we owe our lives to a star.
...
And here you are, on a comet, wished for from far away,
Visiting us all in a crashed spaceship today.
I like the way you linger, the curiosity in your gaze,
Look at the soft patterns of fronds.
...
See the tree, with the beech bark and leaves dangling down,
Pull the beetle from our pond before it can drown,
Pluck a berry from a bush and look, understand now,
The simplicity of the way that life moves.
...
This is a farm, my friend, the place where humans began,
Where we sprouted our civilizations through baking bread,
And now where life sits hazy, the daily pattern and,
The constant soft cycle of life.
...
See the barn with red paint, the fields stretched to evermore,
The way the day grows at the top of the moor,
And the creatures that waddle with problems to ignore,
Touch that pink flower; its petals look bright.
...
I hope you rest here, my friends, with the seeds and the sand,
And me, your companion with the rough-gloved gentle hand,
As you sit and you sprout in the farm where it all began,
Let peace find your hearts today.
About the Creator
18-year-old writer who hopes to write stories for a living someday-- failing that, I'd like to become a mermaid.
Reader insights
Outstanding
Excellent work. Looking forward to reading more!
Add your insights