Come Home
A poetic transmission inspired by the return to my body temple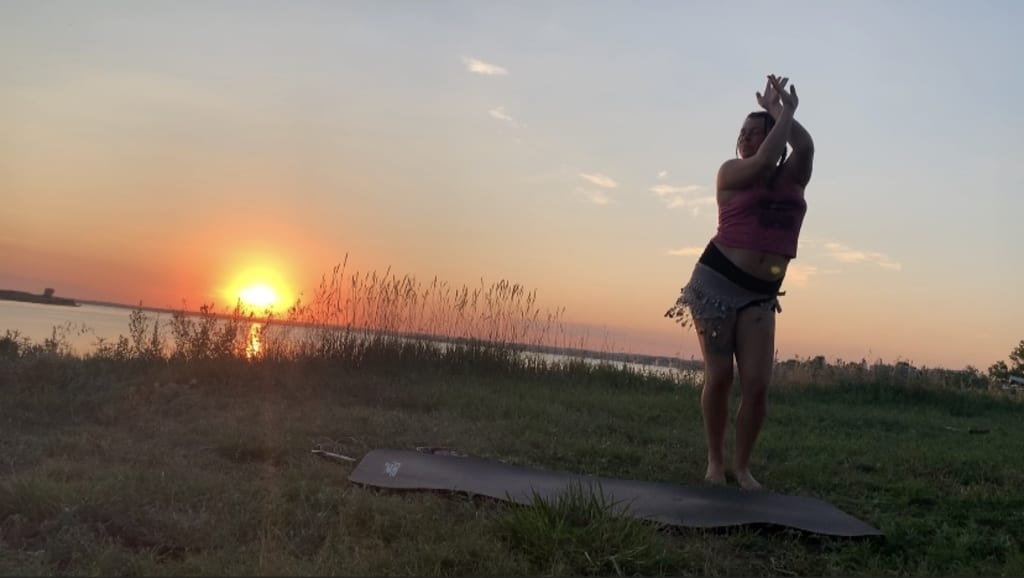 Dancing to connect with my body
Come home to your body
Allow the mountains to remind you
There is dew on the windows
& frost on the hood
Did you hear the thunder?
Did you see the lightning?
When the rain comes pouring down
Will you dance in the storm?
Come home to your body
The senses hold the key
Put your hands on your skin
Where have you not touched in awhile?
Feel the texture of your face
As if you were caressing a lover
It's okay to take it there
Touch
Come home to your body
Pause & look up at the stars
Do you see how they dance
To the beat of the drum?
Do you see how the fire light flickers
On the tops of the trees?
See
Come home to your body
Inhale the scent of pine
Walk among a sunset-blazed forest
Seeking the proper branches
Which are ready to burn?
Break each stick with force
Move stagnation from your cells
It's okay if you don't understand
Smell
Come home to your body
Drink more water
Sip on some herbal tea
This apple is cleansing my liver
This spinach is making me strong
Tell dairy she has to leave
Taste
Come home to your body
Take three deep breathes
Then shake your hips to Hilight Tribe
Ask the questions
& find the answers in your movements
Have you ever danced with the ocean
Eyes on the sunrise?
Listen to Native American flute music
& the sounds of a storm
While you gaze at the night sky
Hear
Shooting star! Make a wish
I wish to empower women
Through reminders of body sovereignty
Come home to your body
All you seek is within
Through breath, sound & movement
Access your medicine
Your heart is the entrance
The door is unlocked
The highest love awaits
With open arms
Deep breath in
Deep breath out
Welcome home
About the Creator
Story teller. Spiritual warrior. Dancer. Singer. Sensory energetic healer. Sister. Witch. Teacher. Empath. T1 diabetic. Awakening serpent priestess. Sound meditation practitioner. Energetic doula. Artist.
Come join me in reflection 🔮
Reader insights
Be the first to share your insights about this piece.
Add your insights