A Sharp, Young New Voice in Poetry
Lamar Neal's youthful voice hisses and wails in this collection.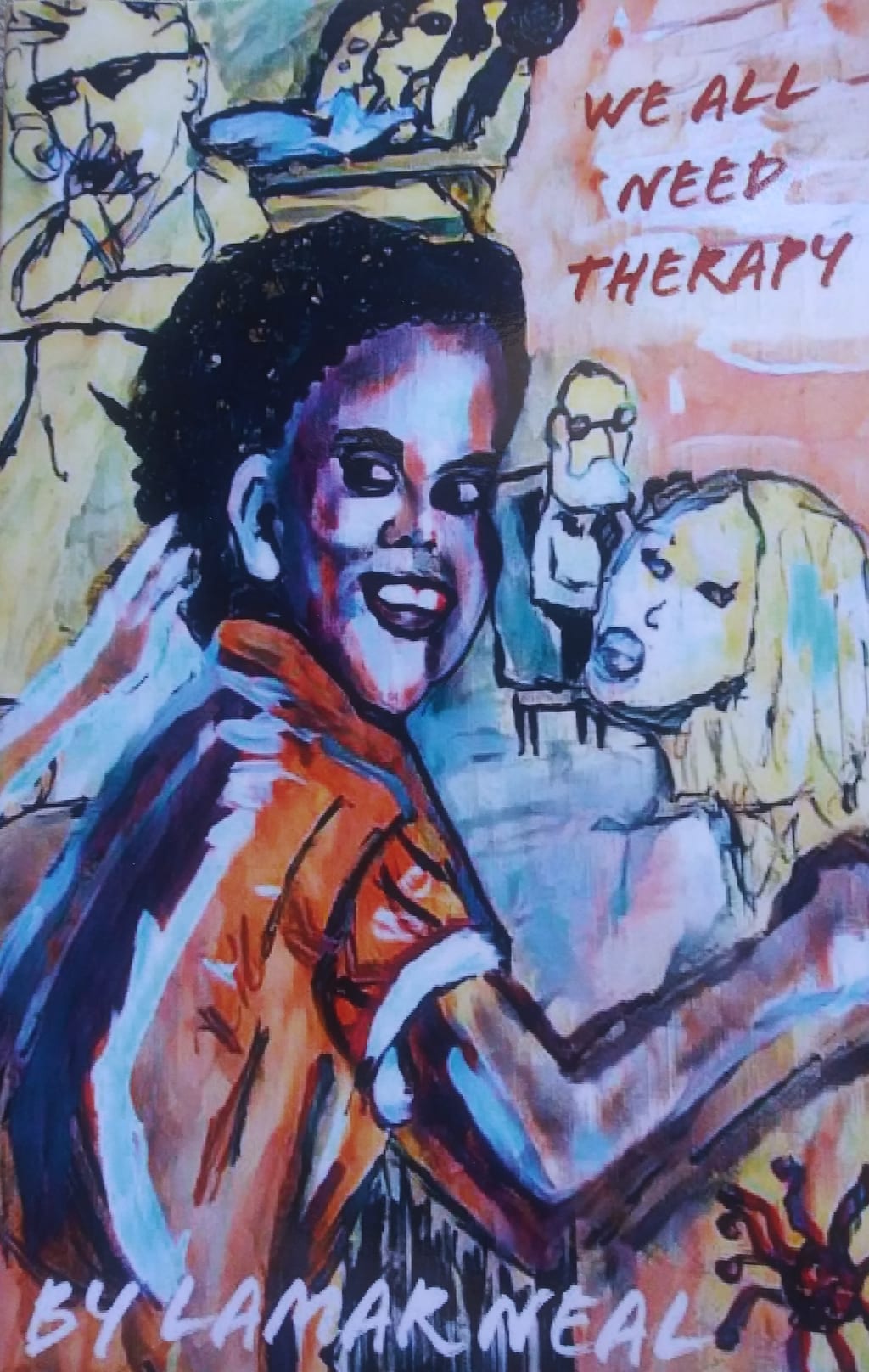 Lamar Neal's We All Need Therapy, published in 2019, is a passionate collection dripping with sarcasm, rage and an immense sadness. It is also intensely ambitious at 174 pages long. There are so many calculated and intense pieces which are perfect in their delivery, but at the same time there are also so many in which the poet seems to be struggling to determine the perfect key for his voice.
Neal's unbridled emotional drive doesn't need to be 'tamed' per say but rather could benefit from the implementation of a more critical, editorial eye. The additional focus would empower his writing to become a laser for his poetic work. It would unleash a power that would eviscerate his readers with a sniper's precision.
It is Neal's more pared down poems which enable his voice to ring out as sharp as the clash of steel against steel. The minimalism present in this collection is nothing short of masterful, inspiring even. Through the poems which are at most ten lines long (and sometimes only consisting of one line) his impressive skill as a poet is truly showcased.
For example, in his piece, "Heathen," Neal's commentary on the blindness religion feigns towards the needs of mortals on this physical plane is so clear and scathing. The speaker dryly comments, "I sat in pews / every Sunday / And no one / asked how I felt." His condemnation of religious hypocrisy is biting and rings out clearly without any superfluous additions to the text.
Then comes "Identical;" a line of piano wire which slices through the readers' hearts. One line. One line is all Neal needed to convey to his readers the years of pain, of resentment, that built upon each other to forge a fraught relationship between a mother and child. It may very well be the best poem in the entire collection. If readers find themselves flipping through Neal's work, they would be doing a disservice to themselves to skip over this tremendous poem.
"Chasing Suicide" is another excellent piece. It is a searingly honest poem. Neal's speaker, in three lines, captures that seductive voice that a person struggling with suicidal thoughts can hear as it whispers, "You should just do it. / You already tried before." His refusal to shy away from subject matters as tenuous as this results in brilliant work.
His excellent timing is again displayed in "Elementary, My Dear." It is a piece of extremely well-executed piece of dark humor that gazes upon societal rage. The title plays into the rest of the piece perfectly and displays the type of tight editing that could have been applied to quite a few other of his pieces.
It could be argued that this particular collection is too long—that its quantity of poems overshadows the quality of many pieces. That argument wouldn't necessarily be wrong either, but that is still no reason to brush over We All Need Therapy when looking for a new poetry book to buy.
Lamar Neal uses his shorter compositions like daggers. He wastes no time and is quick to deliver savage cuts, brutal stabs—he is a poetic assassin. He studies the rage that can begin within the family then boil out into society which only overflows back into the family; it is a horrible cycle that causes the destruction of familial and societal ties. His work also focuses on suicide and racism. Heavy topics indeed.
Neal is without a doubt a powerful poetic voice for this modern era and his writing ability will only grow with time. His work is current and impactful, but once he zeroes in on his voice, on what his own style as a poet, then he will truly bring his poetry to the next level.
About the Creator
Welcome! I provide free book reviews for modern poets! At the end of the year, 10% of all earnings and donations will be given to a non profit organization. This year you will all be helping Lambda Literary! Thank you!
Twitter: @poetryberry
Reader insights
Be the first to share your insights about this piece.
Add your insights