Blueberry Fresh Poetry
Elaine Reardon's poetry will not be confined to the house.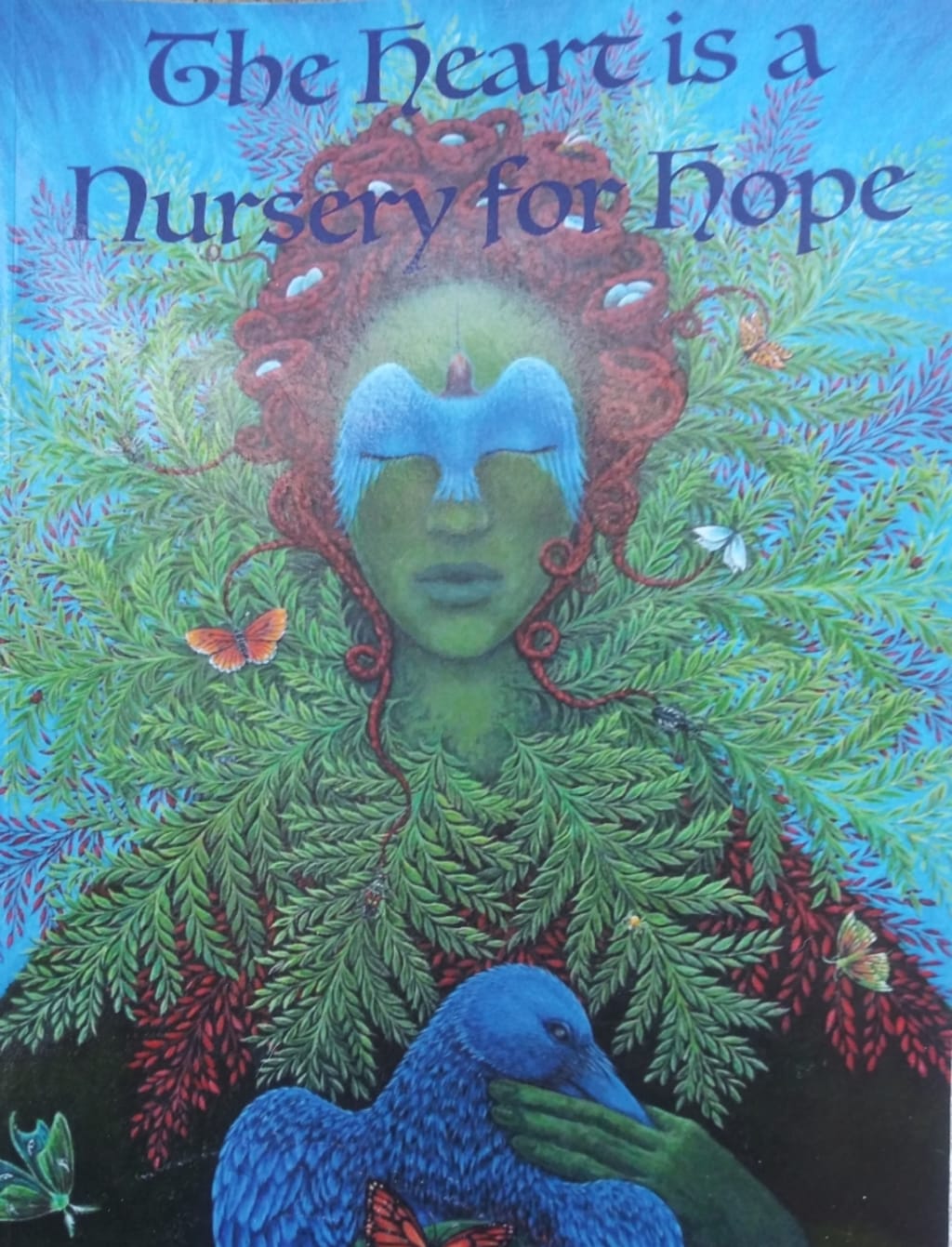 Poetry is not confined to the house in this collection. It through streams and frolics among blueberry bushes. The intrinsic beauty and mysticism found in nature swells out from the cover of this poetry collection created by Elaine Reardon.
Published by Flutter Press in 2016, this slender chapbook is absolutely bursting with declarations of undying love for the natural world. The mesmerizing cover art, which was designed by the talented Diane Kremmer, hypnotizes readers and compels their hand to take The Heart is a Nursery for Hope down from the shelf. Then, Reardon's poetry nestles their minds and souls as soft grass nestles bare toes on a warm summer day.
Readers will marvel as they feel themselves slip into becoming "like ladies at a garden party... slightly tipsy..." while they breathe in Reardon's poems. This collection should be chosen to accompany the reader who enjoys sipping tea in a garden or lounging in a glade found in dreamy woodlands. But since it is as light as "...leftover dreams..." this chapbook is easy to travel with and could provide some solace for the oxygen starved commuters traveling from home to spend their day in a boxed in placed of business.
While there are other collections, like Michael T. Young's The Doctrine of Water or Anne-Adele Wight's The Age of Greenhouses for example, which also forge a deep connection with nature, Reardon's work in particular highlights the pure and innocent joy experienced by the physical senses when a person is immersed in the natural world.
Readers will quickly discover as their fingertips skip along the pages that Reardon's simple, yet intelligent, collection is dedicated to nature and life, which, of course, also includes death and pain. "Eyes fill with tear / mind notices clinging / notes the heart mourning Ruth" echoes from the page. The heart breaks when reading "For Anna Ruth" and the slow "...unraveling..." of her "...tenuous hold to form." Then in "All In Our Remembered Vietnams" the more violent side of nature is discussed. "Watching from your tree perch / you listened for fire / constant dirt heat and humidity / clothes grew mold and fungus..."
The piece "Winter Storm" will awaken a desperate longing for the deep chill of that hard yet happy season "when it's below zero and / quiet coldness radiates / through window frames." In "Blueberries," the speaker lovingly recalls (not surprisingly) picking blueberries with her mother. "They were heaven - sweet food from the fairy realm." The happiness of spending time with family and being surrounded by berries and leaves conflates into a smiling cloud that settles on the reader's mind. The speaker recounts heady days when "...the bees would hoard all the honey / and dive into barrels of warm cider..." and in "Cape Anne Earthquake," Reardon illustrates this planet's power in terms of joy as "earth unlaced her corset strings / untied her boots / and began to dance / unheeding of everything..."
The Heart is a Nursery for Hope is Elaine Reardon's sole complete work at this time, but it is well worth adding to any home poetry collection. Reardon reminds her readers that not only is humankind part of nature but that nature is a part of humankind, which means extreme gentleness and incredible violence both can coexist. Reardon's collection notes that the same life which "floated down hidden waterways / through reeds and mist..." can also be filled with "trampled memories / fragments of hope." She gently pinches her audience with the assertion that humans are not removed from nature. They too, are animals just like "mayflies / to frogs splashing / and whirligig beetles;" all of which are affected by gravity and time and joy.
About the Creator
Welcome! I provide free book reviews for modern poets! At the end of the year, 10% of all earnings and donations will be given to a non profit organization. This year you will all be helping Lambda Literary! Thank you!
Twitter: @poetryberry
Reader insights
Be the first to share your insights about this piece.
Add your insights