25 or 26 POEMS FROM A DAY IN MAY
Luke Lawson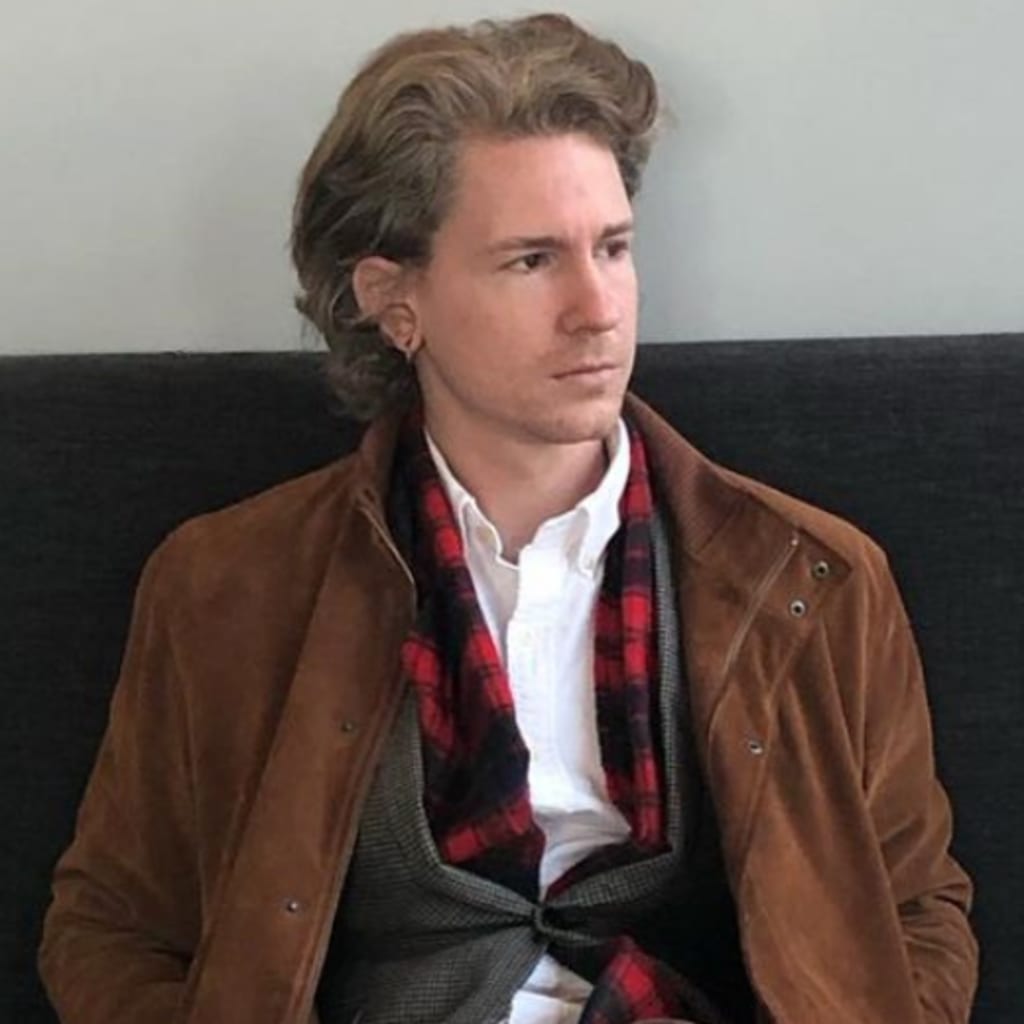 $33.00 fine
For attending at court How do I pay it?
Keep the boys working Keep the girls too
The non-binary also
The working classes
Keep us in debt
Will you ever live to regret?
CHICKENS
My phone is low on battery Again
I write in it all day
Sometimes the words disappear Did I save it all
Or does someone else?
Can I get it back? I better print it Heed these words They're true:
To have it in your hand is better
If you have one
It's better than having two, or even three Digital copies
Like birds
In a bush
Catch them first
Or they'll all get, and be; Lost
ON TIME
The time flies by It's no surprise To me
It's like a circle
I think
But I also rebel
Like Camus said
So others can go on And live
Maybe in a different way But always the same Life is like that
It always finds a way
Jurassic Park
If you look it up
A famous movie
I can't watchd Because I'm afraid Of my watch
Even though, strangely On my wrist, right now Are two
One digital
One analogue Complimentary misfunctions Is why I needed two
Like a good relationship
It's how I feel
When I'm with you
IN BED
My poems are worthless No value
To me
I write them down
To escape Memories
I'd like to watch a movie To sit still and listen
But I can't
I'm manic with confusion
A hypocrite
And misunderstood I've been alone Too long
I spiralled down once
Or twices
Or thrices
It'll happen again no doubt
Sometimes you can spiral upward too And undo
The situations
That were keeping you down
And causing tensions
Do this to avoid an explosion Of writing
And confusion
Manic delusions
Some people Say
I return with a nay
Old language, I agree Still can be used though Because you understood Even if it irked you
You heard it
In your head
From me to you
I wish I was in bed
.......
I need some food
Please bring me some Someone
Today I ate frozen peas Warmed with gas and fire That is about to expire
A final notice
You see
I have no money
Just books, and poems And song, and words Some guitars
And my brain, my words But little memory
Maybe I'm in a moment A manic episode
Some call it
But I think the opposite I think I'm free
It's not the first time you see Muck around with doctors And you'll see
I don't recommend it
I must make that clear
Don't follow me here
It's lonely
And my shoulders are cold But I prepared this time The last was very
Sad
And painful
And this one isn't so much Not like the first
Oh, what a thirst
My mind, it races
To so many places I'm not fit to work In a chair
And sit still
And follow directions
But I won't go on the dole either
So what is to be done? Drink rum?
I'm too weak for even that I just write it down
I'll recite it to the cat
Who will walk in And out
Some days
When he's hungry Like me
Or after a fight When he needs help You see
I'm hungry too, Billy But you can go upstairs To get a feed
While I cannot
It would be too weird.
THE SILENT SONG
I have to write now
Because my computer won't turn on I think I'm dying too
So here's a song
It doesn't have a tune No hooks
No show
Just words and silence In my song
It's in my head You can hear it too If you listen Conversations Can be had
In silence
My song is for you. Listen to it if you like It plays
At night
And in the day All the time
It won't go away.
Please stop me If you can
And then tell me How I can too
It can't be done you see This song
Occurs naturally
It never stops
We're a symphony.
You play the song too
If you choose
Come with me
And walk down the street with me We can sing it
All the time
To be kind
To those that are flustered And calm them down Help their pain
With the silent song
That didn't say anything It didn't know about
It isn't a fraud
That's not what it's about.
THE WRITER
I don't force my poems I didn't write them They came to me From you
I am the writer
I didn't choose it
You did
And named me
To do it for you
Because nobody else would.
People write on walls At night
Here
Sometimes
When then don't have time To write it
Anywhere else
I've been arrested But don't do it to them They were expressing For the community
When it's sad
And when it's happy When it's frustrated And documented Everywhere you see
Although they didn't pay for it
Please accept
That unlike the others
Who advertise for money
They weren't trying to sell you anything.
They live inside you too Expressing for you
In the early morning Your frustrations
Your happiness' Your day
And your night
I think it's a delight
It resonates with me Please see that
And remember You're a part Of it too
We all are Here
From all of us to you Although I only speak for me I think you might find
That if you think kind
You'll understand
That it's from you to us too We.
THORNBURY
So many people In the community I'll go on,
and on
Please stop me
Energy bouncing everywhere The people and the animals Every day
At night when you sleep
I pull out my pens And write
I can't sleep then
Only in the day
I feel all your energy and frustration Car horns, and brakes
Always up the street
At night though You slow down And dream
And I dream too With my eyes open Documenting
What I've seen
Yes I'm mad it's true
But don't misconstrue me I'm just like you.
TO RUE
Orange beanie
And a dog named rue And little pleasure
To see you
You run around With curiosity On your walk To the park
I love you little dog
But you hate my smoke
You liked it when we played though Hide and seek
NORTHCOTE DRYCLEANERS
I took my pants to the drycleaner I have shorter legs you see Than they make the pants
Off the rack
A smaller waist too
Northcote Drycleaners Look after me
When I need my pants To look and feel right When I wear them Day,
Or Night
Thank you, thank you It means a lot to me How you handled The situation
With grace
And pace
And certainty Professionalism
With a sewing machine And good employees
Please look after them They serve you well And the community
I wasn't given any Penalty
When I was upset
You listened to me ramble Which I known to do
So from me to you
Thank you, thank you
It really helped me.
Up on High Street
I live in Thornbury
But I catch the tram to see you Because you look after me.
.......
My phone tells me what I like And I believe it
With an algorithm
That gives me things
I do like
I'm a cyborg now
The phone is an extension of me We didn't even see it happen We don't know what to look for Until it was already done
Well to the future Soon to be the past
..... WINGS
Don't talk to me anymore about this I'm furious!
Wings were a great band
Certainly not useless
Paul was a Beatle
Some say the best
He herded those cats
And also wrote the second best
ELO were a different band
Go and listen to them all you like It's not for me to say
But for now,
Make mine Wings
The band I am more familiar With.
THE INTERNET, A BOSS, AND A DAUGHTER WHO IS LOST
I'm mad
Absolutely mad
But the girl who just saw me Might think I'm free
Her mother hates me
We used to date
Her mother put a stop to it But didn't know who I was
Now she sits in my seat Maybe getting yelled at By her own Mum
The jealous old cow
I don't care
Where she is now
But I had to look at her yesterday As I drove past the place
Where she screamed at me Over and over again Senselessly
Now I see the fear
In her own daughter's eyes Only briefly
She's coy and full of surprise
She'll hate reading this
But her mother won't read it If she does
Say hello
From me
The guy who left a boss That was utterly useless And sick
And needed help
But would not listen
When I tried
I hope it's a surprise
When you learn what I did for you all That you didn't appreciate
You just sat on the internet
Making up lies
In images
No surprise
To me
But I hope it makes you feel good Even though I know it doesn't.
THE SILVER PEN
A silver pen
Just for me
With now ink in it It's just shiny
It's still useful
To my mind
To look at it
And remember to be kind
Nothing is useless That is only foolish To think that way Is a waste.
MEANING
Everything has meaning Don't think that it doesn't Even when other people Try to tell you
It doesn't
Listen to yourself You know the help That you need
To orient yourself.
We assign meaning
To everything we see Or hear, and touch
So surround yourself With the things
That make you feel like Who you are
But right now
Might like to be.
It's called ontology
But don't look it up
It was sanctimonious to Bring it up
Things are best said
When they're simple
Don't show of with words
You'll just make people defensive
Say complex things simply Understand this, it's the key Then know
When to stop.
...
Brake your chains
Leave them on the sidewalk I say this for me
Because my memory
Ain't what it used to be
Run when you're free Hide when you're safe Fight when you have to But only self defence
Pile up sticks if you want to But do it for yourself
Don't let people rule you You're the boss of yourself
Run when you're free Hide when you're safe Fight when you have to But only self defence
I apologise
For giving advice when it wasn't asked for Apologies again
Let's open up the dance floor
Throw that paper
On the floor
Dance on the property developer Photographed looking unsure
He's actually poor And greedy
Most likely needy But do you
Need him?
DRYCLEANING
Riding on tram
Adjacent to a younger man Staring out our phones
He has a skateboard
I have clothes
For drycleaning
A principle
Was missing
And needs to be fixed
I don't know if you'll get it People rarely do
The man has gone And I'm still on
I sit in his seat
Still warm
He moved his feet for me when I sat down Back to the driver
But now
I'm facing forward.
SLAVE
Safety withe master Freedom; terror Safety for the master Terror, for the master Who whips the slave With words
Which cave The confidence Of the slave
So they stay
Unconsciously
The embrace one another equally Just as stupid as each other When will we learn
From History
Never
It's all we've learned
From it.
GOOD KARMA NETWORK
Good Karma Network
Admin: Kaz Kershaw
When I needed help
She didn't show me the door
She shoved me straight through it And onto the street
In my mind
It went over and over
On repeat
Thank you Kaz Kershaw
I wish the best for you and your kid I hope you have good karma
I have none now
Because in good karma groups
As you told me
You're only allowed to give
.....
No food, no energy
No energy to get food
Stare
Close eyes
Breathe
Prepare your mind
You must eat
You must make it happen
No matter who tries to stop you Food must be gotten.
...
How can I get some food?
Lie, cheat, or steal? No
There must be some other way A noble
One apparently
DAD
Your disregard for life Upsets me
And rejects me
You are a fool
And I am too
But I feel you are a bigger one Having more experience to draw from
You would say
But I have helped Everything I did
Was for your: insert here
Depending on the argument Or the one sided screaming I don't want it encroaching Anymore
On
My dreaming
Good night, Father
Your son
Delight
No more fights
Because I have defeated you You just never realised it
You gave me the tools
To win at every cost
Now I am cursed
With the same disgusting frost
The chips on our shoulders Will they always exist there I suspect your might Unless I help you
See some light I don't want to But I don't think You have Anywhere else To turn to
And I love you. Just don't use me.
I'm not a commodity
I can't be bought, or sold Like At the auctions
You go to
Where I've never been With you
Why have you always been jealous of me? When you tried to provide for me?
Do you disgust yourself
Once, you told me
That no-one hates you more
That the person who stares back at you From the mirror
In the morning
Mum said I was a hard child to love She tries to change it now
That narrative
But I remember Those memories Never surrender
You never screamed at me For any other good reason Than
You had no idea
What you were doing
I understand that now
But am not able to forget it I must write it down
To move away from it
To free myself
From the chains
I was born with
That you seemed so proud of But could never explain to me When I asked
You just barked
With fear
And resentfulness
Did you feel
Stupid?
You made me feel dumb In front of every one
For your amusement But I'm here now
Don't abuse it.
THE DEVIL & THE DEEP
In a way work is much like thr devil and the deep. The devil is in the details
And work is to be deep
And meaningful
To you
We cannot make the same close As those
Who came before us
And continue to ignore
We cannot wear the same clothes Made from exploitation
Ideas
That were given to us
By an ignorant Generation
We can wear a lot of things And those things already exist I believe
In this
Work is to be meaningful
Don't wish for it
To be used to make someone else suffer Somewhere else
That you've not heard
About
Labour is cheap And abundant
And in some places Life is cheaper
Disgusting
Are there any questions That will talk to you
If you are honest
Truly
With yourself You are right
Follow your path
If you deviate
Don't let it last
Follow your own advice
Even if you didn't ask
For it, is so
In the deep below
The devil might live there We simply don't know.
...
Are there any questions That will talk to you
If you are honest
Truly
With yourself You are right
Follow your path
If you deviate
Don't let it last
Follow your own advice Even if you didn't ask
For it, is so
In the deep below
The devil might live there We simply don't know.
.....
Our energy Is circuitry Flowing From me To you And you to Me
Any Way That you Please
x
APPLE CIDER
Why should we give you something for free A young girl selling cider
When I asked for a cup
To take with me
Because I'll buy this bottle
It's expensive, but not the best She looked at me
Angrily
She asked the manager Who also shook her head
She looked back at me Shaved head
Diversity
Poor thing
I thought
She hasn't even figured out How to rebel yet
Only the look
But filled with utterly
Pitiful
Mistaken
Responsibility of some kind
To the master? To the apple?
To the business? To the town?
All will let you down
You'll get angry
And bitter
And want the world to be better You won't remember
However
The small kindness
You could have shown me When I needed a cup of it
To drink
your apple cider
Responsibly
Wool
And yarn bombing Might be your thing But money is the evil
You didn't give a thing
Why should anyone give anything for free? When in need?
When I came to your town?
I explained I'd make it renowned!
I have a voice
But she just stared at me
I smiled back
But you wouldn't budge
You just judged
Why then Again?
Well, Indeed Dear, it's called: Taking Responsibility.
Far be it from me
To name the company
But I planned to move there The exercise
That nobody realised
Was that I wanted a feel For the greed
In that town