The Tree Graveyard
The Bruce Pit Tragedy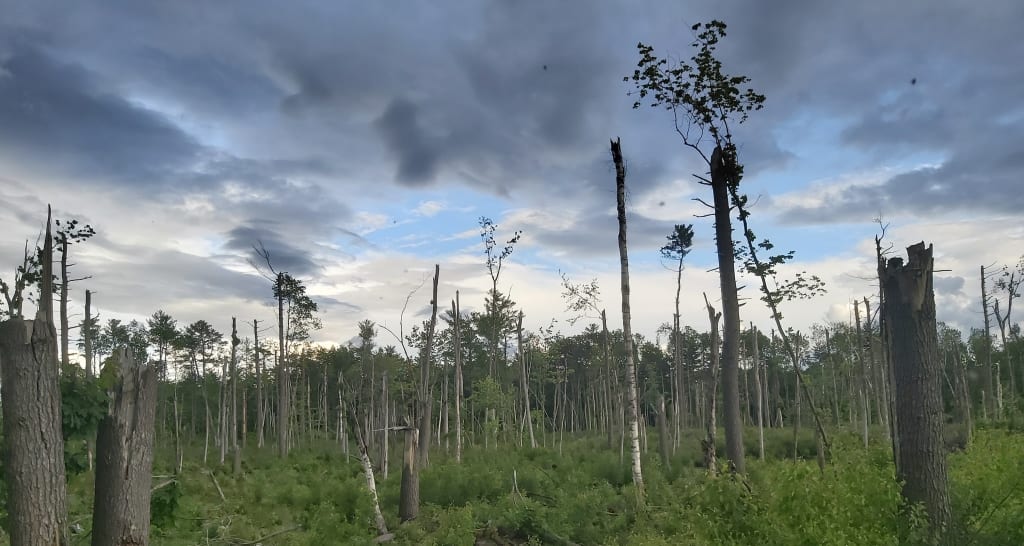 It was a Sunday afternoon and Maggie, our 5 years old German Shepherd, was anxious for her walk. We decided on the dog park at Bruce Pit to allow her some freedom as these parks allow pets to be unleashed all at the owner's discretion of course. The sky did not look favourable upon our arrival but we decided to take the trail for Maggie's sake. She bounded away and we followed. I have not visited this trail in quite some time so when I came across this scene I was stopped in my tracks. My partner did not realize that I was no longer beside him until some few yards away when I saw him in my periphery looking back at me.
I could not move, I felt frozen in place, lassoed and held firmly to look upon this graveyard of trees. I could feel my heart race and the wind as it swirled around me. Then I felt his hand on my shoulder
"Are you okay?" He said as clearly I was acting quite odd.
"What happened here?" I asked
"Oh this happened because of the tornado back in 2018 or 2017 I can't recall but yep. Tornado. It was way worse but they cleaned it up. These were all huge beautiful trees" he responded.
I raised my arms with the camera of my phone aimed at the site and snapped a picture. I wanted to look upon it more and I knew we couldn't stay longer, with the sky as it was. So we made our way back to the car and on our car ride home I pulled up the picture on my phone and stared at it.
I toggled the image on Instagram, each time closely examining the different views each filter offered. Some made the image softer while others created a harsher effect. The filter chosen,however, seemed to capture the image the way I saw it as it reeled me in like a baited fish on a line. The colors were brightened in areas it needed to be bringing balance to the darkness of the day.
My goal was to bring much attention to the trees because those are trees we are staring at. Trees shed of their branches and leaves for not being able to stand against a force of nature. For being trees which meant they had absolutely no say or choice in the matter. They had only the time to outlive the storm in hopes that it was only their branches and leaves that were to be lost.
As gloomy as it seemed, there was something there that showed me hope and strength, resilience and persistence. It's resonance to life as we know it was so raw and endearing as sometimes in life we too experience situations and hardships that rip our branches off and sometimes even worse, uproots us; and as we stand vulnerable to the world we grab and snatch at anything and everything to cover us out of shame of what we endured, out of fear of being judged by the mass that did not share the experience. Yet we look to the same mass for inspiration and ideas on how to overcome the tragedies of life when life is showing us everyday if we would just pay attention. Simply kicking a rock teaches us that nothing moves or happens if we don't act on it yet somehow this lesson is more golden when said by a YouTube Guru.
But what if we just stand tall like the trees, whose spines still stand in tact and erect, with resilience against the winds now due to having nothing to lose. Beautifully portraying survival.
What if we just paid attention?