Is Your Cat Drinking Enough Water?
A Guide to Keeping Your Cat Hydrated and Healthy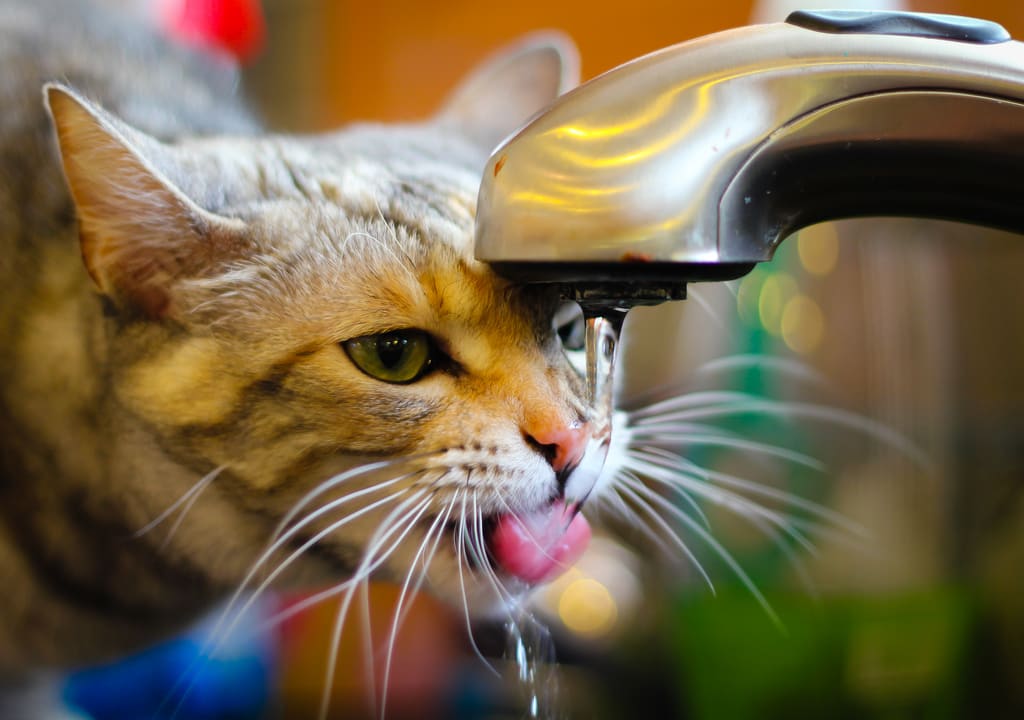 We always hear how important it is for humans to be drinking enough water through the day. However, this is just as important for your pets. Cats can be especially tricky because they are often picky about the source of their water. It can also be hard to monitor their water intake as they often like to play with their water bowl or dump it over entirely. Follow these tips to help ensure that your cat is getting enough access to the kind of water that they like to drink.
Consider a Cat Fountain
Many cats like a continuous stream of running water to drink from, this is why some cats enjoy drinking straight from the tap in the sink. A cat fountain can be a great choice for your cat because they provide moving water which appears fresher to your cat than a stagnant bowl of water. There are tons of cat fountains on the market that come in a range of prices and styles. With the high availability there is bound to be one that will fit in your budget and look nice in your house. Plus some come with filters to ensure that cats who like to play with their water aren't drinking up any cat litter that they transfer to the water from their paws.
Consider the Placement of the Water Bowl
Cats can be picky about where their water bowl is placed. They often do not like to drink out of a bowl that is too close to their litter box. If you keep the litter box and your cat's water in the same room, consider moving the water bowl out to another room. Another trick is to have a few water bowls placed around the house in your cat's favorite locations. You will probably find that one or two of these bowls gets more use then others. This will ensure that your cat is drinking water through out the day because even the laziest of kitties won't have to go far to find some nice refreshing water.
Clean or Replace the Water Bowl
As you are beginning to learn, cats are very picky creatures. This extends to the cleanliness and even the material of the water bowl. Remember to clean a cat's water bowl regularly. If it is slimy and growing a film, no cat will want to touch it. Think about what you would drink out of. If it's not up to your standards then your cat probably doesn't want much to do with it either. Ceramic bowls hold more appeal to your cat than a metal bowl for the same reason. Metal bowls can get slimy quickly, while ceramic bowls do not.
Is the Size of the Bowl Correct?
Cats do not usually like to have their whiskers submerged in water. If your cat's bowl is too small or deep, they might have to put their face much further into the bowl to get a drink. If you notice your cat's whiskers are wet after they drink then the bowl is probably the wrong size. Try a shallower or larger bowl.
Use Ice
Some cats enjoy playing with ice, especially when the weather is warm. This will trick them into drinking some extra water when they lick the ice or lick the water off their paws from swatting at the ice. This is a great tip for the hot days of summer, especially if you do not leave the air conditioning on when you are away at work. In the summer, cats need extra water just like humans do. Playing with ice is the perfect solution. You can either add the ice directly to a water bowl or put it in a shallow dish of it's own. Leaving it out on the floor is not recommended as your cat will eventually get tired or lose interest and leave the ice to melt all over your floor.
Hopefully, these tips will help you care for your furry friend and ensure that they are properly hydrated, even on the hottest days!