From Tormented to Rescued to Princess
This is my life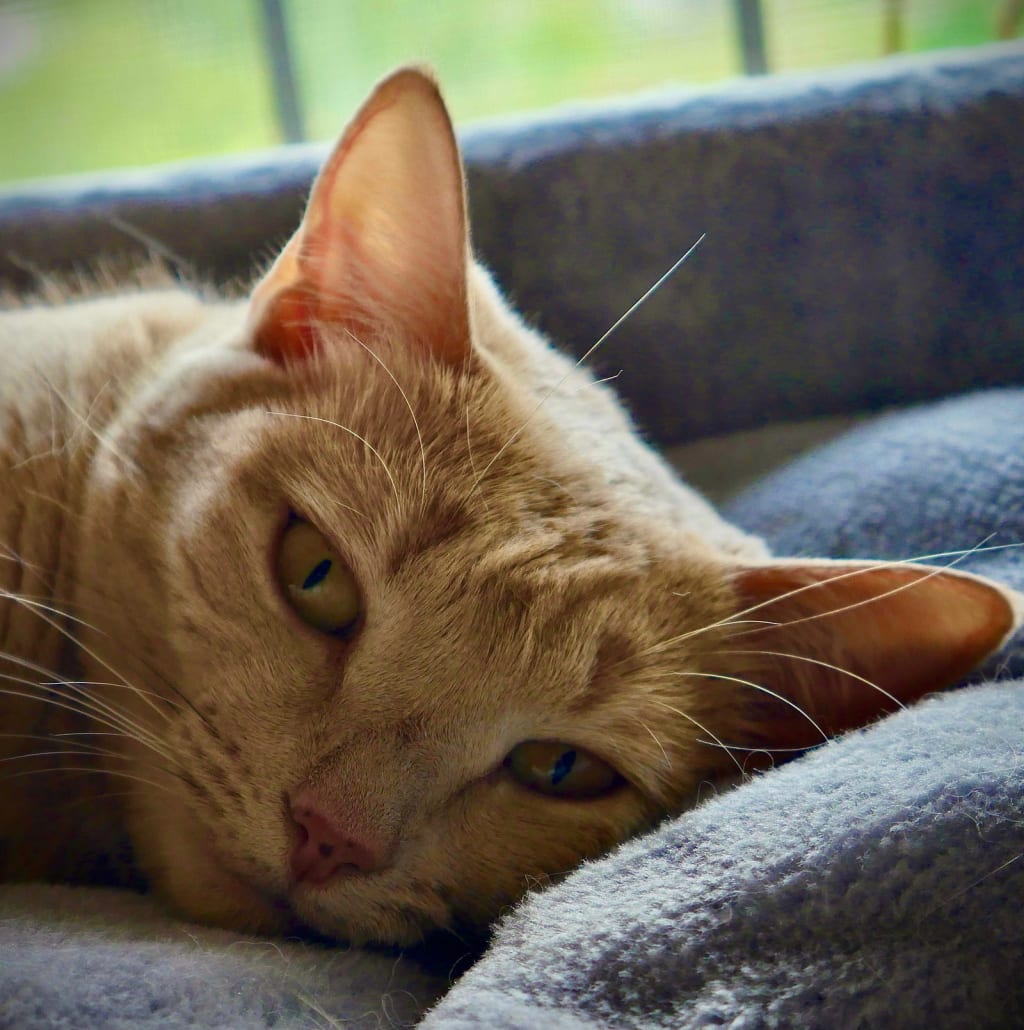 Photo courtesy of the Author
Hello world, I see you were introduced to my big grumpy brother yesterday and today my Mum said I could have my turn to tell my story.
So here I am!
My name is Grizabella and I was born on 3 August 2018. I know, I know, I'm still a baby compared to big brother, Peach.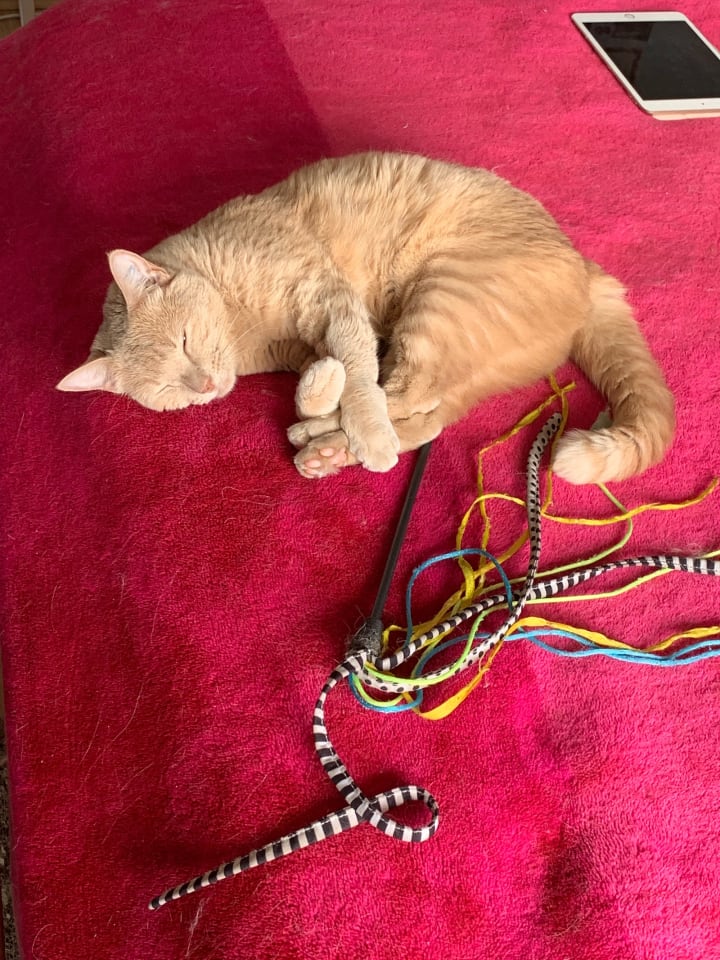 My life as a tiny kitten is not one I like to think about if I can help it. I wasn't treated kindly, in fact, I was horribly tormented and when they'd finished having their fun, I was thrown into a dumpster to perish.
Luckily some kind hooman found me and rescued me. They took me to the rescue shelter and I was nursed back to good health.
As you can imagine though, I didn't like hoomans. I believed they were all as cruel as my original tormenters, but thankfully I was soon shown this was not the case.
The rescue shelter named me Dumpling, because I was found in a dumpster. I didn't like that name or that memory, so I was thankful when my Mum changed it.
So how was it I met my beautiful Mum?

Well, like I explained I was living at the rescue shelter in a small cage, which I shared with another kitten. I was six months of age when I saw this female hooman stop in front of my cage. I cowered in the back corner as far away from her as possible and refused to come near her when she called. I sat with my head hung low in between my paws and wouldn't look her in the eye. I just wanted her to go away.
I'm so glad she didn't and that she stubbornly stayed outside my cage gently talking to me.
I found out later that she was actually here to see another cat. A big ginger and white cat that was in a cage a few cages down from mine. Every cat in the centre knew that big cat because for weeks he cried and cried and cried. He didn't like being in that cage at all.
I saw my Mum cradling him and soothing him earlier on before she come to visit me.
I also know now that my Mum was there to visit that cat and not there to find herself a new cat to take home.
But thankfully I caught her eye and she decided to adopt me.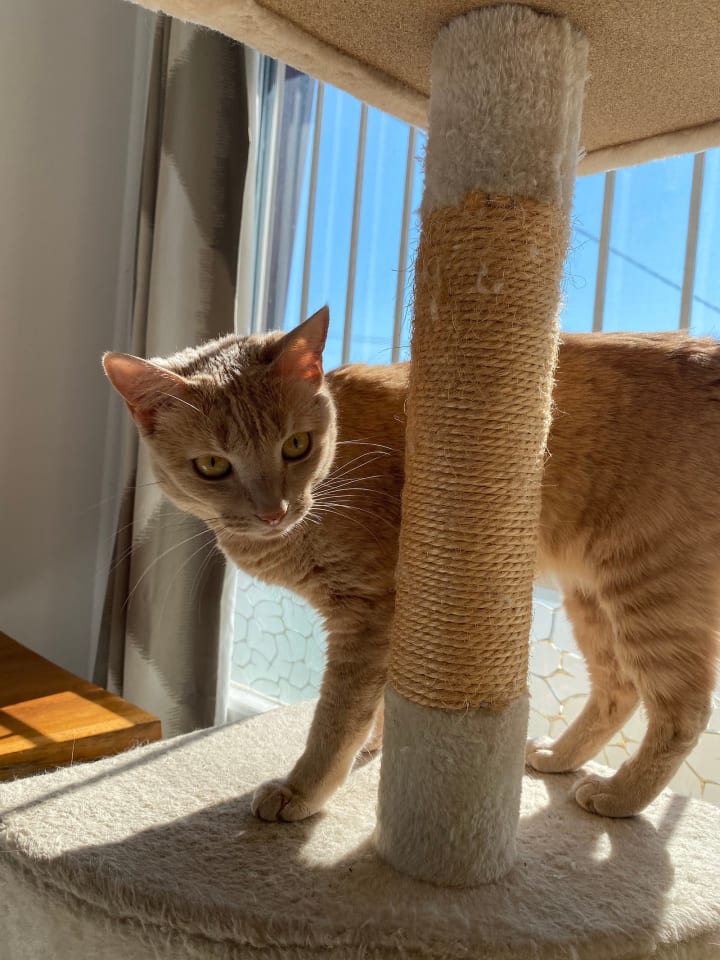 Once the paperwork was completed, the staff at the rescue shelter scooped me up from out of my cage and placed me in a box. That was a scary experience.
Some time later, my Mum gently opened the box but I cowered in the corner and hissed. I was a ferocious beast and wouldn't let her pick me up.
She gently laid the box on its side and walked away so I could come out whenever I wanted to. It took some time but I slowly moved to the edge of the box and peaked out.
Wow, I was in this big, big room and there was a big mattress on the floor that my Mum had just laid there. I slowly moved out a little and could see my Mum standing in front of the closed door.
Was this big room all mine?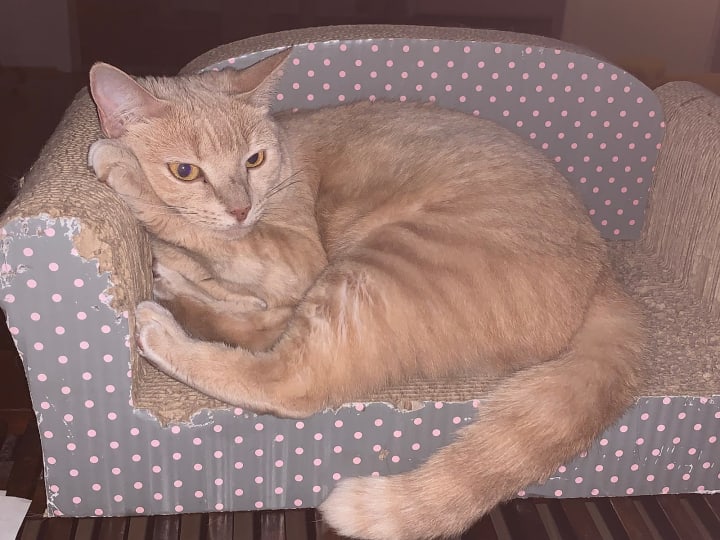 I suddenly noticed a red yoga mat rolled up in the corner of the room, under some dressing table. I gathered all my courage and made a mad dash for it, scooted inside the rolled up mat and there I stayed for the next few days.
Mum kept putting delicious food and treats at the end of the mat and I would sneak out to eat when I knew she was sleeping, on that mattress on the floor. She had also put a litter box on the other side of the mat for me. Again, I would wait until she was asleep before using it.
I sure was a scaredy-cat back then!
After about three days, I decided to gingerly scuffle out from within the mat, although my Mum was awake. I stayed on the outskirts of the room and inspected everything, keeping a wary eye on Mum.
It was during this stage that Mum gave me my new name, Grizabella. She named me after a character in her favourite theatre production, Cats, based on TS Elliott's poems about cats. In the production, Grizabella was a cat that was teased and tormented by the other cats, but in the end she was the cat chosen to be reborn into a beautiful new life.
Mum thought that as I was being reborn into a wonderful new life too, that the name Grizabella was very fitting for me. I have to admit, I do love the name Grizabella, it's very regal in my eyes. Suitable for the princess I was about to become.
Another day passed and I was getting a little more courageous. Mum began to play with me and I forgot to be scared. I began hunting the toy Mum was swishing around. Oh, it was so much fun and I'd never really experienced fun before.
Slowly, I began to edge closer and closer to Mum and when I got tired I curled up next her leg and had a nap.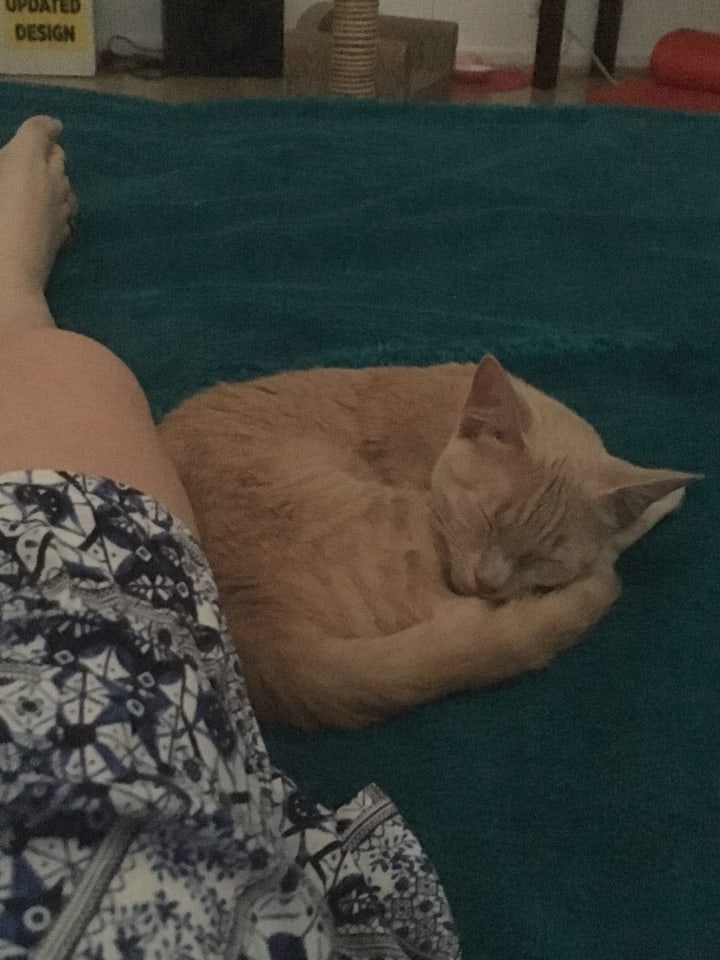 From that day onwards, I have always slept curled up with my Mum. I knew now she'd keep me safe and warm.
After a week, my Mum opened up the bedroom door and I was amazed to find a huge big house was waiting for me. I was going to be able to run, play and inspect every inch of my new home.
That's when I also met my big brother, Peach.
Oh no, it was that super huge ginger and white, noisy cat that was a couple of cages away from me in the rescue shelter. He was super scary to me because I was so timid and tiny.
Since that day I've been living the best life, with a loving Mum who calls me her princess.
Peach, well we tolerate each other but we aren't really friends. He's too loud, too chatty, too big, too domineering and too scary!!!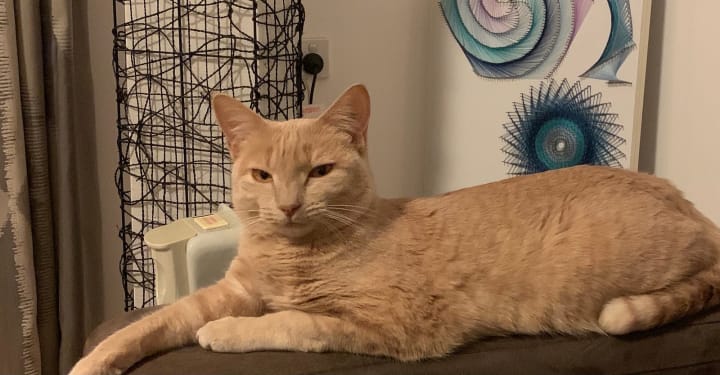 I was happy living my new life with my new Mum over the last four years but a couple of weeks ago, my Mum did something special that has made my life even better.
She bought Peach a harness so she could take him outside and she lets me come outside too. Because I'm still quite a scaredy-cat and everything outside is all new to me, I don't need to wear a harness yet. Mum knows that I won't wander off the front porch, so she lets me be free. I love to lay on the porch and soak up the sunshine, sniff the different smells wafting on the breeze and every now and again I do find the courage to take a step or two onto the soft grass so I can see what it feels like. It makes a crunchy noise that scares me so I don't do that very often.
All in all though, I've got a pretty good life and I just love my Mum to bits!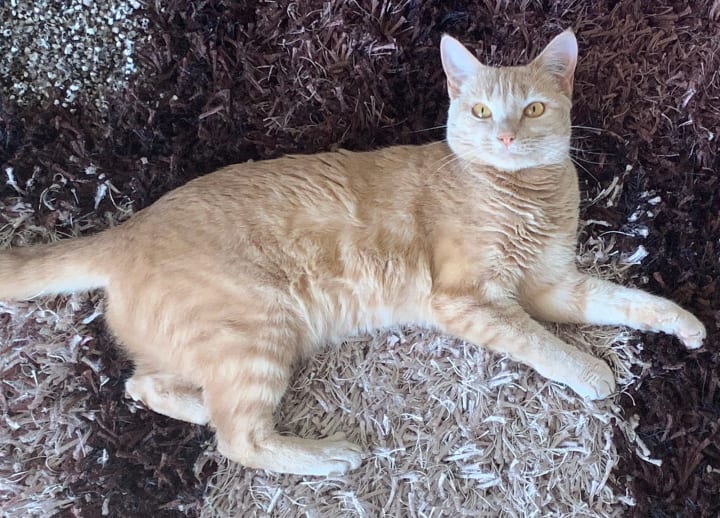 Please click the link below my name to read more of my work. I would also like to thank you for taking the time to read this today and for all your support.
If you enjoy this piece, you may enjoy this one too.
Please visit my website if you'd like more information on my newly published book, Battle Angel : The Ultimate She Warrior.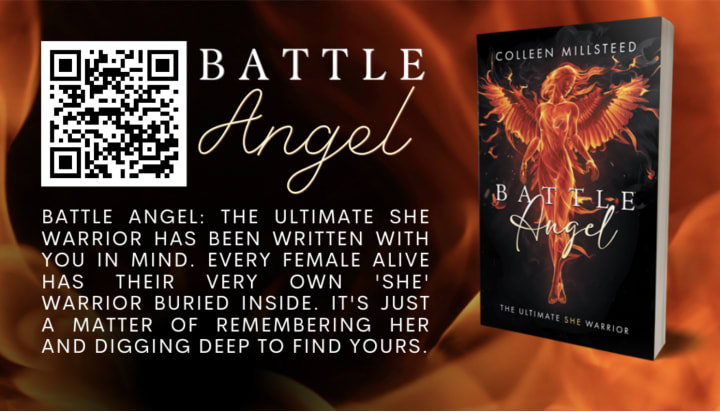 Originally published on Medium
About the Creator
My first love is poetry — it's like a desperate need to write, to free up space in my mind, to escape the constant noise in my head. Most of the time the poems write themselves — I'm just the conduit holding the metaphorical pen.
Reader insights
Outstanding
Excellent work. Looking forward to reading more!
Top insights
Compelling and original writing

Creative use of language & vocab

Easy to read and follow

Well-structured & engaging content

Excellent storytelling

Original narrative & well developed characters
Expert insights and opinions

Arguments were carefully researched and presented

Eye opening

Niche topic & fresh perspectives

Heartfelt and relatable

The story invoked strong personal emotions

On-point and relevant

Writing reflected the title & theme
Add your insights