A hawk in my heart
Wildness found on a city street as a reminder of beauty and wonder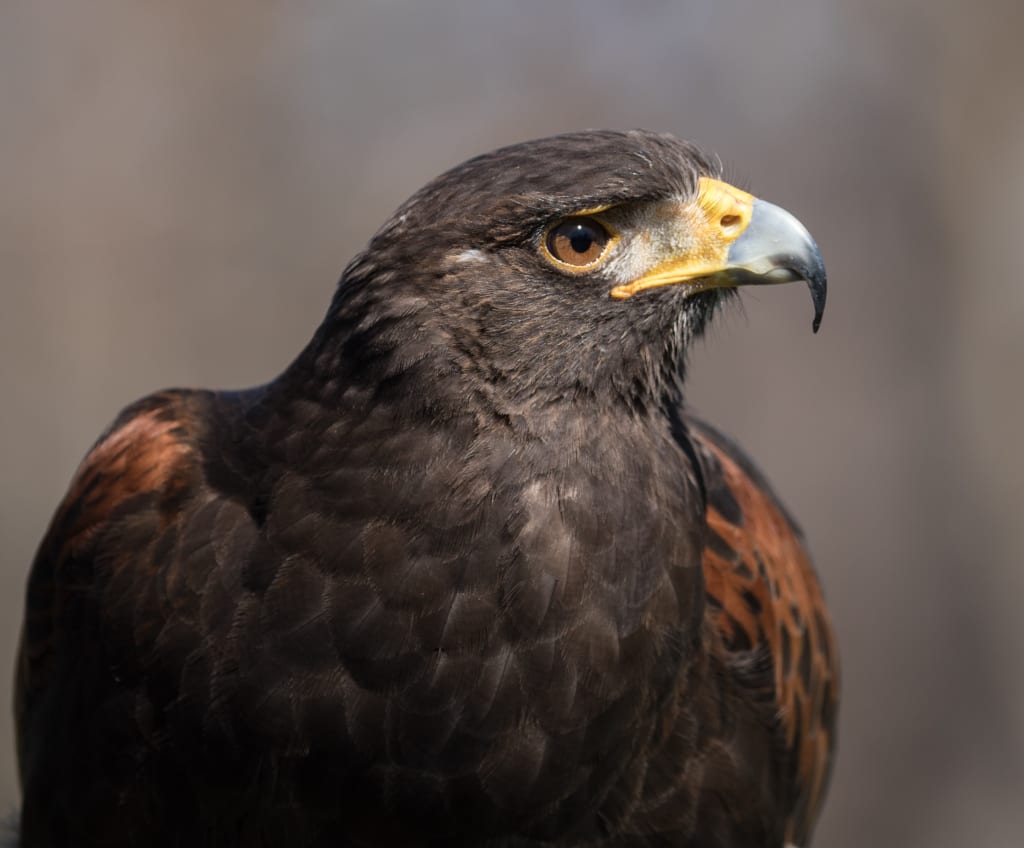 Harris hawk, photo by May Finch: may-finch.pixels.com
I was cruising toward Blackfriars Bridge, south to the beckoning Thames. I rise early for my permitted "one form of exercise a day" — cycling seems the best way to keep 2 metres apart and so I discover I am becoming a more confident cyclist. Disquieting, however, to feel proud of my improving skills, knowing they are thanks to the streets eerily emptied by COVID-19. Ordinarily the City would be thick with cars and trucks and buses, but not this morning, not any morning now.
But I still stop at traffic lights, even when there's no traffic: a good habit is hard to break. So I rolled to a halt on New Bridge Street, looking left and looking right for good measure — and there he was, a gorgeous Harris hawk, perched on the arm of his keeper, fiercely tearing at some scraps of raw meat. A raptor's breakfast in the London sunshine. No one else on the pavement but falcon and falconer, like something from a medieval painting sprung to life.
I should qualify, I suppose. I have seen hawks before in London; they're an accepted form of pest control. Pigeons tend to keep away if they know Death might come swooping down. I should qualify, too, calling that snacking bird of prey "he": striking the assumptions one makes. I met the eye of the bird's keeper, who smiled at me and I smiled back — even without a hawk as a mutual point of interest, I have found a smile goes along way to bridge social distance, and I intend to keep smiling at strangers when we're all out of quarantine.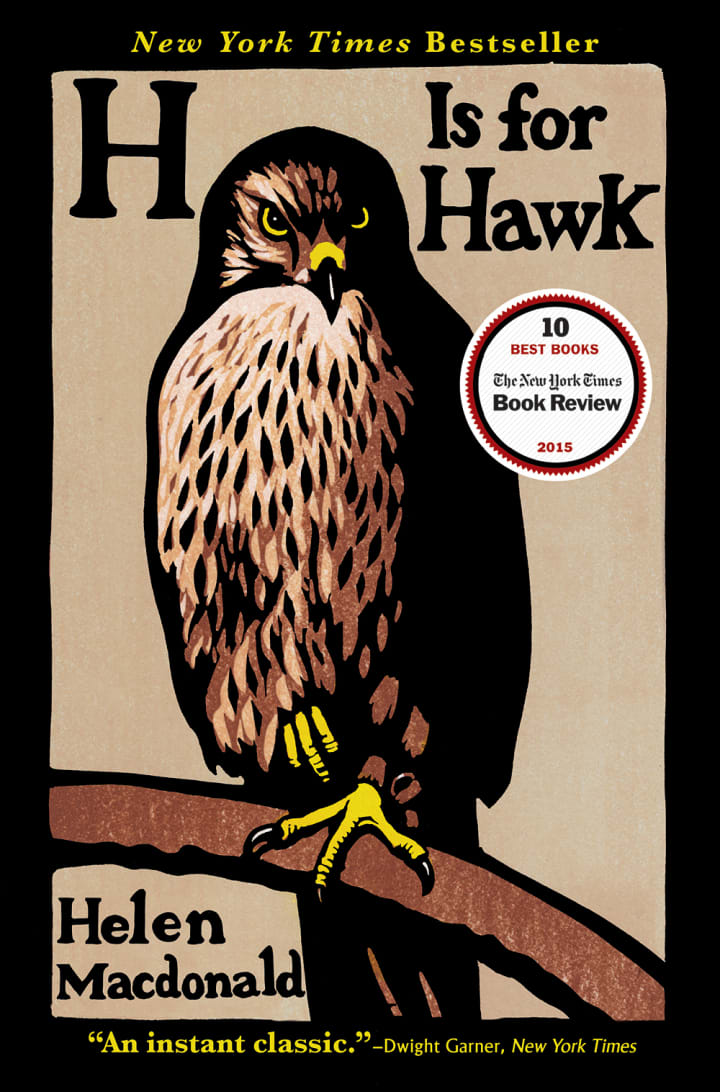 The light changed: I didn't push off for the bridge. Because it was so quiet, there was no traffic behind me, no other bikes; I could take my time and gaze at the fierce bird, absorbed in himself yet so aware of the world. His tawny brown feathers, briefly ruffled by the spring morning's breeze; that bold black eye, that sharp, tearing beak. How extraordinary to see this wild creature on an empty London street! I recalled one of my favourite books of the last decade, Helen Macdonald's beautiful memoir, H is for Hawk. In it Macdonald's mourning for her late father is entwined with her decision to train a goshawk, the wildness of grief subsumed into the wildness of the bird, a creature knowable and unknowable all at once. "Half the time she seems as alien as a snake, a thing hammered of metal and scales and glass," Macdonald writes.
She harks back to a book she loved as a girl, T. H. White's own account of training such a bird, The Goshawk, first published in 1951. White is best known for his marvellous retelling of the legend of King Arthur, The Once and Future King; The Goshawk is a very different kind of book, beautiful and brutal. Both books are about a longing for wilderness, a wish, almost, to for the human self to disappear into that which is wild. The lone falcon soars up into the sky, seeking its prey, ruthless and pure.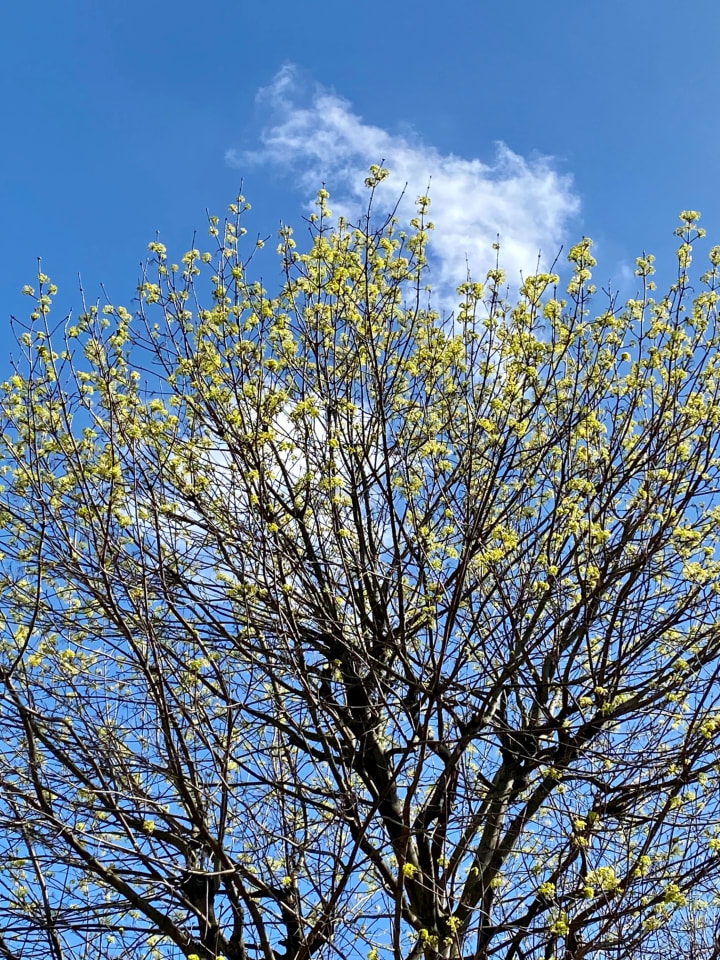 It seems we are the mercy of the wild, right now. Our human skill at taming the natural world is revealed, in these spring days of the year 2020, to be far more fragile than most of us ever would have thought, and wilderness re-enters our lives in surprising ways, whether it is the canals of Venice re-inhabited by fish and crabs now that the tourist boats don't chug through the water all day every day; or it might be simply the sight of a blue sky unmarked by the contrails of jet planes. I no longer take for granted my ability to simply go outside: so when I do, it's the natural world I notice, the birdsong, the blooming spring flowers, the green of a budding tree over my garden.
That Harris hawk was no wild bird; yet it was a mark of wildness, a signal from an older, deeper place. The light changed again, and finally I cycled off, my own heart wild and — somehow — restored.
About the Creator
Lead Editorial Innovator, Vocal. Author, critic, friend, parent, cook. New book: Chief Engineer: Washington Roebling, The Man Who Built the Brooklyn Bridge. Twitter: @EricaWgnr, Insta: @ericawgnr
Reader insights
Good effort
You have potential. Keep practicing and don't give up!
Top insight
Eye opening

Niche topic & fresh perspectives
Add your insights