We Fled War in Nicaragua and Discovered Our Passion
When one door closes, another one opens.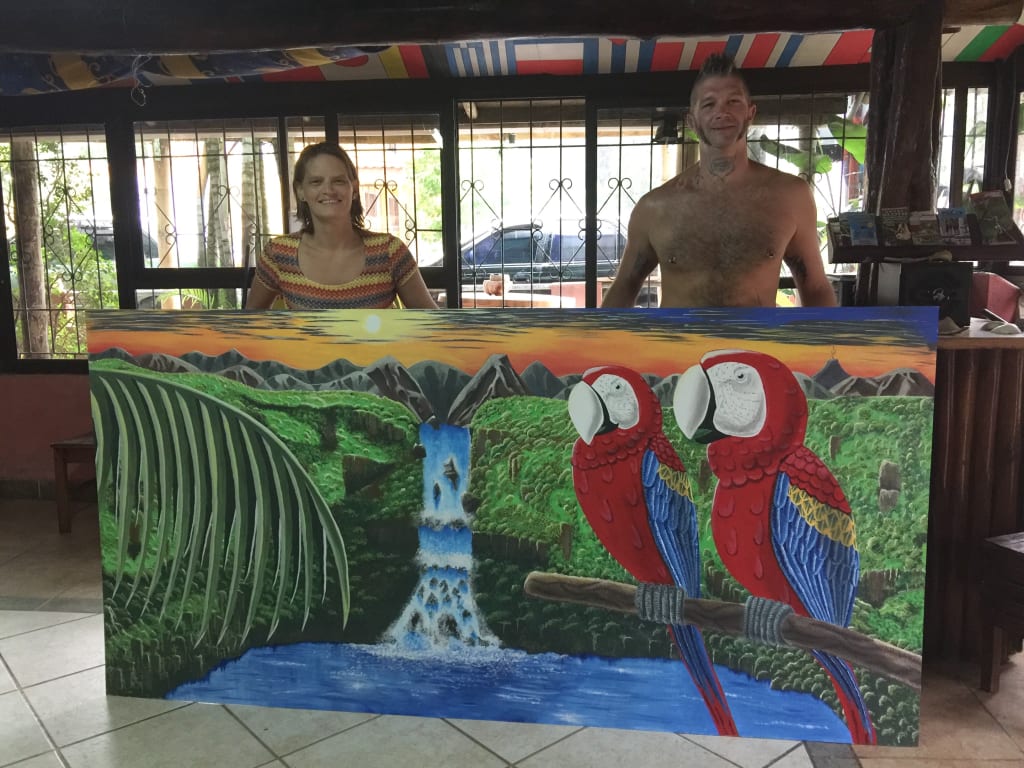 Our first painting that either of us had ever done! Photo Credit: Author
It constantly amazes me in this life how when we look back, we can so clearly see connections that may not have been so obvious at the time. It isn't until we are farther down the road that we can see how situations impacted us and consequently sent us in new directions.
One such time in our traveling life was actually really close to the beginning of our nomadic journey. We weren't even one year into it yet, and already the universe was showing us what was possible in this new life that we had chosen for ourselves.

It was June of 2018, and we had arrived in Samara, Costa Rica. We had just been housesitting in Nicaragua, where we had a gig for 4 months and were supposed to stay until the beginning of September. However, an unexpected civil war had broken out in the country, and after weeks of indecisiveness, we finally decided that we needed to leave.
I could write a lot about what happened during those frightening days in Nicaragua. But I won't. I guess that is a story for another post. However, if you wish to enlighten yourself about it all, you can read my blog post below that will lead to two others on the subject. (I apologize profusely that I never did complete this series of posts, but it still will give you a good idea of what was going on through it all.)
One thing is for sure is that we were shell-shocked.
We had no idea how badly our anxiety had crippled us until we made it back into Costa Rica. We had been glued to news reports about the gunfire and fighting in the streets. Every day we were waiting and wondered when it would reach us. We kept reasoning that we hadn't seen any violence in our town yet, so we were safe.
But then we realized that we didn't want to see any either and that it would probably be best to get out before we did.
One day while shopping in the supermarket, we noticed that shelves were starting to empty. Plus we had passed massive lineups at the gas station. We were some of the last tourists in the country, and we realized, in those moments, that we weren't doing anyone any favors by sticking around.
2 more mouths to feed was not what the country needed in those times.

The feeling of relief that we felt when we crossed the border back in Costa Rica was palpable. I still find it so hard to compute how a border can make such a difference in times like this.
We spent 2 nights resting in Liberia, the major northern city in Costa Rica then decided to head back to Samara, a place we had stayed upon our initial arrival to Costa Rica back in October of 2017.
We were familiar with the area, we liked the hostel, and we just needed a safe place to relax for a bit. Of course, our plans were thrown helter-skelter, so we needed to regroup and figure out where we were going next. Plus, we didn't realize it at the time, but we needed a place to recover from our traumatizing ordeal.
We were surprised when we arrived to find the hostel already occupied by other people who had fled Nicaragua. We dubbed ourselves the Nicaraguan Refugees, and we found great comfort in sharing our stories with others. Some had witnessed violence, and others, like us, had just gotten out before they did. We were certainly all in shock by the events that had unfolded, and everyone had a unique experience.
We became fast friends with a few that stayed there with us and we are still in contact to this day.
During our first stay at this hostel, back in 2017, the owner discovered that we were artists and had asked us if we wanted to paint a mural for him to hang in one of the rooms. At that time, though, we were heading to our very first housesitting job, so didn't have the time to commit to the project. But when he saw us this second time, he remembered.
"Do you still need that mural painted?" I asked.

"Yes, are you wanting to do it this time?"
I looked at Chris and he rolled his eyes. We had already spoken about this before arriving, and he wasn't keen.
Although both of us are artists, we weren't painters. Sure I had dabbled with acrylic paint a bit, and we had both been house painters back in Canada, but we hadn't done any serious art paintings. We were mostly both drawers, and Chris has been a tattoo artist for his whole adult life. But I had watched many of my friends in Canada paint, and I was a bit addicted to watching time-lapse YouTube videos of people painting.
I really felt as though we could pull it off.
"How long do you think it will take?" The owner asked. The deal was that we would get accommodation in exchange for our work on the painting. He had told us this the last time we were there.
"Oh, I don't know, about 10 days." I reasoned. Totally pulling that number out of thin air. I had literally no idea how long it would take.
"Okay, sounds good. You will get 10 days of accommodation for your work."
"Perfect!" I said.

We were back in our room and Chris was beside himself with worry. "I don't know how to paint." He insisted.
"It's okay, neither do I," I said. "But we will figure it out." One thing that house painting had taught me was that if we didn't like what we painted, we could always paint over it.
"Worst case scenario is that he doesn't like it, we paint over it and then we pay for our room," I said matter of factly.
"I guess." He finally succumbed.
We had nothing to lose.

The owner had shown us a picture of what he wanted, and we took that and created our own design with it. Once we settled on the idea, we started to make a plan.
After having watched some of my friends paint back in Canada, I knew that they started with the background. The first order of business was to lay down some color to outline your design. So that is what we did.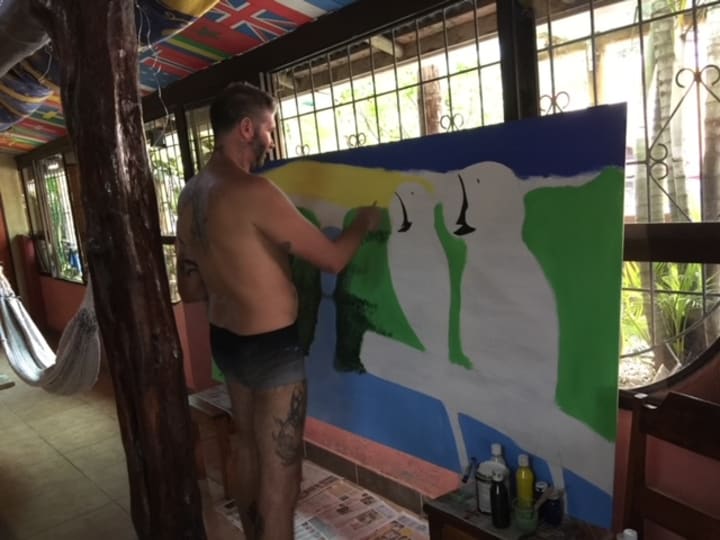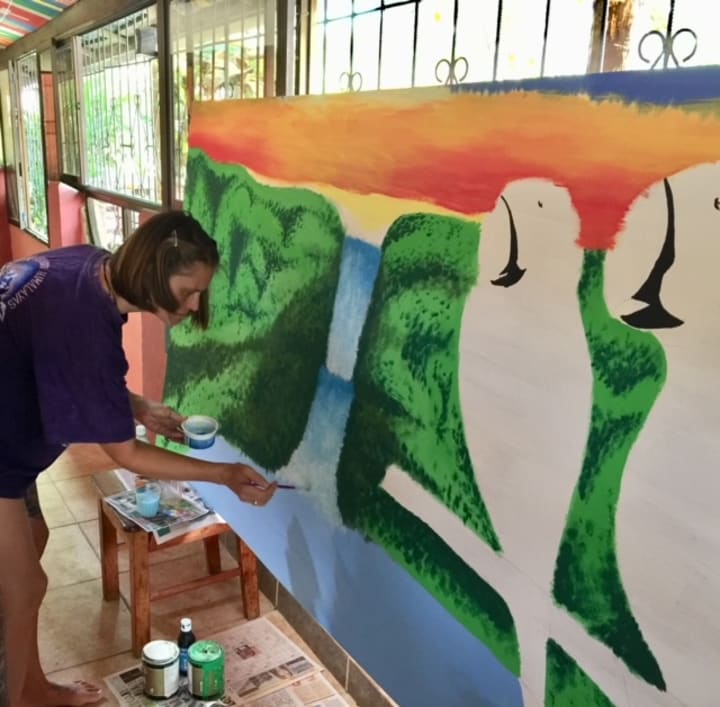 In the beginning, things started out fine. There were no details and nothing to worry about, we were just laying down color. But over time, and the further along we got, we became tired and exhausted with it all.
We started to argue and fight about how it was that we would accomplish certain things, and we realized that we were just so tired. In retrospect, we had jumped into this project guns a blazing, but we didn't realize how much we also needed to rest after our ordeal in Nicaragua. We hadn't slept that well in our final weeks there, and we were both a bit on edge mentally.
Once we realized that we needed more rest, we made it more of a priority and didn't worry about our 10-day deadline. Some days we would sleep until noon, paint for just an hour, then head to the beach. On other days we had more energy, and we would get more accomplished.
One thing we did start to notice, though, was that our painting gave us an escape. It was a place to get lost in. We didn't have to think about anything else that was going on in the world while were painting. We were focused solely on it.
Over time the painting became therapy for us. When we were feeling low or crappy, we would head out and just sit and paint for a little while. Each and every time we would come away feeling better about things.

Finally, after 20 days, we finished the painting. It had been a labor of love. Many parts were covered and re-painted as we figured out how to get certain effects, but the end result was great.
We were happy and so was the owner.
The sense of pride that we both had in accomplishing that painting far overshadowed the feeling of dread and anxiety that we had when we had arrived almost a month earlier.
I often wonder what sort of state we would have been in had we not had that project to focus on after leaving Nicaragua. I'm sure we would have healed, eventually.
But I'm pretty sure that by having that creative project to dive into, we came out much better on the other side.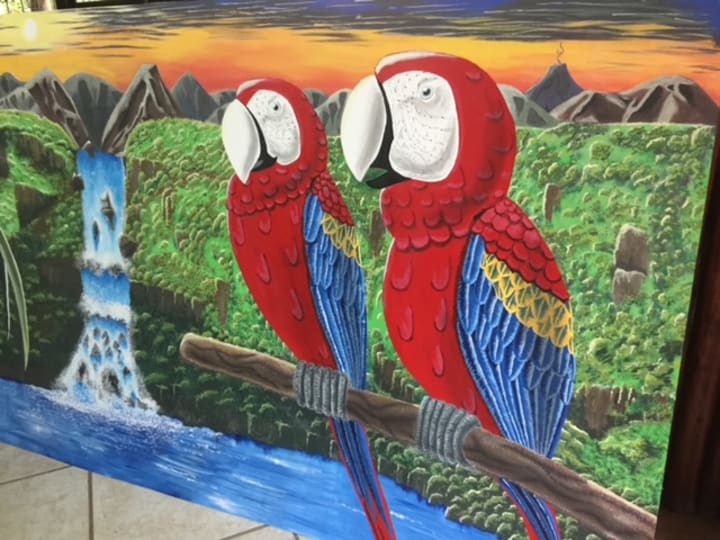 By having the bravery to step into that project, we unlocked potential in us that we didn't even know existed. After completing that mural, we then had the courage to offer our services to other hotel and restaurant owners moving forward. Now, 4 years later, we have painted murals in numerous countries and for many business owners.
We quite literally discovered our passion in that small hostel in Costa Rica. And had that civil war in Nicaragua never broken out, who knows how our lives would have played out.
We never know what opportunities are waiting for us around the corner.
It's like they say when one door closes, another one opens.
And it is so true.

Hi there, we are 2 Canadians, Jill and Chris from Artistic Voyages. We have been nomadic since 2017 living in numerous different countries, and experiencing the life and diversity of our planet on the ground and firsthand. We have now been on the African continent for over 2 years!
Join our adventure by hitting the links below!
Website | Instagram | Facebook | Twitter | Patreon| YouTube | Medium
healing
About the author
Hi there, we are Jill and Chris from Artistic Voyages! We sold all of our possessions in 2017 and have been traveling ever since. We paint murals as we travel, and aim to spread love through our art. We have now been in Africa for 2+ years!
Reader insights
Be the first to share your insights about this piece.
Add your insights