Views from my Living Room
Why I will never be bored hanging out in my literal second home.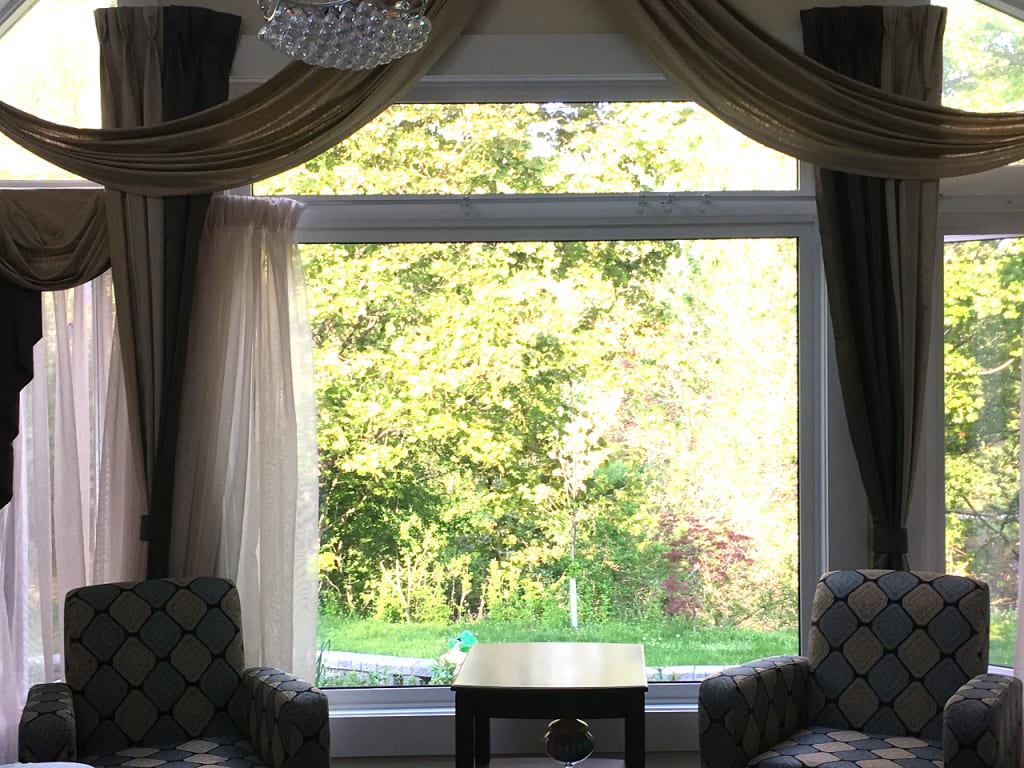 I live in my living room.
One could argue that's what the whole point of the room is for (I mean it's in the title...) but I'm not exaggerating when I say I exist in this room.
99% of the time I'm awake (particularly during the quarantine) is spent here. The remaining 1% falls under the "other" category. As in, the other responsibilities I have as a human to sustain life - sleep, bathroom, I guess shower? Bless those who spend their food consumption time actually sitting at a table with their families. I tend to giddily bring over whatever culinary delight my UberEats dropped off to this room and press play on my 400th rewatch of Killing Eve.
Now I am a very simple person who is satisfied by three life gifts: a solid internet connection, my reclining chair and not doing anything all day. I have been incredibly fortunate enough to remain safe at home self-isolating while many of my friends and coworkers are itching to get back to normalcy. To be frank with you: thinking about going back to work after being off since March remains a consistent nightmare of mine that has caused me to awaken in a cold sweat before dozing off for my 3 pm nap.
Why I have devolved into being such a living room devotee is the sheer comfortability this room grants me. If you're ever wondering where I am, look for me submerged in my Marty Crane chair with my laptop playing that rewatch of Killing Eve, TV streaming any live performance of BTS (until my family decides to switch over to the news cycle again which... which happens quite often) while my eye frequently glances to our delightful window that overlooks the forestry and ravine we're incredibly lucky to live by.
This is genuinely my version of Paradise.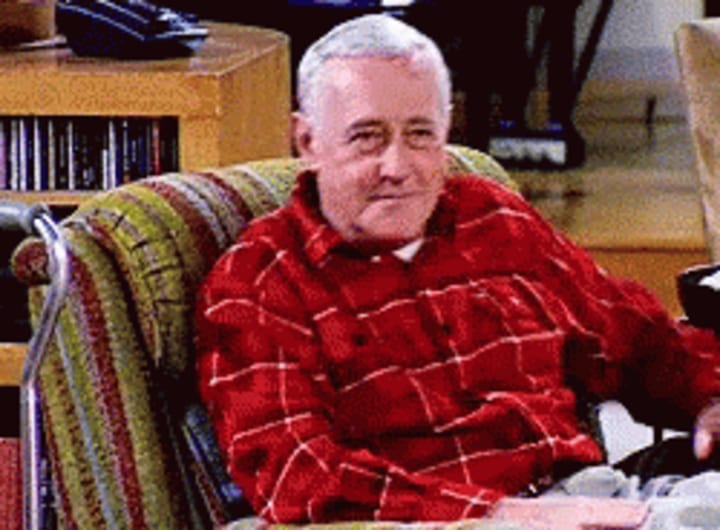 This area is where I've called home for the past few months following our workplace-wide layoff and as I await to hear word for when we're headed back to the office, I'd like to paint a painstakingly detailed picture of a Day In The Life of any ordinary Tuesday.
Good Mornin', Good Mornin'. It's Great to Stay Up Late
As Debbie Reynolds accurately affirmed in the 1952 musical, it truly is great to stay up late. Particularly for yours truly who insists on heading up for a good night's sleep at midnight and actually falling asleep around 4 am.
When I awaken and head to the bathroom to conduct bathroom duties, I make my way downstairs and fill the kettle with water, pressing "ON" awaiting for it to reach a boil for a fresh pot of green tea. Now as a proponent of maximum comfortability, if I were to head over to my Marty Chair while the water boils, I could not fully absorb the comfort since I know I'd have to get up shortly to pour the boiled water into the tea kettle. I fiddle around on my phone staring at the kettle thinking if I stare it down it'll somehow boil faster. It doesn't.
... Water has now officially reached boiled status. I brew the tea and anticipate my Daughter of the Year Award to arrive in the mail shortly. They say breakfast is the most important meal of the day so I take my hot cup of tea and air and slunk into my Chair. I'm one of four people on planet Earth that really does not like breakfast so I essentially wait until lunch to nourish myself. Is this the most healthy way to live life? Absolutely not. Will I ever try to better myself and possibly re-evaluate my eating habits? Sure, Jan.
I place the perfectly sized pillow on my lap, reacquaint my laptop with the pillow, recline the Chair back and yes, I'm in Heaven.
Sky rockets in flight. Afternoon delight
This is around the time things get really crazy. And by "really crazy" I mean "increasingly mundane."
I've sustained myself on the tea and packets of Fruit Gushers I have stored away in the ottoman and decide now would probably be the best time to grab some lunch. I check to see if anyone else is up for a pizza delivery to which I'm met with a "why not indulge in some chicken and healthy vegetables?" After thinking it over for a bit, I reach a compromise and decide on a veggie pizza... With extra cheese...
While I wait for the pizza to arrive, my mind occasionally wanders to the left side of the room where we're fortunate enough to have our window showcase the incredible forestry in our backyard. When I get up off the Chair and head over to the window, I marvel at the greenery and admire the mature trees slightly masking the serene ravine. I think to myself "I should go outside and possibly mow the lawn. I wonder if I'll see the family of deer I saw a few days ago. Maybe I should eat out here today to get some fresh air and appreciate the natur-- Oop, pizza's here!"
I settle into my previously mentioned routine of submerging into the Chair, having the Bangtan Boys playing on the big screen and Jodie Comer's brilliance radiating from my laptop screen.
My afternoon continues in this fashion for virtually every hour after 12 pm... Sometimes I find a BTS performance I haven't watched yet so that's always exciting!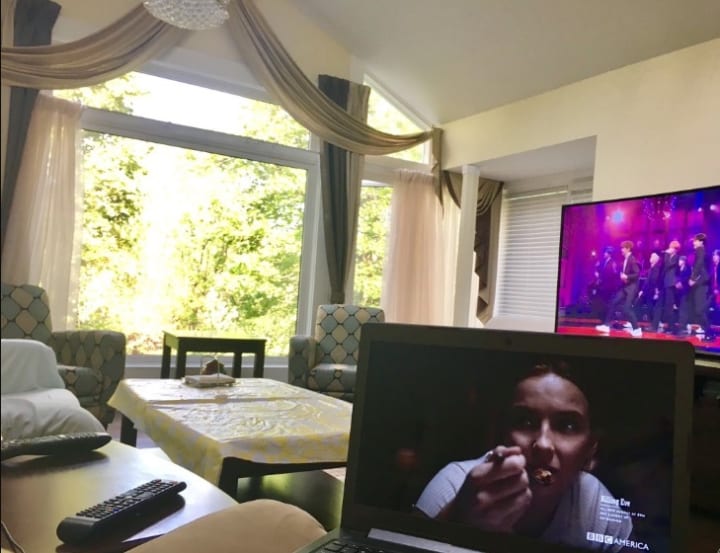 On an evening in Roma Toron'a
It's now become darker outside and my nightly routine consists of a big mug of chocolate milk (because I am 8 years old) and tuck in with an episode or five of Frasier. I've found this show to be the perfect series to wind down my day when I would come home from a tiresome day at work and it's just become a habit of mine for a few years now.
It's approaching midnight when I decide it's best to say goodbye to Seattle and head back up to my room for some sleep.
Rinse and repeat until I eventually get kicked out of my house which, call me crazy, I predict could be pretty soon.
If you're interested in checking out more virtual landscapes from other Creators, make sure to head over to Vocal+'s Landscape Mode Challenge!
About the Creator
Afghan-Canadian writer who enjoys witty quips and BTS, proper grammar and Jodie Comer.
I tweet with @MrsBananaPhone because it's the best and beats the rest.
I also have designs: https://www.teepublic.com/user/designingsimple
Reader insights
Be the first to share your insights about this piece.
Add your insights