Love More: 3 of My Favorite Things
Second Place in Love More Challenge
These spectacular internet finds will always put a smile on my face.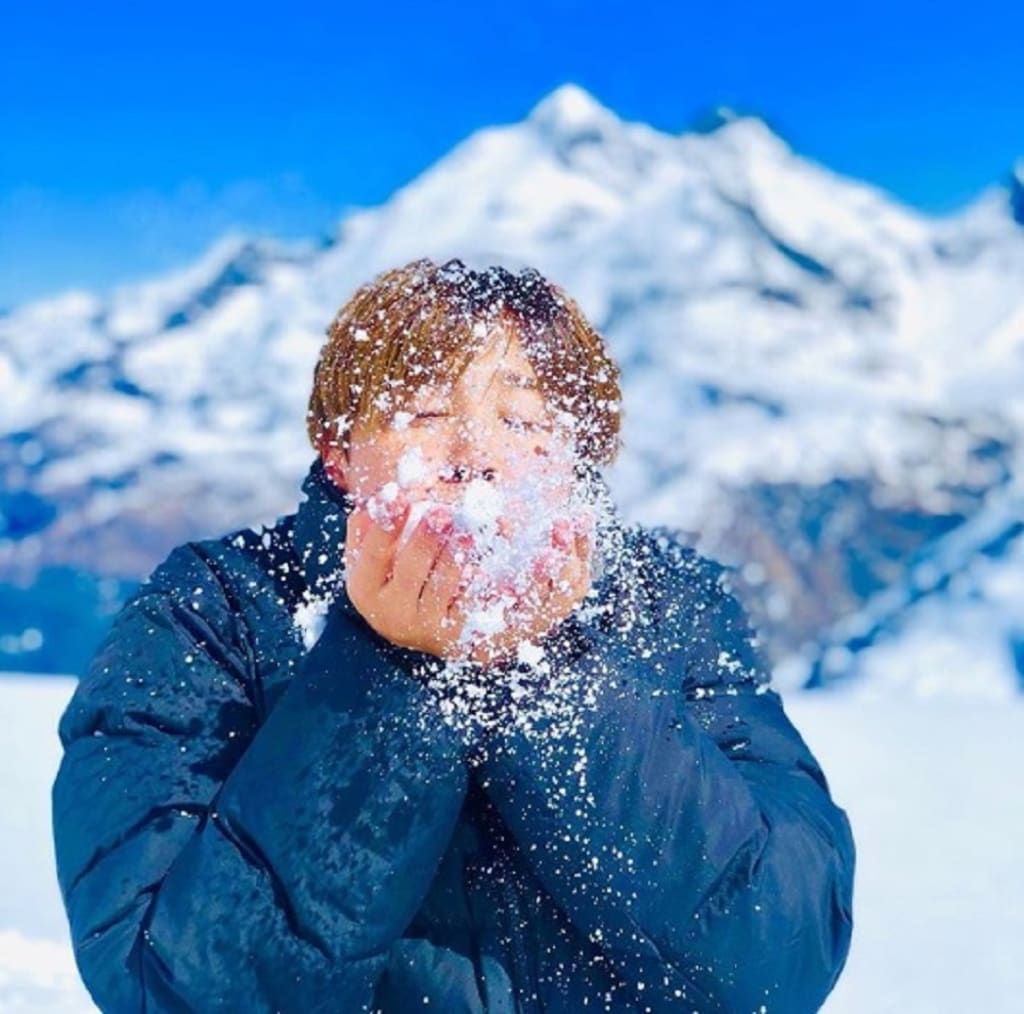 I spend an unhealthy amount of time on the internet.
Throughout these online perusal sessions, you may mistakenly come across certain material on the screen that makes you want to shove whatever device you're using into a deep, dark pit of fire that accurately sums up your feelings on the matter at the time.
Other times you find delightful nuggets of brilliance that hopefully outweigh the fire pit instances.
I'd like to share with you all three of my personal favourite internet findings that I consistently look toward when I need a cyber pick-me-up.
Just a Boy and His Snow
If you speak to any person who has the misfortune of knowing me, they will probably tell you they are planning on eventually cutting me out of their life because of how much I rant/praise/am a blubbery mess for/cry about super-group BTS.
Every year since 2016 the Boys travel with a camera crew to different countries to experience the various cultures and activities said country has to offer. These specials are called BTS: Bon Voyage and they recently had their fourth season where they traveled to New Zealand.
During one of the episodes, they all traveled to see what the country's glacial fields have to offer. As someone who is all too familiar with being surrounded by snow growing up in Toronto, I have to sing the praises of New Zealand's gorgeous snow-covered plains which are an undeniably phenomenal sight to see.
Park Jimin is one of 7 members comprised of the group and is someone whom I aspire to be in my life. He has spoken out countless times about how much he adores the snow so much so that his adoration for it once saw #SnowForJimin trend on Twitter... The BTS ARMY takes their love for these fellas pretty seriously.
From the moment Jimin's boot sunk into that snowy plushness to when they had to say goodbye, he was floating on a snow-covered Cloud Nine. Throughout the episode he was frolicking, snow ball throwing, and writing out the word "ARMY" in the snow with his best friend/literal soul mate Taehyung. During one of their vital sessions, Taehyung strove to adequately convey Jimin's elation and the result never ceases to make me smile like a genuine crazy person:
May we all be blessed with a friend like Tae who takes into consideration everything needed to snap the perfect photo and doesn't quit until said perfection is achieved:
The idea of snapping out of childish delights is a sentiment I believe many of us have been asked to do throughout our lives. Stop playing that video game when you've got groceries to buy, you're an adult. You're not a spruce chicken, do you realize how long you're going to have to be on the treadmill if you eat that extra slice of cake? Don't go out and sing in the rain, you're an adult!
BTS is not only the embodiment of what pure talent is, BTS is (to state it professionally) making bank. In 2019, the group accounted for $4.65 billion of South Korea's GDP with each member deservedly taking home a few million dollars for their immense hard work.
What this image of Jimin conveys to me is someone who is able to afford the best of the best to entertain himself and what is made available that causes him to be overcome with joy? Snow. Something I stopped playing around in when I became of age to shovel the driveway and heaps of it off my car. What would my neighbours possibly think if I suddenly dropped down on my front lawn and started making a snow angel? More importantly: why do I care? If I enjoy myself and it's not hurting anything besides my pride (which I have exactly 0% of), why not?
It sounds ridiculous but when I now occasionally have a "don't do that, you're an adult" thought, I think of Jimin in New Zealand.
Just a boy and his snow.
Cats in Bodegas: No Longer a Fantasy
Something I find interesting while on my countless internet journeys is being in love with a certain social media account you've followed since forever.
You've liked every post, you forward said posts to any human you've interacted with and if somebody were to give you a million dollars to recount how you initially came across it, you'd have no way to answer because you genuinely have no recollection of the series of events that occurred that brought about such glory into your existence.
While previously on one of these journeys, I came across what I would argue to be the single greatest social media account to ever be featured on the world wide web.
Is it Humans of New York? Doug The Pug? National Geographic Travels? The Sahara Desert wishes.
I am excited to discuss with you Bodega Cats of Instagram, a glorious collection of a variety of four-legged whiskered Gods lounging around unique New York City bodegas that is followed by the likes of actress Elisabeth Moss and current all-star of everything U.S. Representative Alexandria Ocasio-Cortez .
Created by Brooklyn resident Rob Hitt, Bodega Cats highlights neighbourhood cats doing cat things in various bodegas. Users send in their respective photos/videos and the account posts them with credit given. What began as a simple idea grew into an adorable monster that has accumulated over 500,000 followers so far across all social media platforms.
The Bronx native and Rep. Ocasio-Cortez has tweeted about the purrfect account a number of times, once declaring a flawless-looking calico (and fellow Bronx native) as the "fairest bodega cat of them all" and there is certainly no argument here:
So I'm one of those rare individuals who loves cats...
I love their whiskers, I love their cheeks. I love their fur, I love their feet.
I never really understood or appreciated this adoration animal lovers feel for their pets until my brother and sister-in-law adopted a little Siberian kitty about a year ago. When I say my entire existence hinges on the happiness of this cat, I am (unfortunately) not exaggerating.
My Instagram story whenever I visit them is reminiscent of your friend's when they go to a concert you don't care about. You know how there are hundreds of those little lines you keep clicking through and it never seems to end? When my brother's stupid cat breathes I feel this overwhelming need to document it, it's insane.
Seeing animals doing their own thing, chillin' out maxin' relaxin' all cool gives me an endorphin rush. When a cat does it, it's game over for me. Reading the comments on the Bodega Instagram as users theorize what the cat is thinking about during their moment of fame gives me as much joy as the images themselves.
sayeef.khan's comment for the above image: "No Sharon, I cannot apply the expired coupon towards your purchase." I am convinced that is what this cat is thinking of and nobody can tell me otherwise.
Let The BBC Drop
We have all seen those comical videos of illustrious disc jockeys rocking the latest in Beats headphone technology nodding their head along to the beat played by their $15,000 iMac Pro HD XRS while aimlessly fiddling around with the buttons on their soundboard... Not that there's anything wrong that!
During these trying times of pandemics and social distancing, we may find ourselves looking for some inkling of levity to try to mask the undeniable fear felt around the world.
Watching videos of DJs spin those tracks while everything is unplugged happens to be one of my personal favourite pastimes.
So imagine the sheer excitement I felt when I came across the following video of (what I assume to be) an absolute genius of a human being not only parodying the over-accessorized DJ we all know and love but utilizing a track I would've never believed was a genuine bop - the BBC News theme.
Every component of this video is executed flawlessly. The editing is spectacular. The use of everyday household appliances is an inspired implementation of the idea. The acting deserves an honorary Oscar. The beat is a raving smash. The subtext screams out at you with a burning passion.
Simply put: it is perfection.
The original tik tok, uploaded by @rachleary, was tweeted by Sophia Smith Galer who happens to be a journalist... at the BBC. Other users sent Galer their own respective dances set to the BBC News tune with Leary reigning supreme thus far.
The two also shared a brief yet sweet Twitter exchange that managed to make me adore this post all the more:
In this age of incredibly divisive politics and challenging worldly obstacles, I believe we can all agree that the internet as a whole can be an ugly place. While it may not be a common occurrence, there might be moments where you feel disheartened to open up Twitter because you must brace yourself to see which country certain individuals have threatened to go to war against this time or you scroll through Instagram wondering why the phrase "12 year old influencers" exist.
As we attempt to maneuver our way through what is real and what isn't while striving to keep our sanity in tact, we need to try our utmost best to remember: there are glimmers of delightful hope scattered throughout the cyber-world that we can hopefully use to balance out the bad.
What are some of your favourite internet findings? Enter Vocal's Love More Challenge and let your voice be heard!
happiness
Toronto-based writer who enjoys witty quips and BTS, proper grammar and Jodie Comer.
I tweet with @MrsBananaPhone because it's the best and beats the rest.