Using Vocal To Complete My 2021 Goals
A creative platform to stay creative this year!

Dear 2021 Me: You're going to use Vocal to make this year one of the best.
I know right now you think the world can't get much better, but we are going to try our best to strive for happiness, greatness and success. We worked hard in 2020, despite everything, and we deserve a good break.
2021 is going to be that break, but we're still going to work hard (sorry!).
This year is going to be a year of getting what we want, working with a positive attitude, setting goals and manifesting a good year.
So, you - as in future me - are probably wondering how using Vocal will help you lead your perfect 2021 life, and here's how!
Luckily for you, I've already laid down the foundations of our manifestations and goals for this year. I've written in a journal of all the things I want to manifest, including our health, wealth and living situation. I've also created a vision board, and practically placed it everywhere I can...including in this article!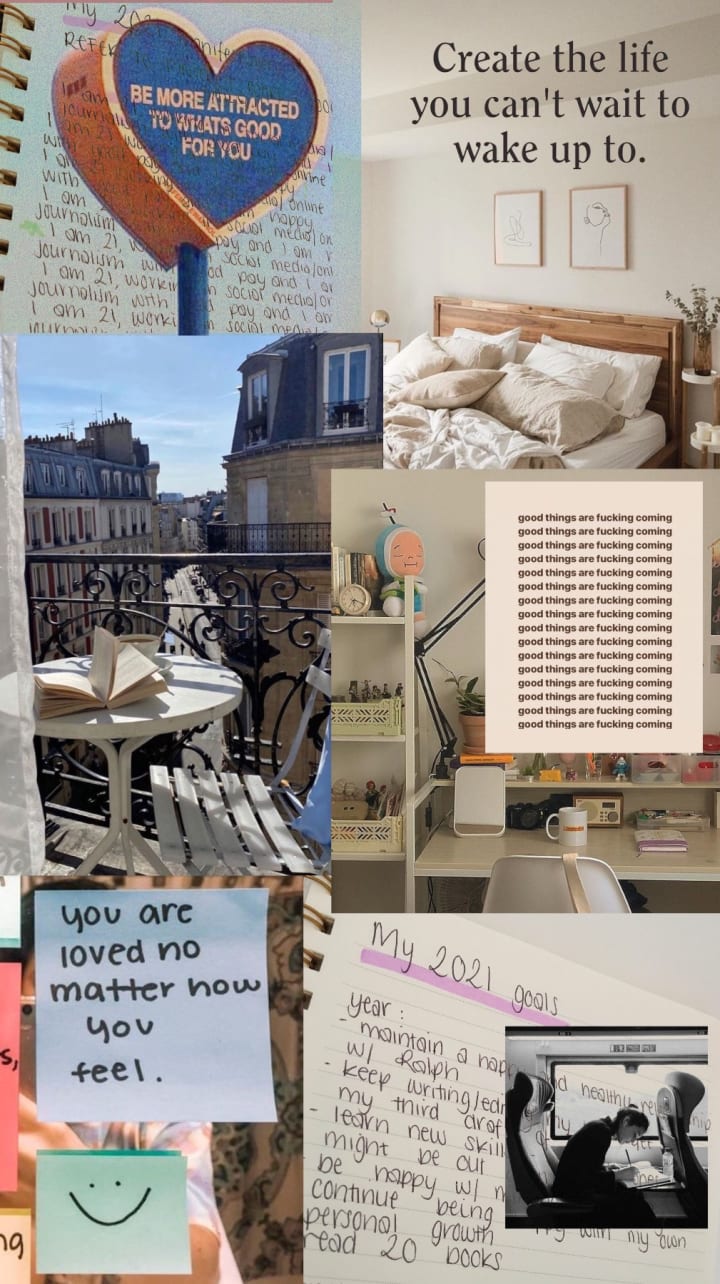 As you can see from the top left corner, my 2021 manifestations include me working in social media/online journalism and THAT is where Vocal comes in!
Your goals for 2021 include:
- maintaining a happy and healthy relationship with your boyfriend
- continue writing and editing your novel (and finishing your second draft!!)
- learning a new skill, even something that'll push you out of your comfort zone
- read 20 books
And although those few aren't all of your 2021 goals, they are the ones to focus on throughout the year. These are your yearly goals, while monthly you'll be focusing on breaking these goals down into smaller goals. e.g "read 2 books in January" will help work towards the yearly goal of 20 books.
Already in 2021 I have taken up learning French, after neglecting it since learning it in school, and started exploring the world of astrology and horoscopes.
2021 will be the year of personal growth and discovering what I'm capable of. Learning the do's and don't's of life and continuing forward with a positive, happy mindset.
Now, these goals and manifestations sound great. But they'll only be great if you continue to work towards them. So, how can we keep ourselves accountable?
Well, hello Vocal!
2021 will be the year of documenting your year on Vocal. The highs of working hard and bright successes, to the lows of struggling with Coronavirus life getting in the way of goals, and the failure that could come with it - all of it will be turned into an online diary for you, future us, and myself to keep ourselves accountable.
As well as the online diary, documenting how this year goes for us, we'll use Vocal more than ever.
At the end of 2020 I created a writing account on Instagram: @leigh_writing
I started that account, and it is future me's responsibility to grow that account and help/inspire as many people as possible. I hope future me knows that the writing community, both on Vocal and Instagram, should be a much bigger part of our life in 2021, and current me is excited to share so much of our work with the world.
After being on Vocal for 2 years now, it has been the best decision of my life. So, future me, do not let all of your writing talent go to waste! Harness it and turn 2021 into a fabulous one. Write articles about music, books, the things you love and inspire you.
Write about manifesting a perfect 2021, write about what you learn - whether it be from your successes or failures - and write about life!
More than anything, I want to write for a living. I want to say "Yeah, I'm a writer and I love it!". Whether that's from publishing my novel, or from writing articles just like this one, it doesn't matter. I want to be able to say I have my dream job, and I do it well.
Vocal has become an extension to my brain, constantly at the forefront of my creative mindset, the buzz of ideas and mind-map of possible articles always gives me a rush of happiness.
So, future me, that is why we're using Vocal to complete our 2021 goals. I've given you the why, where, what and how, now you just need to DO IT!
Good luck!