theartsy.media
MelanieRoseCreates.com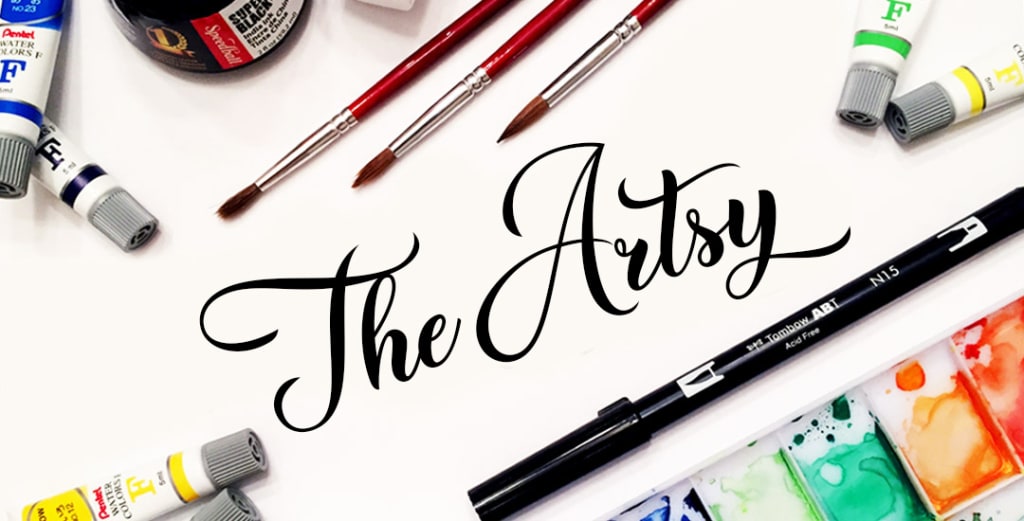 Photograph by Melanie Rose
Art is created when the conscious and unconscious mind come together and awaken the spirit. Being an artist of any kind is a privilege and a gift making the ordinary extraordinary.
The idea of creating something out of nothing has always sparked something inside of me. It inspires me daily as an artist and a writer to produce something unimaginably beautiful to add to our world.
Every piece I begin is a journey and a learning experience. We all strive to create that masterpiece, but we sometimes forget that the creations that lead to the masterpiece are just as necessary, if not pivotal, in making that magnificent piece that touches the hearts and souls of anyone who looks upon it.
Recently I read that Pablo Picasso created over 20,000 finished paintings in his lifetime, but only seven were considered masterpieces. It amazes me that Picasso just kept painting no matter the outcome and pushed ahead to find his masterpieces throughout his body of work.
It can get discouraging and daunting for many artists at times to keep pushing our skills, developing our techniques, and keep striving to create even when our last piece fell short of our vision.
As Pablo Picasso said himself…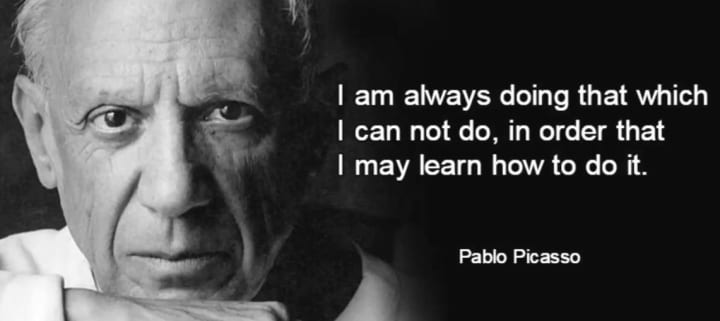 There are so many talented and unique artists in every corner of the world. My dream has been to create a place where these artists can come together and communicate with one another, support one another, learn from one another, and help one another grow.
A social media platform for artists to come together to share and benefit from each other's experiences. To build a community that supports each other dreams and helps each other get there.
My vision developed into what I call...

I hope that with the help of Memberful and this challenge, theartsy.media can become a reality. I plan to develop theartsy.media into an app as well a functional website which is already in progress.
theartsy.media will include six features for both members and non-members to enjoy.
1. theartsy.media Art auctions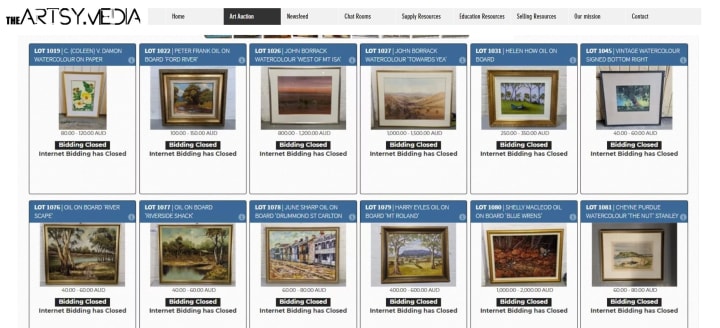 theartsy.media will include a monthly art auction that all members can submit pieces to sell to their followers. All visitors will be able to bid on the items for auction and will not need a membership to participate. The auction will begin on the 1st of every month and end on the last day of every month. theartsy.media will coordinate all sold pieces with bidders and artists to make the transaction as smooth as possible for both parties. All listings for the artist will be free with a membership, and a minimal commission will apply to only sold pieces.
2. theartsy.media Newsfeed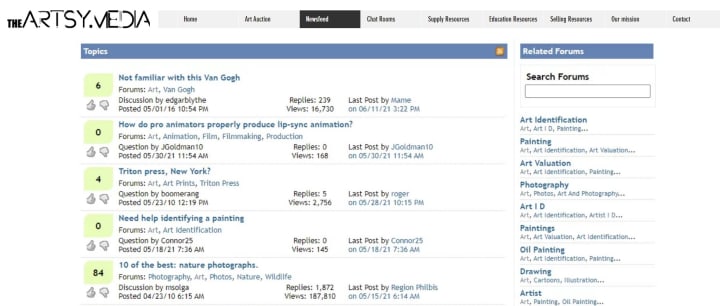 theartsy.media newsfeed will be a safe place for an artist to speak freely to other artists. It will allow members to start a discussion topic where other members can respond. This is a great place to get advice and tips from other artists who might understand something you are going through or help with a project you are working on. Non-members will be able to view the newsfeed discussions but will not be able to post or respond without a full membership.
3. theartsy.media Live Chat Rooms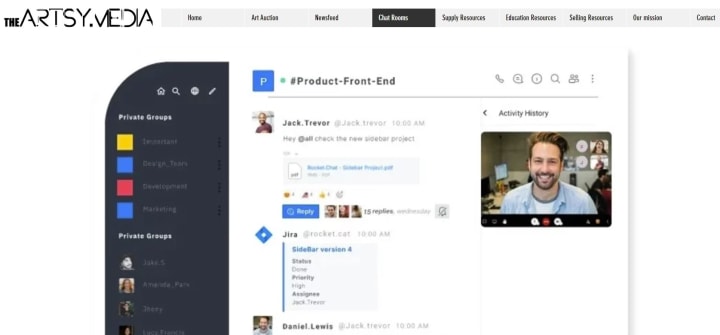 theartsy.media will also have a live chat feature for an artist to converse with one another in real-time in a live stream. And just like the newsfeed feature, non-members will be able to view the live chats but not participate without a full membership.
4. theartsy.media Selling Resources

theartsy.media selling resource feature is dedicated to helping its artist launch their careers with great selling tips. It will include how to start and make money from a YouTube channel, how to launch a successful Etsy shop or your own eCommerce website, fair and art show opportunities available in your area, and how to price and display your pieces to sell.
5. theartsy.media Supply Resources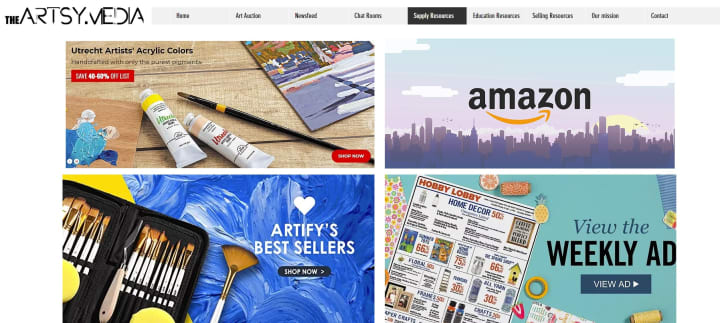 theartsy.media supply resource feature will offer exclusive discounts to its members on supplies and negotiate deals to help members get their business set up at the lowest cost possible.
6. theartsy.media Education resources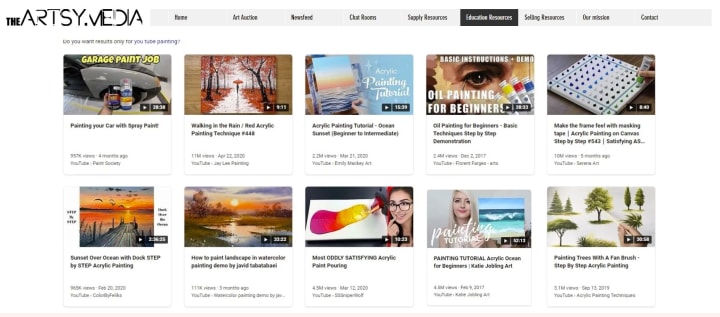 theartsy.media education resource feature will help an artist learn from other artists. Members will also be allowed to contribute videos, articles, or blogs to teach other artists their specialties.
Once theartsy.media is up and running, I hope to expand the platform into thewriter.media which will be focused on supporting and developing the writing community and themusican.media which will be focused building a community to help musicians take their career to the next level.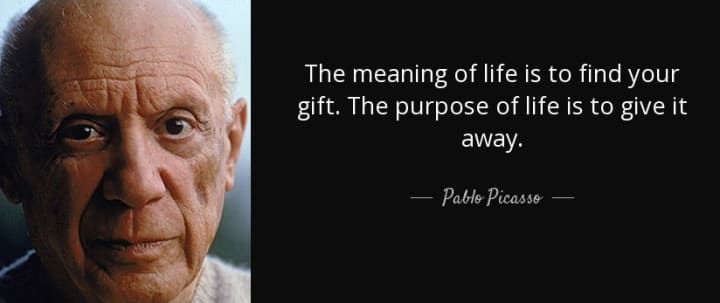 (All domains theartsy.media, the writer.media, and themusican.media are currently owned by MelanieRoseCreates.com and are under development)
social media
Writing can free your soul. At least it does for me. I am an artist and a mother first, but writing gives me an outlet to let my brain wander and create stories to expand my artwork in a whole new way! Follow me @melanierosecreates