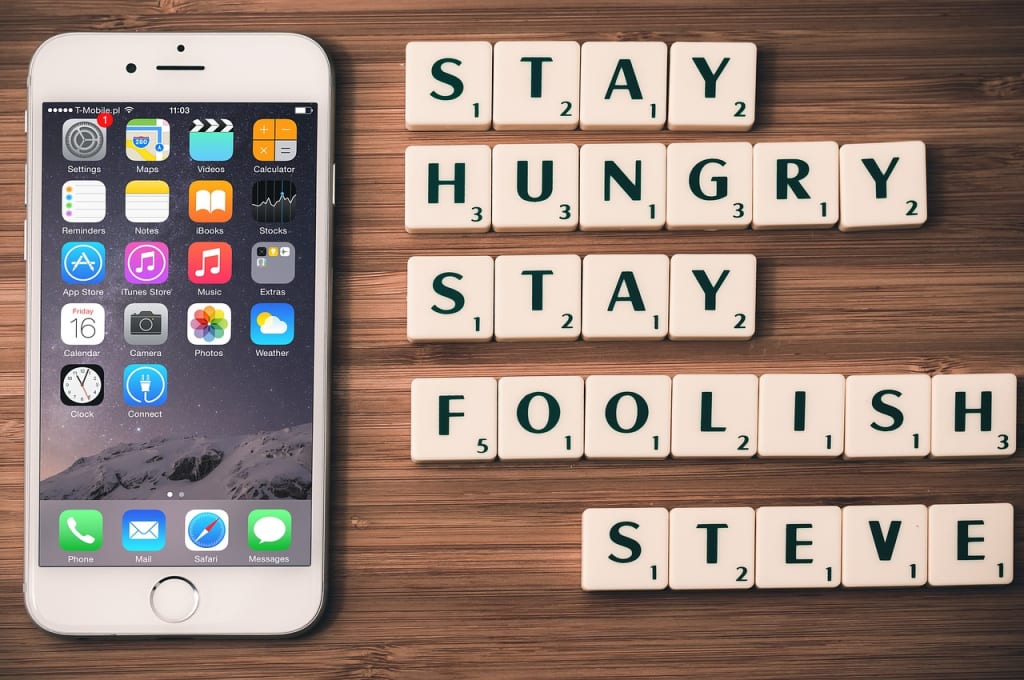 1. Introduction
2. The First Story: Connecting the Dots
• Early Life and Adoption
• Choosing College
• Dropping Out and Exploring Curiosity
• Calligraphy and its Unexpected Impact
• The Importance of Trusting the Dots
3. The Second Story: Love and Loss
• Founding Apple and Achieving Success
• Getting Fired and Facing Failure
• Rediscovering Passion and Starting Over
• Next and Pixar: New Beginnings
• Returning to Apple and Personal Growth
4. The Third Story: Embracing Mortality
• The Daily Reflection on Life's Impermanence
• Making Important Choices with Death in Mind
• Avoiding Traps and Following One's Heart
• Death as the Inevitable and Transformative
5. Conclusion
6. FAQs
• How did Steve Jobs connect the dots in his life?
• What was the impact of getting fired from Apple?
• How did Steve Jobs approach the concept of death?
• What lessons can we learn from Steve Jobs' stories?
• How did Steve Jobs encourage following one's heart?
________________________________________
Three Stories of Steve Jobs: Connecting the Dots, Love and Loss, and Embracing Mortality
Today, I want to tell you three stories from my life. That's it, no big deal, just three stories.
Introduction
Steve Jobs, the co-founder of Apple Inc., was not only a visionary and technology pioneer but also a person with profound life experiences. In this article, we will explore three stories that Steve Jobs shared during his famous 2005 Stanford University commencement speech. These stories shed light on important aspects of Jobs' life, including the significance of connecting the dots, dealing with love and loss, and embracing mortality. By delving into these stories, we can gain valuable insights and inspiration for our own lives.
The First Story: Connecting the Dots
Early Life and Adoption
Steve Jobs' journey begins with his unconventional start in life. Born to a young unwed graduate student, he was put up for adoption. His biological mother had specific expectations that he be adopted by college graduates. However, fate had other plans. Jobs' adoptive parents, who had been eagerly waiting for a child, received a call informing them of an unexpected baby boy. Despite the circumstances, they embraced him wholeheartedly.
Choosing College
Seventeen years later, Jobs faced the challenge of choosing a college. Although he eventually enrolled at Reed College, a prestigious institution, he soon questioned the value of his education. Uncertain about his future, Jobs made a bold decision that would shape his life profoundly.
Dropping Out and Exploring Curiosity
Dropping out of college turned out to be a pivotal moment for Jobs. With the freedom to explore his interests, he attended classes that genuinely fascinated him. Despite financial constraints, Jobs immersed himself in a calligraphy course, captivated by the artistry of typography. Little did he know that this seemingly unrelated choice would have a significant impact on his future endeavors.
Calligraphy and its Unexpected Impact
The calligraphy class introduced Jobs to the intricate details of typefaces, letter combinations, and the art of typography. Although he couldn't foresee any practical application for this knowledge at the time, a decade later, it became instrumental in the design of the Macintosh computer. Jobs' appreciation for beautiful typography became a defining feature of the Mac, setting it apart from other computers. His decision to drop in on that calligraphy class, seemingly unrelated to his career path, ultimately influenced the future of personal computing.
The Importance of Trusting the Dots
Reflecting on his experiences, Jobs emphasizes the significance of connecting the dots in our lives. While it may be impossible to anticipate how individual choices will shape our future, Jobs encourages us to trust in something greater than ourselves, whether it be destiny, intuition, or life's inherent order. Believing that the dots will connect down the road gives us the confidence to follow our hearts and venture off the beaten path, ultimately making all the difference.
The Second Story: Love and Loss
Founding Apple and Achieving Success
The second story takes us through Jobs' early success with Apple Inc. He co-founded the company in his parents' garage at the age of 20. Within ten years, Apple had grown into a two billion dollar company, with thousands of employees. The release of the groundbreaking Macintosh computer further solidified Apple's position in the tech industry.
Getting Fired and Facing Failure
However, success wasn't guaranteed to last forever. As Apple grew, differences in vision arose, leading to a falling out between Jobs and the CEO he had hired. Eventually, Jobs found himself ousted from the company he had helped create. At 30 years old, he faced a devastating setback that challenged his identity and purpose.
Rediscovering Passion and Starting Over
Despite the personal blow, Jobs didn't lose his love for what he did. Instead of giving up, he chose to start over. This period of self-reflection and reevaluation fueled Jobs' creativity and led him to launch two new ventures: Next and Pixar Animation Studios. Although initially met with skepticism, these ventures would prove to be catalysts for Jobs' future success.
Next and Pixar: New Beginnings
Jobs' leadership at Next and Pixar showcased his innovative thinking and entrepreneurial spirit. Next developed groundbreaking technologies that would later find their way into Apple's products. Meanwhile, Pixar revolutionized the animation industry, culminating in the release of the world's first computer-animated feature film, "Toy Story."
Returning to Apple and Personal Growth
As fate would have it, Apple acquired Next, bringing Jobs back into the company he co-founded. This reunion sparked a renaissance for Apple, with Jobs at the helm. The technological advancements developed at Next infused new life into Apple's products, enabling the company's resurgence. Jobs' personal life also blossomed during this period, as he formed a loving family with his wife, Laurene.
The Third Story: Embracing Mortality
The Daily Reflection on Life's Impermanence
Steve Jobs' third and final story focuses on the concept of death. Since the age of 17, he had adopted a practice of daily introspection. Jobs would look in the mirror each morning and contemplate whether he would be satisfied with his actions if it were his last day on Earth. This practice served as a powerful tool for making significant life choices.
Making Important Choices with Death in Mind
According to Jobs, acknowledging the inevitability of death stripped away superficial concerns, such as pride and fear of failure. By recognizing our mortality, we are liberated to focus on what truly matters. Jobs asserts that our time on Earth is limited, and wasting it by living according to others' expectations is a disservice to ourselves.
Avoiding Traps and Following One's Heart
Jobs warns against falling into the trap of conformity and dogma. External pressures and societal opinions can drown out our inner voice and intuition. To live a fulfilling life, we must have the courage to follow our hearts and embrace the paths that resonate with our deepest desires. Jobs believes that everything else in life is secondary compared to doing what we genuinely love.
Conclusion
In sharing these three stories from his life, Steve Jobs imparted timeless wisdom and invaluable lessons. Through his experiences of connecting the dots, grappling with love and loss, and embracing mortality, Jobs encourages us to embrace uncertainty, pursue our passions, and live authentically. By daring to venture off the well-worn path and trust in our inner compass, we can shape our lives in profound and meaningful ways.
________________________________________
FAQs (Frequently Asked Questions)
1. What does Steve Jobs mean by "connecting the dots"?
"Connecting the dots" refers to the idea that events and choices in our lives, even those that may seem unrelated or insignificant at the time, can come together in meaningful ways in the future. Jobs suggests that it is only when looking backward that we can see how these seemingly disparate elements fit together and shape our journey.
2. How did Steve Jobs get fired from Apple?
After a falling out with the CEO he had hired, Steve Jobs was voted out of Apple by the company's board of directors. The diverging visions for the company's future led to a breakdown in their working relationship.
3. How did getting fired from Apple impact Steve Jobs?
Initially devastating, Jobs' termination from Apple turned out to be a transformative experience. It freed him from the weight of success and allowed him to start over, embracing new ventures that would ultimately shape his future successes.
4. What role did Next and Pixar play in Steve Jobs' life?
Next and Pixar were two companies founded by Steve Jobs during his time away from Apple. Next developed innovative technologies that influenced the future of computing, while Pixar revolutionized animation and produced the world's first computer-animated feature film, "Toy Story." The acquisition of Next by Apple brought Jobs back to the company and set the stage for Apple's resurgence.
5. What lesson did Steve Jobs learn from facing death?
Jobs learned that the awareness of our mortality can serve as a powerful motivator to live authentically and make choices aligned with our true desires. By acknowledging the limited time we have, we can avoid being trapped by societal expectations and pursue a life filled with meaning and purpose.
Reader insights
Be the first to share your insights about this piece.
Add your insights