Overcoming Writer's Block and Other Benefits of Becoming a Vocal+ Member in 2021
A journey from Writer's Block to Writer's Wealth
The eager, excited writer in me was defeated by a full time job, a challenging marriage that began when I was only 18 years old, parenthood and a very abrupt divorce. Did you hear that? Marriage at 18....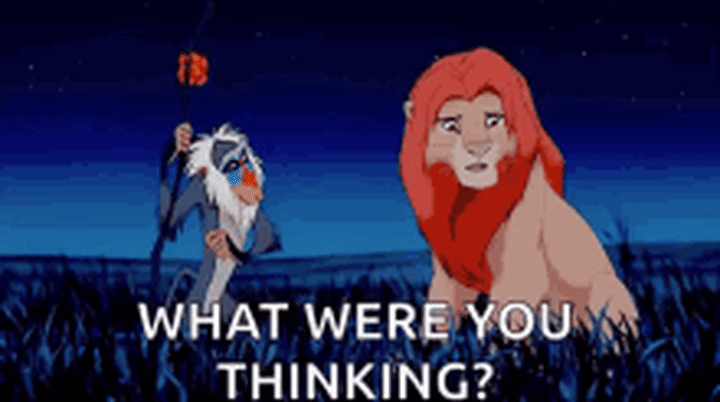 I know...I wasn't thinking! But to focus on the topic at hand, I had no motivation to write anything meaningful for years, and my preferred activity became wallowing in my own sadness, or traveling the world to escape said sadness. Then Covid-19 started to spread like wildfire and a pandemic began. Escape from my world became limited to Netflix, novels, incoherent scribbling that I hope would one day become a book, and mindless scrolling on social media platforms. Days and sometimes weeks went by without any meaningful connection with other human beings, however, very suddenly, something changed!
Here entered Vocal+ and all its benefits!
Motivation
Vocal's Little Black Book Challenge, with a first prize of $20,000, caught my eye as I was mindlessly scrolling through my social media feeds, and immediately my little writer awakened! I had never heard of the website or even explored the option of writing on a platform or site that wasn't created by me. However, the more I researched Vocal, the more excited I became about writing again. The prospect of winning a monetary prize for something I enjoyed doing was indeed appealing. But, what I noticed in the moment of my discovery, beyond the excitement of the prizes, was an opportunity to share my creative writing with the world. My level of confidence was boosted, equipping me with the knowledge that even though no-one in the vocal world knew me, I could be the one! The one chosen to take home one of the prizes!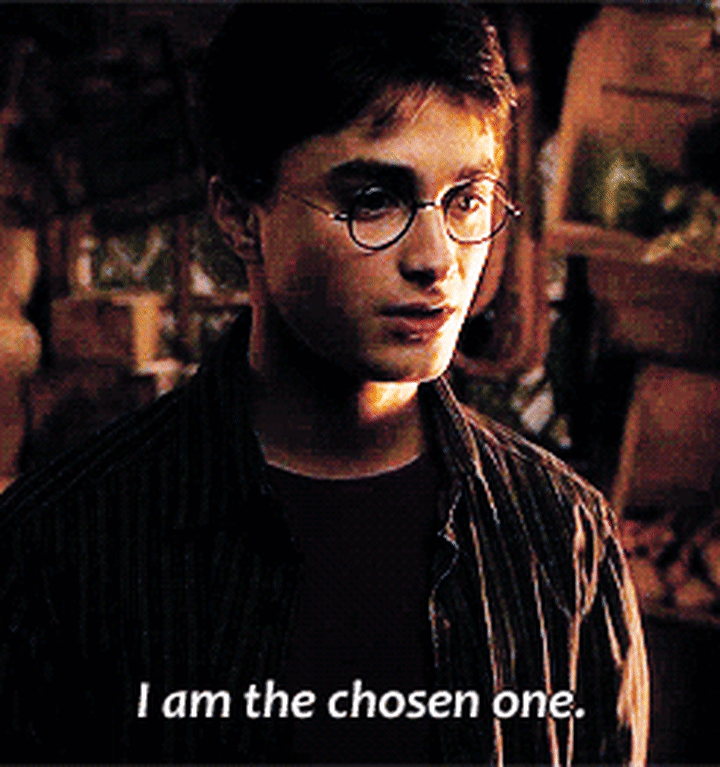 In most cases the lack of a goal is most daunting and contributes significantly to writer's block. Vocal+ members are able to access exclusive, weekly writing challenges that motivate and challenge their creativity, give them opportunities for consistent writing practice, and foster their commitment to their own success!
Niche
I get it! Rediscovering yourself as a writer, at any point in your creative journey is very much like dating after a divorce! You have no idea who you are, and most importantly you're not even sure if you want to be on a date! By joining Vocal I could finally give my writing purpose and direction, and also be lucky enough to find a niche. I could take on the weekly challenges, and stop writing into a void, all while discovering what I really enjoyed writing about. I could illuminate my creative skills, as I did in my story The Edge of Fortune, and give others an escape from their own messy lives and bad choices. When I navigated to the Vocal website I was excited to see that I didn't need to pay to read informative and refreshing work from other creators, like stories or give tips to others. I could do all this and enjoy any writers' wealth: a free audience, editors/moderators, the support of other like-minded writers, and free publication. I could even take my family and friends on my writing journey, and as a bonus, earn along the way. So why not go the extra mile and join Vocal+ when all of this and more was on offer? Why not fully commit and give myself the opportunity to maximize earnings and possibly win prizes for the weekly challenges available to members? Again I ask why not? For my writers who are just looking for a niche or a place to practice and share their craft, acquiring a Vocal+ membership is equivalent to setting yourself up for success! I added the comparison between a free subscription and a Vocal+ subscription below, but my advice is go pink!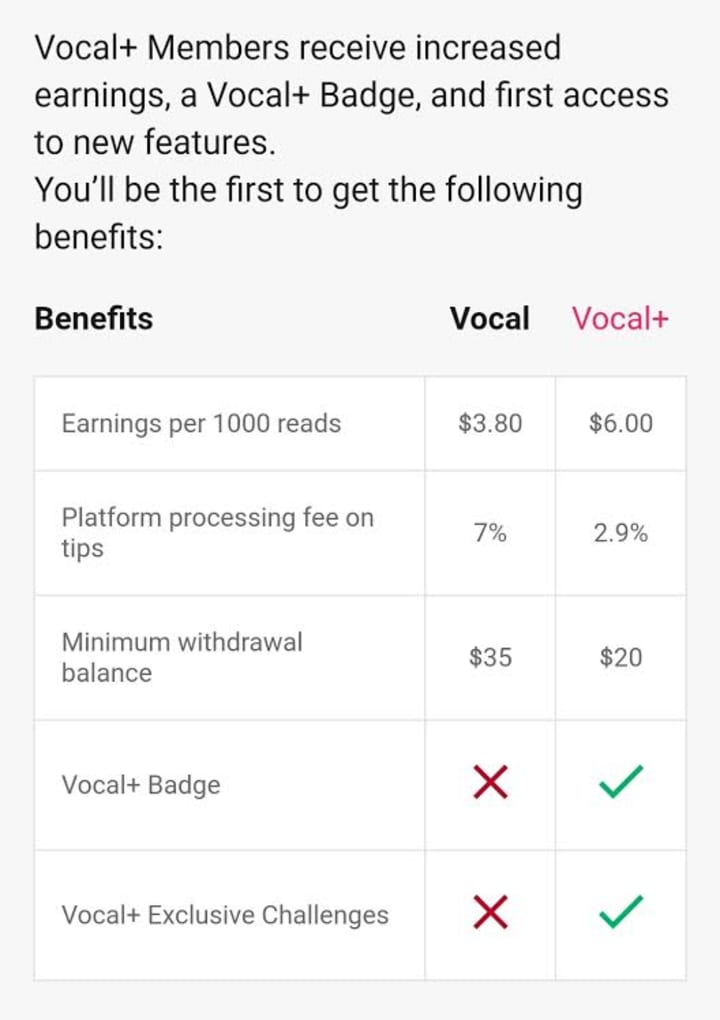 Because the benefits will soon increase tremendously, as Vocal continues to expand! Just check out what's coming soon!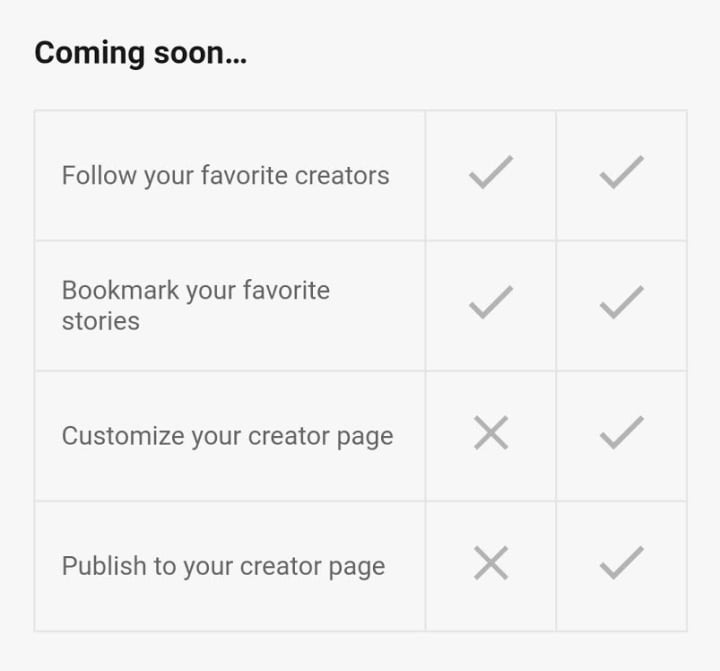 Confidence
When I wrote my first article Tiny Hearts and published it on Vocal, a sense of pride rose within me. It was by no means my best work as it was rushed and pertaining to a topic I obviously did not have much experience with. However, I felt proud to see my name this close to the word published and I bet you would too! All for less than what I spend on lattes monthly! Sorry, Starbucks! Yes, even after the initial Vocal+ membership promotion of $5 per month for 3 months, it's still worth it!
Networking
So while I am by no means an expert on this platform, I do encourage that you take a leap off the writer's block and jump into the writer's wealth that vocal offers: an audience of like-minded creators, an opportunity to have your work featured as a top story, a niche or ten in form of communities, writing challenges that give you a variety of topics to engaged with, and the opportunity to earn bonuses. Go ahead and spread the word while you're at it, because there are many writers looking for a platform that will get them motivated and encouraged to share their work. This week I was able to share the wealth of knowledge, to the appreciation of a fellow writer who wishes to remain anonymous, and it was greatly appreciated, even when I added the possibility of not becoming insanely wealthy from this venture!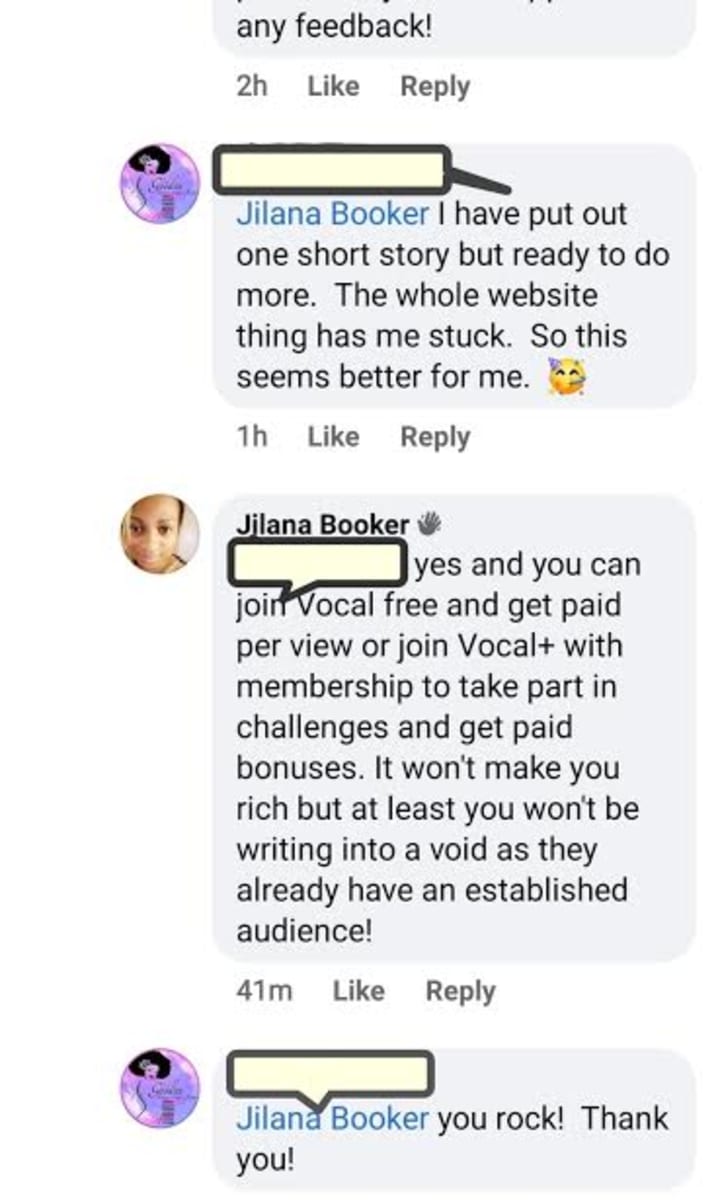 Beyond the earnings you could make, like this article on Jonathan Sim by Aamir Kamal highlights, most of us writers just want a place where we can be heard. A place where we can share our creativity with others, spread knowledge, encourage empathy and facilitate escape! Our goal is to be impactful, and with the help of Vocal Facebook groups, your social media followers, and the fellow writers you will meet here, you have the real chance of accomplishing that with a Vocal+ Membership!
So will you allow the cold ache of writers' block to slowly consume your talent, or will you leap off the block with me and enjoy the wealth?
Let's go! What are you waiting for?