My Dear Inspired Life
The pursuit of endurance to discover who I could be!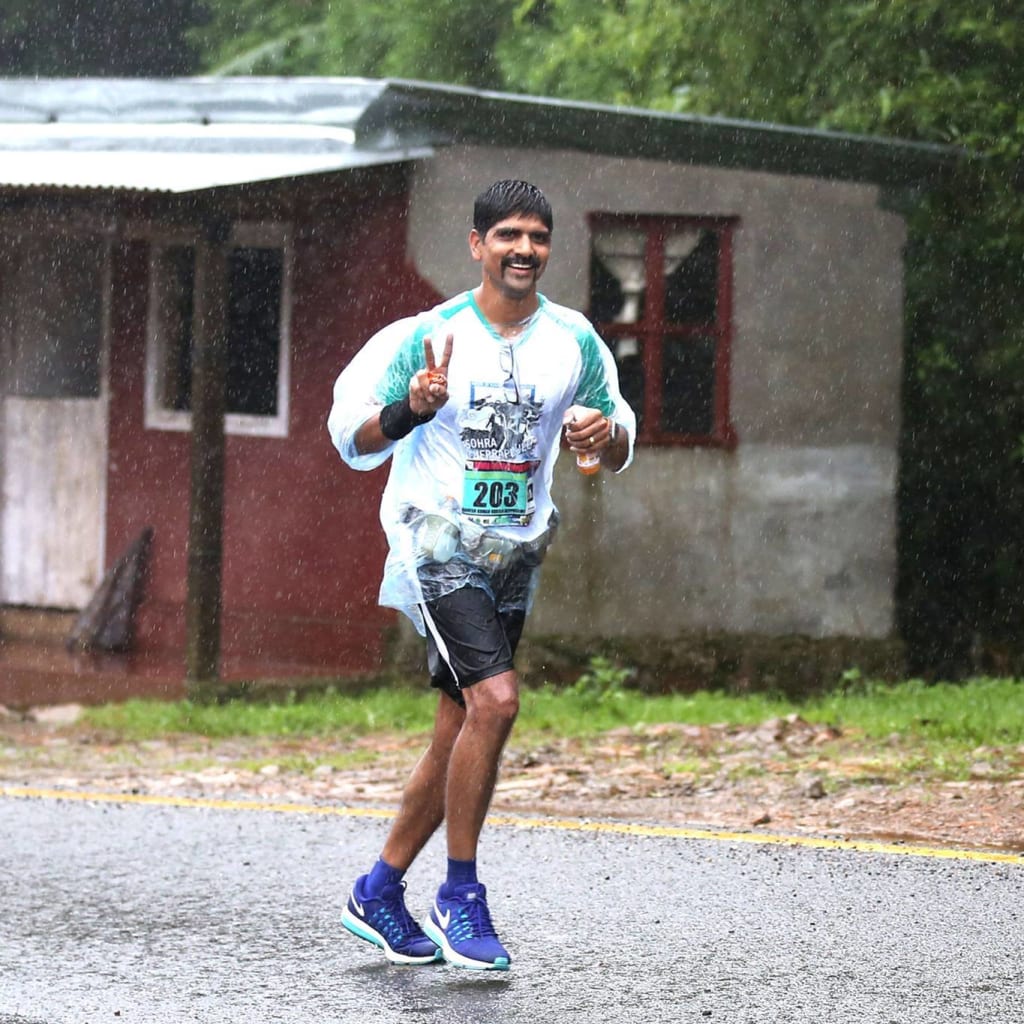 Ganesh Kuduva at Sohra-Cherrapunjee Marathon, Meghalaya, India
The year 1999. Evening 7:30 pm at a hospital on a weekday. The nurse asked me, "Show me your hip for the injection.", as I was rolling up my sleeves to show my upper arm to take the injection. She said, "No, this injection needs to be given to the hip area, as it would be a terrible pain if I gave it to the arm.". She gave the hip injection. After a few minutes, I got up and started walking. As I approached the hospital exit, I felt drowsy, threw up, and almost fainted. My friend who had accompanied me caught hold of me and took me back to the hospital bed. I lay down there until the nurse gave me an orange drink to make me feel better. I had a high-temperature fever, was weak, and went to the hospital to get treated for the same.
I felt better after a few minutes and headed home. On my way, I was thinking, "Why am I falling so sick and so often? What could I do to change this? Can I become strong and live an illness-free life?".
Years passed. I went through several issues, such as a chronic ulcer, which repeated every one or two years as my environment, diet, and weather changed as I traveled to different cities or countries for my work. Whenever I went through painful experiences of suffering through my illnesses, I would ask myself, "When would these end? When can I become illness-free?"
It was the end of the year 2008. I was again bedridden for two weeks at home with a severe lower back issue. I could hardly get up or move around. The doctor had advised me to rest completely and had suggested a few movements (like leg raises) to strengthen my lower back. I followed them to rehabilitate myself fully. Those two weeks were so mind-trembling that they made me go deeper into me and become clear about how I should lead my lifestyle so that I can prevent such things from happening to me or have the ability to endure whatever comes with a smile on my face.
I got up on one fine morning and went for a short walk, seeking changes to myself and my lifestyle. That morning felt so fresh, and it was a life-changing day for me. The bitter experiences that I had gone through, and how I could change them by bringing lifestyle changes, especially by being active and caring for myself, dawned upon me. I would say the inspiration that lived in me all those years, and yet I ignored it, took a life that day.
I continued walking for the whole of the year 2009 as a lifestyle change to lay the foundation for my health, and to lead an illness-free life. I started seeing dramatic changes in my life. I started becoming an active person with good energy levels throughout the day. Maybe, I didn't realize the magic of the release of endorphins as I did those walks.
In the year 2010, as I was into my morning walk routine, I saw a bunch of runners running past me. They were happy, energetic, looked young (though they were around their 50s!), and sweating profusely. They were conversing and laughing as they ran. As I looked at them, I developed an urge or an impulse to run.
In the nick of that moment, I thought to myself, "Can I run like them? I have run in the past during school days, but Can I run now?".
I ran 100 meters, gathering courage and energy. I had to stop after that as I had sweated profusely, my breathing completely going out of place, and my entire body was shivering. It felt as if I had shocked my body by running those 100 meters.
I then continued jogging 100 to 200 meters as part of my walking routines, for every 500 meters of walking. Before I knew it, I had started running more distances of 1K and 2K at a stretch. I started reading about running and joined social running groups to inculcate running discipline in me.
I ran a few 10K races in the first two years of my running. And then, the running bug caught me. I fell in love with running long distances. I ran my debut half marathon in 2012. I became a marathoner in the year 2014.
And there comes an injury that took as long as five months to recover completely. A friend of mine calls me and says, "Why do you want to run, with such injuries coming your way?". My response to him was, "I cannot give you a convincing answer because you don't run, and you may not understand what the magic of running could do to one without running such long distances.". That phase of injury gave me tremendous learning in becoming wise about how I stayed injury-free in my running journey.
Running, as a sport, had started transforming me as an individual. At the core, it taught me how to endure in life with what I believed. I started making many lifestyle changes through my running regimen. I became an early bird, read more, met more people, and blogged about various races that I ran. I seldom fell sick, and it almost became rare.
The joy of running made me co-found a running group helping people around me benefit from running and learning about running as a sport to help achieve their health and wellness.
Running took me to Ultras (any distance above a marathon (42.2K)). Running marathon distances as training runs became a thing as part of preparing for ultras. Running a few ultras burned me out with getting a DNF (Did Not Finish) in one of the tough races. But I took a couple of months to reflect more on preventing Burnout in the future. And I then ran several ultras without getting injured or burning out. The enchantment of running continued pushing me in my running endeavors.
The pursuit of endurance running took me to many places as I ran several ultras and soaked myself in the self-discovering journey.
As I achieved a certain level of fulfillment through my running (like Forrest Gump), No, I did not stop running. I started learning technically about running as I wanted to teach people about running. I became a running coach through a certification course and looked for avenues to apply my learned skills. When you get ready to serve people, opportunities arrive at you.
Pinkathon Ambassadors reached out to me asking if I could train a set of women to achieve their fitness goals. I did that for the whole of 2017. The experience was enriching. Beauty was that their spouses and children also joined some of the sessions. I then got an opportunity to work as a part-time running consultant in a CrossFit chain and worked there for a year.
Even now, I continue to coach people as a part-time professional for my sheer love for the sport of running and giving it to people.
Running is very magical, and it transforms people in many ways. One need not run marathons or ultras, but running a short distance of 5K 3 to 4 days a week can bring tremendous health and wellness benefits. To this belief, I look forward to coaching people for the rest of my life.
I went ahead and wrote a book to help aspiring runners pick up running as a way to change their lives. The book is titled BE A RUNNER FOREVER, available at all Amazon marketplaces. What had started as an informal blogging hobby, writing about my race experiences led me to become an author, one of my endeavors and a dream.
I research, learn and continue to write on vocal.media about several running-related issues that runners face, helping people find ways to their health and wellness.
In the last 8+ years, I would have hardly fallen sick, which is one of the most fundamental transformations that I have achieved. I have stayed injury-free for the last 4+ years despite running ultras. I am proud to say I have inspired a few souls around me. I am 47 now and look forward to running lifelong.
Sometimes, in our lives, inspiration arrives through adversities that we go through. When we endure those challenges, we discover that the inspiration has come in search of us to make a difference to the self and the world. When we get truly inspired, we never stop at what we want to do. And what we want to give to this world.
That way, my journey is very fulfilling and rewarding for me. I am glad that I have pursued my aspirations of giving that health and wellness to people around me. I am looking forward to that continued journey.
Even as I write this, I am undergoing a nutrition course to equip myself with more knowledge with the hope and belief that I can offer people holistic health and wellness. The learning journey is enticing.
In life, inspiration is always around us. We should never stop with the process of seeking in life. It fuels our motivation. It pushes us to take actions that will turn into an inspiring tale.
I am still seeking in life. I know somewhere in the deepest of my heart that I can make a difference when I can continue to learn, put in the effort, take action, and always have the intention to help people.
We can seek.
We can endure.
We can come alive.
We can become more.
We can serve the world.
We can be inspired.
happiness
About the author
Coach for Running/Fitness/Nutrition/Weight Management/Yoga. An internationally published author, writes on Running / Health & Wellness Transformation / Motivation / Personal Finance / Learning / Achieving Full Potential (runner-forever.com)
Reader insights
Be the first to share your insights about this piece.
Add your insights