Making It Happen: Babba C. Rivera
From Uber to Away to being her own boss at ByBabba.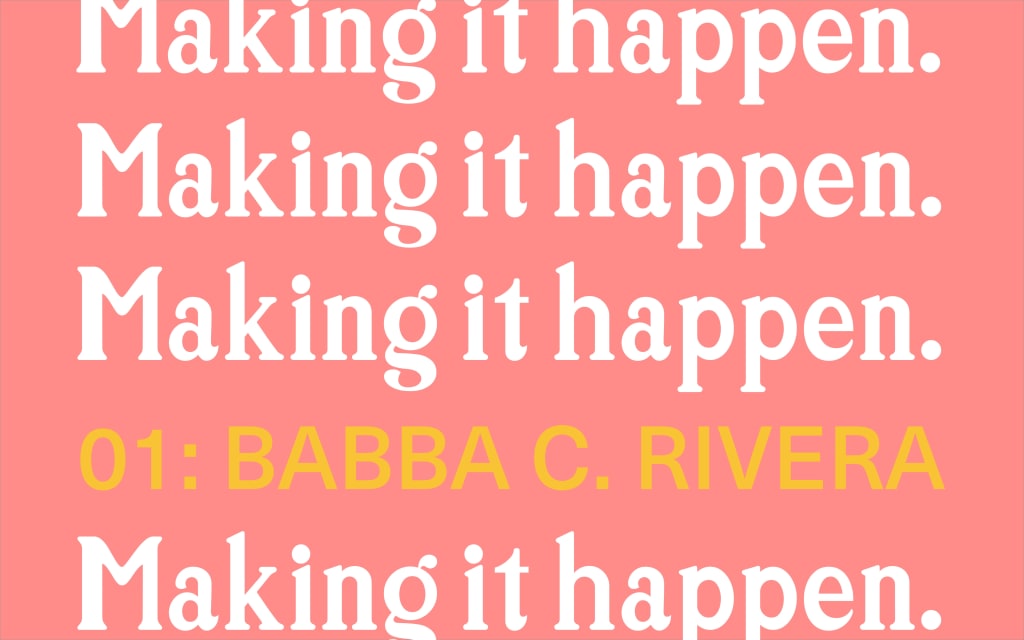 This is Making It Happen, where I get to sit down with some inspiring individuals and learn about their stories—the many places they're from, the incredible things they've created, and how their culture has influenced their lives today.
Making It Happen is all about highlighting those who are breaking the mold and defying boundaries. Expats who are creators, entrepreneurs, innovators, dreamers—this is all about celebrating diversity and the incredible accomplishments of people who've been told "no" perhaps one too many times.
I hope this helps you appreciate all the expats who bring joy to your life with their accents, spices, music, dancing, and all your favorite questions (pero like what?) If you know of someone who you'd like to see featured on this lil series, send them my way by emailing me at [email protected] with the subject line "Making It Happen."
___
First up is none other than Babba C. Rivera. I met Babba a few weeks ago at a Latinx in America event hosted by Brand Assembly and One Girl in lower Manhattan. She was one of three panelists, and to be honest, it didn't take much for her to blow me away. I've been following Babba on Instagram for a while now (and so should you if you're looking for some dreamy outfit inspiration and probably the best dog content out there courtesy of Blue) but I must shamefully admit that I'd never gone deeper into trying to understand how she got to where she is now.
Let's start with where you're from—tell us everything.
I'm from Sweden, but am Chilean. Both of my parents are from Chile, but left the country during the Pinochet era. They moved to Sweden and always thought they would eventually return to Chile, so much so that they never learned the language. We did end up moving back to Chile when I was three, but only stayed until I was five, as my mom eventually realized the Chile she knew and loved was forever changed, and so was she. We therefore moved back to Sweden, where my parents hoped they would have a better chance to give us a promising future.
How did you start your career?
After graduating, I moved from Sweden to Berlin, for a year working with the eyewear brand MYKITA. Upon moving back to Sweden from my experience in Berlin, I was really hungry to kick off my career. I honestly didn't have any other interests at that point besides building my career, I was solely focused on that.
At this time, I was so inspired by data and was excited to kick off my career with an emphasis on data-driven marketing. I had the idea to start a PR agency with a data-driven approach. I started networking with anyone and everyone in Stockholm as I was in the process of setting up a company and during that process I received an email from Uber.
Although I didn't know who Uber was at the time, I took the meeting with the intention that they could become a potential client for my soon-to-launch agency. Long story short, I didn't launch the agency and instead joined Uber as their founding team in Sweden.
You launched Uber in Stockholm, and made it the fastest-growing launch city at the time. How did that go? Can we talk a little bit more about your time at Uber and how it shaped you as a professional?
I decided for myself that I wanted to give this job my everything in order to learn and grow as much as possible within the company. So, in order to do so successfully I acknowledged and accepted that I needed to give some things up for the time being. I had several side hustles that all felt suddenly less interesting, therefore I decided to focus on my job and become really good at it, versus spreading myself too thin with a million side projects.
With Uber, that's exactly what happened. I worked extremely hard. After our success in Sweden, I relocated to NYC to head up their partnerships department. I learned so much and it allowed me to be pretty entrepreneurial which I loved. After 4 years, I was exhausted and felt that the fun part of the job had slowed down. I wasn't developing as much anymore. I was training others but I didn't feel like I had any mentors myself and didn't feel challenged enough. Once I had that realization, I started to look elsewhere.
Where did this take you?
I was approached by Away. Of course, no one could have known back then what Away would eventually turn out to be. For most people, it seemed like a crazy decision to leave Uber for a tiny startup trying to sell suitcases. I took the job anyway. As the Director of Brand Marketing I really loved what I was working on, but being an employee there also reminded me that I wasn't as fulfilled as an employee after all—I needed to be a founder to spread out my wings fully. My skills come to better use when I have a platform to experiment and lead, so the idea of an agency naturally came back to me.
At the Latinx in America event, you mentioned sometimes feeling like you had to play the part and act very Swedish to fit it when growing up. Being latina myself, I know how things can be sometimes with people making assumptions based on your heritage without taking the time to get to know you. You now proudly say that you're latina, so I guess I'm wondering what changed?
I snapped out of it. I realized I was living in a bubble and decided to look within rather than try to be someone I wasn't going to be. Mostly, I wanted to see more role models coming from the latinx community. Growing up I didn't really have exposure to latinx people who I could look up to in a professional way. For the longest time I hadn't seen anyone I could identify with.
The latinx community in many ways is a forgotten category. We're such a big category but you don't see much marketing for hispanics. We have such high spending power and companies haven't caught up with that yet. Companies aren't founded by people who understand our community and our needs.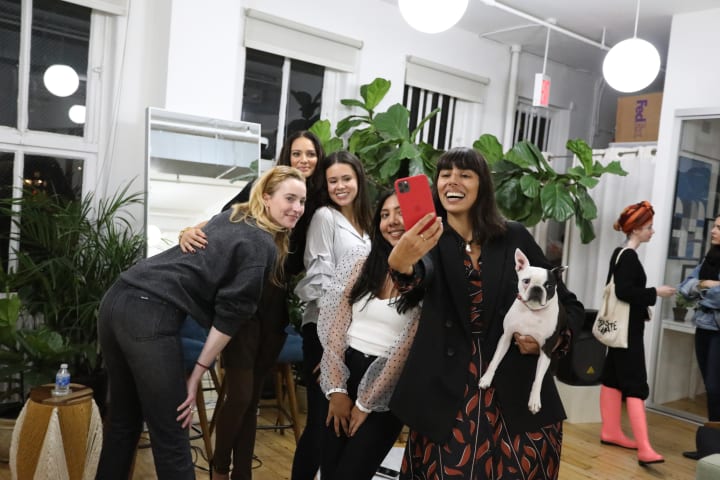 What do you hope to see more of in the Latinx community?
Latina founders! Venture capitalists investing in latin women based on their potential, not based on their track record- just like they do with white men. I often times feel like men are being promoted and invested in based on potential, whereas for women, the requirements are vastly different. Most of us don't have a track record! But we do have big dreams and we will work hard to make those happen.
Finally, who are some other latinas or latinos that you look up to or that inspire you?
Cindy Ramirez, founder and CEO of Chillhouse—from starting her career in hospitality to building the ultimate wellness destination.
Another latina I follow and who inspires me is Calu Rivera. She's an actress but also someone who really uses her voice for a good cause. She talks a lot about the planet and living a sustainable life. She constantly empowers and uplifts women, which is especially important given that most of her audience is latin.
This interview has been edited for clarity and length.
And there you have it! Catching up with Babba and really getting to know the personality behind the many photos I constantly save on Instagram for outfit inspiration was a surreal experience. More importantly, learning about her drive and having another latina to look up to was something I really needed. Hopefully you're as motivated as I am to work hard for your dreams and make it happen.
More inspiring creators and their stories to come—stay tuned!
success
lima | nyc 📍
Creator Relations @Vocal