Let Go and Shave
Falling in Love With Yourself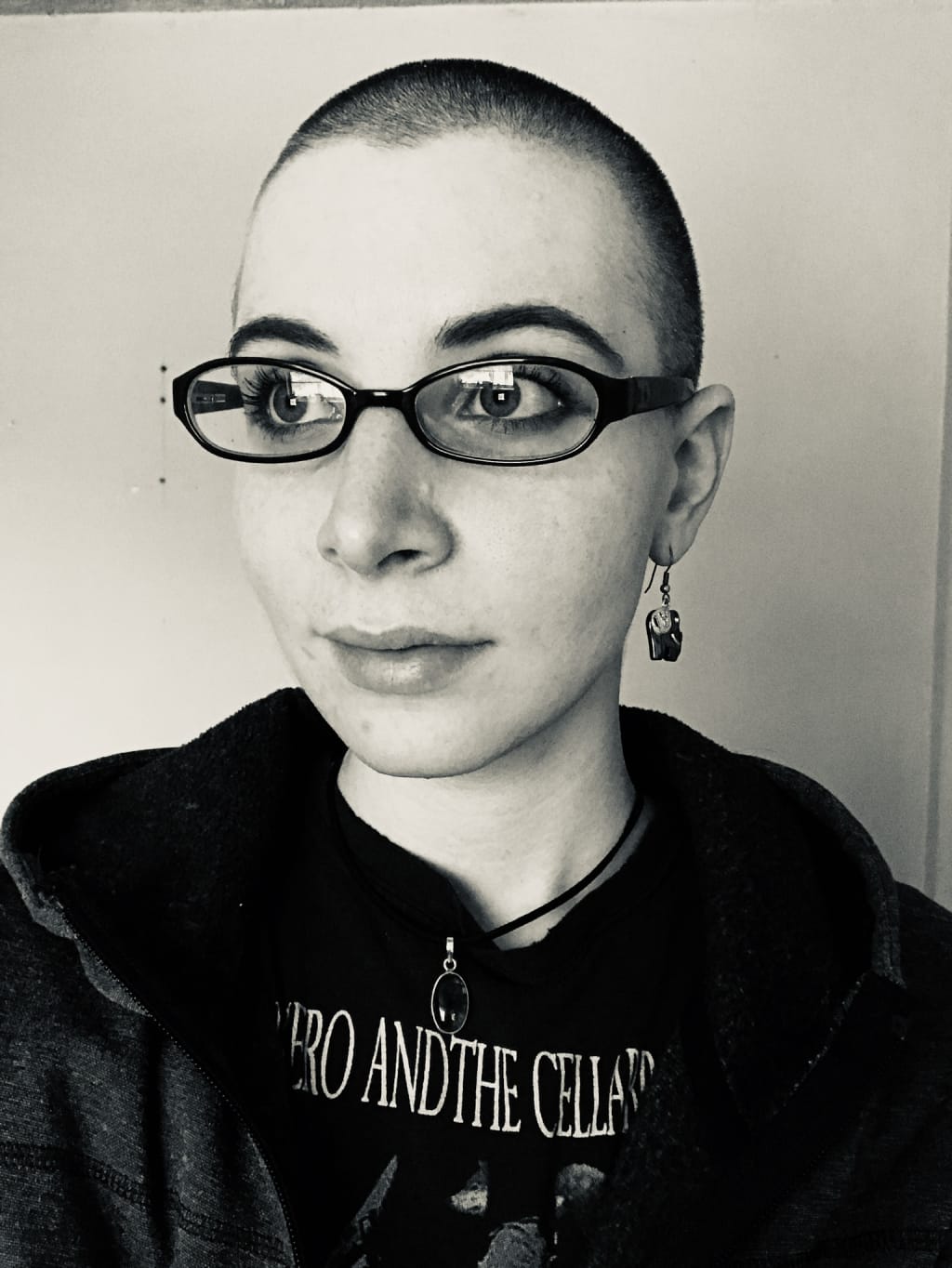 Me, January 2019.
This is a love story about oneself. This story is intended to uplift and support women on self expression.
2019 was definitely a rollercoaster of a year for a lot of us. I entered last year fresh out of a failed engagement, and yearning to heal the giant hole in my heart. I wanted to fall back in love with myself. So, like all of us, I wanted a change in physical appearance to uplift myself, but to also find a way to gain my power back.
I began researching women's experiences about how they shaved their heads. A lot of them felt empowered, strong, and confident. They saw themselves saving money because they were not spending money on hair products. All of the images I saw of these women were glowing. They were truly happy to be themselves. And how beautiful they all were! I decided after a few days of research to do it.
I remember the excitement I felt when I bought the razor from Walmart. I went home with my dog Lily and fed her. Once she was finished, we went upstairs to my room and I plugged in the razor. I asked Lily if I should use 1/8th or 1/4th. Her hazel eyes fell on the 1/8th.
As I shaved off my hair, I imagined that I was shaving the pain I experienced in my engagement. I also imagined letting go of the life I knew previously to celebrate a life of independence. For the first time in three years, I felt strong. My pure power was being gained back, and this time no one could take it away from me again.
This moment was definitely a moment of rebirth. When I saw myself with a shaved head, there was a bit of shock, but it turned into self-love. My dog Lily was a bit concerned for a while, but she eventually got used to my shaved head. Similar to the women I researched, I began saving money that I would spend on hair products, and I was spending less time getting ready for the day. Each day I observed myself in the mirror with no hair, the more I fell in love with the shape of my eyes, or the slight crease on my forehead. I began noticing small beautiful things about myself that I normally did not.
Shaving your head will definitely attract opinions. Some people will either love it or hate it. It is an act that dismantles the belief that women should look a specific way. As a Bisexual woman, I felt free to truly embrace my sexuality. Some men responded to my hairstyle with backlash, when others respected my decision. A lot of women felt inspired by the lack of hair, and almost appreciated it as much as I did. I felt myself gravitating towards women more so than men because the support was stronger, and I felt more beautiful.
For the first time in my life, I felt beautiful. I've had relationships where the other person said I was, but I didn't truly feel it. When I shaved my hair, I felt light. I felt free from the over-obsession I experienced when I had hair. My hair is naturally curly, so I would fixate on it if it was too poofy. I would straighten it and spray it to prevent it from frizzing. I cut my hair to prevent poofy-ness. The lack of hair forced me to look at myself in the face, literally. Shaving off my hair also helped me look deep within, and truly love myself for who I am.
I've kept my head shaved until I left Baltimore in November. Since then, I've grown my shaved head into a short Mohawk. This is a hairstyle I've always admired due to being an avid punk rock listener. I have thought about shaving my hair again because it becomes a habit after a while.
If you choose to shave your head, reading about other women's experiences about shaving will definitely benefit and empower you. This is your hair above all, but shaving off your hair is an experience you will never forget. It is an experience of empowerment, courage and self-love.
self help
I am a visual artist originally from Baltimore, Maryland. I focus on paper-cut and meditative paintings as my primary medium. I am on Vocal to share some of my experiences to help uplift others. All photo content were taken by me.