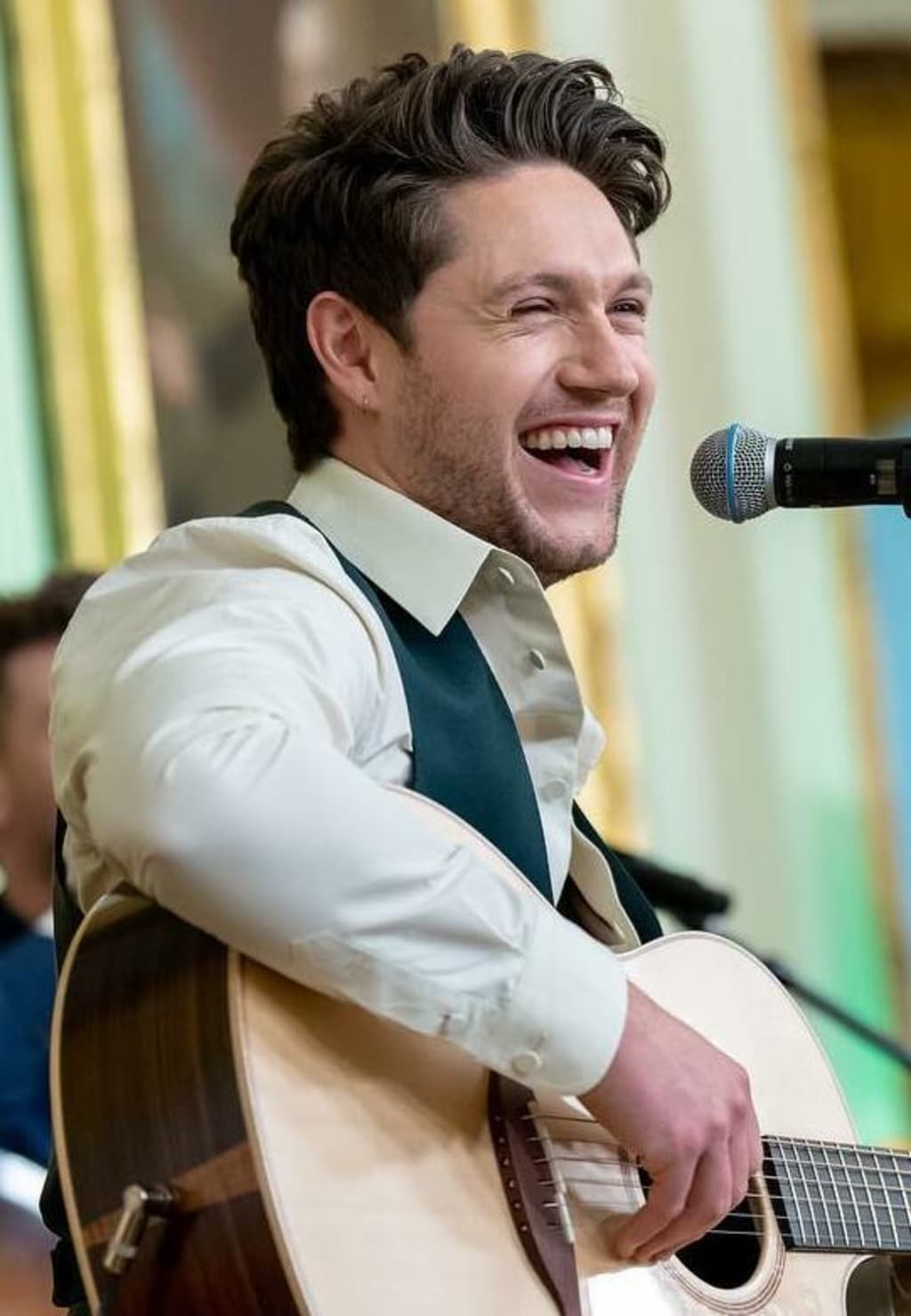 Once upon a time in the small town of Mullingar, Ireland, lived a young boy named Niall Horan. Niall was an ordinary boy with an extraordinary passion for music. From a very young age, he was captivated by the power of melodies and the way they could touch people's hearts.
Niall grew up in a loving family, where his parents encouraged him to pursue his dreams. They saw the spark in his eyes when he sang and played his guitar, and they knew that he had a gift. Niall's parents bought him his first guitar when he was just a little boy, and from that moment on, he never looked back.
As Niall got older, his love for music only grew stronger. He spent countless hours honing his skills, writing his own songs and performing at local talent shows. His soulful voice and charming personality began to captivate the hearts of those who listened to him. Niall dreamed of sharing his music with the world, and he knew that he had to take a leap of faith to make that dream come true.
One day, an opportunity knocked on Niall's door. He saw an advertisement for a reality singing competition called "The X Factor." Without a second thought, Niall gathered his courage and auditioned for the show. He stood on the stage, strumming his guitar, and poured his heart into the performance. The judges were impressed by his talent and the genuine passion he exuded.
Niall's journey on "The X Factor" was filled with highs and lows, but he never gave up. His determination and hard work paid off when he was chosen to be a part of a boy band called One Direction. Niall and his bandmates, Harry, Louis, Liam, and Zayn, became overnight sensations. Their music resonated with millions of fans worldwide, and they quickly rose to international fame.
Life as a member of One Direction was a whirlwind for Niall. He traveled the world, performed in front of massive crowds, and experienced the highs and lows of stardom. But throughout it all, Niall remained grounded and grateful for the opportunities he had been given. He never forgot where he came from and the support he received from his family and fans.
After several successful years together, One Direction decided to take a break and pursue individual projects. Niall, true to his love for music, embarked on a solo career. He poured his heart and soul into his music, exploring different genres and showcasing his growth as an artist. His debut solo album received critical acclaim and topped the charts, proving that Niall's talent was not limited to being a part of a band.
Beyond his musical endeavors, Niall also used his platform for philanthropic endeavors. He became an ambassador for various charities, raising awareness and funds for causes close to his heart. Niall's humility and compassion endeared him to people around the world, and he became not only a talented musician but also a role model for many.
As the years went by, Niall continued to evolve as an artist. He released more albums, embarked on sold out tours, and collaborated with other talented musicians. His music spoke of love, heartbreak, and the human experience, resonating with fans of all ages. Niall's authenticity and vulnerability in his music allowed people to connect with him on a deep level.
Through all the success, Niall never lost sight of his roots. He remained humble and grateful for the opportunities he had been given. He cherished the support of his fans, who stood by him throughout his journey.
And so, the story of Niall Horan serves as a testament to the power of dreams, perseverance.
Reader insights
Be the first to share your insights about this piece.
Add your insights