Embracing my Disabilities As a Native American Trans Woman
I am Different but I am Sacred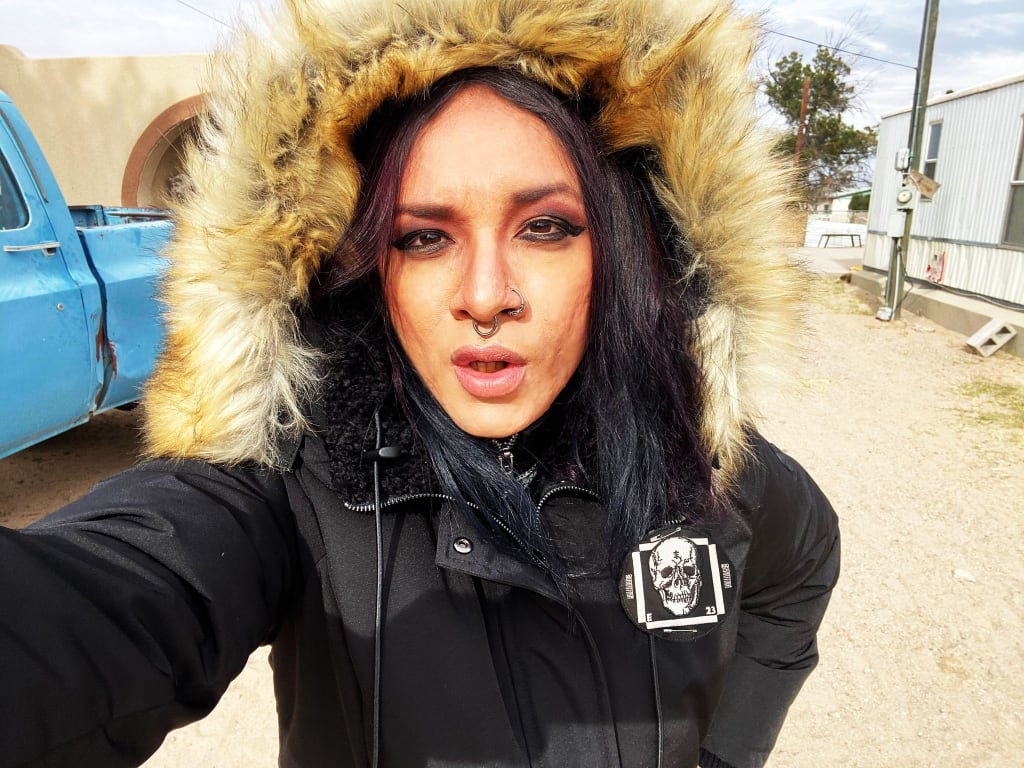 Two Spirit Apache Trans Woman Marcy Angeles
My name is Marcy Angeles, I am a Native American Trans Woman/Two Spirit living with Complex PTSD, Bipolar Disorder, OCD and Asthma from the stress.
As a child, I grew accustomed to being condemned before I could even find the language to describe what I am. I just knew I was a human being but I gathered very quickly that I was different from what society considers ' normal. ' From a very young I have spent most time within a classroom setting watching my back, rather than being able to absorb any information. My innocence was stolen from me. My ability to learn or even feel comfortable was stolen from me at a very young age.
At the age of 12, I was outted as being LGBTQ2s to my peers by a substitute teacher. This subtitute teacher became aware of me being LGBTQ2s because I was friends with her daughter. It's not like I could hide it anyway but it was my secret to tell. The same secret adults had been trying to get out of me when my only concern should have been watching a cartoon on time. After being outted, I began to first experience the rejection of losing friends just for being myself. I was very lucky to have a few friends that stuck by me, friends I would need entering high school. Our bond was our love for music but also our wild nature. We were the kind girls that couldn't be tamed, the kind of daisies you'd only find growing on a steep forest hill.
I entered High School, the place that haunts my memories. High School is the place that scarred my heart and left a post traumatic injury on my brain. I can only escape the horrors of High School temporaily. Music, Art and Writing are my escape. These creative outlets are the air when I can't breathe. These Creative Outlets are my escape when I feel caged in the unescapable. I could not sit here writing this for you had I not had these Creative Outlets to teach me how to cope. They to taught me that life can be worth living. These Creative Outlets are how I validated myself to myself in a world that convinced me to resent being born. In a world where I was feeling like I didn't deserve to live.
It was my Sophomore year of High School when I was coaxed into attending a party by my peers. The girl that invited me had been a long time friend since Middle School. A party was not their intention, it was a cover to reel me in. I was dropped off and I smiled back at my Mother while waving good bye. If she only knew that it was my innocence she was saying good bye to that day. My peers guided me to the couch, the place where I was pinned down for the next half hour screaming as they gave me a forced exorcism just for being Trans. In that time I screamed to God hoping that he'd hear me, hoping that he'd send an Angel to save me.
I had placed myself in counseling the following year and would go regularly. There are things you might want to discuss with someone as you are beginning to hate yourself. There are times when you need someone to talk to as you're losing your will to survive. There are times you need to tell someone that you can't eat in the cafeteria anymore. Not every student knows what it's like for Apples and Oranges to be thrown at their head, thank God they missed.
On my last day of High School, I encountered a PE class heading back to the gym as I was making my way to the counselor's office. The students began to pick up stones the size of my fist and throw them at me. They tried to murder me that day. For fear of losing me, my Mother did what any mother would have done. She took me to drop out. I spent the next six years lost in drug addiction, lost in cutting my arms, lost in suicide attempts, lost in alcoholism. I was lost in hating myself.
It was 2007 when I hit rock bottom and found myself in the psych ward. It was when I had no place else to look but up that I found myself. I got diagnosed that year with Bipolar Disorder, got medicated and took my first steps as a sober Trauma Survivor. I have been sober since that day and in 2013, I was diagnosed with Complex PTSD. This particular form of PTSD is having so much Trauma from so many other significant traumatic events. One is not necessarily to blame in being traumatized for life. It started with painting.
The painting became writing and later came composing music. I discovered that I have a purpose in life and that is to teach people compassion. I was born to show the other misfits that we belong and need to make ourselves fit when it seems like we don't. I was brought here to show others that life is worth living, especially when you think it isn't. I learned that you can't heal the world when you can't first heal yourself. It was through my Creative Expression that my healing journey began.
Over the years I have caught the attention of Disability Advocacy Festivals, been published in magazines for Disabled Queer Folks, had my Artwork hung in museums. I even got to sit down on the first ever Indigenous Trans Panel. My suffering has been real but my resiliency is the realest thing about me. So when you read this, don't shed a tear in sorrow. This is what Apaches are made of and every day I prove to myself that my story has just begun.
- by Marcy Angeles
healing
About the author
Marcy Angeles is a Disabled Two-Spirit Nednhi Apache & Guamares Band of Chichimeca writer, painter, musician, dj and freelance journalist from Southern New Mexico.
Reader insights
Be the first to share your insights about this piece.
Add your insights