CONNECT.ED
a planters perspective

A planter of ideas ; Cultivator of personal growth ; Harvester of genuine connection.
An expanse of otherworldly experience for the lovers whom are wild at heart.
With a current global crisis that has temporarily driven us away from lifestyle normalities within a constant, buzzing world, all of a sudden we are gifted an unexpected amplitude of time. Our world has slowed down allowing us to reflect. What better time to start unravelling some wild thoughts....
It is a time, now more than ever, that we need to stay connected to each other and the world around us. Making sure we are helping others around us to not only be positive but to become healers themselves. Community is everything, a simple talk to your neighbour could leave you feeling refreshed, reminded that you are not in this alone, we are all in this together.
I am sure we are all aware of 'nature' as a connector and mediator itself... even more so as a system of the whole that maintains balance of all living things. The things that connect us to each other and to the world around us is now more relevant than ever. The things that make us human; keep us alive; keep us connected and sensual beings, these things matter.
I am here to share some of the very many natural spaces, perspectives and discussions that inspired me to fall in love with the world around me. Touching on the importance of what the natural world can offer in these times of need, and perhaps how its magical wilderness can bring out things we love about ourselves and each other.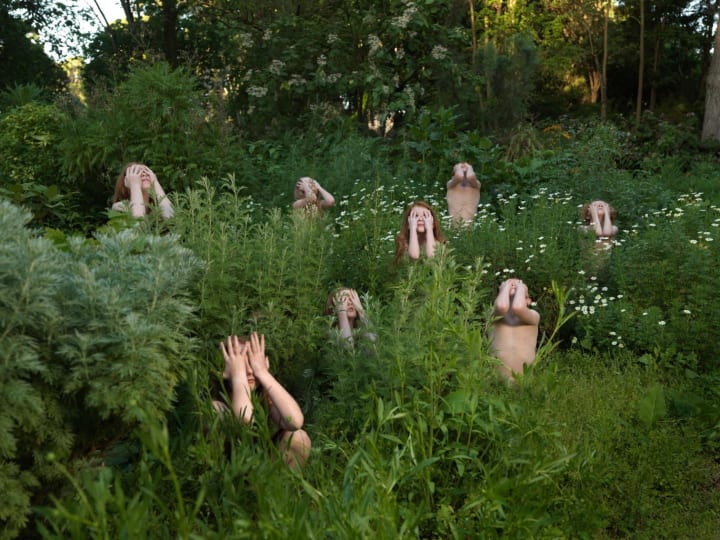 Basking in the subtle sound of flowing water, the warm glow of twilight sun reflecting off its silky sheet, contrasted and protected by dense and beautifully wild foliage..... pure bliss. Understanding nature can seem impossible, but to me, it is just as simple as enjoying her. There is never a dull moment for people who know how to look and listen. She seems to always get it right, adapts to change perfectly, designs efficiently, and regenerates substantially. We live on a planet that solely relies on her workings, amongst her wealth of resources some may take for granted. As artist Tamara Dean points out "we are a part of nature, and that to wreak destruction upon nature is to ultimately wreak destruction upon ourselves."
At this point, I think some context would be necessary; when I talk of 'nature' here, I do not refer to that perfectly manicured hedge in your backyard, or flawlessly trimmed lawn....no....I possess more of a means to talk about wilder yet immersive parts you may not typically see in suburban backyards or public green space. I am more talking about that so called 'pesky' ivy overgrowing on your border wall, which can be used as a herb, or the proactive growth appearing in the cracks of your driveway that can be used as green carpet, or even that so called 'annoying' tree shedding it leaves every week providing mulch for your garden. I am referring to nature as a growth that is allowed to flourish without the restrictive maintenance of man. I am referring to your garden as a wild growth of opportunity, balance and harmony, which man can be apart of, rather than impose on-top of. I am referring to man in co-operation with nature.
Yes, there is also the wild of the wild, untouched mountain-scapes and forests that already possess eco-systems. Although this wilderness is undoubtably amazing to experience and witness, my aim here brings to light the realities of living alongside a wilderness of our own. Don't get me wrong..... we should take as much inspiration from all aspects of nature that speak to us, though our typical suburban dwellings are not designed to live alongside a magnificently established eco-system of, lets say, a jungle or savannah. If we did, then these amazing parts of the world would not be the same. There are fulfilling ways to live alongside an eco-system that has been consciously assembled, to provide for our needs too. Guiding it to flourish and thrive as it naturally pleases, while all the more growing a lifestyle that reflects your personality. Gardens are, after all, a reflection of yourself.
The people, portfolios, and places I share with you below are all examples of one thing. My love for this natural world. They display parts I admire through unique intimate experiences. They offer not just opportunity to connect online, but also connect through wider scoped communities of like-minded people. I believe that nature can help guide us to a place of self-love, connection & wellbeing by implementing it to create a lifestyle that brings out parts of yourself you love.
I share these examples in hoping you will also mindfully endeavour through your own wilderness, however, you may want to pursue. Perhaps find out a little bit more about yourself in the process.
'Plants.of.the.Heart' with Jac semmler.
"We live in a society where everything is supposed to happen instantly. A garden is a relationship. It's OK to mess up, it's OK to make mistakes. Sometimes plants die and they die for everyone. They die for me. We don't get it right all the time, but in the little moments when we do, it's joyful. " - Jac semmler
I came across an article on my favourite online magazine (will get to later) that visually enticed me. The garden on display allows you to almost instantly see the personality of the individual whom created it. Jac Semmler is a keen horticulturalist. She has a passion and a valuable skill that transforms any space, into a place of belonging using naturally occurring systems of plant ecologies. She aims to create "a garden of whimsy, texture and randomness, whilst still having a sense of belonging" by planting to her definition of 'place'. Like many outdoorsy-type people, Jac grew up on a farm in central Victoria, Australia. She realised Horticulture was her passion after working in outdoor education for many years. What I find particularly cool about her, is her continuous motive to utilize her passion anywhere she goes, regardless of certain boundaries she may come across. "Renting never stopped me from gardening – I've dragged perennials and pots to different places over the years – but being able to cultivate my own home garden is an utter delight!"
I know many other people like myself would, in their current situation, relate to this. Renting may come across as a boundary that will stop you from enjoying the wonders of gardening, but just as I am beginning to realise in my own endeavours, there are ways around this. Indoor gardening; Urban jungles; Suburban oasis. Transportable tools such as pots; troughs; jars; baskets; twine (to make kokedama's), these all make it possible. A garden can be created in any kind of space, no matter the size, or proximity to the city. If you want to learn more about this, internet and books are your best friend, even using some ingenuity and asking your local nursery can help. Though in particular you should check out '@Theplantsociety', and their book 'Green: plants for small spaces, indoors and out'. This book particularly helped me when I was living in a city apartment.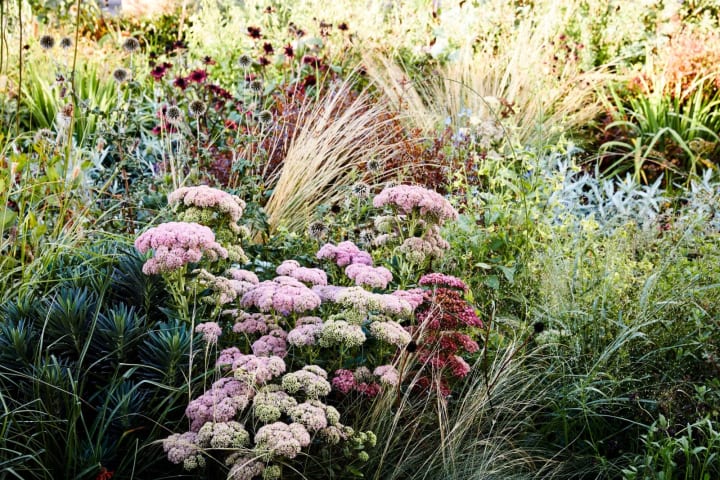 The different contrasts of bold and subtle colours; textures; forms. The proximity of plant species and how they interact with one another. Soft edges that juxtapose the sharp. The kind of wild that seduces you with its diversity, calls you over with its rustles and whistles, where you can hear plants conversing and interacting with each other. I don't know about you but this is my kind of wild, though as the old world saying goes "Beauty is in the eye of the beholder" meaning everyone perceives beauty differently. It provokes new thoughts and perspectives, and speaks a truth. The truth of a world you and me, as individuals, want for ourselves and want for each other.
Some advice from Jac and her wild garden of wondrous wit. For anyone like myself who is loving the feel of these wild gardens and doesn't know where to start, "Start small. At my last rental, I had about six square meters of perennial beds. Work out the plants of your heart. Think about what you really love and be strong to that idea. I want to have particular colours, I want a bit of whimsy, I want to play with grasses. Who cares what anyone else thinks! I think you can be a bit bolshy about it."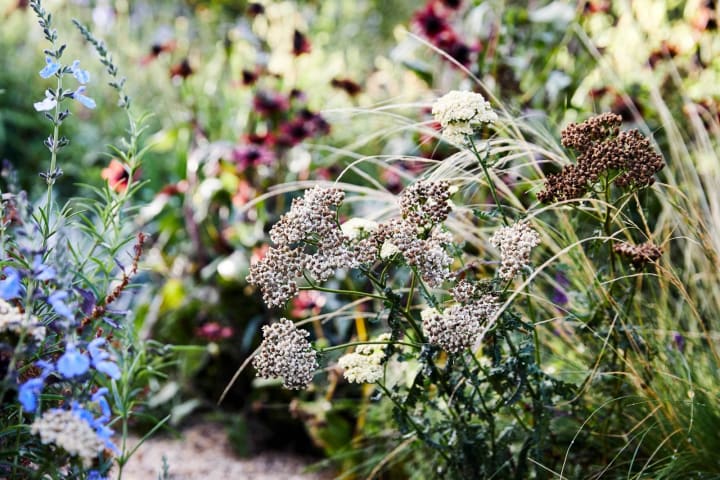 So.....as Jac says "Be abit Bolshy", push the boundaries and let the wild inside you grow.
A 'Messy' world with Plant.Hunter
We are patterns. We exist within them, we make them, we break them. As old patterns disintegrate, new ones grow. And right now, amid grand disorder and change, we have an opportunity to dream and create new patterns of being.
Now we are spending more time at home, there is no doubt about our increase in online presence, particularly through social media platforms. Even though I acquire a lot of inspiration from the instagram platform, I think sharing something more intimate in discussion and diverse in perspectives would be alternatively stirring.
I came across Planthunter through a podcast one of my friends suggested (featured below). I can safely say it was the most uplifting use of my time. Not only is it the reason for taking a crack at writing, it has also brought out other dormant thoughts surrounding my current lifestyle in ways, which I would like to improve by introducing beneficial plant-life.
Planthunter is the ultimate online portfolio/publication for nature-inspired stories, how-to's, essays, new and exciting ideas, people & culture; all to communicate the importance of the natural world in its expanse of chaotic beauty. I find this publication so inviting for the reason that all people can find a story/activity to relate to, regardless of how involved you are in the planting community.
This podcast I found to be very encouraging and relatable. This specific episode features Georgina Reid in a conversation around Planthunter. There are many others under this podcast 'In Defense of Plants' that touch on different nature related stories, which are also worth a peek. This specific episode joins a number of subjects all related to Georgina's life creations including Planthunter and her book Planthunter: Truth, Beauty, Chaos and Plants. I really enjoyed the conversation highlighting the 'messiness' of our world, which can be in fact a pretty sight. Georgina talks about this perspective through a light that shines on certain ideals of the garden and therefore the lifestyle it comes with. To welcome in the chaos; the wild; the messiness, like an old friend reminding you of the beauty in letting go. Letting go of that finicky OCD, or that urge to control things out of our hands. Letting go of all the things we 'could' have done better, those fussy expectations that hold us accountable; as Georgina says, 'life is messy', just accept it.
This particular episode to me, was one of those 'nod at everything that is said while making satisfying noises of understanding' moments. If someone happened to be in the same room, they would have been shook to the point of curiosity or the point of frustration, based on how obviously attuned I was. So ready yourself with your best comfy-wear, a cup of coffee, a notepad and pen, or just a set of listening ears and let yourself become immersed. The best rainy day vibe!
We use beauty to seduce people into falling in love with the world. Cynicism doesn't provoke insight, thought and new perspectives. Beauty does, because it speaks of truth. - Georgina Reid, Planthunter.
With a world full of complications and complexities, Planthunter has a very simple yet informative way that teaches us to accept the chaos for what it is. Even more, see the divine beauty of it all, the seemingly unconventional conversation that suggests; without chaos, there would be no order. Have fun browsing, beauties!
Explore Y.OUR Wild with The Kul Kul Farm
🌱 We're passionate about bringing people together to create something meaningful with their own hands. For the sake of our own health and that of our planet. - kulkulfarm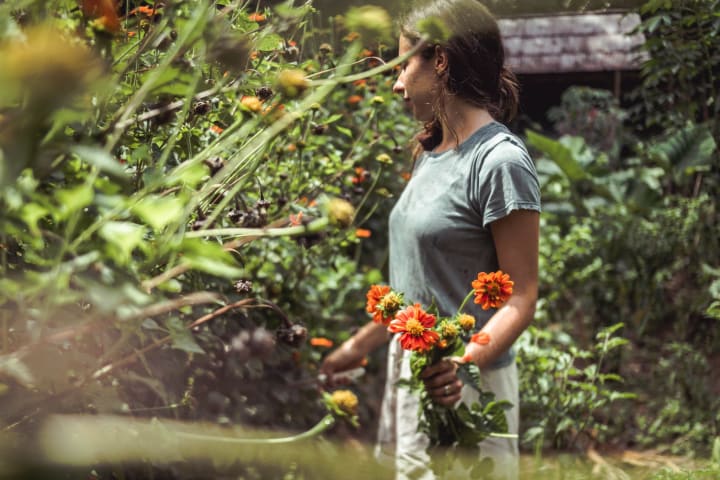 As we know, there are many different natural working systems. The rainforest in Costa Rica has a different eco-system to the likes of the rice paddies in Indonesia. The best and only way to learn, understand what beauty you want in your life, in my most humble opinion, is to explore. Above all else, enjoy the wilderness outside of your own perimeters.
After recently completing a short course in Permaculture, I came across a whole new reason to utilize the natural world. Permaculture, meaning 'Permanent agriculture', this expertise goes way deeper than just gardening or farming. It is a full on philosophy and lifestyle, the facilitating of small eco-systems that function and work together to create a thriving, flourishing world of growth...for all inhabitants. Permaculture is a lifestyle choice that offers substantial benefits to both man and environment. The reason why it is different to any 'sustainable' lifestyle is because it does something better. It 're-generates', meaning to 'bring new and more vigorous life to'.
The Kul Kul Farm is an example of exactly this, a place I aim to visit. I have shared this place as a subtle reminder to myself of future travel goals and aspirations. The farm was founded by Maria and Orin who share a passion in what a permaculture lifestyle can offer individuals and communities. They spread their love, in every possible way with the yields they produce. Teaming up with people of expertise to host workshops, courses, farm tours, and retreats; expertise ranging from gardeners, farmers, permaculture designers, herbalists to builders, educators, cooks and entrepreneurs. Again, I must express the importance of this word 'diversity'. Anyone, from any background can involve themselves, and this my beauties, is what keeps us connected, gives us purpose and is where we find truth.
I imagine whilst we are all isolating ourselves in our little bubbles, we are dreaming of the day we can travel again. I know I am! This time has definitely encouraged me to think about my next travels and my reasons to go, not that I really need any, but I find that uncovering a reason gives me something to do, something to learn, rather than wandering aimlessly around a new place. For me, nature is that reason....
Finding ways in which nature can speak to you, may be the most empowering and intimate discovery you come across, though I constantly remind myself to enjoy the journey along the way, as the journey may not in-fact end. Exploration helps to challenge us to expand our vision and strengthen our abilities to observe, learn and to then apply to our own life in our own way.
"Most people want to be good people—they want to make the world a better place but feel disempowered. It is our hope that people come here and leave with a sense of inspiration and feel empowered to make their dreams possible in relation to sustainable agriculture, permaculture and in relation to making the world a better place." Orin Hardy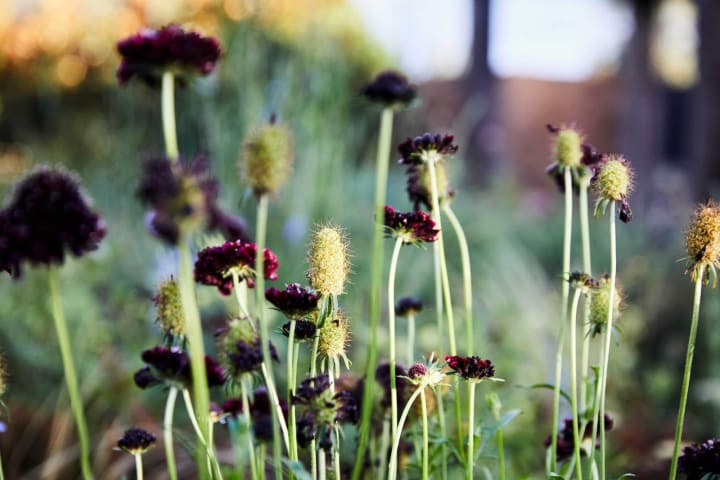 In an ideal world most people would want to come out of quarantine times, a better version of themselves....maybe have learnt a new skill or managed to read a whole library of books.....well done if you managed this but let's be real. It is easy to get hung up on all this mumbo jumbo about what we should be doing with all this time, when in all realness, just simply staying connected and inspired is all we really need. Though I must say, this time has given me opportunity to access some dormant thoughts.......I came across a saying the other day I thought was undeniably relevant " I had to make you uncomfortable, otherwise you would have never moved" - Universe
The things that make us human matter, everything we love about this world rings truth to the things we want. They give us hope, they touch our future with a bright and vibrant energy, they make us feel excited for what is to come. The law of attraction works in simple ways. Become apart of a cycle where you give what you want to receive. You might find one day, amazing things will happen if we just simply focus and involve ourselves in the things we love.
Today I shared with you some resources that have led me on a journey to find my own truth, enjoying every step of the way. To continuously challenge the ways I engage with my immediate world through plants, and how I may exist alongside them. To experience an otherworldly place that brings out my inner wild. To simply appreciate the wonders of what our world already offers. Either way we all have something that makes us tick, let's get involved in all that we love!
"The garden is, in a sense, the cosmos in miniature, a condensation of the world that is open to your senses. It doesn't end at the limits of your own parcel of land, or your own state, or your own nation. Every cultivated plot of ground is symbolic of the surprises and ramifications of life itself in all its varied forms, including the human." - Stanley Kunitz, from The Wild Braid: A Poet Reflects on a Century in the Garden
~~~
I am always open for further discussions, if you find you also want to share some resources or just simply want to chat.