"Collages of the Coronavirus Pandemic" inspired by being in lockdown
By: Carrie Bertschy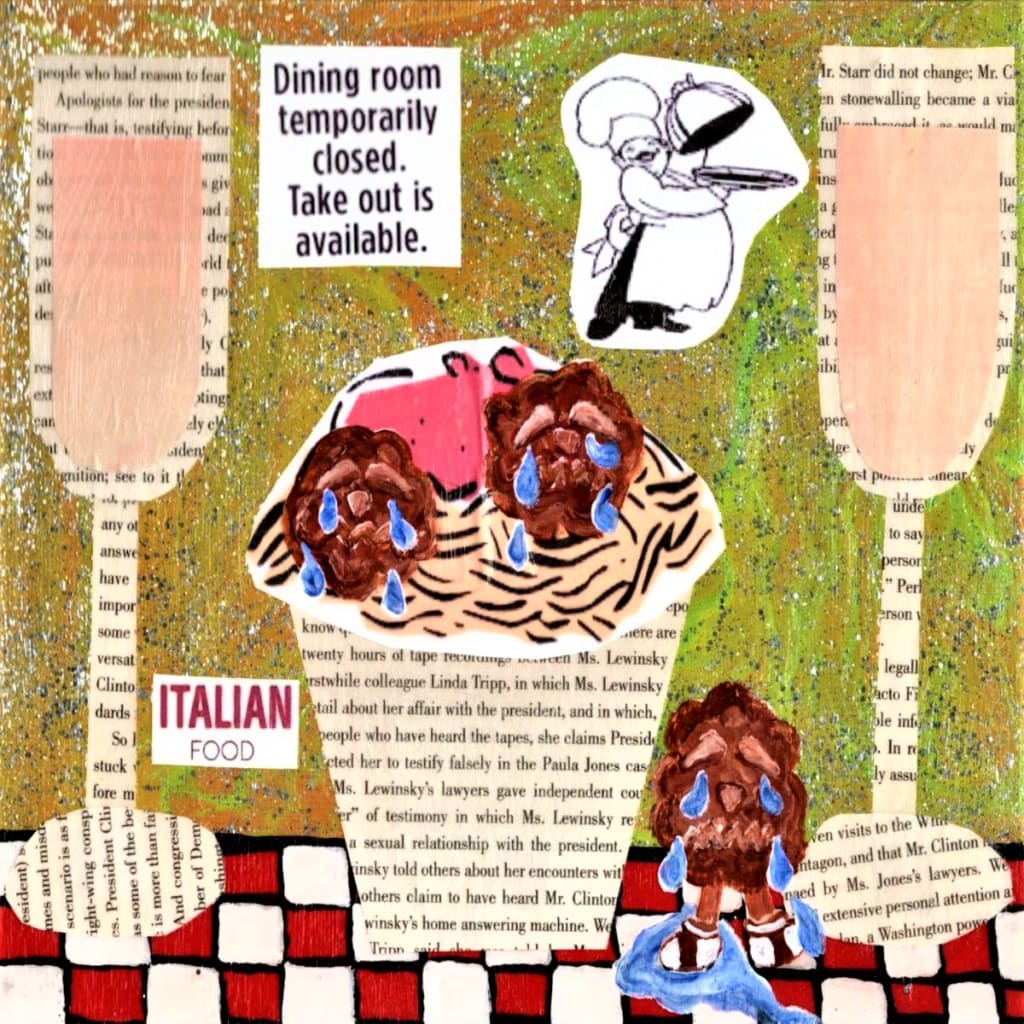 "Running Down Restaurants" by Carrie Bertschy
When the Coronavirus Pandemic started in March of 2020, I felt like I needed to express how this event was affecting our social world. Covid 19 was the beginning of limitations for everyone and society was going from socializing in the public to being isolated in lockdown. Since society was isolated in the lockdown, I decided to take advantage of the time by creating an art collection that I titled, "Collages of the Coronavirus Pandemic". I came up with 10 different ideas to express through my art collages. I started with the closings of restaurants and finished with what society could be like again after the pandemic. It was important to me, as an artist, to put my feelings into art because my social life was affected as much as everyone else in the world. I could not shake a person's hand or even meet a friend for lunch on my day off. Many social lives were damaged due to the limitations that Covid 19 created during this difficult time.
The social limitations are expressed in each pandemic collage except for the last one which shows how society might be after the pandemic ends. With the Covid 19 collages, I came up with titles to go along with the limitations. The titles I came up with for the 10 pandemic collages are: Running Down Restaurants, Vacant Vacation, Missing the Movies, Empty Bar, Wine Fest, Bad Hair Year, Crossed Between Churches, Dirty Martini at the Night Club, Comfort for Cocoa, and Before and After the Pandemic. The titles help put the collages in perspective and they are easier to understand in relation to the social problems of society. Covid 19 has brought a lot of hardship for many social events and places. It was not the same with how they conducted their businesses and the pandemic had completely changed how people were communicating to each other for a very long time.
The Running Down Restaurant collage is displayed in the image above for this story. It is expressing disappointment about not being able to dine-in and that take out is the only option. It was the largest limitation for restaurants and it caused many workers to go on unemployment because dining in was not allowed during lockdown. Hosts, servers, and bussers were all affected in their jobs because each one of them serves to the dine-in guests. Restaurants were also closing permanently because they could not afford to pay their employees or they declared bankruptcy for not being able to continue as a business. Covid 19 changed their lives and they had to give up what they worked hard for in their restaurants. Running Down Restaurants is expressing those issues and it allows the viewers to realize how important these social abilities were before the coronavirus.
In ending this story, the Coronavirus Pandemic has caused a very difficult time. I believe many artists, all over the world, have expressed their feelings towards Covid 19 and have shared their artworks. I think artists should display their coronavirus art creations to as many people as they can because it is a common issue that we have experienced as a society. In my experience, the more you discuss a common issue, the easier it is to deal with in the long run. I hope to share my "Collages of the Coronavirus Pandemic" with others to show how I was feeling with the limitations during the pandemic. Covid 19 brought a lot of inspiration to me, but it was not under the best circumstances. If you are an artist, and have coronavirus artworks, I encourage you to show it to others. I think it will help society understand how much our social world has changed in the last year and a half. You can find these Covid 19 collages on my art profile website- www.carrie-bertschy.pixels.com or on CAFE (www.callforentry.org) for my portfolio.