Battle-Tested Gladiators
Oxygen for your zombified mind.
YouTube Channel ~ Barış Kaan
You're tired. Like a semi-deflated helium balloon trying to stay afloat and not touch the floor kind of tired. You've spent the last weeks, maybe even months, making impossible sacrifices, and you can't stomach another sip of this potent cocktail of boredom, hopelessness, loneliness, and uncertainty.
Every morning, you open your eyes, heart racing, and in that split-second bridge to consciousness, you think, "I just had the worst nightmare." Then, reality sinks in as you put one foot in front of the other, steeling yourself for another day in your abnormal new normal.
Yet, unlike a far-fetched sci-fi movie, you can't turn this off, the good guys lose, and no one escapes unwounded.
One thing's for sure, the internet has become a lifeline. And in between the perpetually defeating news updates, proof of human resilience sneaks through in delicious, snack-sized bites of joy.
Here are a few online treasures that gave me moments of happiness, hope, and reprieve to soldier on as we collectively march our way to the other side.
(Hint: All, in one way or another, celebrate my love of animals.)
Ding, ding, ding.
The web offers you a bazillion distractions, available at your fingertips, 24/7/365. Among these time-sucks, cat videos reign supreme as the Blue-Ribbon Champion of lost productivity. They're also hard to watch without smiling.
With so much time on your side, go ahead and shamelessly jump down that rabbit hole. These two pumpkin-cap-wearing adorable felines will start you off on the right distraction track.
I was having a particularly dark day when my husband sent this video my way. An instant mood-lifter, my aching heart felt as though it was suddenly slathered in healing ointment. One video led to another, and I couldn't wait to see what these two meowsers would wear next.
Midnight moves.
Understandably, globally mobile individuals are some of the hardest hit by the coronavirus pandemic. Nomads around the world were abruptly forced to evacuate and head home to their countries they haven't called "home" for years or possibly decades.
Even under normal circumstances, Intercultural Strategist and Life Coach Sundae Bean serves as an emotional First Aid kit for the expat community. With the heightened need for her expertise, Sundae's providing uplifting daily motivation, weekly podcasts, and offering an abundance of additional free resources. This includes pulling in renowned industry specialists to conduct complimentary webinars and help her followers through this challenging transition.
I was introduced to Sundae through our mutual friend Jen who thought we'd be a perfect fit, both personally and professionally. She was right. (Oh, and get ready to see a LOT of animal pictures and nature themes.)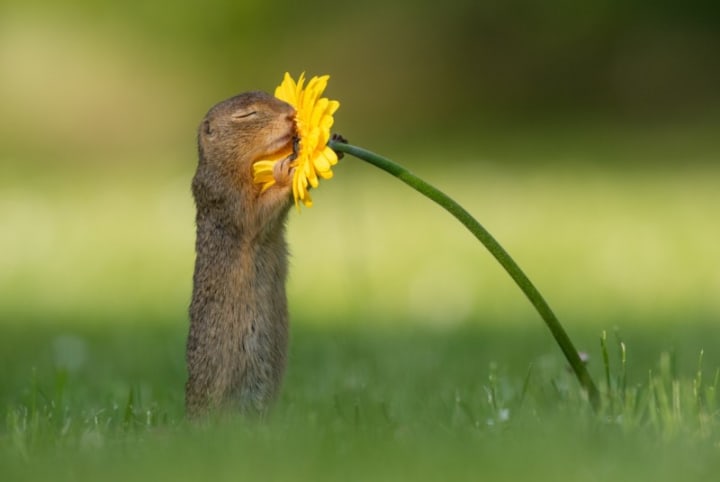 Going nuts?
Life looks best through Dick van Duijn's camera lens. With his remarkable talent to capture nature in her glory, it's no wonder the professional photographer wins award after award.
While reading my morning dose of sad news updates, an article praising this photo caught my eye. It described how van Duijn was grabbing snaps of the cutie patootie squirrel in Vienna when it suddenly stopped to love hard on the yellow flower.
For a few moments, mesmerized by this photo, I felt for the first time in a long time that everything would be alright. In times when you're digging deep to find a sign of glee, return to it as a reminder that simple pleasure do exist, and nuzzly connections will return.
Silver linings.
There's good that's come from this, and positive changes that I hope shall endure long after these painful days pass. COVID-19 resurrected meaningful friendships I neglected, while simultaneously forcing an end to shallow ones that solely existed out of proximity or convenience.
I rediscovered how fun it is to talk on the phone for hours. Even better, I worked out while I did it. That, plus a healthier lifestyle combined with home exercise equipment purchased to replace the gym has led me to finally start losing that last 10 lbs.
I also went from a gal who used her stove for storage, to one who can bake a variety of delicious bread entirely from scratch. And although I've never been someone to take my blessings for granted, I have a greater appreciation for my health, my husband, my income, my balcony.
Like most people, my post-pandemic wish list isn't fancy. I look forward to long walks without worry, slushy drinks on a sunny patio, live baseball on my television, and breaking freshly-baked bread with old friends.
"Life delivered me a catastrophe, but I found a richness of soul." - Michael J. Fox