A TASTE OF THINGS TO COME
WE HAVE MANY POSITIVE THINGS TO GAIN FROM THIS YEAR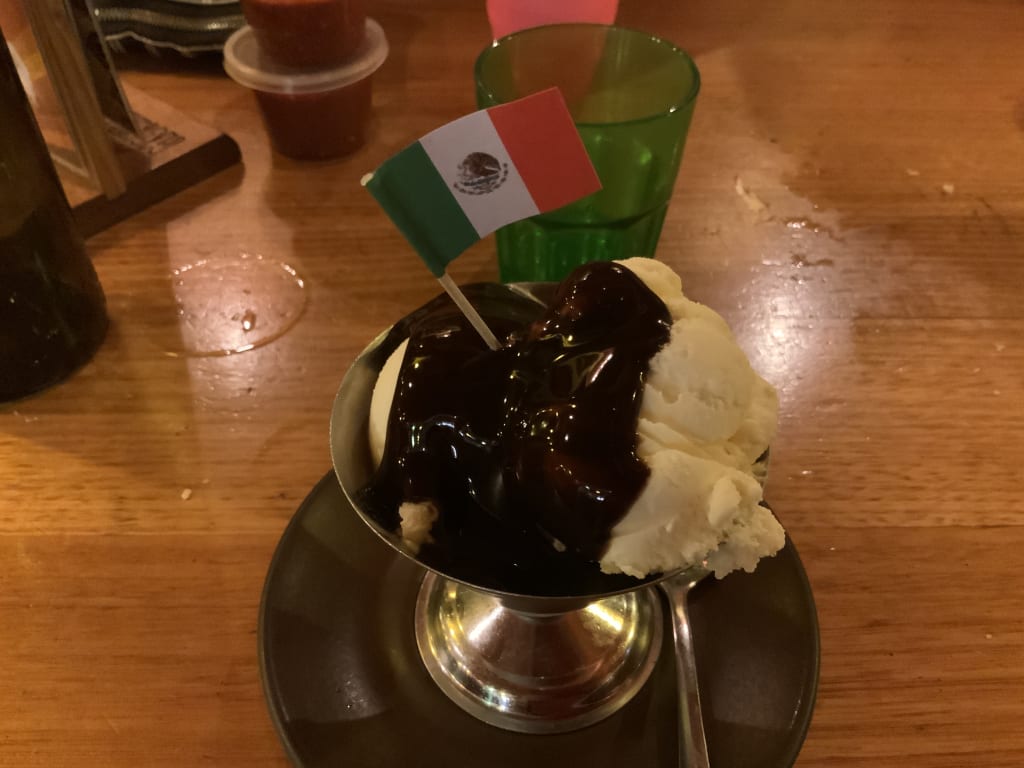 At the very beginning of this year I visited a local Mexican restaurant to celebrate two family members' birthdays (including my own).
For all of my life the Mexican culture has fascinated me, and I was so pleased that I got to visit Ensenada in 2018. My love of Mexico also inspired me to learn the Spanish language, and their food has attracted my tastebuds from the time when I was a toddler. Very few restaurants I've visited create Mexican food which tastes quite like that in Mexico itself, apart from our local Montezuma's restaurant. We used to have a Montezuma's even closer to our home, yet it still wasn't quite the same as the one where I took this picture of my postre de helado y chocolate (ice cream and chocolate dessert)!
When the new year (2020) began I knew it would be one of travel. I had another California trip booked for this year, and while we were at Montezuma's most recently I savoured the excitement of that upcoming holiday with every bite of food I had. This emotion was truly a taste of things to come, eventually at least.
Once my delicious dessert arrived I was reminded of the fact that I would be experiencing my whole 2018 holiday all over again. While I was in the moment I even took this picture of my dessert to share on social media with a message about my positive feelings.
Though news on social media quickly became very different. A mystery virus had affected the Chinese city of Wuhan. It was spreading rapidly and killing many people. Then just like a mega tsunami it quickly and unexpectedly plunged the world into a lockdown situation, and all of the positive plans everyone had for 2020 appeared to be washed away.
When our borders were suddenly closed and all public places went into lockdown it was so immediate that it was a shock for me. At first I didn't even have time to be disappointed or scared. Yet after a couple of weeks I did briefly experience those two feelings and I initially wanted to crumple up into a heap and cry my eyes out. This epidemic had seemingly ruined my chance of any travel, and it also seemingly ruined my plans for the new organisation for people on the autism spectrum that I'm beginning.
However after I had spent a whole month at home in lockdown I realised that my feelings of 2020 being a year of travel were true after all. From being unable to go out I have had so much more time to use my imagination, do artwork, build worlds in Minecraft, finish my giant Lego village, write blogs, work on finishing my book, read other books and blogs, as well as having more time to watch travel documentaries. I've discovered that engaging my mind in all of those activities enables my imagination to take me places, and it feels so much more like travelling than the physical action of going places does!
Unlike the swine flu epidemic in 2009 technology is now more advanced as well. So this means that I can still carry on doing my Spanish classes, Toastmasters and meetings for Embrace Your Passion (EYP), which is the organisation I'm going to begin soon. This means that I haven't truly missed out on anything that I had planned to do this year.
After my initial disappointments about 2020 seeming like a cursed year, I've ironically discovered that it's actually the best year of my life. There are only three things which are negative about this situation which are the deadliness of COVID 19, its affect on the global economy, and how many people have lost their jobs because of it.
Going back to the chocolate dessert I had at Montezuma's all those months ago, I can say that my emotions while eating it truly were a taste of things to come. Already, I feel like I have done more travelling this year than I have in all my other years put together. Where our imagination can take us is limitless and while we're living in solitude, away from the loud, chaotic and noisy outside world we learn so much more about ourselves. After the COVID epidemic has been fully extinguished I will continue to use the many resources I've gathered this year for the rest of my life.
Earlier in this piece I described the worldwide lockdowns as being like a metaphorical tsunami washing away everyone's positive plans. But now I can see that rather than it being like the world being washed away, it's more like the world having gone into nighttime and fallen sleep. Even during the night the world is certainly not dead.
Our dreams can take us anywhere we want to go through our imagination (like any other creative activities do) and when we go so deep into our subconscious we discover a heap of things about our life and which direction we need to go in. Also, our time in rest and solitude allows our body to heal and recharge for the bright, sunny day ahead.
I'm positive that the bright, sunny day ahead will be sometime in 2021, a vaccine could hopefully be created, and worries about COVID 19 can leave our home for good!
happiness
About the author
I'm an autistic person who is making a career from writing, public speaking and advocacy work.
Reader insights
Be the first to share your insights about this piece.
Add your insights