A Journey of Joy
Part 1 of Rediscovering Bob Ross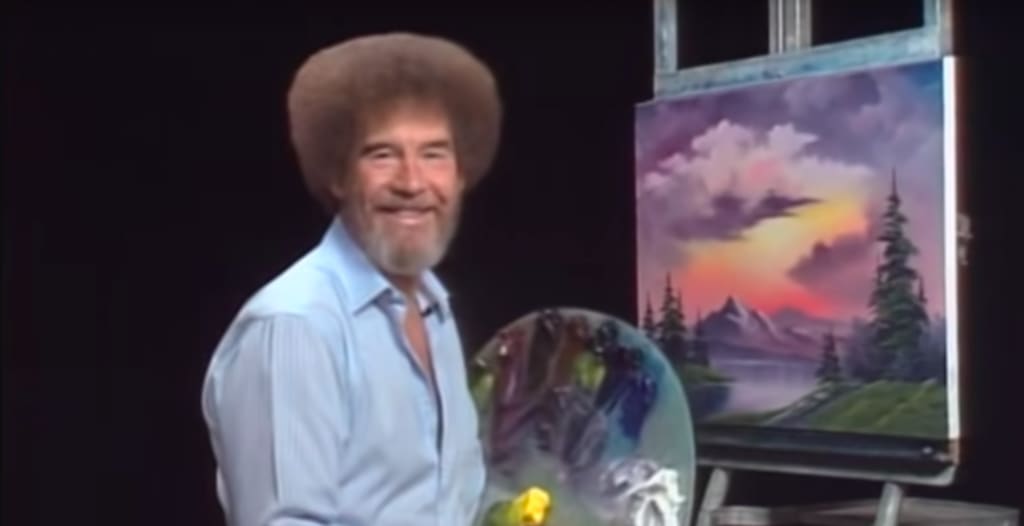 Bob Ross on-set of the hit PBS show, "The Joy of Painting".
Edit: I would like to amend my piece with a disclaimer. When I wrote this piece, the documentary Happy Accidents: Betrayal and Greed had not yet aired. I based my entire article off of the content generated by the Kowalskis and from my own research. Due to the nature of the stranglehold on information regarding Bob Ross and his legacy, some of my information may be inaccurate. The reason I'm not pulling or editing this piece is to show my journalistic integrity. I believed what I wrote at the time of its publication. As you read this, please understand that some of this information is publicly facing content belonging to Bob Ross Inc. I do not endorse, favor, or promote a single entity other than the entity that was painter, celebrity, public figure, and role model Bob Ross. The use of his name and likeness is and has always been protected by Bob Ross Inc. It is not my job to judge the validity of anything they have published and I'm not in a position to invalidate anything that I've seen or read. Please be sure to do your own research and make your own judgements in this matter.
"If painting does anything, it should make you happy."
A Bleak Landscape
Our present reality is a highly-industrialized, commercial feeding frenzy fueled by a mass-produced, waste-oriented, techno-centric desire to level up our lifestyles and bottom lines.
I probably should have prefaced that with something about being thankful to be on the other side of a devastating pandemic and other such nonsense designed to make us all feel better about returning to the so-called "normal", but even that would be propped up with an optimism that I don't feel, and very few would share.
As a collective whole, especially here in the heart of an expensive tourist trap, there is a pervading consciousness that something is wrong with the world--aside from the obvious things like the climate crisis, racism, and the failure of capitalism. Something is lacking. Myself and many others are in a creative and financial rut. Our personalities are being crushed under the weight of needing to excel. We don't have a choice not to excel, not with how much it costs to be alive, and how much energy that demands. Hobbies are an expensive luxury. We have jobs, children, pets, and dirty floors. On this seemingly endless conveyor belt of time, where the days blend together until they all feel the same, how do we capture a portion of ourselves that can't be co-opted for someone else's profit, or marketed to for the sake of consumerism?
How am I going to break out of this rut? How can I recapture my personality in a way that won't break the bank and fits into my schedule?
That is where Bob Ross comes in, and he's coming into my life again at a point in time where my generation needs him more than ever. But who was Bob Ross, and why has he become so important to the mental health and stability of several generations?
Who Was Bob Ross?
A Bob Ross documentary, arranged by the Bob Ross, Inc. can be found in full on YouTube.
According to Wikipedia, Robert Norman Ross was born in October of 1942 to working class parents. His mother was a waitress, and his father a carpenter. He dropped out of high school as a freshman and went to work in carpentry with his father. In his free time, he cared for and fostered small animals, a passion he inherited from his mother (The Bob Ross Experience, www.bobross.com), and which he would retain through the rest of his life.
After a carpentry accident, he joined the Air Force at the age of 18, and was stationed first in his home state of Florida, (where he married, and had his, son Steve) then in Alaska, where he was promoted to Master Sergeant, the same rank my aunt held until her retirement in 2010.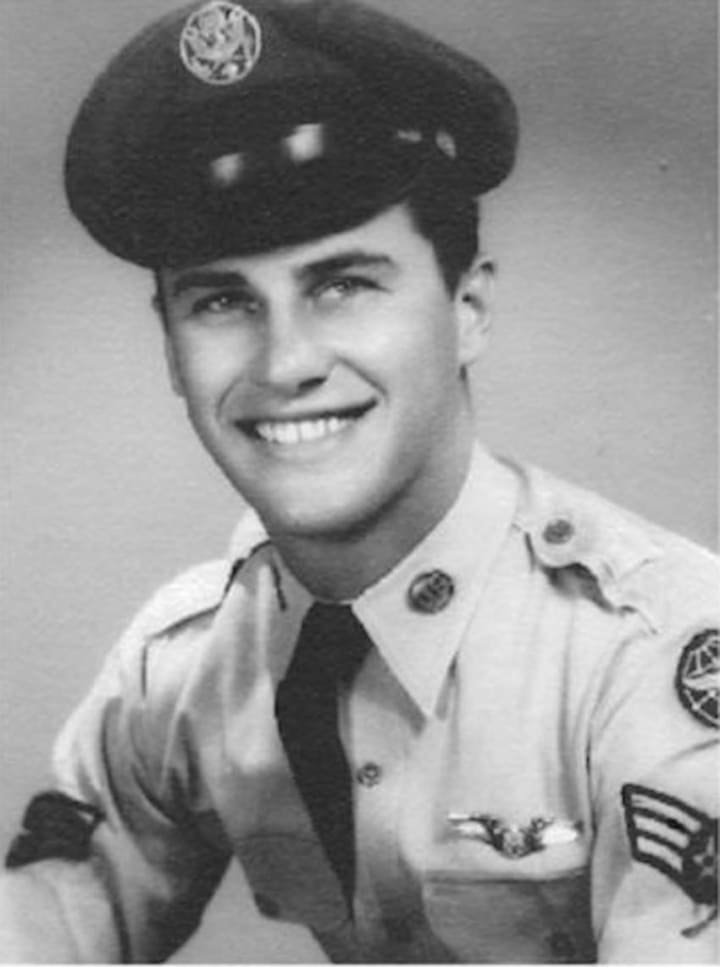 Ross had very little education, and no formal art education. He attended an art class at the Anchorage U.S.O. where he butted heads with his art instructors, who favored abstract art. Ross was enamored of the Alaskan landscape, and those landscapes were to be a source of endless inspiration to him over the 11 years he painted on PBS. To supplement his earnings from the military, he worked as a bartender, and painted landscapes on gold pans in his spare time, which he sold to tourists. It was during this time, standing behind a bar and wiping out beer mugs and whiskey tumblers, that Bob watched The Magic of Oil Painting with Bill Alexander, a German-born artist.
Ross was able to quit the military and pursue art full time in 1981 after the sales of his art surpassed his military pay. He returned to Florida to study directly under Alexander, becoming a traveling salesman to sell Alexander's classes and art supplies.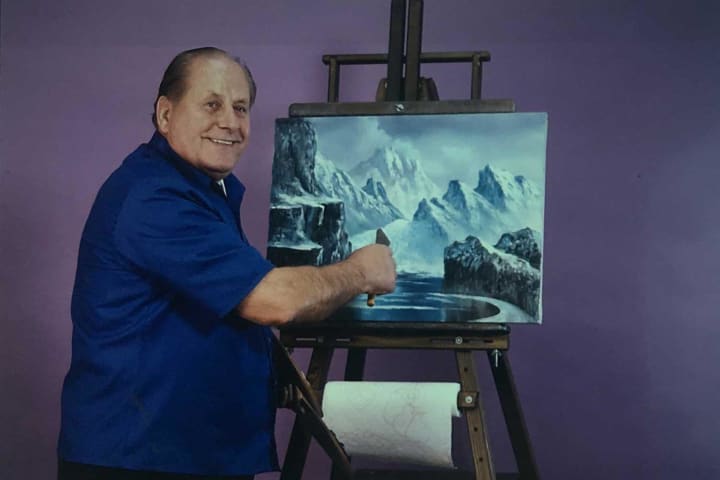 Alexander painted in the "alla prima" or "first attempt" in oil on canvas, a style pioneered in the Sixtheenth-Century, and which was utilized by such painters as Diego Velázquez, Claude Monet, and even Van Gogh.
While touring Alexander's instructional classes as an instructor, Ross met Annette Kowolski, a class attendee, who had been hoping to learn under Alexander. However, Alexander himself had retired from teaching. Miserable over the loss of a child, she didn't take this well. She did eventually compromise on taking the class with Ross instead, and had her husband drive her to Florida. She took a five-day seminar with Ross. On the last day, over dinner with Ross, she and her husband convinced Ross to teach in DC.
With the Kowalskis, Ross and his second wife built the Bob Ross brand, which is controlled by the Kowolskis to this day.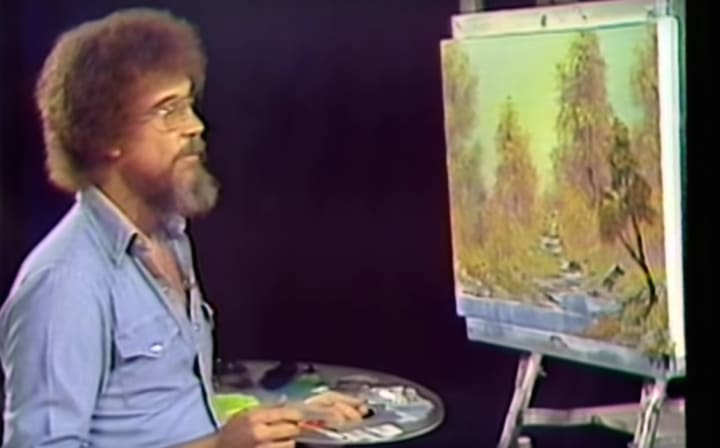 Ross began The Joy of Painting in 1982 on PBS. Much like his mentor, Ross toured the United States to promote the show, and soon became a household name. Ross and his team shot the show at the WIPB station out of Muncie, Indiana. According to Wikipedia, Ross created over 30,000 works of art, few of which exist outside of the Kowolski-controlled Bob Ross brand, which seems to have been the artist's intention. He never wanted anyone to see the finished piece he used for reference, as it often varied, sometimes drastically, from the piece he did in front of the camera. However, many of the paintings he did in front of the camera were donated to PBS stations for auction to continue the fundraising efforts.
His son Steve made numerous appearances on the show as well as some of the animals he and several of his associates (including Diana Schaeffer, the "Bird Lady", of Muncie) were fostering. Ross painted flowing rivers, still ponds, peaceful forests, and unspoiled mountainsides over the course of 400 episodes.
A life-long smoker, Ross stubbornly smoked through not one, but two lymphoma diagnoses. When the second one promised to kill him, he concealed it as best he could from just about everyone except his closest friends and the birds and squirrels. He died at the age of 52 in 1995. He rests at Woodlawn Memorial Park in Gotha, Florida. You can become a certified Bob Ross instructor at the Bob Ross Workshop in Smyrna Beach, Florida.
Watching The Painter Man
Like many Gen Xers and Early Millennials, Public Television served as an educational replacement for Pre-K, especially for the working class. We learned to count, tell time, and read the alphabet under the dutiful eye of whomever our parents could find to watch us in exchange for slave wages, or at home as "latchkey kids" for those of us whose parents couldn't afford to put all of their kids in child care. Not all of us could afford cable, and I remember very clearly having only six channels to watch until I was 13 or 14 years old. By then, cable wasn't the mark of wealth it was in the late 1980s and early '90s, nor was it a basic necessity of entertainment as it is today.
And like so many others, at the age of 7 or 8 years old, I and my twin woke up early on Sunday mornings to watch The Joy of Painting on KLRN San Antonio. The television was kept low so as not to wake our parents, and we laid on the cream-colored carpet of the closed-in garage of our temporarily rented house, eating dry cereal out of the bag, surrounded by stuff we had no intention of unpacking with our feet propped up on an exercise bike.
Standing against a matte black backdrop, a man with crazy hair painted impossibly beautiful scenes out of just his imagination and a few tools. No sketch, no rush, no hassle, no panic. His soft voice held our attention as colors were tapped onto the canvas with the tch-tch-tch-tch of the one- or two-inch brush. My little eyes would stray to his palette, which I feared was dangerously close to his blue jeans and button-down shirt. The man never got a speck of paint on him, but I was never not concerned. He rests that palette on his hip and it still makes me nervous to this day.
I marveled at his talent, the way he could judge distance and plan a painting so quickly. In just a few minutes, he had painted a full landscape suffused with warmth and color, the two basic tenants of peace in my young, troubled mind. The show was always over too soon.
Bob Ross, ASMR, And Our Mental Health
ASMR, or audio sensory meridian response, is the feeling of tingling down the back of the spine as a result of hearing certain sounds. Many experience this with tapping or clicking sounds, and YouTubers have whole channels of content with this in mind. This particular sensory response is also incredibly soothing. Between the quiet man on camera and the swish and tap of his brush on the canvas, watching The Joy of Painting allows stress and tension to melt away.
Ross's voice is reassuring and encouraging. He's not here to do anything other than show you some techniques to create our own landscapes. He's not trying to sell us anything (overly much--maybe black gesso). I find that I can put the show on right before bed and fall asleep in just a few moments. I've gotten to the point where I have to go back and re-watch certain episodes because I slept through them and forgot to shut the PlayStation off. Thanks to two major surgeries, I have a hard time falling asleep and staying asleep on my own, especially after a rough day. The TV has helped me not feel as if I'm dying if I fall asleep. Normal television shows ramp me up before bed, though. No Rick and Morty or The X Files before bed during the week. Shows like The Joy of Painting help release tension and allow me to sleep peacefully (most of the time).
Gen X, Millennials, and Gen Z are the three most stressed generations at this time. We're largely overworked, drowning in debt, helpless to stop climate change on our own, and terrified to have children. We can't even own our own houses, and social security will run out before my generation retires. With no money for therapy or wellness fads, and with so many of us stuck inside during the pandemic, Bob Ross and The Joy of Painting is helping a lot of us achieve vital sleep that sustains our mental health.
What Lies In The Joy of Painting
For many years, I remembered Bob Ross fondly as a character in pop culture, but because I am a nobody, and largely consider myself a failed artist in a number of ways, I never thought of painting at all until I saw seasons 20 through 24 of The Joy of Painting available on Hulu early in July of 2021. I have half-a-dozen unfinished novels, a blog that goes in and out, and I have picked up and put down everything from web design, to the manga style, to hand lettering, to Japanese Neo-traditional tattoo designs. I own art books and classes, but I never felt I would ever attain any talent with art to the point where paint would have been a suitable medium for me.
Worse, there is the subject of time. Thanks to the pandemic, I work from home, but when we go back to the office, I'll resume my 2-hour evening commute and 1-hour morning commute. I have a stepson and a partner, a full time job that likes to take up more time than it should, and soon I'll have an honorary nephew, who isn't even born yet, but to whom I am already endeared beyond reason and respectability for a family friend.
As a writer I find myself blocked, and as a digital designer, I have far too much trauma from the second spat of "dark strange days" where unemployment had me turning to art for solace. It's become a mark of shame for me. I turned out fabulous art, but made no money, and now I have some kind of weird art PTSD, where I can't do anything if it doesn't turn out a profit in some way. I feel guilty for writing that isn't for my blog, or something that I can sell, and so even my pet projects that I believe in with my entire being are on the back-burner.
But in rediscovering The Joy of Painting, I have found what I hope is a creative outlet that is intended only to provide a quiet kind of respite from the busyness of staring at a computer screen. I hope that if I learn nothing of color theory or how trees work, I'll be able to create something without obligation or expectation. I just want to paint bluebonnets with a fan brush, and imagine for just a moment that I might be seated beneath a copse of evergreens at the foot of a sweeping mountain range at sunset. There I imagine is the same kind of wholesome splendor I find in crossover SUV commercials: the unhurried moments in time where I am not merely kept alive, but actually living.
The Journey
My artist's child couldn't agree with him Bob Ross. He would whisper reassuringly to us, "Anyone can do this."
"I can't do that," I said to myself.
Decades later, and knowing now that most skills can be learned if practiced, I felt much more confident in my abilities to pick up the wet-on-wet technique that Ross perfected over the years. I also made up my mind. If I could finish one project, perhaps I can finish other projects as well. And if I messed up, well, who cared?
"You can do anything here — the only prerequisite is that it makes you happy." --Bob Ross
And I figured maybe someone might want to come along with me. I've decided to document this journey in a series of posts here that will serve as the roadmap to my own artistic recovery and mental stability. I'll provide all the materials that I will be using in my own projects and practice, as well as provide the story and context for the pieces I'll be creating. I'll include a post or two about any practice steps that I take to maximize the use of my time and materials since both are quite limited.
I hope you all will enjoy these, and if you decide to stick around, thanks for joining me.
About the Creator
Austin, TX | GrimDark, Fantasy, Horror, Western, and nonfiction | Amazon affiliate and Vocal Ambassador | Tips and hearts appreciated! | Want to see more from me? Consider dropping me a pledge! | RIP Jason David Frank!
Reader insights
Nice work
Very well written. Keep up the good work!
Top insights
Easy to read and follow

Well-structured & engaging content

Heartfelt and relatable

The story invoked strong personal emotions
Add your insights