2019 YEAR IN REVIEW
Everyone Goes Through Bad Times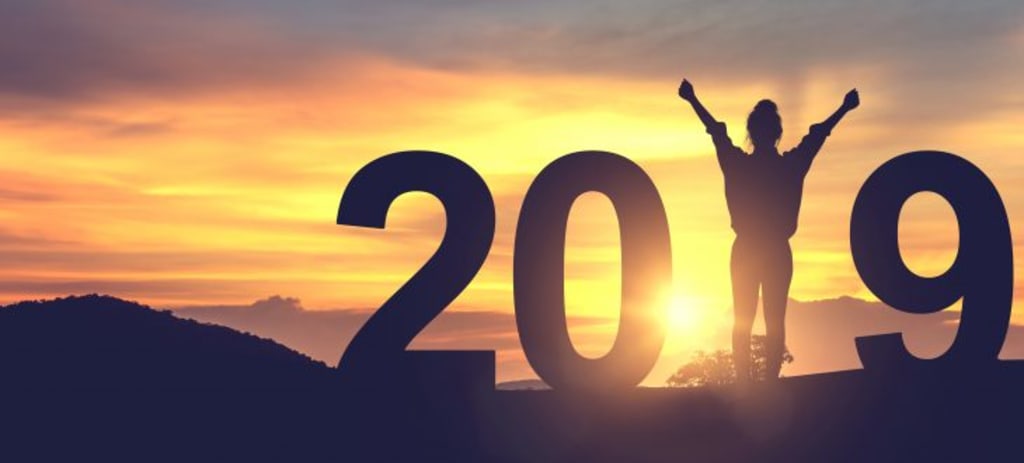 I had a miserable 2019. Parts of it were good, but I had many stressful and trying times throughout the year. Thank goodness for my true friends who stuck by me through all of it. I will never be able to thank them enough for all that they did for me in 2019.
In January the entire passenger side of my car was keyed. When I say the entire passenger side, that's not an exaggeration. It was saddening walking out to my car and seeing the whole side of my car keyed. It's a shame that people are so destructive. I filed a police report, and an investigation was done. Unfortunately, I never found out who did it. My car was fixed a couple of weeks later.
February wasn't too bad. My birthday is in February, so that's always a plus. I remember getting roses for my birthday. I also remember that they lasted almost an entire month. I was living in a basement apartment at the time and my main closet was always so cold. So, every time I went out, I would place the roses in that closet to keep my cat away from them. I'm certain that's why they survived as long as they did.
In March I received an eviction notice from my landlords. To this day I'm still not sure why. I think they just wanted me out of the apartment for whatever reason. I tried to discuss things with them, and even with their lawyer, but they refused to try to discuss anything with me. I couldn't afford a lawyer, so other than some free legal advice that I had received from a couple of people, I had to deal with it all on my own. I did the best I could. I made sure I had all my proper documents and receipts, everything I needed. I proved that there was no need to evict me. March came and went.
April was probably one of the lowest points ever in my life. That's when I went to court to try to stay in my apartment. Apparently, landlords have the right to accept the rent check, refuse to cash it, and then say that the tenant wasn't paying rent. That's what happened to me and that's why I was evicted. (side note: they still cashed checks even though I had requested the stop payment from the bank – so I also changed banks in 2019). I pleaded my case to the judge, but he sided with the landlords. So, in April I technically became homeless for 3 weeks. It was very traumatic for me. I didn't know what I was going to do or where I was going to stay. I spent a week at a friend's place and the rest of the time in various hotels. One of my friends helped me move most of my stuff into storage. The judge had given me less than 1 week to get everything out of the apartment so, needless to say, I lost a lot of things. I did my best to get the most important things moved out; but ended up leaving a lot behind. I'm still trying to recoup from that.
I know I always have people looking out for me, because on May 5 I moved into a new place. One person had heard from another person that I needed a place to live, so the apartment just kind of fell into my lap. It's a cute little apartment. I still have some work to do in it, but I'm grateful that I have a place to live and call home.
I spent most of June and July getting settled in to my new place. I spent of that time adjusting to my new place. I didn't know where I wanted anything. I eventually got it figured out though. I still have some work to do in it; that's one of my goals for 2020.
I'm always trying to figure out how I can generate more income. My goal is to be my own boss. So, in August I registered my own little company, Endless Creations LLC. I'm still trying to figure out good ways to promote it, and I still must make a ton of inventory, but at least it's a company that's all mine. I hope for it to be successful and my main source of income within the next five years.
During the latter part of August, and most of September, I had medical issues. It led to a surgical procedure in October I spent most of October recuperating and visiting the doctor's office. I'm not going to get into detail, but it was a procedure that probably ultimately saved my life. I'm very grateful to my doctor and the hospital staff.
November and December were the holiday season. I was lucky enough to have off from work for Thanksgiving so that I could spend it with my parents. I saw a friend a couple of days before Christmas; that was nice. Unfortunately, I wasn't lucky enough to have off on Christmas Day itself; I was mandated to work. I was so angry about that because Christmas is one of my biggest holidays. People should be with their family on Christmas instead of mandated to work a 12-hour shift in solitude. The bright side is that my parents did visit me for about a half hour or so in the evening. I appreciated that. New Year's Eve was nice too. I was able to ring in 2020 with my brother, his girlfriend, and my nieces and nephews. It was a nice ending to a stressful year.
I'm determined to make 2020 a much better year than 2019 was. For me, 2020 is going to be all about positivity and positive changes. I will not allow negativity to enter my life. I'm proud of myself for overcoming the obstacles that were placed in from on me in 2019. I can only go forward from here.