Wedding Favors Your Guests Will Love
Keep your wedding on trend by considering useful and unique wedding favors for modern couples!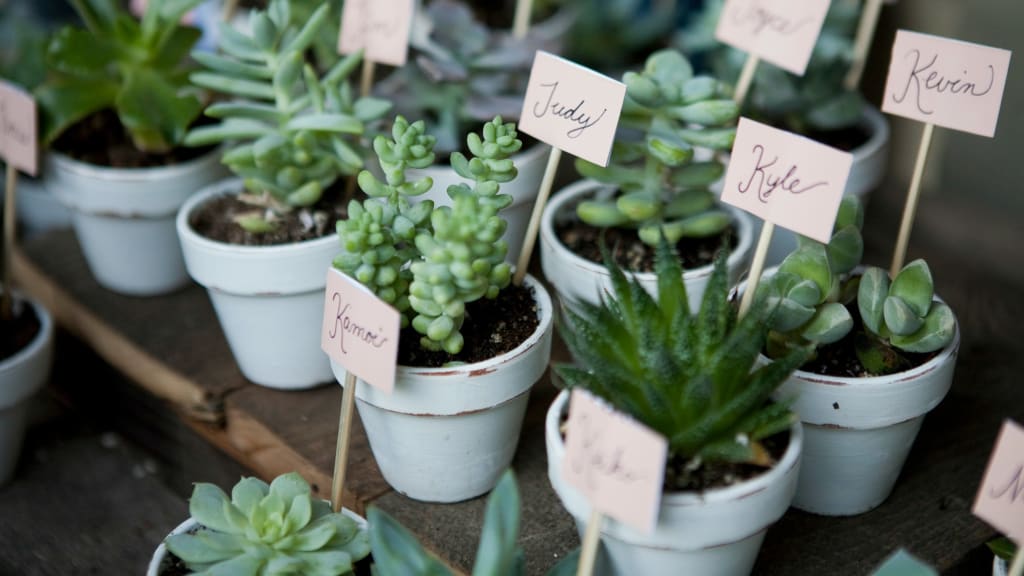 It is time to talk about that age-old tradition of the wedding favor. Traditionally, newly married couples hand out some small trinket to their wedding guests as a token of appreciation for attending their big day and as something to remember the event by. Sadly, the reality is that many of those wedding party favors end up in the trash or shoved in a box. You probably have a few around somewhere.
Now this reality does not mean wedding favors should be ruled out entirely. They are a nice tradition and indeed, a great thank you gift to your guests for getting dolled up and attending your wedding. Instead of chucking the idea entirely, modernize your day with unique wedding favors to match the interests of today's wedding guests. For your own big day, consider these 12 wedding favor ideas.
Again, think about those old-school wedding favors. You may, at some point, have received wedding favor bags or favor boxes full of strange little candies that did not seem very appetizing. Your guests will be much more charmed if you can provide them some sort of artisan treat, perhaps even something that is locally sourced and fitting in with the theme of your wedding. For example, you can give out small jars of honey, jam, spice blends, coffee, tea, or even liquor. The possibilities are endless.
Think of the last time you saw a tiny succulent sprouting from a quaint container. Did that memory make you feel at least a bit gleeful? There is just something about small succulents that makes people feel happy. They also do good things for air quality. This makes a small succulent a really lovely gift to give your wedding guests. At the least, they will be able to display it at their home or office. This is a particularly great idea for weddings held at the local botanical garden for themed wedding favors.
How many weddings have you been to where your feet were sore at the end of the event from standing, walking, and dancing the night away? Well, a new wedding trend is to offer a brand-spanking new pair of wedding flip-flops to your guests at the reception. Women wearing heels (and the men too) will appreciate the comfort and ease of their new footwear, which also will be helpful long after the event. This is a particularly great idea for your wedding guests at outdoor weddings and beach weddings.
Also suitable for outdoor weddings—especially backyard affairs—is a personalized wedding beverage koozie for your guests. This will be incredibly useful on the day of the wedding as your guests keep their drinks cool. It will also be useful for them in the future, as everyone enjoys a koozie. You can personalize your wedding favor koozies by selecting colors that match your wedding theme. Consider also having your names and the date of the wedding imprinted on the koozies for more personalization.
Has anyone ever said no to a candle? Truly, you can never have enough candles in your home. They are great for adding ambience to a space in the form of light and scent. Gifting your wedding guests with small jarred and personalized candles would be a lovely gift that is both thoughtful and useful. Your guests will be able to relive the magic of your wedding day each time they light the candle. When the candle has been fully used, then they will have a useful keepsake jar for holding small items.
Considering the list of items you can never get enough of, lip balm would certainly make the cut. Most people have one in their bedside table, bag, car, desk at work, and a few lost among pockets. This makes personalized lip balm a great wedding favor that anyone can enjoy. It is small, compact, easily personalized, and fairly cost effective. Luckily, if you have any left at the end of the night, you can also just use them up over time, rather than shoving them in a box in the back of a closet.
If you have an outdoor wedding or your wedding is in a beautiful, but warm venue, then you might consider a battery-operated fan for your wedding guests. This is something they can put into use right there at the event, to stay nice and cool as they wait for your ceremony. It might also prove handy for any windblown selfies that your guests choose to take throughout the day. After the wedding, your guests will find the fan helpful at any future outdoor affair they attend.
Similarly, if your outdoor wedding is in the fall or early spring, or if your venue runs the AC at freezing temperatures, or if you plan for your guests to party late into the evening even after the temperature may drop, then you should consider a cozy shawl for your guests. Although these are primarily helpful for battling cold temps, they might also be recommended if you are holding your service at a venue that requires covered shoulders—a nice offer for those "just in case" situations.
If you plan to serve craft beer or artisan sodas at your wedding reception, then bottle openers might make a great wedding favor. Your guests can easily open any beverages they might want to enjoy that evening. This item is also small and compact, so your guests can easily take those bottle openers home at the end of the night for future use. Not serving beer at your reception? Consider bottle stoppers instead. Your guests may not need to use these during the event, but they will surely get some use in the future.
This option may be most popular as a bridal shower favor, but with kitchenware, the possibilities are endless. You can easily select an upscale item to pass out at your wedding instead. Upscale kitchenware could include a cutting board or cheese board, wooden utensils, or stainless-steel measuring cups. Consider your budget and the overall theme or vibe of your wedding as you select your option. Then, you can bundle your items up with ribbons and present them in an attractive display.
To support your eco-conscious friends and family in their fight to go plastic-free, you can gift your wedding guests with a personalized tote bag. You can include on the bag a clever saying, logo, or other imprints that will help them fondly remember your big day (and all the fun they had there). A tote bag may even be useful on the day of the wedding as guests tote home leftovers and pieces of cake. If your guests traveled very far for the wedding, they might find it useful for all those extras on their trip home.
To also aid your wedding guests on their trip home, luggage tags make great personalized gifts. Depending on your budget you can select various materials ranging from plastic tags to leather tags. You can select colors that match your wedding, or you can select colors and even patterns that will really stand out at the luggage carousel. Personalize your tags with a clever saying or reminder of the wedding day. Ultimately, luggage tags will be wedding party favors that your guests will love.
When considering wedding favors, today's modern couples have so many options. As you select your unique wedding favors, keep in mind your budget, wedding theme, personal style, and guest interests. Shop around to check out all the possibilities, then consult with your trusted friends and family before you make your final decision. By thinking outside the box, your wedding favors will be a hit with guests.
About the Creator
Music student and proud Chipotle fanatic. Playing local shows and writing his own music between classes and burritos.
Reader insights
Be the first to share your insights about this piece.
Add your insights