Best Craft Beer of 2018
These are the best new and seasonal releases from craft brews all across the United States.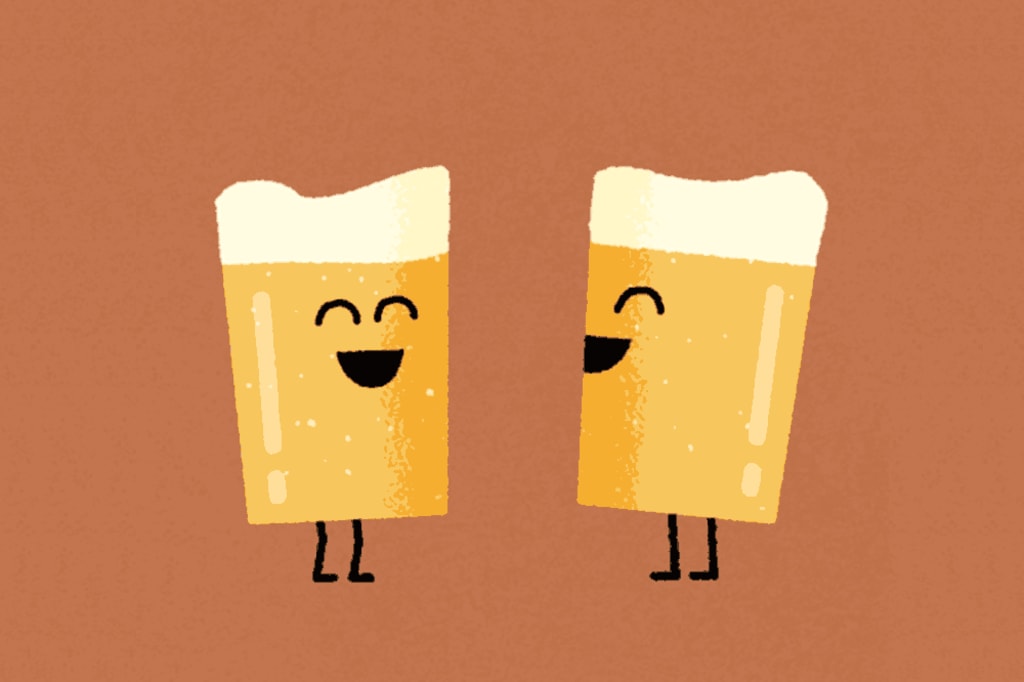 American Craft Beer Week has come and gone, but don't feel too upset if you missed out on the festivities. We're living in the golden age of American craft brewing, with small and independent craft brewers across the nation succeeding alongside the larger breweries, united by the Brewers Association. Wherever you are in the country, you probably aren't far from a great craft brewing company.
I highly encourage you to visit your local brewery and sample their offerings, as some of the best craft beer is produced only in limited quantities and distributed locally. For this list, however, I sought out new craft beers and limited runs that shouldn't be too hard for you to get your hands on. These beers showcase a vast array of flavors and styles, so try as many as you can to find your personal favorite craft beer of 2018.
Pennsylvania-based Victory Brewing Company always delivers when it comes to bold, tasty craft beers. This offering features a wide hop variety—Cascade, Citra, Simcoe, Centennial—with some malt to balance it out and blood orange to keep things interesting. The agave syrup adds a bit of sweetness that really accentuates the citrus flavors in this India pale ale.
The citrus IPA has been an ongoing beer trend since, well, forever, but this one stands out because of the increased sweetness. Rather than suppress the orange juice flavor, Victory wisely chooses to embrace it, making this a noteworthy take on the genre rather than just another citrus IPA. This marks a new creative era for independent craft brewers across the country, so if you're interested in exploring the best new craft beer of 2018, this Blood Orange IPA is a great first step.
Chicago-based brewing company Lagunitas recently introduced the Sumpin' Easy Ale, and it looks like it's already on its way toward becoming a go-to summer favorite. This session pale ale features an interesting hop variety called Ekuanot. These hops provide a refreshing fruitiness, but the overall flavor of the brew is mellowed by the presence of malted barley and some wheat.
Lagunitas usually packages its releases in glass bottles, but if you've ever been to a public beach or pool, you know that glass is almost always banned. Thankfully, the Sumpin' Easy Ale comes in shatterproof metal cans which are not only better for the environment but—much more importantly—allow you to get buzzed at the beach. This isn't the most adventurous craft beer of 2018, but it might just be the one you find yourself drinking the most. It also makes for a great gift for your favorite beer lover.
Sierra Nevada's Bigfoot Ale is among the most unique craft beer of 2018. The legendary Chico, California-based brewery releases a new iteration of this ale every year, and 2018's offering aims to please. Bigfoot Ale is a barleywine, one of the most interesting and seldom-found beer styles. This means it has a few characteristics you probably haven't tasted in a beer before. As its name would suggest, barleywine shares many characteristics with wine, including a high ABV and a mature flavor that can be appreciated by wine drinkers and beer drinkers alike.
Bigfoot Ale is an excellent candidate for bottle aging. Under the proper conditions, this is one craft beer that will only improve with time. Unlike barrel aging, which imparts new flavors into a liquid, bottle aging lets the characteristic flavors of the liquid develop and mature on their own. Each bottle of Bigfoot Ale is marked with the year it was released, so you can store Bigfoot 2018 in your cellar and come back to it next year and see how it stacks up against Bigfoot 2019.
Rye On Rye is a limited production from Boulevard Brewing Co., which is headquartered in Kansas City. Rye has been a slow-burning beer trend over the past few years: it shows up every now and again in a special release, but it hasn't really garnered mainstream interest. Personally, I love beers that incorporate rye. It provides a spicy/sweet element that is a welcome departure from the seemingly endless slew of generic pale ales.
Not only is this beer brewed with rye, it's also put through a barrel aging process in seasoned barrels from the Iowa-based whiskey distillery Templeton Rye. With this beer, you're getting a rye-based ale aged in rye whiskey barrels, hence the name Rye On Rye. This combination of flavors should appeal to whiskey and beer lovers alike, and for those of us who are huge fans of both (like I am), this is a match made in heaven that might just be my personal favorite craft beer of 2018. Also, make sure you check out the ultimate beer and food pairing guide to figure out what goes best.
The Delaware-based brewery Dogfish Head has a long history of uniting music enthusiasts and beer lovers, such as with their yearly release Beer To Drink Music To. Probably the most uniquely-named craft beer of 2018, Dragons & Yum Yums takes Dogfish Head's music connection one step further by incorporating the creative power of rock legends The Flaming Lips. The collaboration includes a vinyl album featuring two songs inspired by the beer: "The Story of Yum Yum and Dragon" and "Pouring Beer in Your Ear."
At its core, this is a New England Style IPA, but Dragons & Yum Yums is so much more than that. In addition to Dogfish Head's unique hop variety, this beer is flavored with an abundance of unusual tropical fruit, including dragonfruit and yumberry (owing to the beer's name). If you love music and beer, you owe it to yourself to pick up Dragons & Yum Yums and enjoy it alongside the accompanying Flaming Lips album to experience this one-of-a-kind collaboration.
Leave it to a Colorado brewery to put together possibly the most creative craft beer of 2018! New Belgium is best known for Fat Tire and its American takes on traditional Belgian beer recipes. Their Voodoo Ranger IPA, however, has been a mainstay in their flagship lineup for years. This year, New Belgium welcomes The Hemperor to their family, claiming to have discovered a completely new style of beer altogether.
Personally, I'm not convinced this qualifies as its own unique style. To me, it feels more like a standard IPA that smells like weed. And I don't necessarily mean that in a bad way: this is a great, funky, unique IPA that is certainly worth seeking out.
Ballast Point Brewing Company is known for its Sculpin series of fruity pale ales. What started as a series of experiments on an otherwise standard IPA has grown into a sought-after line of unusual and inspired brews. Over the years, this series has included such flavors as tangerine, passion fruit, and even habanero. The two most popular—grapefruit and pineapple—have become flagship beers for the San Diego-based brewery and are available year round. Joining that lineup this year is Ballast Point's most exciting craft beer of 2018 yet: the Aloha Sculpin IPA.
Rather than focus on a single fruit, the Aloha Sculpin is packed with guava, mango, cherry, and loads of other tropical fruit flavors. Unlike the hazy IPAs of the east coast, this west coast style pale ale is clean and crisp and has a long, fruity finish.
While this isn't exactly a brand new craft beer of 2018, it is undoubtedly one of the deepest and most complex stout beers money can buy. Kentucky Breakfast Stout by Founders Brewing is a Michigan stout beer aged in Kentucky bourbon barrels. Founders Breakfast Stout is already an amazing beer, with strong java and cocoa notes. The barrel aging process, however, pushes it off the charts. The combination of coffee, chocolate, bourbon, and oak is truly something to behold.
Founders limits their KBS release to just a couple months out of the year. If you come across this one in the wild, don't hesitate to pick it up, or else you might miss your chance to try this world class beer.
This is one beer designed to meet the desires of casual beer drinkers and hardcore beer lovers alike. Sam '76 is a brand new offering from one of craft beer's founding fathers: the Boston Beer Company. Unlike many of the other beers on this list, this one isn't a seasonal offering or a limited run. In fact, it's joining the likes of Boston Lager and Rebel IPA in the Samuel Adams flagship lineup.
Sometimes I get the feeling a silent majority of beer drinkers doesn't care for the flavor of hops. Luckily for them, a major characteristic for craft beer of 2018 is a departure from the hop-infested trends of years past. Hopheads needn't worry: there are still plenty of hazy IPAs and farmhouse ales to go around. But if Sam '76 is any indication for the future, there is a bountiful array of beer flavors to explore without having to resort to hops.
One thing I've come to realize is that a good beer doesn't have to provide a complex, thought-provoking experience. As much as I enjoy sitting and contemplating the rich flavors of a barrel aged stout like Founders' KBS, there's no substitute for a clean, crisp, refreshing beer when you're at the beach or spending a hot summer day with your loved ones. Sam '76 fits that bill perfectly with a great balanced flavor that doesn't distract you from what matters most. Why not try pairing this beer with ramen?
Upland made its name producing world class sour ales. These sour ales are in their own category altogether, so its a rare treat when Upland releases a new breed of craft beer. Their first new craft beer of 2018 is an Americanized Belgian saison called Life Exotic.
Life Exotic is a curious juxtaposition of styles. As a saison (aka Belgian farmhouse ale), it contains complex malty and spicy undertones. However, Upland has treated this farmhouse ale more like a fruity summer ale, infusing it with citrus flavors and lowering the ABV to create a refreshing but complex summer saison.
This one may be hard to get your hands on if you live on the coast: Upland's distribution doesn't reach far beyond Indiana. If you can find it, though, it will be well worth your effort.
Reader insights
Be the first to share your insights about this piece.
Add your insights